1 / 10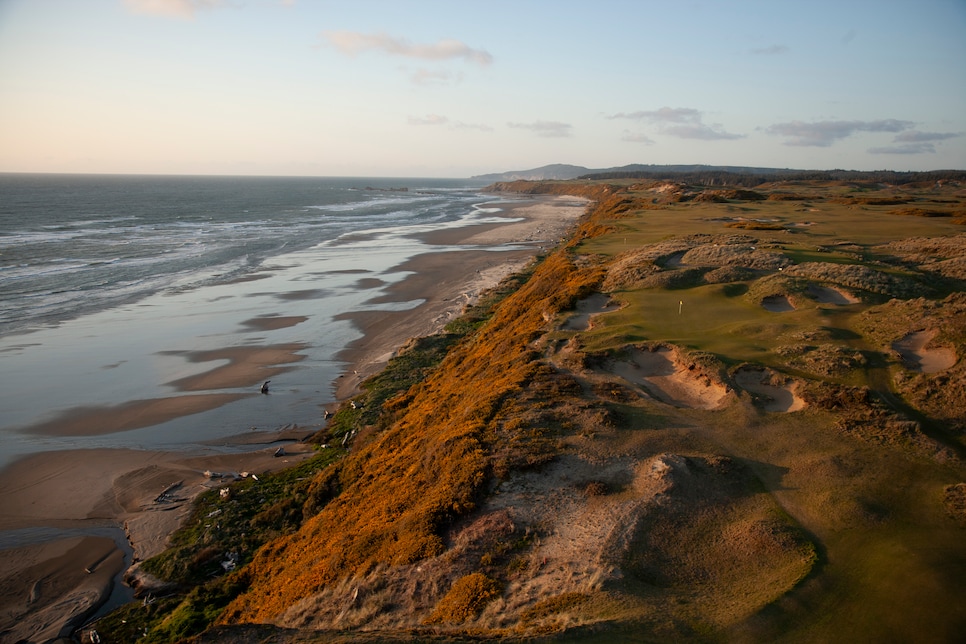 2 / 10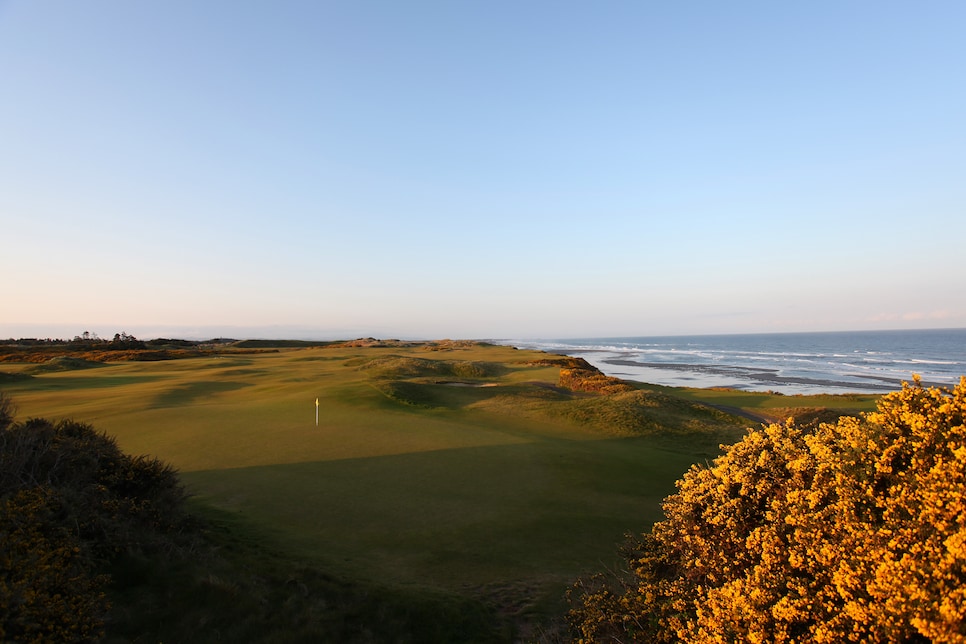 3 / 10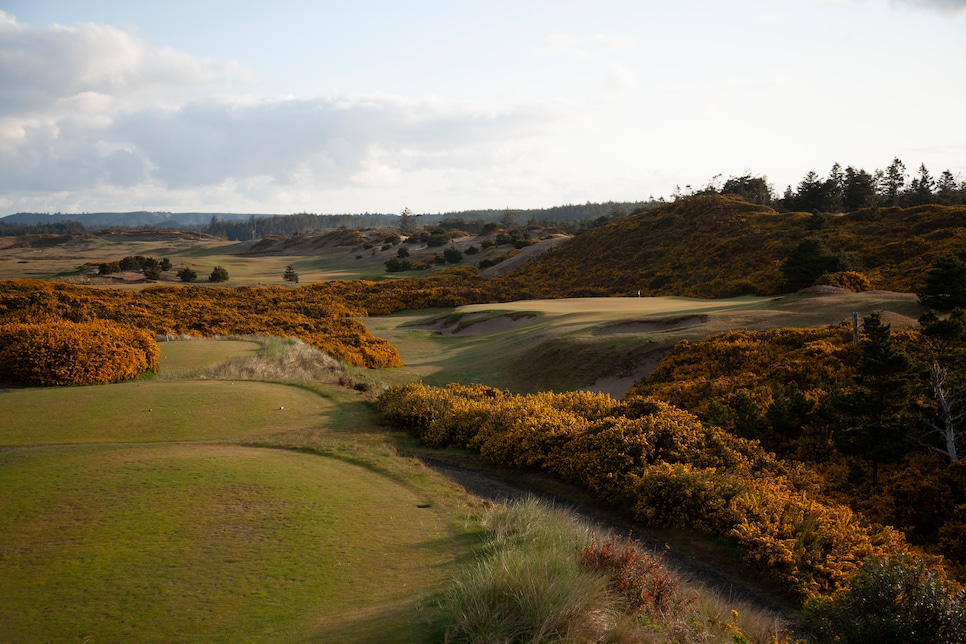 4 / 10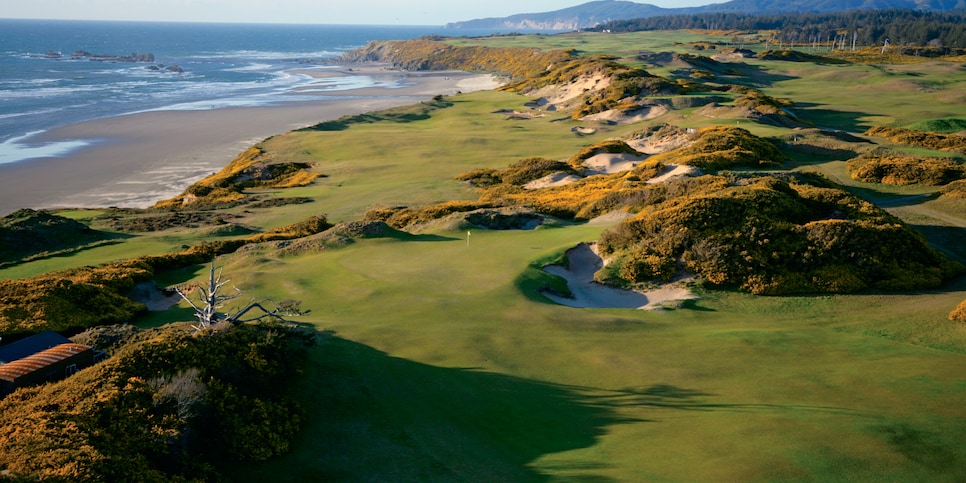 5 / 10
6 / 10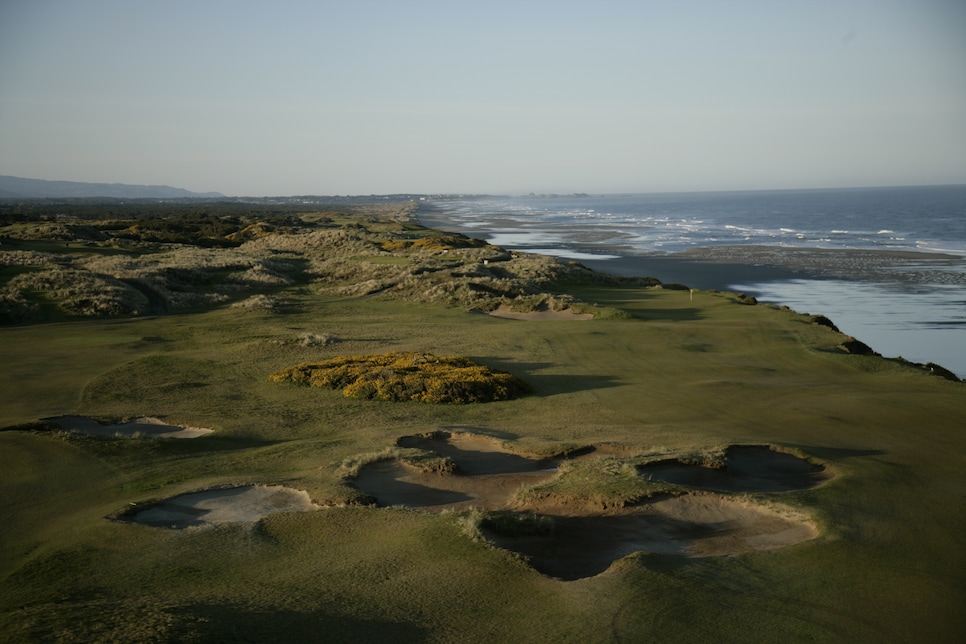 7 / 10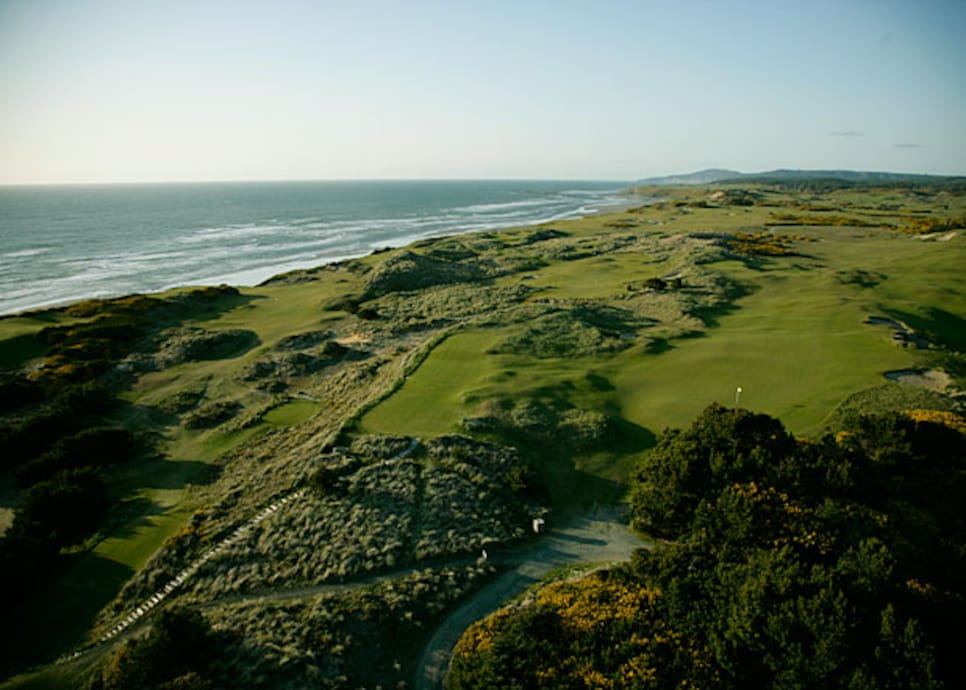 8 / 10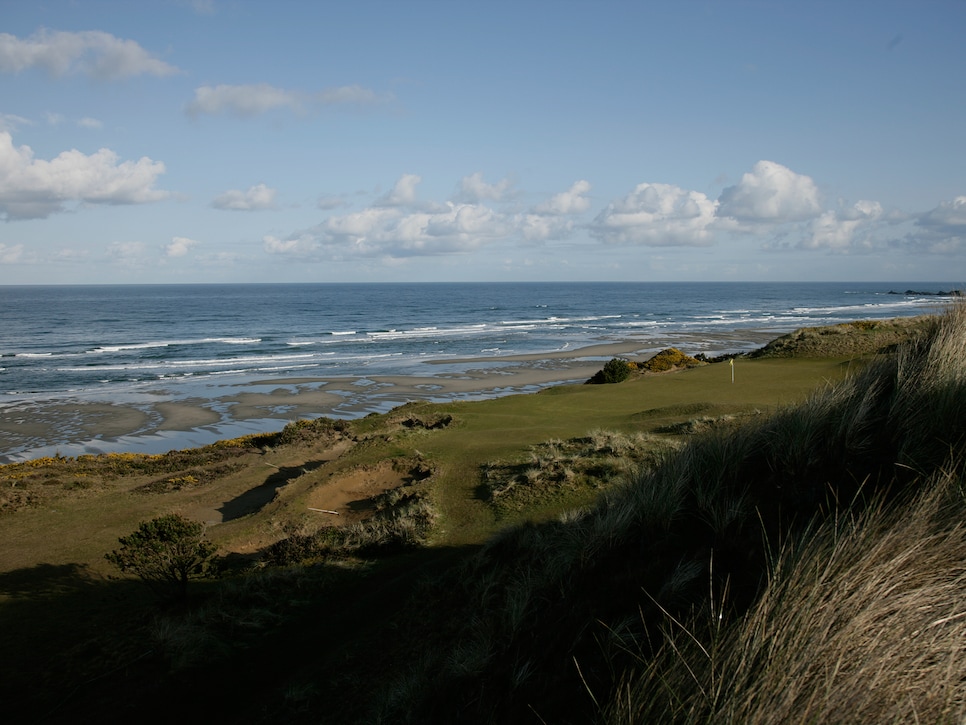 9 / 10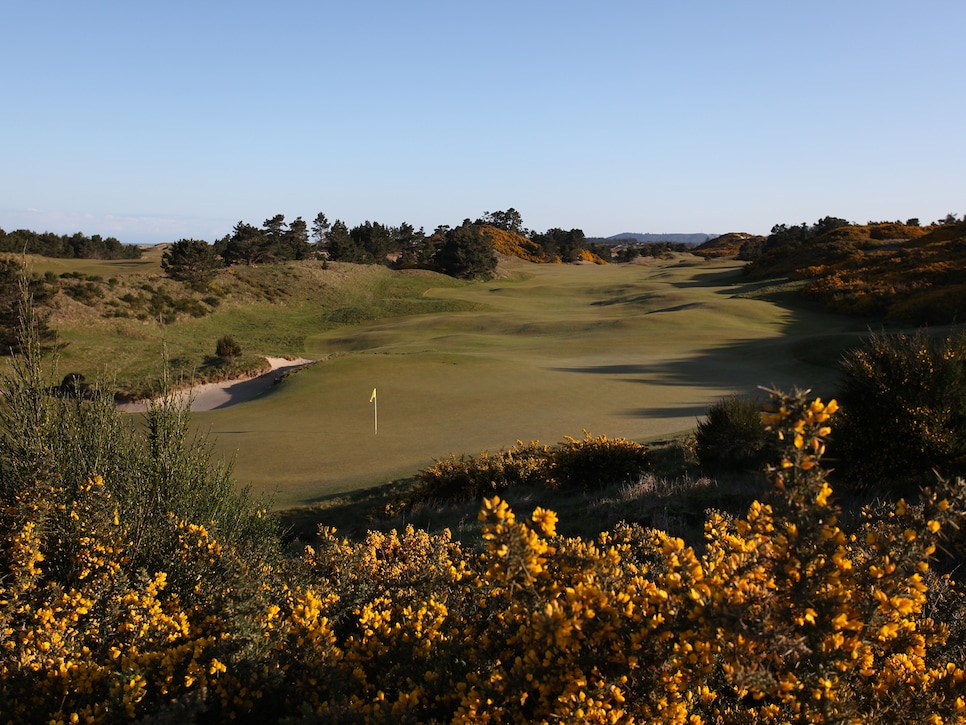 10 / 10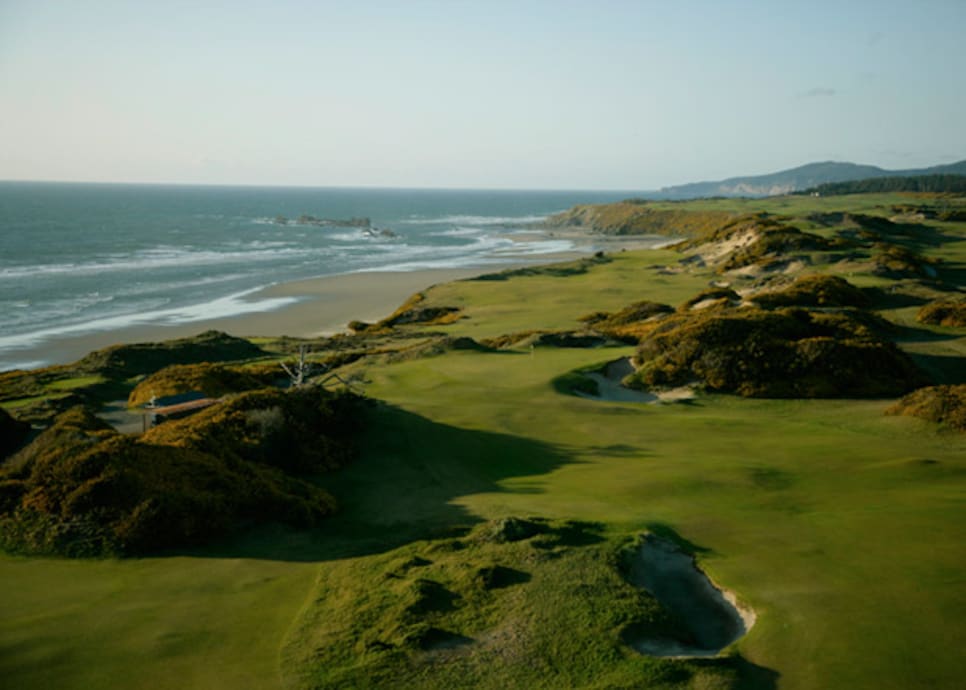 Overview
This was the second course constructed at Bandon Dunes Resort and the highest ranked among the resort's five 18s. To best utilize ocean frontage, Tom Doak came up an unorthodox routing that includes four par 3s on the back nine. Holes seem to emerge from the landscape rather than being superimposed onto it, with rolling greens and rumpled fairways framed by rugged sand dunes and marvelously grotesque bunkers. The secret is Doak moved a lot of earth in some places to make it look like he moved very little, but the result is a course with sensual movements, like a tango that steps toward the coast and back again, dipping in and out of different playing arenas from the secluded sand blowouts to the exposed blufs and all variations in between.
Awards
100 Greatest: Ranked since 2003.
2023-'24 ranking: 21st.
Previous ranking: 18th.
Highest ranking: 14th, 2007-'10.
100 Greatest Public: Ranked since the inaugural edition in 2003.
2023-'24 ranking: 2nd.
Highest ranking: 2nd, 2007-'12, 2015 to current.
Best in State (including 2023-24 ranking): Ranked first since 2003.
Watch our exclusive drone tour
Panelists
Ratings from our panel of 1,900 course-ranking panelists
100 GREATEST/BEST IN STATE SCORES
Reviews
1 / 29
Review
"Pacific Dunes presents many different shots and risk/reward opportunities. The prevailing wind dictates how to play the course and whether you can attack a hole or just survive. The greens were hard and fast as it utilizes the landscape of the coast well, but the integration of poa has added even more pureness to the greens."
Read More
2023
2 / 29
Review
"One of the best public courses you can play, with lots of strategy and ocean views."
Read More
2022
3 / 29
Review
"Exceptional course that was both visually appealing and extremely challenging. Conditioning was wonderful. Unlike Brandon Dunes, the element of stress was more pronounced due to the tighter fairways and landing areas. Absolutely worthy of being in the Top 100 in the US."
Read More
2022
4 / 29
Review
"Deserving of a top 25 course in US. Magnificent ocean views, challenging but fun to play. Best par 3's at the resort. Opening hole is underwhelming but you forget about it fast because the next 17 are great."
Read More
2022
5 / 29
Review
"Pacific Dunes is pure links golf, which is hard to find in the United States. This is the finest course on the property and one of the better links courses you are likely to play. It is a challenging test requiring a mix of high shots that run out and low wind-beaters. The Pacific Ocean backdrop is dramatic, but the internal course elements are also quite attractive, as you maneuver your way over, around, and between large vegetated dunes. The routing is terrific and makes great use of the dunescape. Pacific Dunes deserves all of its accolades as a world-class links."
Read More
2021
6 / 29
Review
"Back to Pac Dunes after a 10year hiatus, and the golf course and my sense of it numbers wise still holds up. Remains one of my favorites. So inventive, so site-driven, so beautiful, so smartly routed. Interesting to see how nature has made the bunkers even more dramatic and difficult over time. The unorthodoxed/unbalanced approach to par on the scorecard is very cool and right and fun. And Fun is our great new word to describe the experience of playing this course. This is the posterchild for Fun. That that was one of the marching orders that Keiser gave to Doak before they began, and it is absolutely accomplished. Best conditioning of all the courses at Bandon. Remains a Top 15 course in my eyes."
Read More
2021
7 / 29
Review
"Holes would generally tend to hold up in either the prevailing wind or against this prevailing wind; hazards are provided accordingly that test the golfer in either case. That having been said, one weakness of the course is that many holes play either downwind or into the wind. The course would be even better if it could have incorporated holes in a larger variety of directions. The cliffside holes are aesthetically breathtaking. There is a perfect blend of gorse, long and short grass, hazards, and ocean views. But there are also other touches, such as the lovely rippled fairways that recall the Old World. Also, despite this being a seaside links, the inland holes are still quite strong, with the 7th and 8th standing out as gems. Recent tree removal on the 7th has made it an even stronger hole, as it is no longer possible to be in the fairway right and be blocked out by trees. It seems that it is often difficult to build compelling oceanside golf holes (since half of the hole is already defined by a natural hazard). Pacific Dunes does so beautifully, with the 4th as a standout example of how to incorporate risk-reward in a cliffside par 4. The 13th hole does not quite have the same clear risk-reward in rewarding the golfer for hugging the cliffside, but it is a strong hole nonetheless. Despite its many strengths, Pacific Dunes falls short of perfect because of the 16th and 18th holes. The former overly penalizes the less risky option off the tee, and the hole is easier if one takes dead aim at the green. Downwind, this green is difficult to hold on an approach shot because it is not as deep as other greens on the course. The 18th hole suffers from a fairway that slopes left to right away from a large bunker that is difficult to carry. The result is that many good drives will tend to run through the fairway to the right. The conditioning of the course was reasonable when played, although not as strong as Bandon Dunes due to some bumpier, slow greens."
Read More
2021
8 / 29
Review
"remarkable views. great destination for "golfers" trip. Don't miss out of the preserve and punch bowl while there."
Read More
2021
9 / 29
Review
"Simply one of the best -- great resort and amenities for golfers, Pacific Dunes has a great variety of holes, great setting. Hard to beat!"
Read More
2021
10 / 29
Review
"Terrific golf course with wonderful views!"
Read More
2021
11 / 29
Review
"Doesn't get much better than Pac Dunes. One of the best days on a golf course you'll ever have"
Read More
2021
12 / 29
Review
"Wonderfully routed with pacing that brings you out to the ocean at different points of the round and in different directions. Very strong set of par 4's both inland and against the Pacific."
Read More
2020
13 / 29
Review
"The course will challenge the best players while still allowing an enjoyable day for the average golfer. Ocean views throughout the course while feeling like the course has always been there."
Read More
2020
14 / 29
Review
"Pacific Dunes is the best design on the amazing Bandon property. It's challenging layout offers an amazing strategic golf experience. It's overload of Par 3's are amazing."
Read More
2020
15 / 29
Review
"Overall best course at Bandon Dunes Resort. The best of Tom Doak with outstanding green complexes."
Read More
2020
16 / 29
Review
"Lives up to its billing. A great course in an even better setting."
Read More
2020
17 / 29
Review
"Best course at Bandon, which is saying a lot. Some world class golf here in an absolutely phenomenal setting. A treasure of public access golf facilities, but perhaps a bit overrated."
Read More
2018
18 / 29
Review
"Great setting and great course. The entire facility is absolutely ideal for a getaway golf trip. The golf experience is as good as it gets. The accommodations and food is top drawer and the service is just as good."
Read More
2018
19 / 29
Review
"It might be fashionable to talk up the other courses at Bandon, but Pacific Dunes is the one that truly defines the resort in my opinion. On its own it would capture the attention of golfers everywhere. Although it is not links golf where the ball bounds forward, the shot values and angles are super compelling. Criss-crossing through the contours on the property provides maximum pleasure and some of the greens complexes are so captivating on how the look on approach. I would drive 10 hours to play Pacific Dunes by itself."
Read More
2018
20 / 29
Review
"One of the best public courses you can play. Very challenging, links golf along the Ocean. Feels like Ballybunion or Turnberry"
Read More
2018
21 / 29
Review
"Course design, location and conditions make this a must play option for any golfer."
Read More
2018
22 / 29
Review
"Great piece of property but 4 par 3's in one 9 is questionable. Good resort with 3 other big courses. Worth the effort to play it."
Read More
2018
23 / 29
Review
"In my top ten favorite courses and I have played everywhere. Doak's best design!"
Read More
2018
24 / 29
Review
"Best public golf course in the U.S. after Pebble"
Read More
2018
25 / 29
Review
"Certainly one of the great golf courses in the country. You know you are somewhere special as soon as you get on the grounds. The turf quality is second to none. Holes can be played in a variety of ways and there are many options around the greens. Visually stunning with ocean and dunes views, all serious golfers need to go at least once."
Read More
2018
26 / 29
Review
"One of the country's best courses with incredible scenery and some great unique holes. The Bandon experience is as close to British golf as you can get in America. Walking adds to the experience."
Read More
2018
27 / 29
Review
"Amazing views, overall an incredibly fun and challenging course."
Read More
2018
28 / 29
Review
"The best of the Bandon courses. Amazing!"
Read More
2018
29 / 29
Review
"A stunning course on the cliffs overlooking the Pacific. Only downside is the 18th is a bit of a letdown. After the round, grab something to eat the Bandon Dunes restaurant at Pacific Dunes. Great food and views of the Punchbowl putting green. "
Read More
2018
Readers
Collection of reviews from our readers
There are no reader ratings yet
Reviews
There are no readers reviews yet. Be the first to write a review.