1 / 6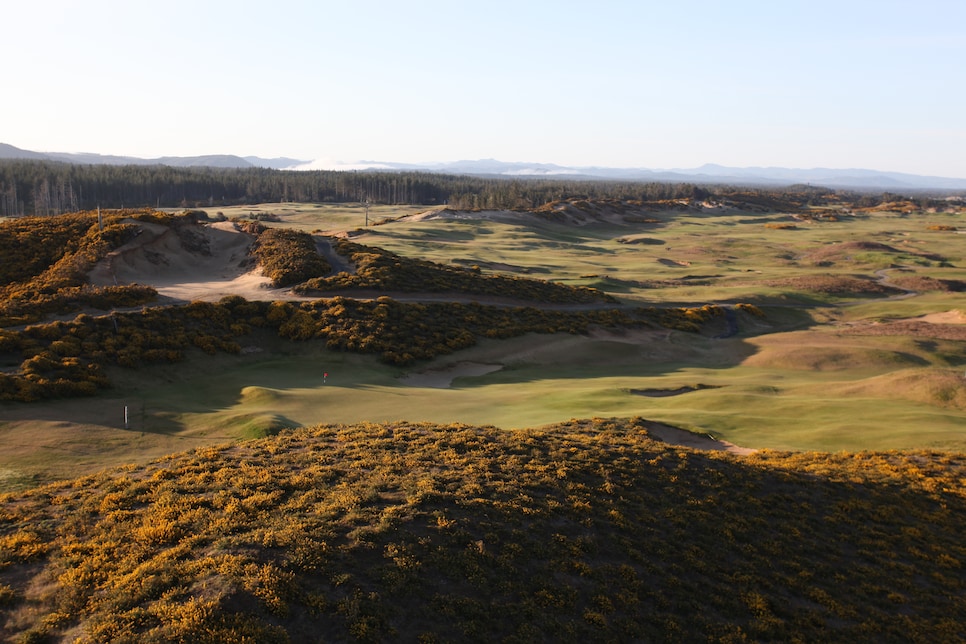 2 / 6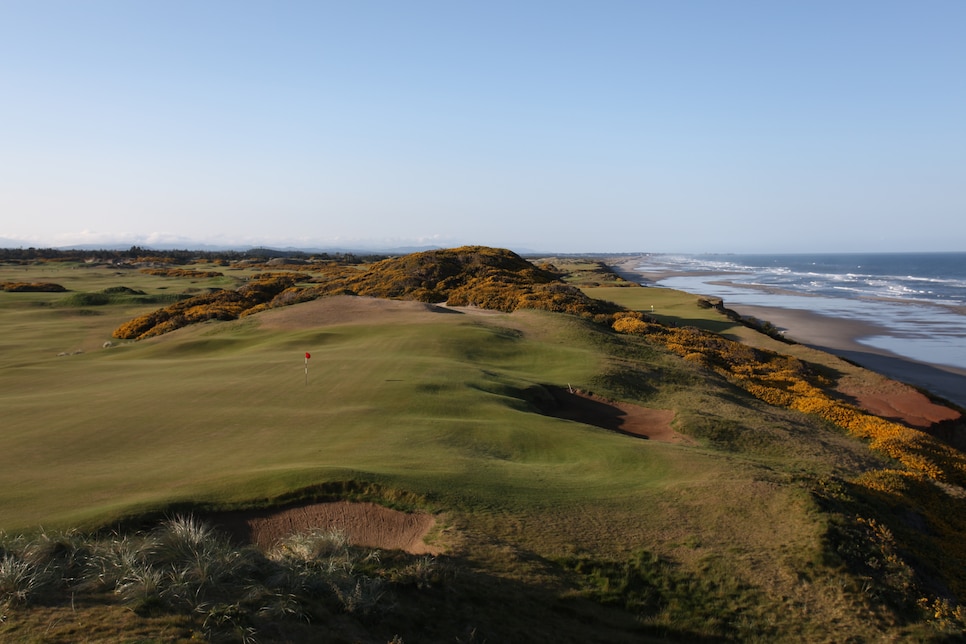 3 / 6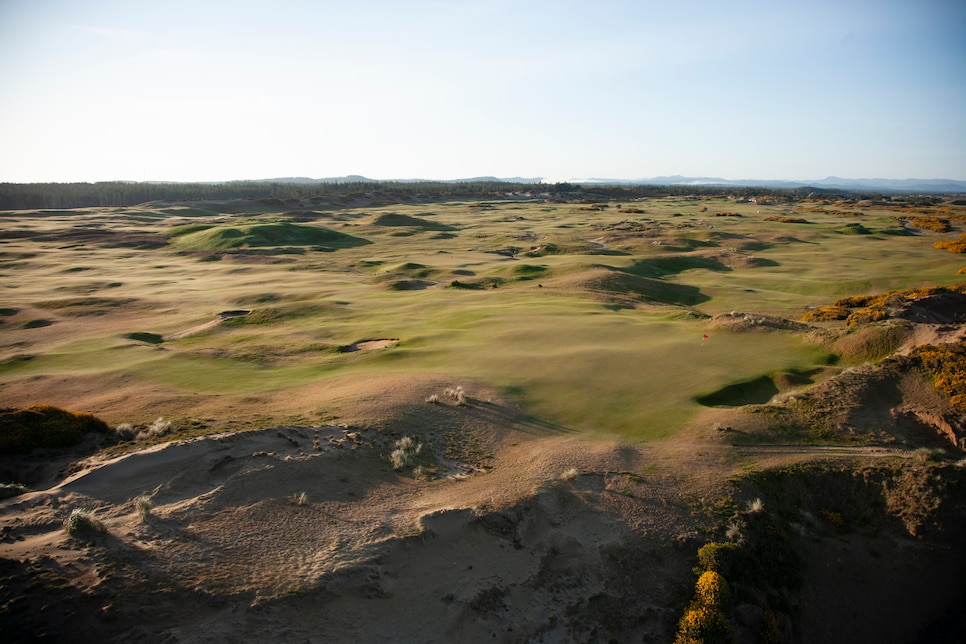 4 / 6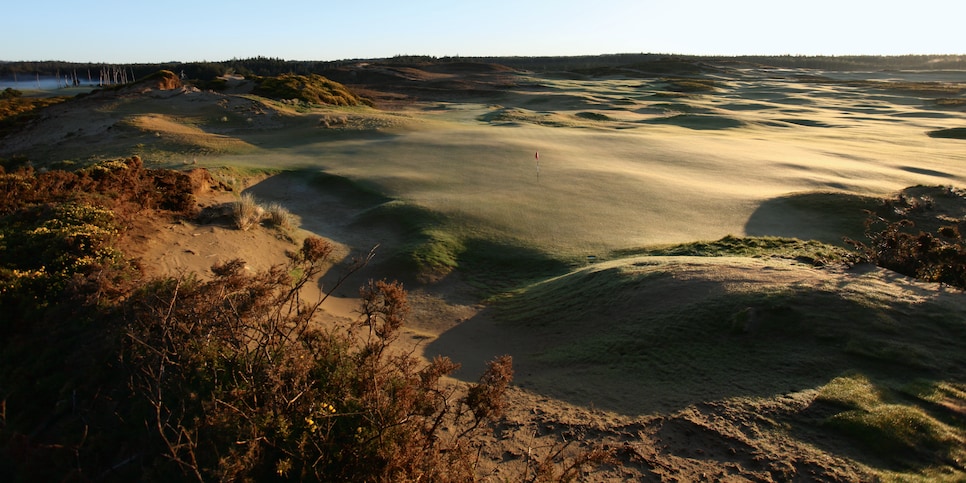 5 / 6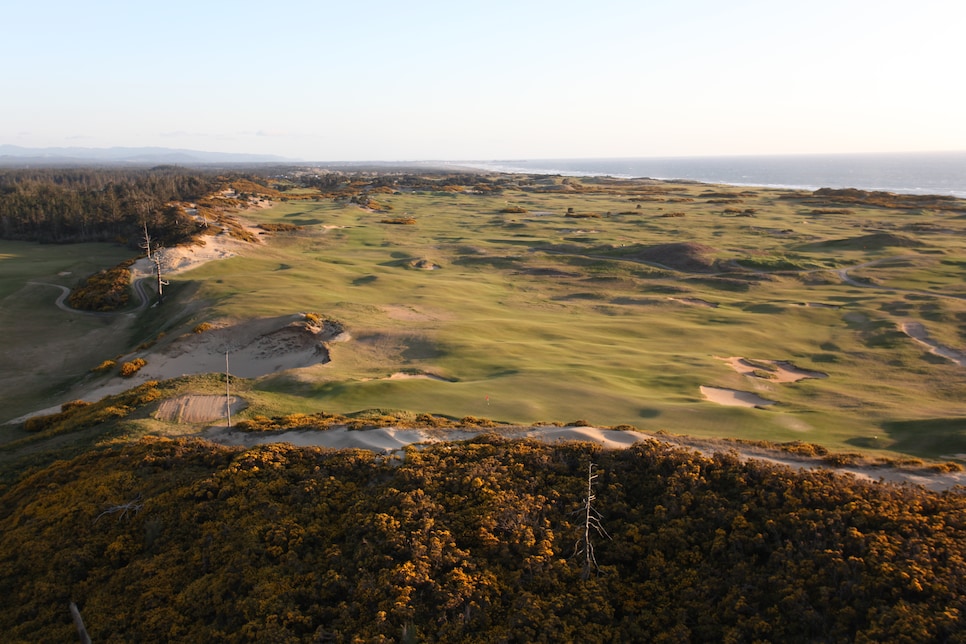 6 / 6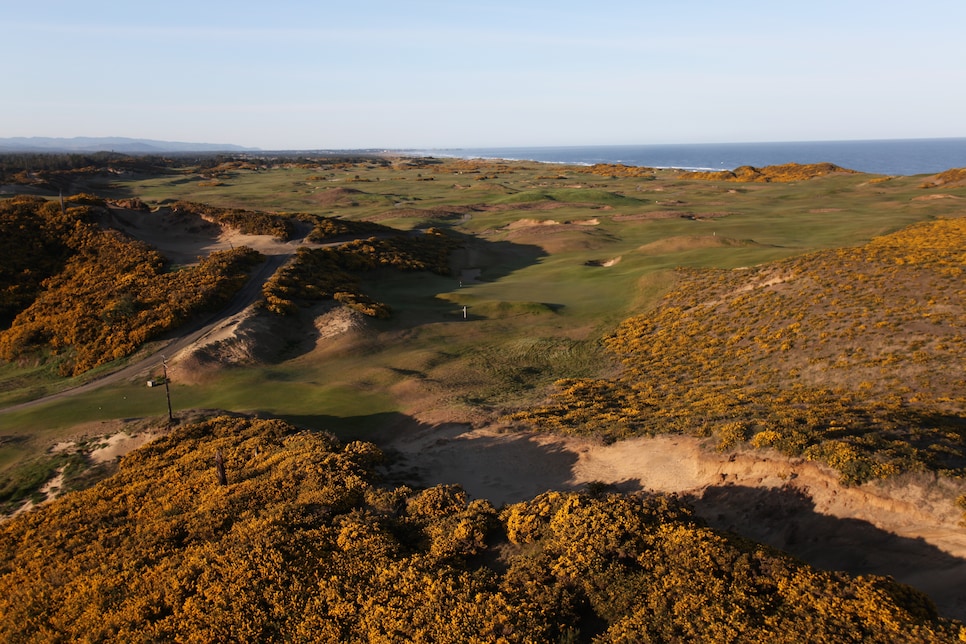 Overview
Old Mike Keiser had a course. Name of Bandon Dunes. Hugged the cliffs of Oregon gorse. It made golfers swoon. So he added one more, then a third next door. Here a lodge, there a hut, even built a pitch & putt. Now it's America's top resort. Name of Bandon Dunes. But Old Mike Keiser wanted more. Down at Bandon Dunes. An ode to an architect he adored. Cut from heather and broom. So Old Macdonald came to be. In spite of a bad economy. Here it's big, there it's bold. Everywhere it looks real old. A Road Hole here, a Cape Hole there. Bottle Hole, Biarritz, ocean winds that'll give you fits. Short and Eden fit the scenes. Especially with enormous greens. Old Macdonald is part of the lore. Now at Bandon Dunes.
About
Designer
Tom Doak/Jim Urbina
Awards
100 Greatest: Ranked since 2013.
2023-'24 ranking: 72nd.
Previous ranking: 56th.
Highest ranking: 47th, 2017-'18.
100 Greatest Public: Ranked since 2013.
2023-'24 ranking: 13th.
Previous ranking: 12th.
Highest ranking: 10th, 2017-'18.
Best in State: Ranked third, 2013 to current.
Panelists
Ratings from our panel of 1,900 course-ranking panelists
100 GREATEST/BEST IN STATE SCORES
Reviews
1 / 18
Review
"It is not the most attractive course at Bandon Dunes, but Old MacDonald may have the most interestingly designed holes with great shot values and options."
Read More
2022
2 / 18
Review
"After a few fine but comparatively mundane holes, you hit a blind tee shot over a mountainous dune around a dead tree, and as you reach the peak of your climb, a wondrous ocean-backed links fills the horizon. For the next four hours, you play over this wild landscape. This is a fairly open, wild course with greens that can be vexing on a good day. Take a caddie and enjoy the ride."
Read More
2021
3 / 18
Review
"I'm just back from playing a bunch of Macdonald/Raynor courses in the East, so it's interesting to compare what Doak/Urbina/Keiser accomplished here and to see Old Mac with some maturity. Proud to report she continues to be a wonderful idea for a course. So fantastic of Keiser to bring Macdonald to the masses. The great use of width, the tremendous routing, with a great Macdonaldesque solution to the ridge running thru the property, by using Sahara 3rd and Alps 16th to get over and back of the ridge. An excellent and difficult Eden, fantastic shaping on the green at Short (I holed a 60ft putt with 20ft of break using the wonderfully thought out tiers and slopes by Urbina, George Bahto and Brad Klein), love Redan - the only US version to take the original hard downwind strategy into its design, Long is excellent (Hell Bunker has matured in a really fun and fierce way!). Love Sahara, and Littlestone at 17 gives a very good strategic rendition of the Channel hole. Originals at 7 and 15 are very good and keeping with Macdonald tradition of doing a few originals at each site. A great set of par 3s and 5s. Cape is my only let down, even though solid shot options are required. I think this is a very useful golf course to educate golfers to Macdonald's concept of using the "Ideal Holes of Golf" to make a great strategic golf course, no matter what site the architect might have to work with."
Read More
2021
4 / 18
Review
"The focus is clear on golf first and foremost here, and although the ocean views are not as consistent here as they are at neighboring Bandon Dunes and Pacific Dunes, the course is beautiful. Away from the ocean, Old Mac does have some less impressive topography tee to green on some of the flatter holes in the middle of the course."
Read More
2021
5 / 18
Review
"Links style course, with the weather coming into play most every day. Ocean views are spectacular and playing with a caddy on your bag is what the game is all about."
Read More
2021
6 / 18
Review
"The course will challenge your lag putting -- big and wild greens. Some very good versions of the template holes and the original #7 is a highlight."
Read More
2020
7 / 18
Review
"Old Macdonald is a great tribute to the classic era and the use of "template holes". It gives a great variety to ones golf experience and demands old style of play, close to the ground. The Ghost Tree is just cool too!"
Read More
2020
8 / 18
Review
"Outstanding collection of holes based on CB MacDonald design principles."
Read More
2020
9 / 18
Review
"Very different course that is fun to play. Greens and bunkers are too severe to enjoy for everyday play, but still a must to play if you get a chance."
Read More
2019
10 / 18
Review
"A world class course that is actually the worst course at Bandon because it's not originally conceived. Great template holes, but just not as unique at the other three courses. My guess is that this is a favorite course of folks who haven't played the premier Golden Age or UK courses. Once they do, the originality of the original courses probably exceeds Old MacDonald. An example is that the Biaritz at Old MacDonald is world class. It's just not nearly as good at #16 at Streamsong Red let along #5 at Fisher's Island."
Read More
2018
11 / 18
Review
"This is the North American version of a great links course. It compares on equal to anything in GB "
Read More
2018
12 / 18
Review
"Although it is supposed to be inspired by CB Macdonald, you have to look very very hard to see any resemblance. It is almost better not to have this on your mind and see the course for what it is. One of the better examples of "American Links" golf. Plus, just being at the resort puts me into a good mood!"
Read More
2018
13 / 18
Review
"If you want to play a true links course here in America, Old Mac is the one. Enjoyed the wide open fairways, wind and cliffs. Has a feel of Scotland."
Read More
2018
14 / 18
Review
"Charles MacDonald would be proud of this modern design in his honor. Ghost Tree hole, massive greens with undulations and a terrific use of terrain make this Tom Doak and Jim Urbina design a must play while visiting Bandon Dunes."
Read More
2018
15 / 18
Review
"Many good design replica holes of past MacDonald templates but so wide it feels like a driving range which looses the true effect of the design. Great setting, great resort."
Read More
2018
16 / 18
Review
"One of the most unique and fun courses in the country. It feels like an old Scottish or Irish layout with rolling fairways, blind shots and huge greens. Very different from the other Bandon courses but every bit as good in its own way."
Read More
2018
17 / 18
Review
"The best of the Bandon courses, in my opinion. Incredibly challenging layout that makes for some of the most fun you can have playing a course. Especially if you don't worry about score and instead focus on the shots you're being forced to hit into the amazingly huge green complexes."
Read More
2018
18 / 18
Review
"Massive greens with some interesting template holes. Home of the Ghost Tree, one of the more iconic trees in golf. After the round, head back to The Lodge and grab something to eat the Bandon Dunes restaurant, which has some great pub fare."
Read More
2018
Readers
Collection of reviews from our readers
There are no reader ratings yet
Reviews
There are no readers reviews yet. Be the first to write a review.