Bandon Dunes Golf Resort: Sheep Ranch
Bandon, OR • Public
1 / 9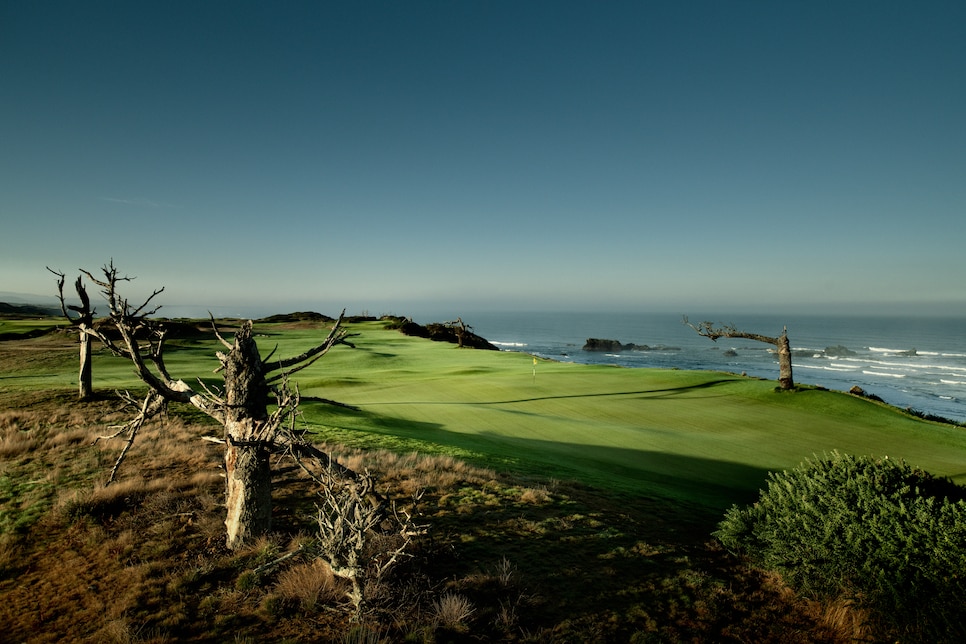 2 / 9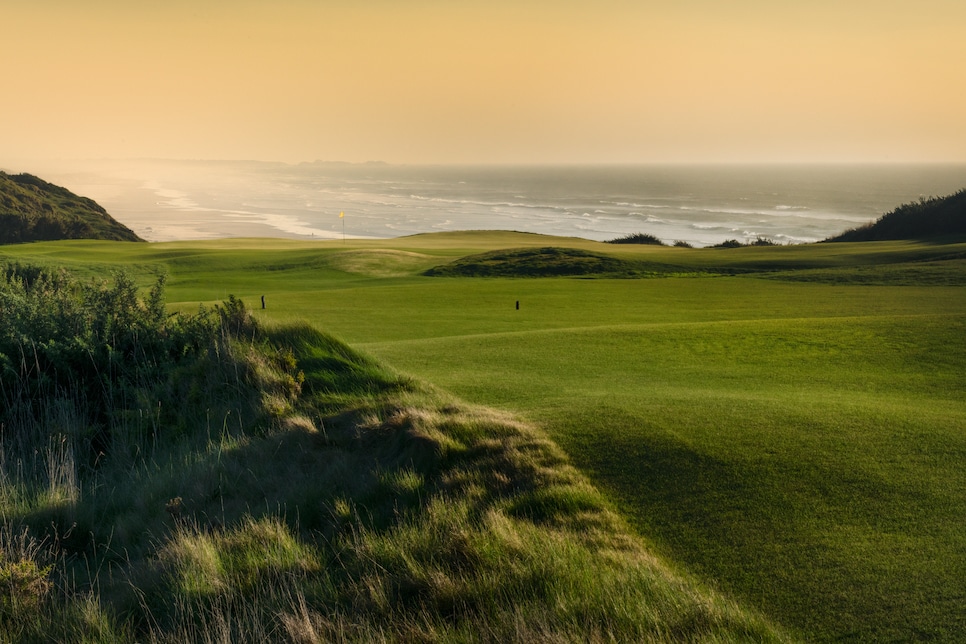 3 / 9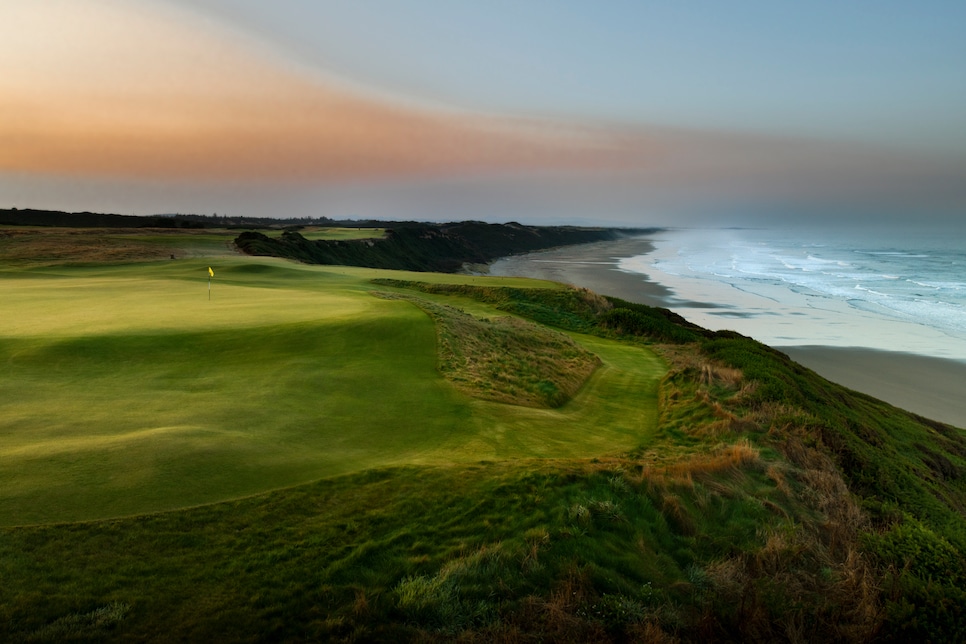 4 / 9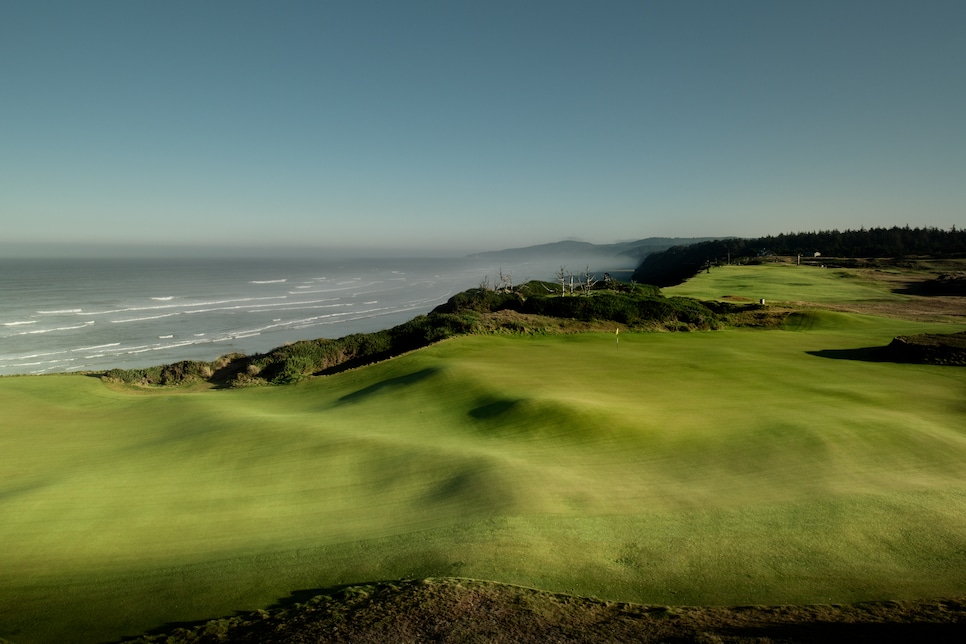 5 / 9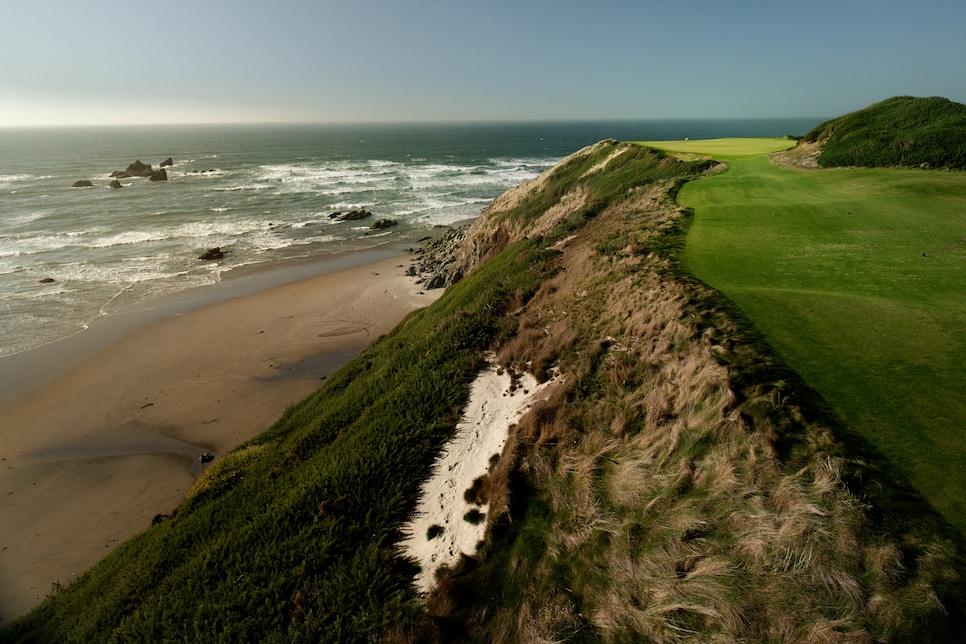 6 / 9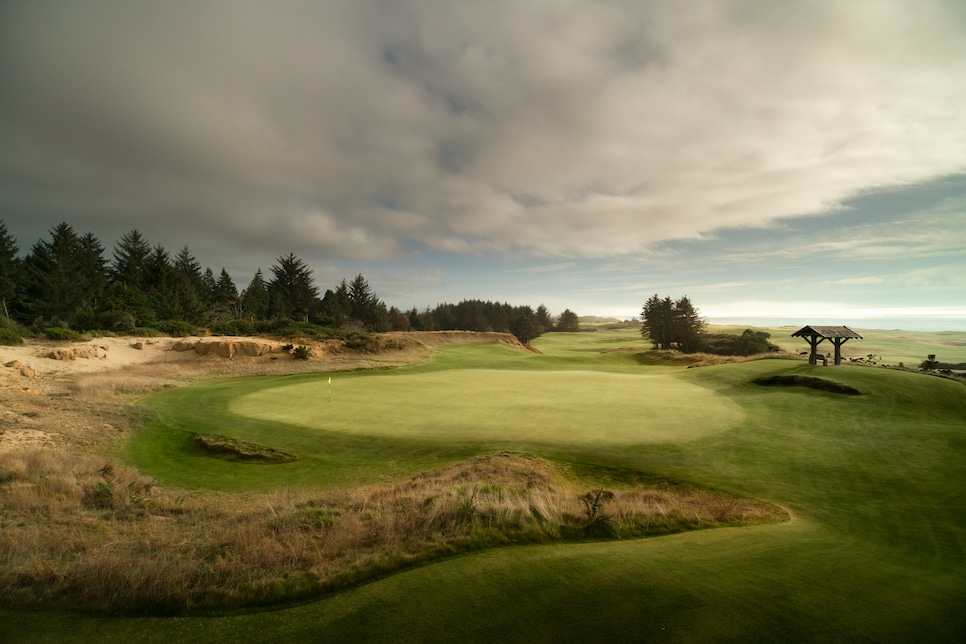 7 / 9
8 / 9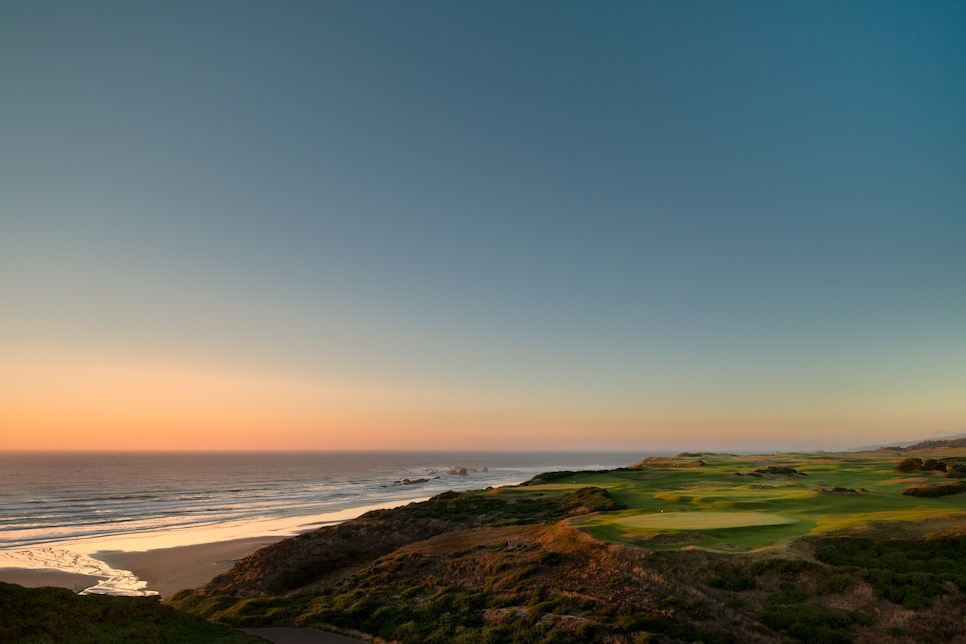 9 / 9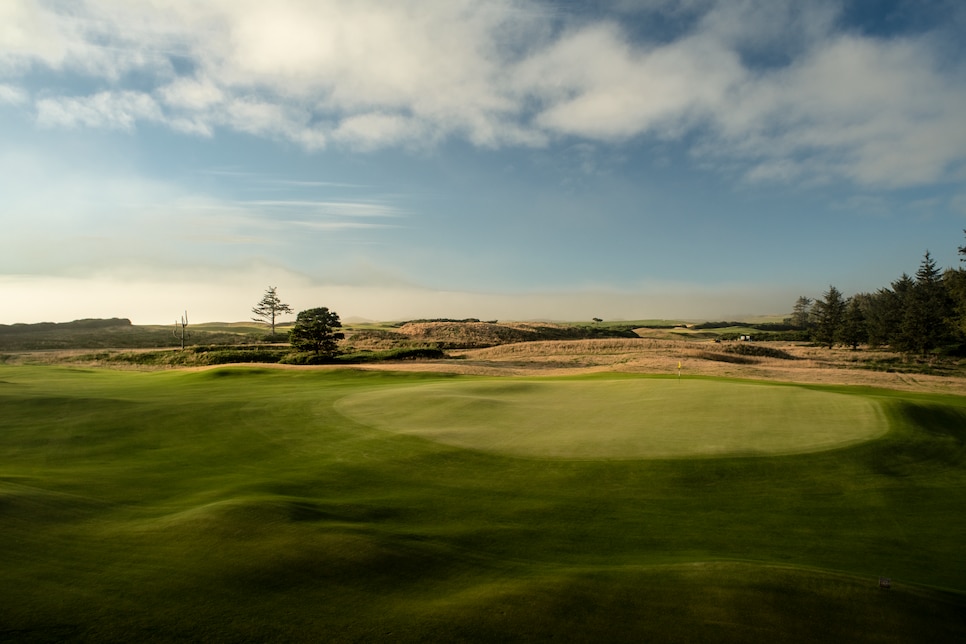 Overview
Sheep Ranch began life as a different Sheep Ranch in the early 2000s, a rag-tag, cross-country, 13-hole course with no irrigation built by Tom Doak on a bluff just north of what would later become Old Macdonald. It was a little-used recreation that only insiders knew about. Mike Keiser tapped Bill Coore and Ben Crenshaw to convert it into Bandon Dunes' fifth regulation 18-hole course and Coore and Crenshaw's second. Spread across an open, windswept plateau, using many of the same greensites, Coore managed to triangulate the holes in such a way that nine now touch the cliff edge along the Pacific Ocean. Extremely wide fairways and large putting surfaces allow the exposed course to be playable in extreme winds, and with its fast arrival to the top 15 public courses alongside Bandon's other courses, Sheep Ranch has accomplished the most difficult of feats for resort courses—distinction among equals.
About
Designer
Coore & Crenshaw
Awards
Second 100 Greatest: Made its inaugural appearance this year.
2023-'24 ranking (and highest): 115th.
100 Greatest Public: Ranked 15th, 2021-'22.
2023-'24 ranking: 16th.
Best in State: Ranked since 2021.
2023-'24 ranking: 5th (and previous).
Watch our exclusive drone tour
Panelists
Ratings from our panel of 1,900 course-ranking panelists
100 GREATEST/BEST IN STATE SCORES
Reviews
1 / 7
Review
"It might be the easiest of the 5 courses at Bandon Dunes but has the most postcard shots of any of the courses. Holes 16 and 17 are two of the best ocean views of any holes I have played. I don't think Sheep Ranch is my favorite course at Bandon Dunes but it is so different from the other four courses that it is a tremendous addition to the resort and pushes Bandon Dunes to the top golf experience of all resorts."
Read More
2022
2 / 7
Review
"Sheep Ranch occupies the most dramatic and extensive oceanfront property on the entire Bandon Dunes resort.. Coore & Crenshaw did a remarkable job of making the most of this land, creating a strong routing with an interesting variety of holes and stunning oceanfront vistas, and also utilizing non-oceanfront features to the greatest extent possible (e.g the volcano mound on the par-5 11th hole is awesome! A few holes felt necessarily sandwiched in given property constraints (e.g. the par-3 3rd), while lack of sand bunkers or other natural landmarks sometimes left other holes feeling a bit too open and featureless (e.g. the par-4 4th). Overall, Sheep Ranch is notable for its incredible views, good solid golf architecture, and innovation of the architects making the property work well."
Read More
2022
3 / 7
Review
"A brilliant routing on the Oregon coast, which is the north-most of all the courses at Bandon, features 9 holes on the cliffs with infinity views. Great decision by Bill Coore to incorporate sandless bunkers throughout the course. The design variety is exceptional with a unique collection of short 4 and 5 par holes. Of note is the 2nd, 325 yarder where shot options abound. The Fun criteria is off the charts with chances for birdies on every hole. Challenge not so much, long hitters have huge advantage with little to worry about off tee. "
Read More
2022
4 / 7
Review
"The one drawback is that there are a few blind shots where the landing area has variable rolling terrain and you can be in a problematic spot which is just a few yards from a perfect lie and this isn't evident from the teeing ground."
Read More
2022
5 / 7
Review
"A true feat in routing this incredible, fun course on less than 150 acres. Tip of the hat for also seamlessly blending in views of the Ocean into almost every hole. Certainly not overly difficult especially when the wind is down, but really "fun" course that calls for some imagination around the greens. 17 and 18 are some of the best Ocean holes that make nice use of the backdrop. 18 does not make sense as a par 5, but otherwise there are really no weak holes on the course, although the design variety and certain other shot option elements certainly not on the level of the other four courses on the property. Sheep Ranch should be embraced for what it is -- a really fun golf course with amazing views albeit not the sternest test of golf...but does every round really need to be?"
Read More
2021
6 / 7
Review
"A wonderful bunkerless golf course. Spectacular views, but the routing still provides challenges. I thought GOLF magazine was insane having this in their top 100 until I played it. The double green par three was quite clever. Great use of land forms as hazards and obstacles."
Read More
2021
7 / 7
Review
"Very scenic course with some postcard shots overlooking the Pacific. The newest of Bandon's five courses. The Bandon Dunes restaurant at the Sheep Ranch clubhouse is the perfect spot for a quick breakfast or lunch at the turn."
Read More
2021
Readers
Collection of reviews from our readers
There are no reader ratings yet
Reviews
There are no readers reviews yet. Be the first to write a review.