The Greenbrier: Old White
White Sulphur Springs, WV • Public
1 / 7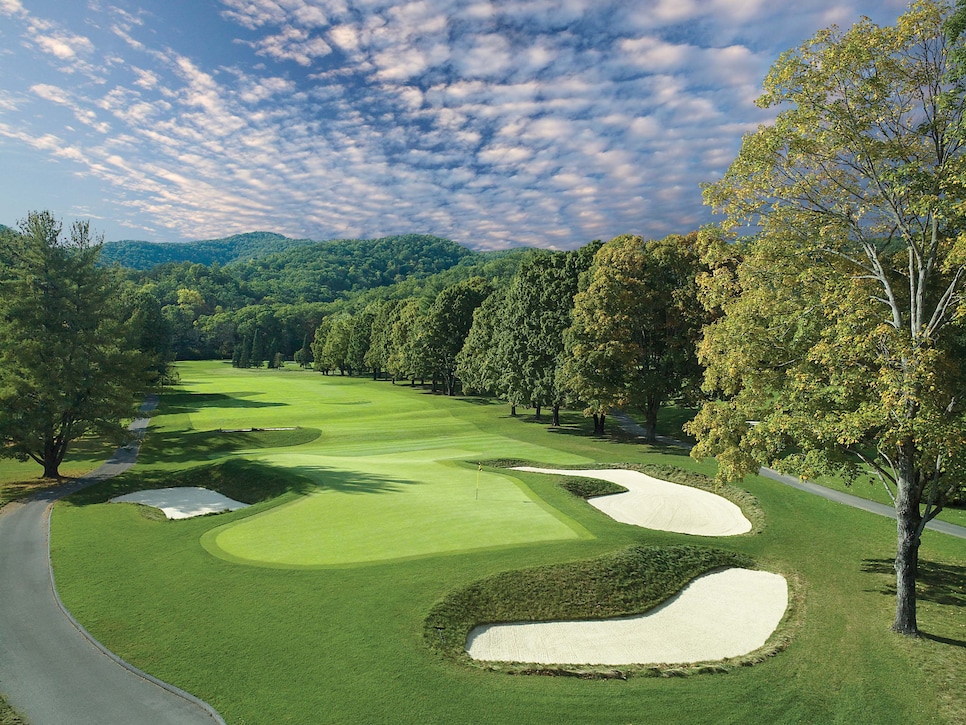 2 / 7

Courtesy of DANIEL JAMES MURPHY
3 / 7

Courtesy of DANIEL JAMES MURPHY
4 / 7

Courtesy of DANIEL JAMES MURPHY
5 / 7

Courtesy of DANIEL JAMES MURPHY
6 / 7

Courtesy of DANIEL JAMES MURPHY
7 / 7

Courtesy of DANIEL JAMES MURPHY
Overview
C.B. Macdonald's early American design of the Old White at The Greenbrier was always respected, especially after Lester George's 2007 restoration re-established such things as a Principal's Nose bunker and Dragon's Teeth mounds. Golf Digest panelists rediscovered its pleasures and ranked it the Best New Public Remodel of 2007. Soon, owner Jim Justice began sponsoring an annual PGA Tour event. Then came devastated floods in July, 2016, which claimed lives and destroyed several Old White holes. Another architect, Keith Foster, supervised a total rebuild of the famed course in less than 12 months, in time for the following year's PGA Tour event. As a result, The Old White was named Golf Digest's Best New Remodel again in 2017.
About
Designer
C.B. Macdonald/Seth Raynor/(R) Lester George/(R) Keith Foster
Awards
100 Greatest: The course was part of Golf Digest's inaugural America's 200 Toughest Courses list in 1966.
Second 100 Greatest: Ranked since 2015. 2021-'22 ranking: No. 178.
100 Greatest Public: Ranked since 2013. Highest ranking: No. 29, 2015-'16. 2023-'24 ranking: No. 34.
Best in State: Ranked third since 2013. Ranked inside the top five, 2011-'12.
Panelists
Ratings from our panel of 1,900 course-ranking panelists
100 GREATEST/BEST IN STATE SCORES
Reviews
1 / 8
Review
"A very nice example of a traditional C.B. Macdonald design, with many of a template holes. In great condition, with a great fluid connectivity and transition from hole to hole."
Read More
2022
2 / 8
Review
"Wonderful restoration by Keith Foster following devastating floods of 2017. Lovely Raynor features such as the Principal's Nose on 10, the Biarritz on 3, the Redan on 8, Punch Bowl on 9, and the thumbprint on 18 green. Wide corridors to play on most all par 4's and par 5's framed by beautiful mountain views on several tee and approach shots. One can definitely see the room for spectators for the PGA Tour event that was previously played at the course. Standout holes include Nos. 3 (Biarritz), 8 (Redan), 13, and 18."
Read More
2022
3 / 8
Review
"This CB Macdonald has undergone a number of restorations, the latest of which was 2017 after the flood of 2016. The course begins high on the first tee by the clubhouse and meanders around some very walkable terrain. It is unexpected for a mountain course. The course has many of CB's template holes and finishes with a very interesting par three."
Read More
2018
4 / 8
Review
"One of America's great courses. Reshaped bunkers enhance the definition and design of the holes. The condition, especially of the greens, is outstanding considering it was newly seeded only last fall. It has a Biarritz and a redan green. The meandering rock-lined creek added beauty and challenge."
Read More
2021
5 / 8
Review
"One of Charles Blair Macdonald's classic designs. He put in every unique design feature that he saw in Scotland...Biarritz, Redan, Punch Bowl etc. Every hole has a distinct design feature. It's still strong enough to host a PGA Tour event."
Read More
2019
6 / 8
Review
"Classic architecture. Great conditioning"
Read More
2022
7 / 8
Review
"In places this course sits against the base of the mountains, so the views are topography are quite amazing. What is also interesting about this course is it's remarkably flat; yes there are a couple elevated tees to hit your drive, and yes some of the greens are up on a shelf, but by and large it's a flat golf course. It does have some dramatic doglegs and a stream that runs through the entire course."
Read More
2020
8 / 8
Review
"Course remodeled after significant flooding in 2016. The resort has everything you'd want in an outdoor destination. The Greenbrier restaurants have something for everyone—there 20 different restaurants, lounges and bars."
Read More
2018
Readers
Collection of reviews from our readers
There are no reader ratings yet
Reviews
There are no readers reviews yet. Be the first to write a review.