News
Mammoth Dunes at Sand Valley: How David McLay Kidd used Bandon Dunes as inspiration to bring fun back to golf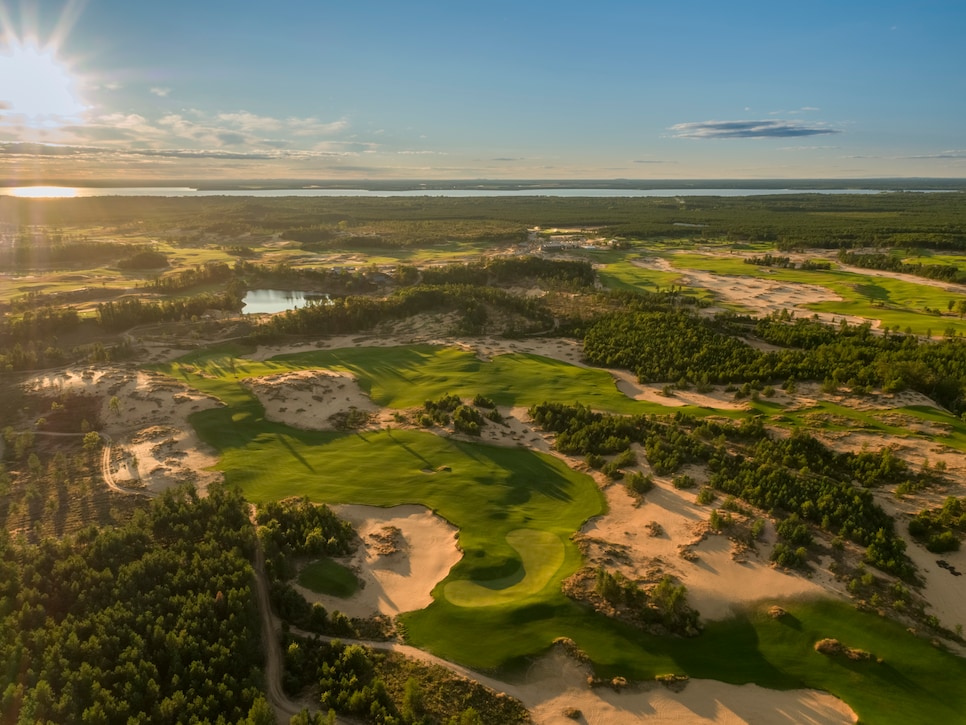 The Pacific Coast of Oregon and the middle of nowhere Wisconsin wouldn't seem to have too many similarities. But in discussing why great golf works at Bandon Dunes, and how David McLay Kidd took inspiration from his successful breakthrough course more than 20 years ago, you arrive in tiny Nekoosa, Wis.
Kidd's Mammoth Dunes at Sand Valley opens Thursday, less than four years after having walked the site and being rewarded the design job from Mike Keiser. Keiser gave Kidd his shot at Bandon Dunes and also found Sand Valley, whose Bill Coore and Ben Crenshaw course won Golf Digest's Best New course in 2017. Kidd's new course is a top contender for the honor in 2018, along with Streamsong Black and some others, but regardless of the outcome, the design represents a shift in philosophy from Kidd and his design team that started 10 years ago after a return to Bandon Dunes.
As a little-known mid-20s architect from Scotland, Keiser picked Kidd to design his first course at what is now one of the world's most well known golf resorts. Since then, Kidd realized he had deviated from what he knew instinctively from growing up as the son of a greens superintendent, playing Old Tom Morris and James Braid courses in Scotland. What did Kidd get right at Bandon? And how could he learn from those successes? Having received some criticism for some of his later work—the most extreme of which was fellow designer Tom Doak giving Kidd's Castle Course at St. Andrews the only "0" on his 1-10 scale on his Confidential Guide to Golf Courses—Kidd took his two lead designers, Casey Krahenbuhl and Nick Schaan—back to Bandon Dunes to draw specifics on what succeeded. The result? A shift in design philosophy that is most embodied at Mammoth Dunes.
"There's a misconception that the super creative, best shaping work we do in the dirt has to result in difficult. And that difficult courses that are somehow a badge of honor," Krahenbuhl says. "So that was the memorable part for me. We realized we can have both. We can create these amazing golf holes—like the 16th hole at Bandon Dunes—which are also extremely playable while being great golf holes."
Since that trip, Kidd's team had successful openings at Gamble Sands in Washington and Huntsman Springs in Idaho among others. But Kidd won the design competition in 2014 to build the second course at Sand Valley, and the end result might be Kidd's team best work yet.
"We needed to remind people that golf could be fun again, and 10 years after my epiphany at Bandon Dunes, Mammoth Dunes opens, so it's pretty cool," Kidd told Golf Digest at Mammoth Dunes, a day before the course's official opening. "I hope this helps in its way to steer the course of golf courses in the future. I'm on a mission for myself and also golf in general to make courses more playable."
It's not hard to buy into Kidd's statements. The scale and width at Mammoth Dunes allows golfers to play into sharply contoured greens from any angle, but not heavily penalizing golfers for spraying it left or right, or missing a shot left or right. Perhaps the most fun hole is the drivable par-4 14th, which plays from an 80-foot tall sand ridge down to a green that Kidd calls the "Big Brother version of a Redan green on a par 4." Talk about unique. And there are options left or right, including a speed slot to the right that will funnel one's ball down to the green.
Kidd incorporated the design of Golf Digest's Armchair Architect winner Brian Silvernail for the 14th hole, using Silvernail's original sketch. Though Silvernail got some technical lessons on drainage, irrigation and maintenance, the design is Silvernail's, and McLay Kidd's team made it work.
The before-and-after drone footage of the hole that tips out at 325 yards but plays from 297 yards from the second set of tees (and downhill) is a must watch.
The design played into Kidd's concept of a successful drivable par 4.
"My premise for a really fun par 4 starts with getting as many players as possible to actually go for it. If golfers feel they need to lay up because the trouble is too much, they feel like they were robbed and didn't have that same opportunity. In order to make as many people as possible to try to drive it, you have to make the penalty for error pretty minor. So you have to be willing to give away birdies and pars to have them go after eagles. And if you miss, your recovery shot is achievable.
"Part of the thrill, too, is the concept based on the Redan-style green, which is usually found on a par 3. But we achieved it on a par 4. So you have the thrill for a golfer hitting their driver and watching it chase on the ground for 15 to 20 seconds before it stops, who doesn't think that's cool?"
Other highlights include a boomerang green on the sixth hole, inspired by a trip that Kidd made to Crystal Downs Country Club in Frankfort, Mich., No. 11 on Golf Digest's latest 100 Greatest ranking, and studying Alister MacKenzie's half-moon seventh green.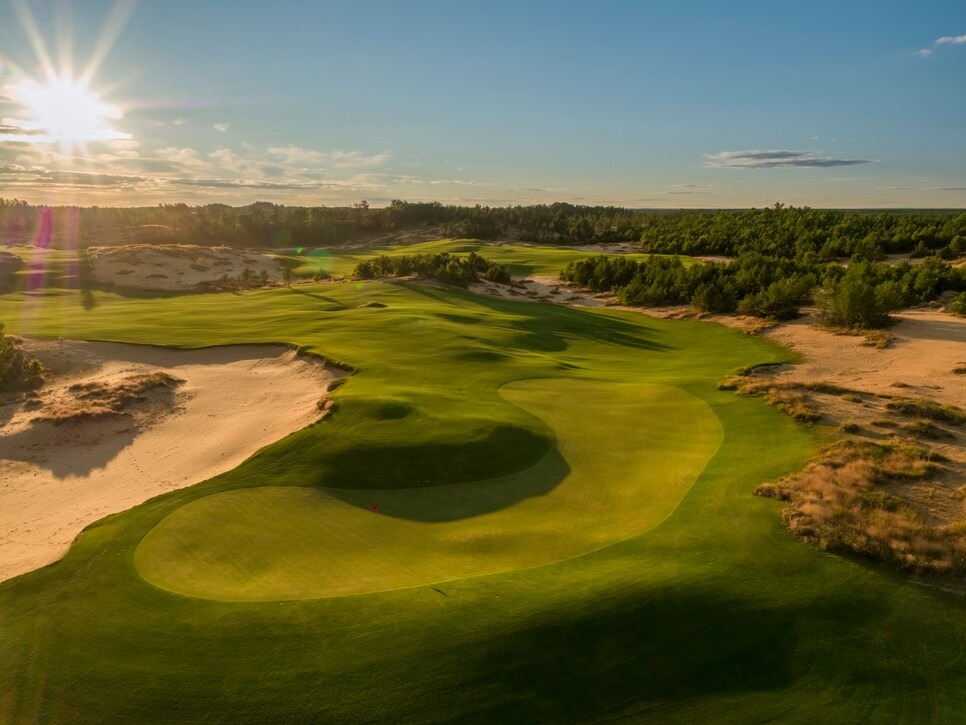 Kidd and his team spent some time trying to adapt the unique green, even taking a basketball and rolling it from one side to the other, making sure it was possible to putt from one side to the other. As Wednesday's pin location proved, the task was a success and the green is one of many interesting green sites on the course.
Perhaps the most impressive is the par-3 13th green, and the massive landforms in which the green sits.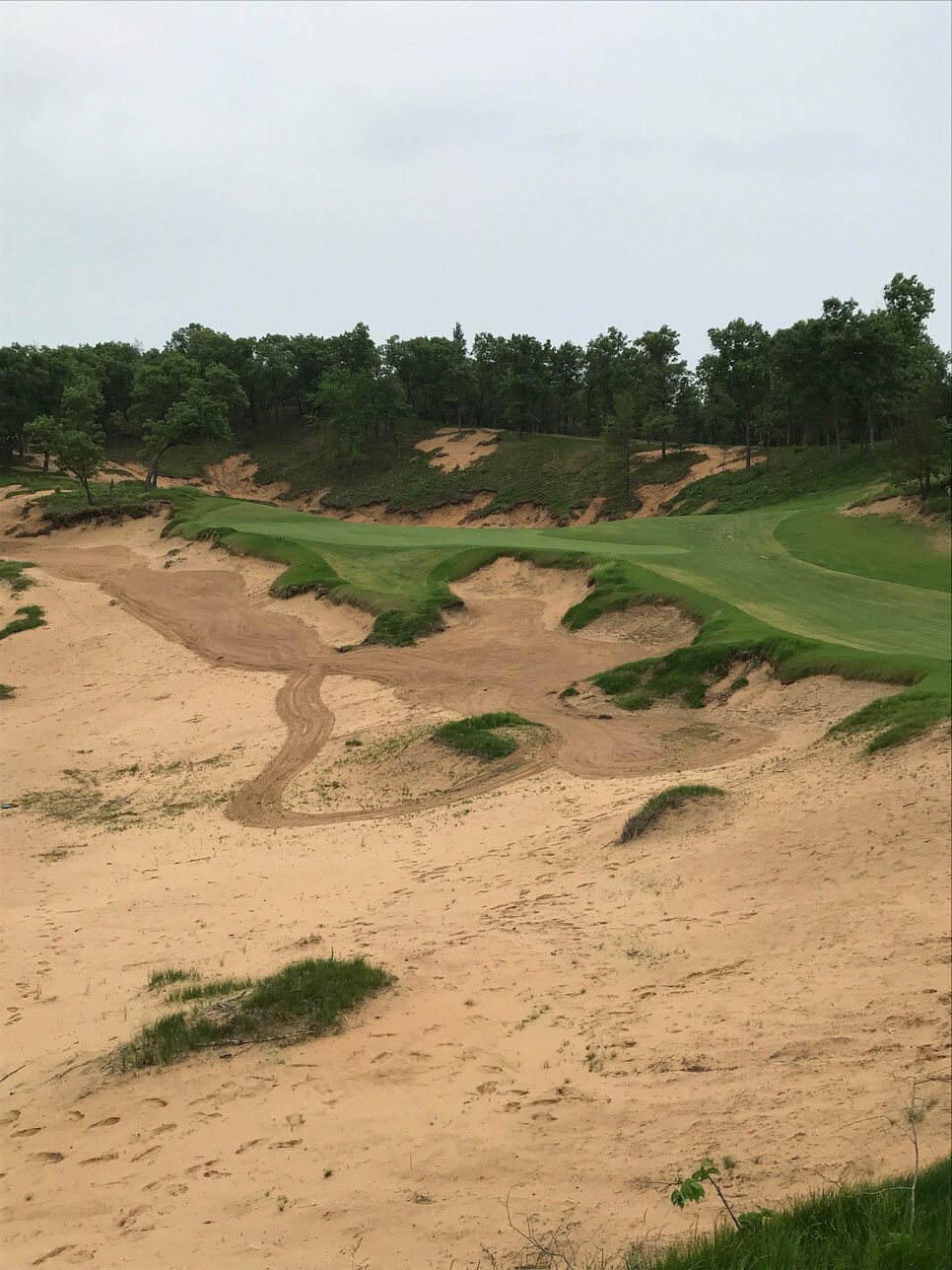 And the fifth hole, which down a massive sand ridge before the green that sits in the valley, kicks off a truly invigorating stretch of holes. "This is the place on this golf course that I stand and say, 'Wow,' " Krahenbuhl said.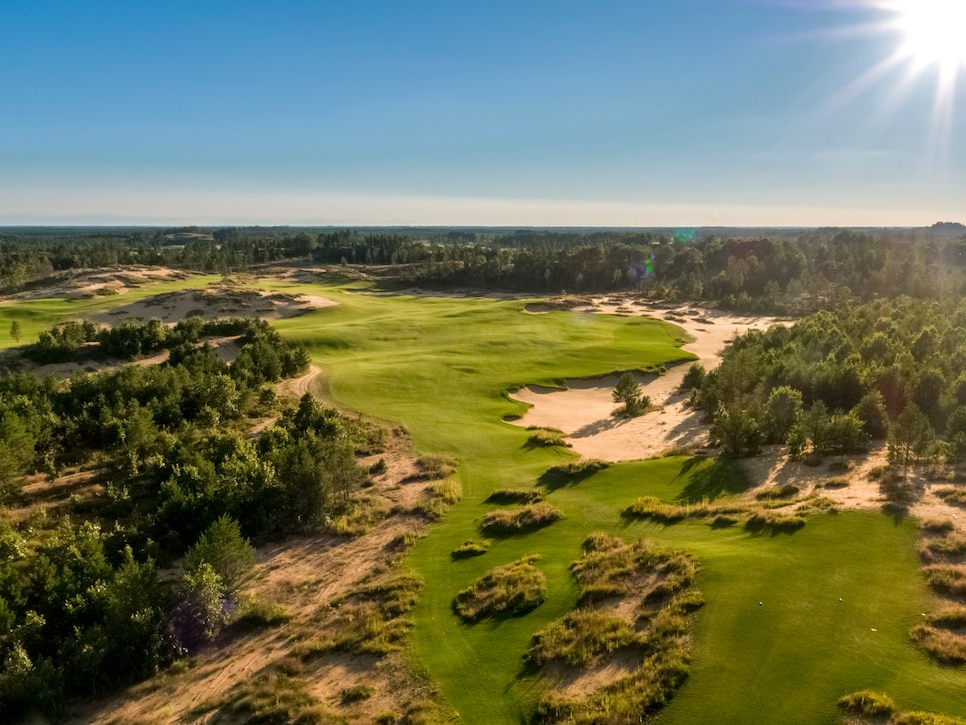 Plus the island-green par-3 eighth hole, with a green surrounded by sand instead of water, comes after the seventh, which features a bunker that incorporates an old settlement house found during construction.
And so golfers will find yet another great golf course in Wisconsin, following the lead of Whistling Straits and its four courses, and 2017 U.S. Open site Erin Hills. In Sand Valley's case, you have two courses, plus a 17-hole par-3 course from Coore and Crenshaw, with the likelihood of more courses down the road, is the result of a golf-course shaper Craig Haltom finding this untouched timber forest plantation and suggesting to Keiser that he check out the land, which he did in 2013, telling our Ron Whitten: "I really tried to resist this project, but within 30 minutes of being on-site, I was hooked."
Drive four hours from Chicago, three and a half from Minneapolis or two and a half from Milwaukee, and you find Sand Valley Resort. It's an hour on I-39 north from Madison, Wis., and make a left turn, and then a right, and you'll have a similar reaction to Keiser.
Kidd's course, which he refers to as "the latest groundwork in Mike Keiser's master plan for a bigger project to create a pine barrens resort that spreads out in every direction," has successfully utilized massive sand dunes into a pine oaks savannah of incredible scale.
"We've made it so that the fear of failure isn't so daunting," Schaan said. "Sure, the 20-handicapper is willing to accept the consequences of a bad shot. But if he's able to find it, keep it in play and have a chance on your next shot to pull off a fun recovery shot, that's going to be more fun, and that's a success. And a lot of that is visual. The whole idea that hitting a golf shot should be based on pass or fail isn't very fun."