Courses
Golf Digest's Best New Course of 2017: Sand Valley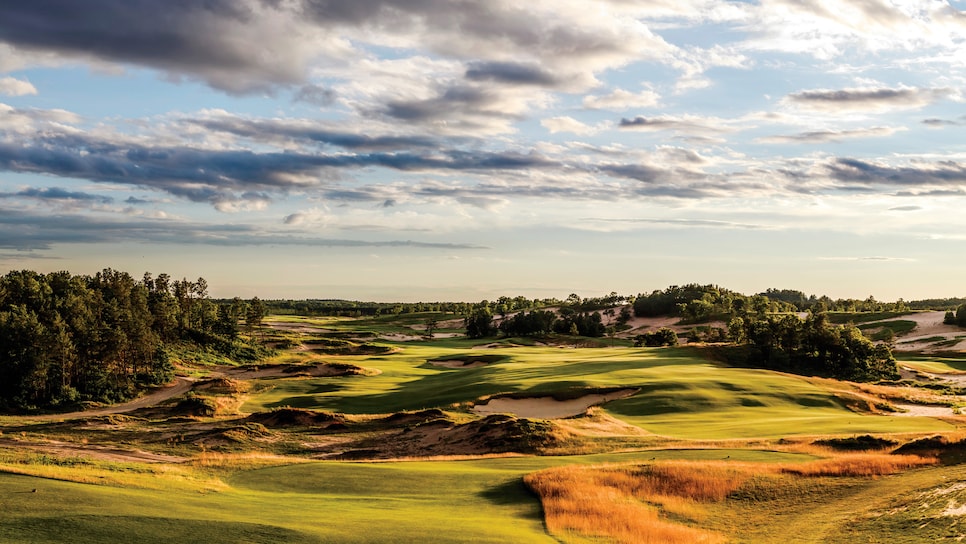 The visual impact of the stunning Sand Valley course at Sand Valley Golf Resort is immediate and gasp-inducing. It begins with the opening tee shot, off a high sand dune dubbed The Volcano, to a ribbon of rumpled fairway flanked by vast expanses of natural, exposed sand, dotted with low-growing vegetation and copses of pines.
Hard to believe this is central Wisconsin. Not hard to believe this is Golf Digest's Best New Course of 2017. Indeed, selection of this Bill Coore-Ben Crenshaw elaborate expression of Old School architecture was expected by many, given its advance publicity. After all, this is yet another product of Mike Keiser, who 20 years ago began to redefine the nature of resort golf with the introduction of Bandon Dunes on the Pacific bluffs of Oregon. It, too, won Golf Digest's Best New award, as have nearly all of Keiser's subsequent ventures in resort golf.
Golf Digest's Best New awards are determined by evaluations posted by male and female panelists from around the nation and Canada, who play and analyze new candidate courses on the basis of five criteria: Shot Values, Design Variety, Resistance to Scoring, Memorability and Aesthetics. It's meant to be a clinical, dispassionate process, but it's hard to discuss Sand Valley without evoking serious emotions. It's a dream realized, an environment reclaimed and, perhaps most significantly, a community revitalized. The local economy has been stagnant for a decade, with unemployment over 9 percent. The resort has created jobs, and when completely built out, has the potential to become the top employer in the county, offering work in course operations, maintenance, hospitality and, with walking-only courses, caddieing.
Sand Valley was not Keiser's dream. It was that of Craig Haltom, at one time a golf-course shaper (now a partner with his old boss, Mike Oliphant, in a firm called Oliphant-Haltom Golf). Haltom wanted to design and build his own course, and he scoured Wisconsin searching for the perfect site. More than a decade ago, he discovered an unharvested pine plantation southeast of tiny Nekoosa and 108 miles north of Madison: 1,500 acres of red pines, planted in rows, running up and down enormous hills that reached up to 80 feet high. With pure sand beneath, deposited eons ago by a glacial lake, it was ideal for golf—nothing supports the game better than a deep strata of sand offering perfect drainage and firm turf. Haltom had not nearly enough money to purchase the land, so he sought an investor, eventually Keiser among the prospects. Keiser first saw the property in 2013.
"I really tried to resist this project, but within 30 minutes of being on-site, I was hooked," Keiser later said. "It's a thrilling dunescape, a cross between Pine Valley and Sand Hills."
Hence, perhaps, the name Sand Valley. But to conclude that does an injustice. Despite the insistence of some pundits, Sand Valley is not an imitation of Pine Valley, America's top-ranked golf course, although the two bear similar traits. Sand Valley has wider panoramas, larger expanses of visible sand, fewer pines and bigger targets on each hole. Nor is it Sand Hills, that central Nebraska private retreat that truly began the Coore-Crenshaw epoch in golf architecture. Their Sand Hills design was as minimalist as humanly possible; their Sand Valley design involves more manipulation of the land: sculptured fairways, hand-carved sand scars, invented green sites, all done with such sophistication as to mislead most into believing such features were there from the beginning.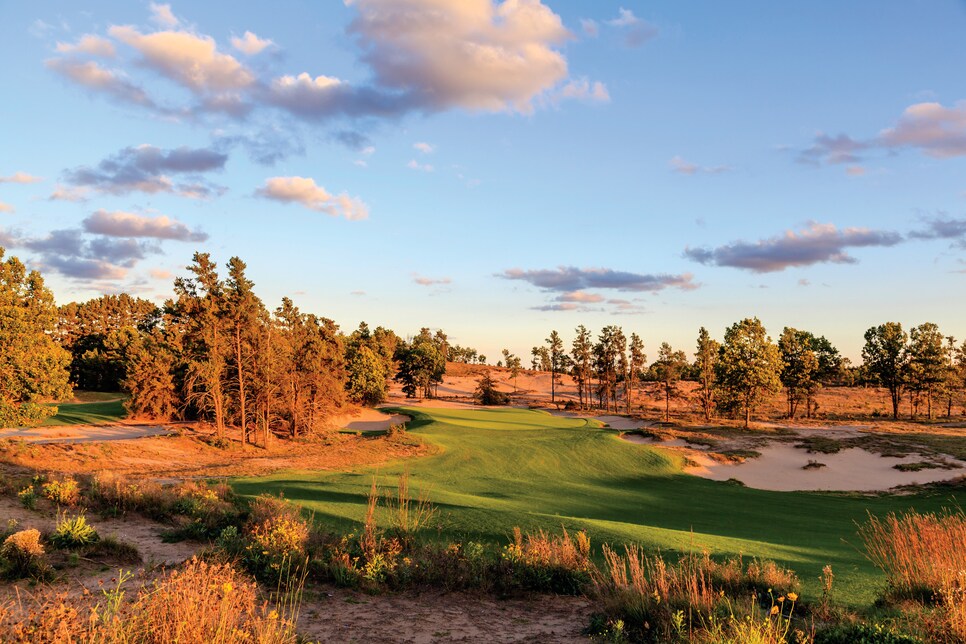 INSPIRATION FROM NATURE
Keiser's initial enthusiasm was tempered by the fact that his other golf destinations are adjacent to a sea, which adds to their appeal. The Wisconsin site had nothing close to that—it was rather monotone in its precisely positioned red pines. As a member of the board of directors of the Chicago Field Museum, Keiser happened to mention the proposed project to staff members. They knew of the location and became excited. It was part of Wisconsin's vast, neglected pine barrens, they pointed out, worthy of restoration. Indeed, it was the land that naturalist Aldo Leopold had written about in his classic book from 1949, A Sand County Almanac.
Keiser read the book, gave copies to his sons, Michael and Chris, both of whom would take lead roles for the first time in a golf project, Michael supervising construction at the resort, Chris handling its finances. They all agreed that Sand Valley could be special, "authentic to the local topography and ecosystem," Michael says.
The family assembled 150 investors, mostly friends who had long desired to be involved in a Keiser project, each supplying $50,000, and Mike awarded the design to his preferred architecture team, Coore and Crenshaw, who at the time were still completing their fourth course for Keiser, the magnificent Cabot Cliffs in Inverness, Nova Scotia. It would win Golf Digest's Best New Course of 2015.
Meanwhile, Michael met with Madison-based ecologist Jens Jensen, whose namesake and great-great-grandfather was one of America's early famous landscape architects. Jensen proposed the concept of not just restoring the pine barrens but the entire continuum of the site, from barrens to sand prairie to jack-pine savannas to oak woodlands. He urged the non-indigenous red pines be removed to start the process, which would expose the underlying landscape, allowing Coore to produce a routing that intersects sand formations in every way imaginable.
There is a certain irony that Keiser, who first made his fortune with a company called Recycled Paper Greetings, would generate funds for Sand Valley's course construction by the harvesting of red pines, a junk tree used as raw pulp for paper. But the trees had to go, and if income could be made in the process, so be it. During construction, Keiser handed out paperback copies of A Sand County Almanac to all crew members and encouraged that it be read. Today, at Michael's suggestion, paperback copies of the book sit in each room of Sand Valley's lodging.
For the record, there is no actual Sand County in Wisconsin. Leopold farmed in Sauk County, to the south. It and surrounding counties, including Adams County, where Sand Valley is located, were known as "sand counties" because of the prevalence of glacially deposited gravel and silica.
Early in the book is a clear indication why Keiser believed the text was applicable to his project.
"We abuse land because we regard it as a commodity belonging to us," Leopold wrote. "When we see land as a community to which we belong, we may begin to use it with love and respect."
Only late in the book does Leopold briefly reference golf. When appealing for man to establish a "land ethic," to sensibly manage all resources while altering or consuming them, he writes of the average American, "Turn him loose for a day on the land, and if the spot does not happen to be a golf links ... he is bored stiff."
We don't know if Leopold considered a golf course to be a proper use of natural resources, but clearly the Keiser family does, particularly in embracing Leopold's plea to practice conservation for reasons beyond economic self-interest. Sand Valley, like every Keiser golf resort from Australia to Nova Scotia, demonstrates enormous respect for its locale. Each course design makes minimal disturbance to the natural flow of the land, water is used sparingly, chemical use is sparse, fescue turfgrasses are ecologically compatible, and roughs consist primarily of local vegetation. Take time to admire those tiny yellow blooms scattered among Sand Valley's expanses of sand. That's False Heather, a glorious name for golf-course vegetation, an indigenous plant identified by Jensen early on, pockets of which he protected from construction traffic. Now that there's more sunlight beaming onto the ground, it's spreading throughout the site. Unlike Scotland's heather, it's short and squat and won't likely swallow many golf balls.
'Within 30 minutes of being on-site, I was hooked.' —Sand Valley's Mike Keiser
There's also the hillside of prickly pear cactus below the ninth tee boxes. Yes, cactus in Wisconsin is naturally occurring, common in sandy areas all around the Great Lakes states, having adapted itself to survive 30 degrees below and 120-degree heat. But this particular hillside is not natural. The cacti were transplanted there by Jensen, simply to showcase them to golfers.
Like other Keiser resorts, Sand Valley is mostly about golf. But more than others, it emphasizes ecotourism as well, offering trails for hiking and snowshoeing. Leopold is cherished here; the lake beneath the first set of cottages is called Lake Leopold; the entrance road to the property, previously 15th Street, has been renamed Leopold Way. Haltom is also saluted: The snack bar atop The Volcano is called Craig's Porch.
MORE COURSES ON THE WAY
Of course, there's more golf coming to Sand Valley. Coore and Crenshaw's crew has just completed a 17-hole par-3 course—yes, 17 holes—with a name to come, and David McLay Kidd, whose original Bandon Dunes began the Keiser cavalcade, has finished grassing another full-size 18 called Mammoth Dunes, with even greater expanses of exposed sand, wider corridors and taller sand ridges than found on Sand Valley. It's scheduled to open in summer 2018, too late for next year's Best New selections, and thus a likely favorite for 2019 honors. Meanwhile, assuming permits are granted this winter, construction could begin next spring on Coul Links, Keiser's latest venture with Coore and Crenshaw, on a two-mile stretch of authentic linksland in Scotland, just up the coast from Royal Dornoch. Silo Ridge second, Mossy Oak third
Finishing second in our 2017 Best New competition is Silo Ridge Field Club in Amenia, N.Y., a stylish private layout by Tom Fazio and son Logan on the site of a 1960s club originally called Segalla. The Fazio design brings to mind another of his, about a half hour to the southwest, Hudson National Golf Club, ranked 85th on Golf Digest's list of America's 100 Greatest Golf Courses. All Silo Ridge lacks is a view of the Hudson, but the surrounding mountain ridges are a good substitute.
In third place is Mossy Oak Golf Club in West Point, Miss., just north of Old Waverly Golf Club and developed by the same owner, George Bryan. Open to the public, Mossy Oak was designed by Gil Hanse of Rio Olympic fame. Hanse's other new project, the Black Course at Streamsong Resort in Florida, opened too late for our Best New deadline and will be a 2018 candidate.
Our best new remodel honors were divided into three segments this year, to better reflect the various aspects of reconstruction found in the industry. The winners:
MAJOR REMODELING: The Dunes Course at Monterey Peninsula Country Club in Pebble Beach, a Tom Fazio project done in association with one of his former employees, Tim Jackson, now of the firm of Jackson Kahn Design.
RENOVATION: The Players Stadium Course at Florida's TPC Sawgrass. It was revamped by Steve Wenzloff of PGA Tour Design Services, in consultation with its original architect, Pete Dye.
RESTORATION: The Old White TPC Course at The Greenbrier in West Virginia, which, curiously enough, previously had its C.B. Macdonald architecture sufficiently restored by architect Lester George that it won our Best New Public Remodel award in 2007. However, the course was heavily damaged by devastating floods in June 2016, and this latest restoration was rapidly accomplished by golf architect Keith Foster and contractor McDonald & Sons in time to host the PGA Tour Greenbrier Classic last July.