Midway through my maiden round at Cabot Cliffs, strung along ocean bluffs above the town of Inverness, Nova Scotia, I became overwhelmed by an emotion best described as giddy. I'd already played through four landscapes, from highlands to river valley to sand dunes to pine trees and was now standing on the ninth tee facing a short iron downhill to a cliff-edge green backdropped by the shimmering Gulf of St. Lawrence, which is the Atlantic Ocean as far as I'm concerned. My thought at that moment: This must be how it felt when golfers first played Cypress Point.
The sense of awe and discovery was so intense. And the best was to come, for the back nine has even more topography and four finishing holes along the jagged coastline that rival the best the Monterey Peninsula can muster. By round's end, I'd lost all objectivity. This is the second coming of Cypress Point, which in my mind was previously unmatched in its beauty, variety and thrills.
For the first time since 2009, course construction was so active that we involved Golf Digest panelists in the Best New selection process, instead of making informal editors' picks. A good portion of our Course Ranking panel, which numbers more than 1,200 low-handicap male and female golfers throughout the United States and Canada, played and evaluated 47 candidate courses, 10 of which were new, five others so radically remodeled that their owners consider them new, and 32 renovated courses that contended for Best New Remodel. That honor went to the Mountain Course at The Vintage Club in Indian Wells, Calif., a Tom Fazio design from 1980 that he remodeled. (See full results of our surveys)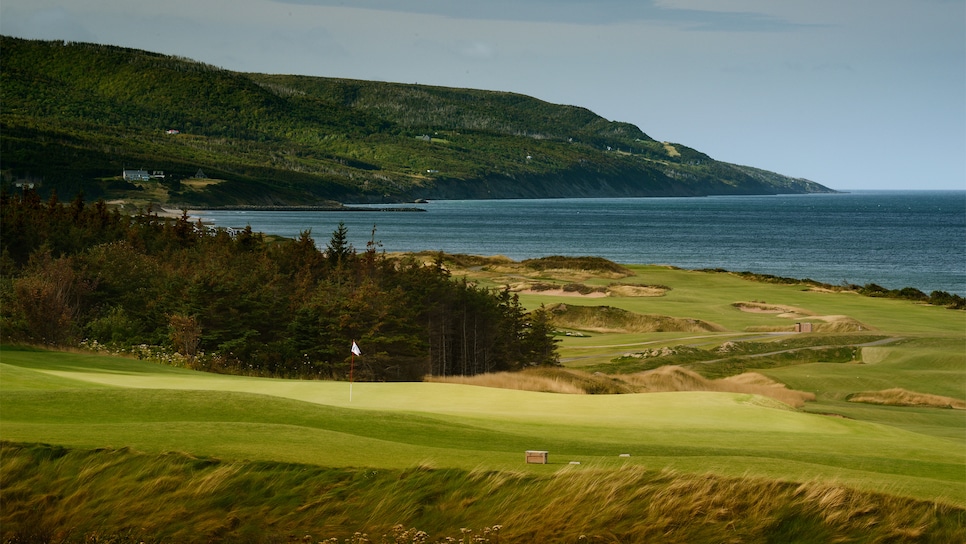 The field contains some impressive efforts, but the main attraction is Cabot Cliffs, designed by the veteran team of Bill Coore and Ben Crenshaw, who were enthusiastic about the project from the start. Coore called the site "naturally gifted for golf" and said the property has "more variety in terms of its natural holes, without doing anything to them, than any site we've had."
Their challenge was to make the best use of the shoreline, and they did so by encountering it early and often during the 18, rather than just at the close of the round. Equally important was their desire to mold the inland holes so they didn't look manufactured. To produce what Crenshaw terms "a light footprint on a gorgeous place," they relied upon their talented team of shapers, one of whom—Rod Whitman—was the architect and builder of Cabot Links, the two-year-old companion course at this destination resort conceived by Mike Keiser (of Bandon Dunes fame) and managing partner Ben Cowan-Dewar, a Canadian entrepreneur.
Golf Digest already ranks Cabot Links 42nd among the World's 100 Greatest. As great as Cabot Links is, it cannot match Cabot Cliffs' closing stretch. Cliffs' par-5 15th tumbles downhill to a green backdropped by an Ailsa Craig-like island in the sea. The 16th is an ocean-cove par 3 that brings to mind the 15th and 16th holes at—where else?—Cypress Point. The short par-4 17th is a daunting, uphill, blind dogleg where you can cut the corner by aiming over a cliff, and, with the correct bounce off the sloping fairway, reach the green from the tee. The 18th is a magnificent par 5 headed south above the beach, with ocean ravines gnawing into the fairway at critical spots.
As great as Cabot Links is (42nd among the World's 100 Greatest), it cannot match Cabot Cliffs' closing stretch.
A few panelists took the time, after filing their category-by-category evaluations, to type in a few comments about their encounters with Cabot Cliffs. "A majestic experience," said one. "Stunning," wrote another, adding, "Almost every hole offers multiple risk-reward choices. ... Eight holes run along the coast, but the inland holes are every bit as interesting." A third panelist wrote, "The best Crenshaw and Coore have built to date. ... Eighteen memorable holes. ... Will be a top 25 in the world someday soon."
Clearly, I'm not the only golfer with a crush on Cabot Cliffs. But it makes me wonder, once the Best New blush is off, whether it can withstand scrutiny. There is, for example, its unconventional (some would say contrived) routing of six par 3s, six par 4s and six par 5s. In some quarters, that's a prescription for a very slow round of golf, with backups on par-3 tees and par-5 fairways. Partisans might argue the unique setup was what the land dictated, but that was not the original routing. Initially, Coore had back-to-back par 3s at 6 and 7, but early in construction, he decided to make the ninth a short par 3, to that glorious green at the edge of the ocean that provided my epiphany. Coore scrapped the par-3 seventh, turning it into a par 5, giving Cabot Cliffs back-to-back par 5s at 7 and 8. (The other par 5s are 1, 10, 15 and 18.)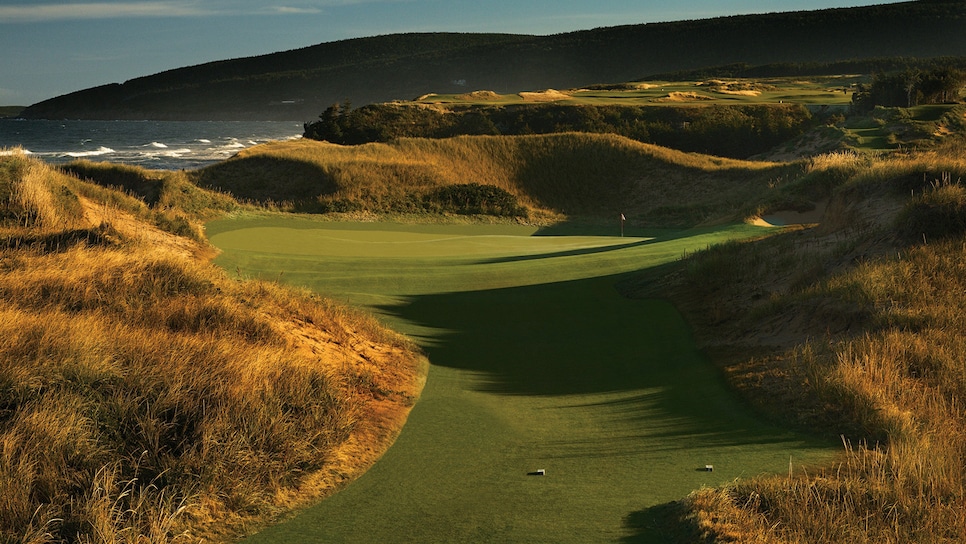 Cabot Cliffs actually has seven par 3s, because Coore allowed shaper Riley Johns, who won the 2014 Lido Design Competition, to build his winning entry as an alternate hole next to the par-3 fourth. It's an impressive design (perhaps even a bit more dramatic than the original fourth), but it's in play only some of the time. It seems a shame to skip playing either hole, but playing both would definitely gum up the flow early in the round. Then there's the fact that, because Coore and Crenshaw never have preconceived notions of par or yardage, Cabot Cliffs is not particularly long. (Then again, neither is Cypress Point.) At 6,765 yards, par 72, Cabot Cliffs might not be considered by some critics to be of "championship length," although in certain wind conditions, those critics might reconsider. Nonetheless, Cabot Links, a mile south down the coast, at 6,854 yards, par 70, is probably the more likely venue should any championship be played at the resort.
Those things matter little in the measure of true greatness. For instance, Pebble Beach has been the site of U.S. Opens, Amateurs and a PGA Championship, and Cypress Point has not, yet Pebble ranks ever so slightly behind Cypress among the best in the world. Someday, probably someday soon, Cabot Cliffs will rank ahead of Cabot Links, ever so slightly. Whether it ever surpasses Cypress Point is another matter. But give it time.
Call runner-up Trump Golf Links at Ferry Point the Best New Course of 2015 on American Soil. It's a fascinating story, a massive, impressive (if exceedingly expensive) land-reclamation project that started as a privately owned daily-fee course but after 15 years of environment cleanup became a municipal course owned by New York City and operated by Donald Trump's golf-management company. (A pledge to fund construction of the clubhouse gave Trump course-naming rights.) Designed by Jack Nicklaus, Jim Lipe (his longtime chief associate, now on his own) and John Sanford (well versed in building courses on brownfields), this is a reasonable substitute for a true links, full of humps and hillocks covered in tight and tall fescue grasses. And it has unmatched vistas of the Manhattan skyline and an up-close view of the Whitestone Bridge behind the 18th green. Trump wants a major championship for this course, and it could happen.
Third place went to another Nova Scotia course, The Links at Brunello, just west of Halifax. Canadian Tom McBroom's design is carved from thick forests amid gigantic granite boulders. In any other year, Brunello would be the talk of Nova Scotia, if not Canada. Alas, it arrived in the age of Cabot Cliffs.