Honors
Ryan Palmer, Canelo Alvarez named 2022 Arnie Award winners at Pebble Beach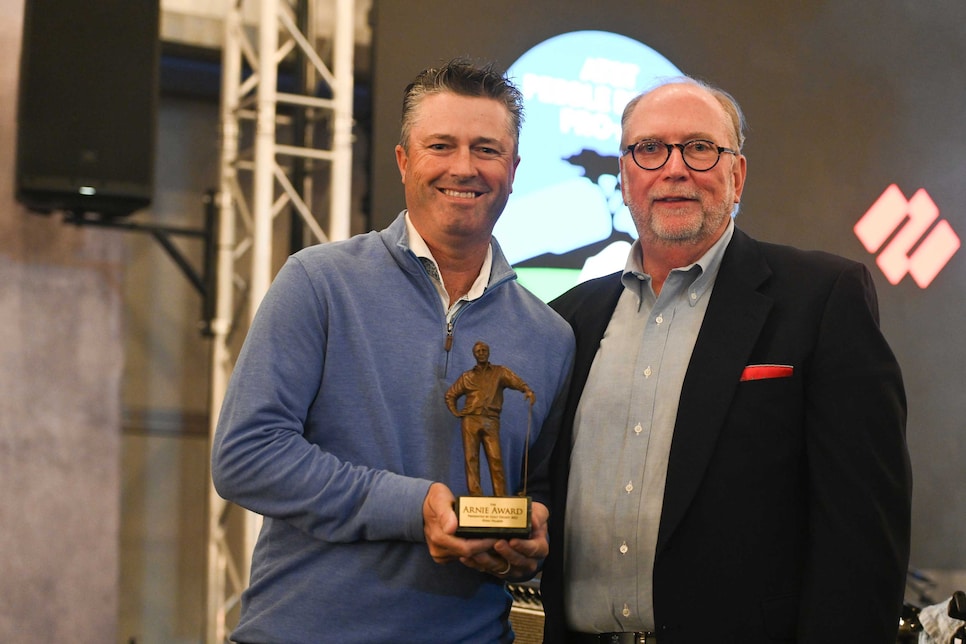 Ryan Palmer receives the Arnie Award from Golf Digest Editor-in-Chief Jerry Tarde.
PEBBLE BEACH — Ryan Palmer and Canelo Alvarez were named the 2022 recipients of the Arnie Awards on Tuesday at Pebble Beach.
The awards—which are presented by Golf Digest, Monterey Peninsula Foundation, the Arnold & Winnie Palmer Foundation and the AT&T Pebble Beach Pro-Am—honor golfers who give back through charitable work.
Palmer, who received his award during a ceremony on Tuesday at the Player Village at Pebble Beach, is a four-time winner on the PGA Tour with more than 470 starts to his name. Through his Ryan Palmer Foundation, the 46-year-old has supported local junior golf tournaments, funded college scholarships and built an indoor practice facility for the West Texas A&M University golf program. Palmer and his wife Jennifer's charitable efforts also extend to the medical field: The couple helped erect a garden and game center at Children's Hospital in Amarillo, Texas, and have worked with Brighter Smiles, a foundation that seeks to help children with dental care whose families can't afford the costs.
"I'm truly honored and blessed to win such a prestigious award," Palmer told Golf Digest. "What I truly love about it is, it's not for what I've won or done on the golf course. It's the fact that I've watched and learned from many about giving back. Thank you, Arnie, for paving the way and showing us what it is to be the ultimate professional."
Alvarez, 32, is a professional boxer who has recently taken up the game. He also is known for his generosity towards those in need in his country of Mexico, and has worked with the International Community Foundation to cover the costs of those needing organ transplants. He was unable to attend the Tuesday ceremony at Pebble Beach and will receive his award at a later date.
"I watch [Arnold Palmer] on YouTube and on TV, too, those classic moments," Alvarez said. "He's one of the best golfers in the history of golf. It's an honor for me to get this award in such a short career in golf. I'm blessed and so happy."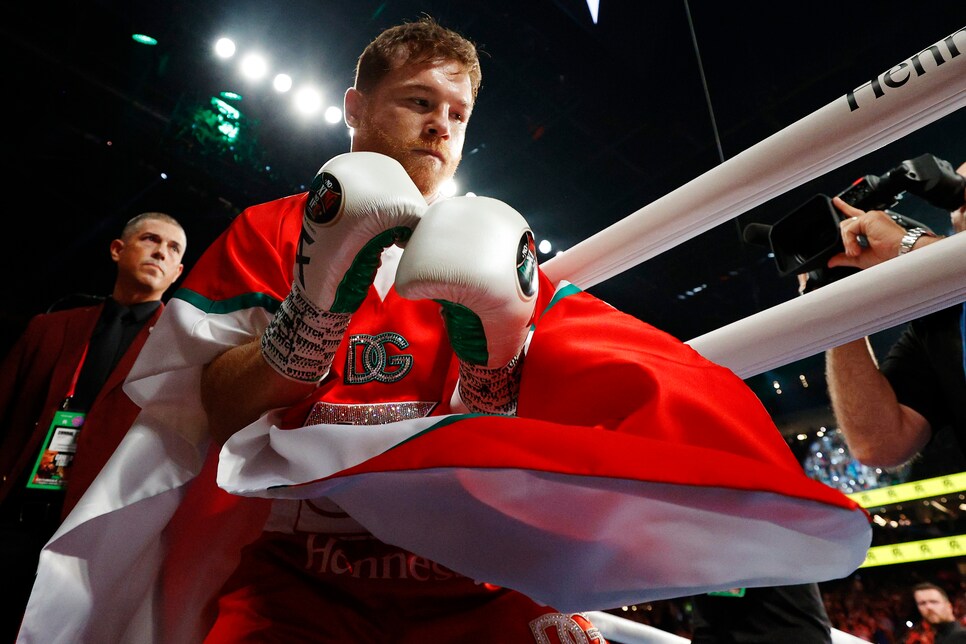 Boxer Canelo Alvarez earned the Arnie Award for his charitable work with those who need organ transplants.
Sarah Stier
This is the 11th year of the Arnie Awards. Previous winners include Davis Love III, Juli Inkster, Jim Nantz and Peyton Manning. As part of the ceremony, Golf Digest will donate $100,000 to the Monterey Peninsula Foundation and the Arnold & Winnie Palmer Foundation.