the arnies
The Arnie Awards 2022: Golfers Who Give Back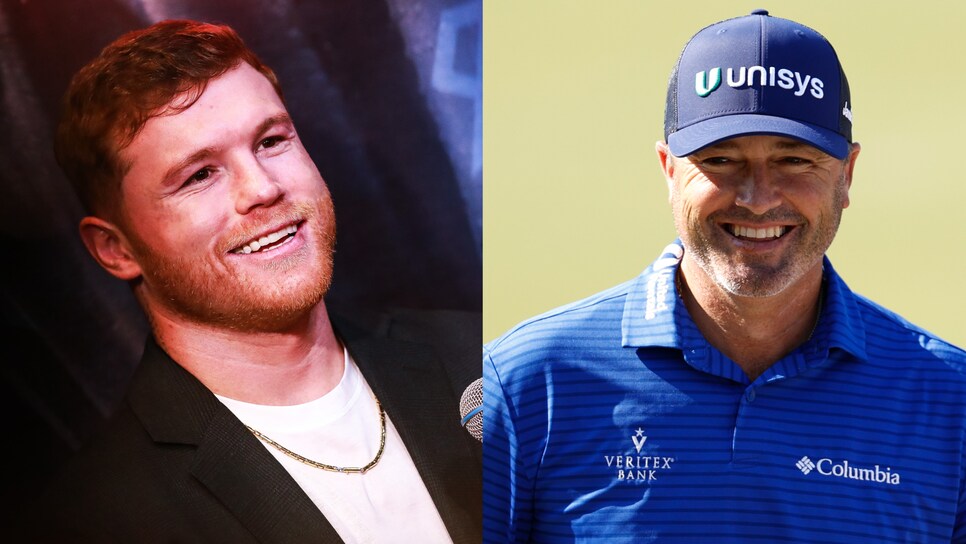 The spirit of Arnold Palmer lives on.
No individual golfer ever gave back more than Arnold Palmer did, and that's why the highest award Golf Digest bestows is called The Arnie. This is the 11th consecutive year Golf Digest has celebrated golfers who give back, partnering with the AT&T Pebble Beach Pro-Am, the Monterey Peninsula Foundation and the Arnold & Winnie Palmer Foundation. This year, in recognition of their charitable works, our joint panel selected boxing champion Canelo Álvarez and PGA Tour pro Ryan Palmer as the two recipients of The Arnie. At the 2023 AT&T in February, each will receive a trophy-size version of a Palmer bronze sculpture created by the artist Zenos Frudakis. Also, Golf Digest will donate a total of $100,000 to the Monterey Peninsula Foundation and the Arnold & Winnie Palmer Foundation.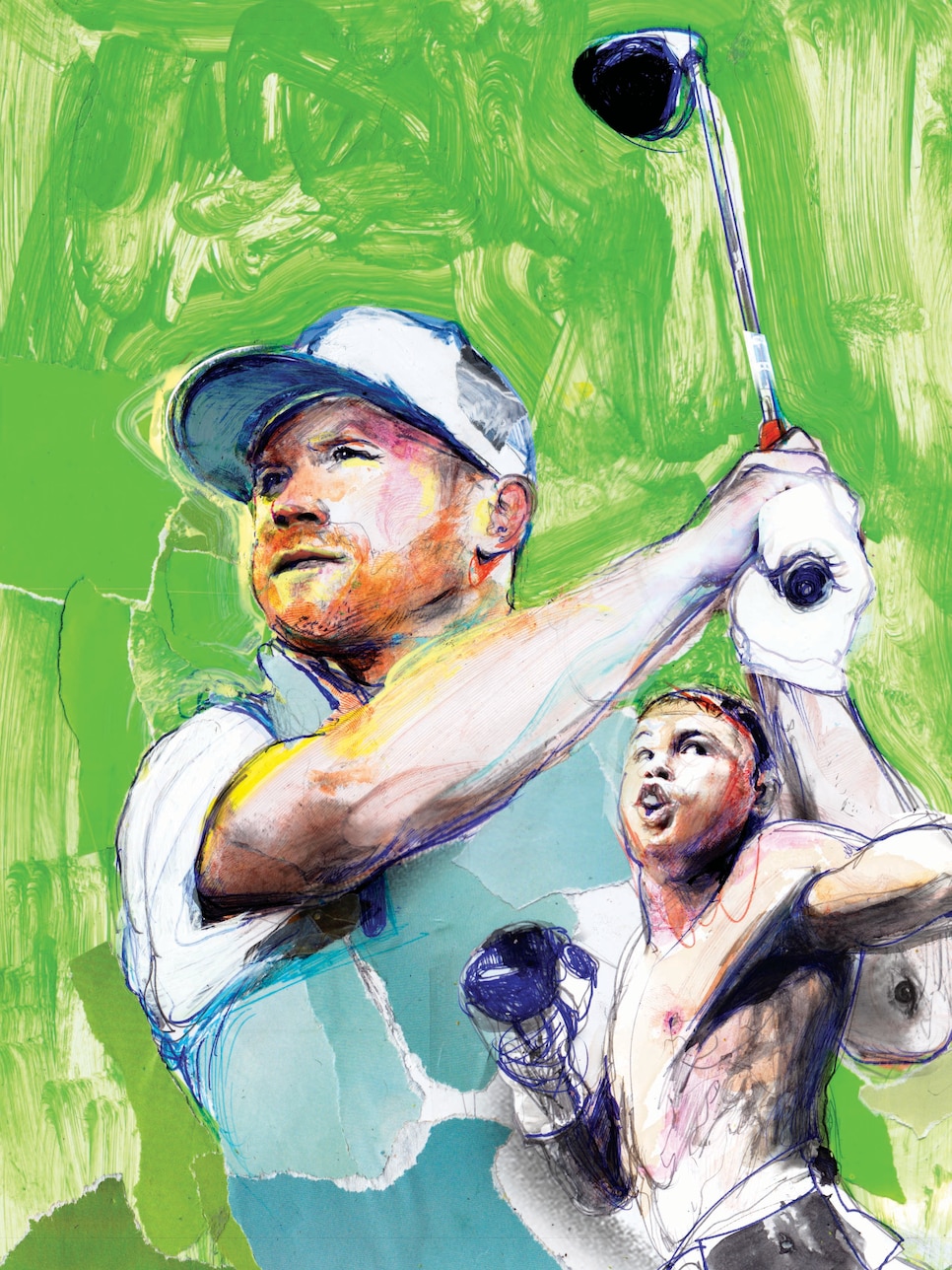 Illustrations by Zé Otavio
Boxing champ and philanthropist Canelo Alvarez is a fitting winner of the Arnie Award.
TO WIN WORLD TITLES IN FOUR WEIGHT CLASSES, Saul (Canelo) Álvarez has displayed levels of determination and discipline that few can fathom. Perhaps it's no surprise those character traits have transferred to the golf course, a gentle place the undisputed super middleweight champion might never leave when he eventually hangs up his gloves. "I plan to play golf every single day," Álvarez says of his retirement plans. "No doubt about it. I'll be able to practice more and be more focused because now I still have to focus on my sport."
Álvarez was born in Guadalajara, Jalisco, Mexico, where he grew up on a ranch as the youngest of eight children, seven of them brothers, all of whom became professional boxers. Fighting was in his blood, and he got plenty of practice as a child who was taunted by other kids for having red hair and freckles. He got in a fight basically every day, and he has been fighting ever since, turning pro at the age of 15 and compiling a record of 58-2-2 with 39 knockouts. There was never much time for golf until Álvarez was drawn to the game three years ago, just a few months before the COVID pandemic hit. He became addicted. "I like everything about the game," Álvarez says. "You need to be focused on every shot, and you need to be very patient. It's the most important thing about both sports, and golf has actually helped my boxing."
In a short period of time, he has worked to become a 9-handicap—though he's quick to point out that he hasn't been playing of late because he's still healing from wrist surgery in November. In his most recent fight, part three of a trilogy against Gennadiy (Triple G) Golovkin, Álvarez couldn't close his left fist, an injury issue that occurred during a TKO over Caleb Plant almost two years ago. Despite the nagging injury, he won the Triple G fight by unanimous decision.
In the ring Álvarez gives everything he has, and when it comes to charity, he shows a similar spirit, which is why the 32-year-old fighter is set to receive Golf Digest's highest honor, The Arnie Award, this February at the AT&T Pebble Beach Pro-Am. Álvarez is well known for his contributions to improving communities in Mexico, especially among underprivileged children.
"At some point, I've been in their shoes," he says. "I know how hard it is for them. Helping others is very important, and I do it with all my heart."
In 2017, Álvarez donated $1 million worth of supplies, medicine and construction materials to relief efforts in Mexico after a magnitude 7.1 earthquake struck central and southern Mexico. He has also been generous with hospital patients in need, working with the International Community Foundation to cover the costs of many organ transplants. In addition, he has provided cochlear implants for patients with hearing disabilities and has paid for medications, chemotherapy, radiation therapy and oncological treatments for children with cancer in the hospitals of Guadalajara.
Despite being a golfer for just three years, Álvarez is well aware of The King.
"I watch [Arnold Palmer] on YouTube and on TV, too, those classic moments," he says. "He's one of the best golfers in the history of golf. It's an honor for me to get this award in such a short career in golf. I'm blessed and so happy."
Álvarez's next fight date and opponent remain unclear though he has hinted at a May return (Cinco de Mayo weekend is a tradition for him), and he's hopeful for a rematch with Dmitry Bivol, one of two fighters to have defeated Álvarez. The other loss occurred in 2013 to undefeated Floyd Mayweather Jr.
Once his wrist is fully healed, the training will begin, both in the ring and on the golf course. Álvarez says that on a typical day, after five hours of boxing training, he practices and plays golf for about two to four hours.
"Like a pro," Álvarez says, "that's the only way to improve."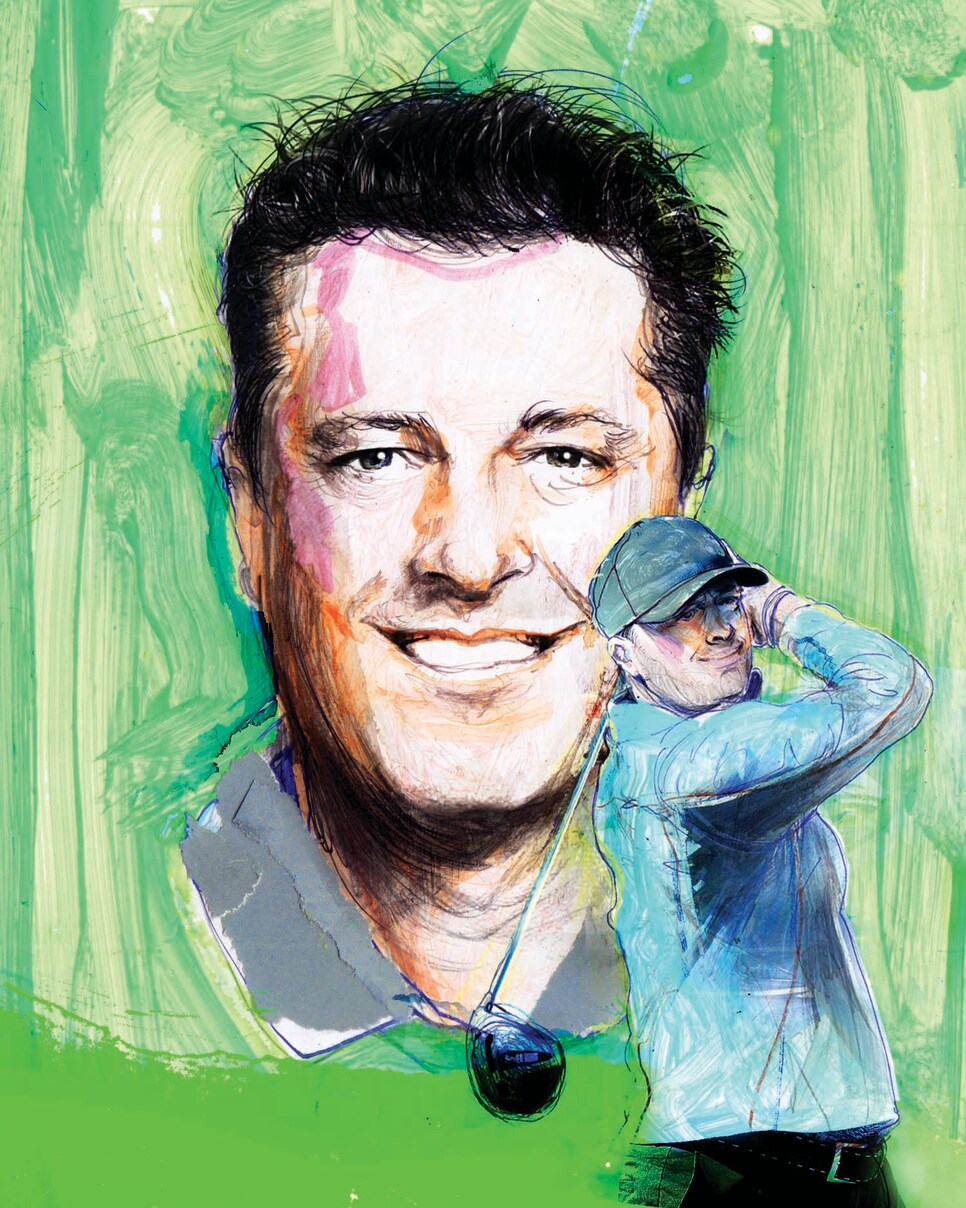 Ryan Palmer and his dentist wife brighten smiles.
In 2003, Ryan Palmer earned his PGA Tour card. After just a few starts, he was already talking with friends and family about starting a foundation.
In part, he was following the example of his father, Butch, who was an active member of The Shriners. "Giving back was instilled in my heart at a young age by seeing what my dad did and all the kids they helped out," Palmer says. The Ryan Palmer Foundation began with a simple goal: help the community of Amarillo, Texas, where he grew up. "The foundation is my way of saying thank you to the city for what they did for me," Palmer says.
Now 46 and entering his 20th season, the four-time winner is popular among other players. The Ryan Palmer Foundation does many of the kinds of things you would expect a tour pro's charity to do, like supporting local junior golf tournaments, college scholarships and building an indoor practice facility for the West Texas A&M University golf program. But the Palmers have also aimed their charity at the medical field, like the garden and game center they built at the Children's Hospital in Amarillo, Texas. It's a space for children and their parents to get a reprieve from the intensity of being in the hospital.
Palmer's wife, Jennifer, has been involved with the foundation from the beginning, and it was her experience as a licensed dentist that catalyzed one of the unique aspects of the foundation: Brighter Smiles. The couple works with three local dentists to find children in need of dental care—from orthodontics to cleft-palate surgery—whose families can't afford it. Brighter Smiles covers the cost for as many surgeries as it can each year, having helped more than 70 kids so far.
Palmer remembers one girl who wore a hoodie to school every day, trying to obscure her face as much as possible. "She was embarrassed and getting bullied because of the way her teeth looked," Palmer said. Brighter Smiles paid for her surgery. "The aftermath of the surgery was hearing about how popular she was and the beautiful smile she now has and the confidence she gained in herself because of it. It hit me harder than you can imagine."
The Palmers added another branch to the foundation after they went through what Palmer calls the scariest time of their lives: In 2016, Jennifer was diagnosed with breast cancer. Through their breast cancer initiative, they fund a mobile mammogram unit to help women in Texas get access to mammograms who otherwise wouldn't, and they put together kits for women who are getting breast-cancer treatment. "It has all the little things Jennifer wanted and needed while she went through chemo, like blankets, books, socks," Palmer said. They've sent over 500 kits to women who have received breast cancer diagnoses.
From making junior golf tournaments affordable to making dental surgery and mammograms accessible, Palmer sees in his foundation the realization of the goal he started with two decades ago. "This is what I've always wanted to do with my foundation," Palmer says, "Have an immediate impact.
"I'm truly honored and blessed to win such a prestigious award," Palmer says. "What I truly love about it is, it's not for what I've won or done on the golf course. It's the fact that I've watched and learned from many about giving back. Thank you, Arnie, for paving the way and showing us what it is to be the ultimate professional."
2016 Niall Horan, Peyton Manning, Phil Mickelson
2017 Juli Inkster, Kelly Slater, Clay Walker
2018 Davis Love III, Jim Nantz, Darius Rucker
2019 Toby Keith, Jordan Spieth, Steve Young