Best young teachers
The most talented young instructors in the game: Golf Digest's new Best Young Teachers list
Illustration by Peter Crowther
What does it take to be one of the Best Young Teachers in America? Golf knowledge? People skills? Influence on social media? Long hours on the range? Sure, those things help, but there's no one formula. The only exact commonalities of the instructors on this list are that they're all under 40, and they all have a real knack for making golfers better. In 2008, when our biennial list debuted, we identified 20 teachers in their 20s and 30s who were worthy of recognition. Our latest group of winners stands at 160, and their teaching locations stretch from Hawaii to New Hampshire. Some coach at exclusive places such as Baltusrol and L.A. Country Club. Others spend their days teaching indoors on simulators. Here we will reveal their names and give you a taste of their abilities as some of them share quality practice tips. These are Golf Digest's Best Young Teachers.
BEST YOUNG TEACHERS IN AMERICA 2023-2024
AARON ASEDO / 37 Knickerbocker C.C., Tenafly, N.J. $200/HR.
JASON BARRY / 35 Springdale G.C., Princeton, N.J. $150/HR.
NICK BOVA / 37 Hamilton Farm G.C., Gladstone, N.J. $240/HR.
DAVID BOVE / 36 Tashua Knolls G. Cse., Trumbull, Conn. $300/HR.
STEVEN CHALMERS / 38 Saucon Valley C.C., Bethlehem, Pa. $160/HR.
SCOTT CHISHOLM / 37 Rolling Green G.C., Springfield, Pa. $185/HR.
STEPHEN CLARK / 37 Clark Golf and Athletic Co., Southampton, N.Y. $250/HR.
JOANNA COE / 33 Merion G.C., Ardmore, Pa. $150/HR.
ERIC COGORNO / 34* Bethlehem (Pa.) G.C. $300/HR.
EARL COOPER / 33 Earl Cooper Golf, New York City $250/HR.
ADDISON CRAIG / 32 The Bridge G.C., Bridgehampton, N.Y. $240/HR.
BRYAN DOUGHERTY / 36* Hollywood G.C., Deal, N.J. $200/HR.
MIKE DOYLE / 36* Five Iron Golf, New York City $200/HR.
GREG DUCHARME / 31 Michael Breed Golf Academy, Greenwich, Conn. $300/HR.
Straighten your curveballs with your hands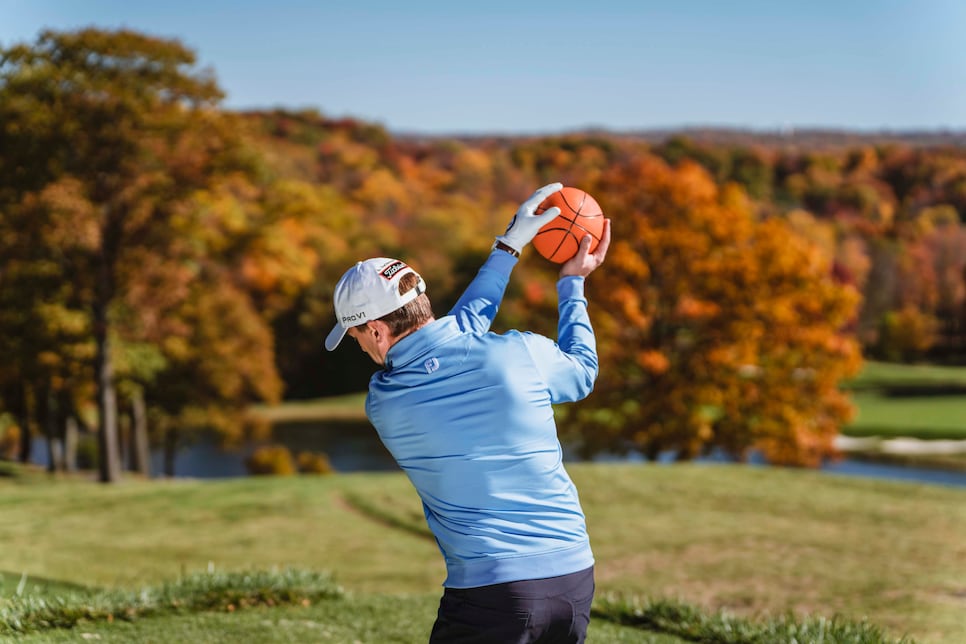 The same features built into hybrids to help average players get shots airborne and avoid slicing can induce hard hooks for better players. This drill can help you take the left side out of play. Take a medium-sized ball and hold it in front of you with your hands on either side. Having your hands separated will make it easier to feel where they are relative to each other. Now make a backswing and get your lead hand on top of the ball (above).
Do the same in your swing and your lead arm will be higher and the face will be in a square or slightly open position. The more you exaggerate the lead hand on top, the more you'll promote a fade. If you're a slicer, set your trail hand at the top so your palm is facing away from you—like a free throw shooter. That promotes a closed clubface.
GREG DUCHARME teaches at the Michael Breed Golf Academy in Greenwich, Conn.
DARREN FALK / 39 Holly Ridge G.C., Sandwich, Mass. $130/HR.
JUSTIN FOSTER / 37 Ridgewood C.C., Danbury, Conn. $130/HR.
MARIO GUERRA / 38 Quaker Ridge G.C., Scarsdale, N.Y. $250/HR.
BRIAN GUSSIS / 38 GolfTec Woodbridge, Metuchen, N.J. $250/HR.
RYAN HAGER / 29 Plainfield C.C., Edison, N.J. $225/HR.
JENNIFER HUDSON / 38 Sankaty Head G.C., Siasconset, Mass. $250/HR.
NICK IACONO / 34 Chester Valley G.C., Malvern, Pa. $175/HR.
MICHAEL LABELLA / 33 Nemacolin Resort, Farmington, Pa. $200/HR.
CJ NAFUS / 32 Roxiticus G.C., Mendham, N.J. $160/HR.
NICK NOVAK / 37 The Golf Performance Center, Ridgefield, Conn. $250/HR.
JORGE PARADA / 38 Liberty National G.C., Jersey City, N.J. $350/HR.
RICO RICIPUTI / 35 Coach Club, North Hampton, N.H. $150/HR.
PAUL SELVAGGIO / 39 Westchester C.C., Rye, N.Y. $150/HR.
STEFANIE SHAW / 35 Sebonack G.C., Southampton, N.Y. $180/HR.
STEPHEN SIERACKI / 36 The Legacy C. at Woodcrest, Cherry Hill, N.J. $200/HR.
TYLER SLOCUM / 30 Fresh Meadow C.C., Lake Success, N.Y. $200/HR.
MICHAEL SWEENEY / 36 The Bridge Golf Learning Center, New York City $300/HR.
DAVID TARASCHI / 34 Burlington C.C., Mount Holly, N.J. $200/HR.
JT THOMAS / 31* Dollar Bill Divot Club, New York City $200/HR.
MARK WALDER / 39 DiJulia Golf, New Hope, Pa. $175/HR.
MATT WILSON / 37 Baltusrol G.C., Springfield, N.J. $220/HR.
Learn to skim, not dig in greenside bunkers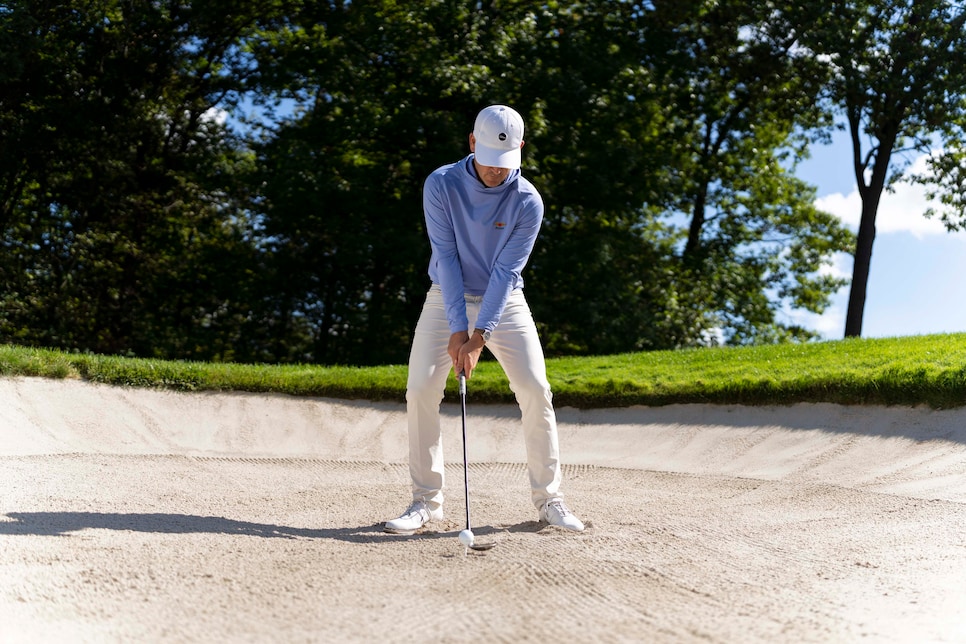 As you probably know, the goal in a greenside bunker isn't to hit the ball; it's to swing through the sand under the ball. If you understand that concept, you're off to a good start in getting the ball on the green. But nearly as important is understanding how deep your club needs to travel through the sand under the ball. The answer? Not much. You want your wedge to skim the sand as you swing through impact. Any deeper than that—a common amateur issue—and you'll struggle to control the force of the shot and the distance the ball travels.
Here's a three-part drill to improve your sand shots. First, stick a tee in the sand so half of it is submerged. Then make swings trying to clip the tee. Next, place a ball on a tee that's submerged in the sand (above). Now try to clip the tee under the ball, which will pop the ball out like a bunker shot. The final step is to place a ball in the sand and imagine there still is a tee under it. Hit shots trying to clip that imaginary tee out from under the ball. This will give you a great feel for how to let your wedge glide—and not dig—through the sand. You can even take this swing thought to the course.
MATT WILSON is the director of instruction at Baltusrol Golf Club in Springfield, N.J.
ANDREW BREWER / 29 Bayville G.C., Virginia Beach, Va. $125/HR.
GAYLON CUDE / 35 Golf House Tennessee, Franklin, Tenn. $150/HR.
ROB FAILES / 28* Birdwood G. Cse. at Boar's Head Resort, Charlottesville, Va. $125/HR.
MATT KILLEN / 37 Troubadour G. & Field Club, College Grove, Tenn. $1,000/HR.
CATHY KIM / 36 Baltimore C.C., Lutherville, Md. $190/HR.
MITCHELL MOORE / 35 Mitchell Moore Golf Academy, Hopkinsville, Ky. $100/HR.
DANIEL NEBEN / 34 TPC Potomac (Md.) at Avenel Farm $200/HR.
RUSHI OZA / 36 Highland Creek G.C., Charlotte $90/HR.
GAVIN PARKER / 30 Salisbury C.C., Midlothian, Va. $185/HR.
BEN PELLICANI / 38 50/50 Golf Club, Brentwood, Tenn. $175/HR.
BRIAN ROGISH / 38 The G.C. at Lansdowne, Leesburg, Va. $175/HR.
BILL SCHMEDES III / 37 Mastery Golf Performance, Hilton Head Island $250/HR.
RYAN SMITH / 38 Marc Lapointe Golf Academy, Fort Mill, S.C. $120/HR.
BLAKE THOMAS / 36* Congressional C.C., Bethesda, Md. $150/HR.
COLBY WOLLITZ / 36 Hurstbourne C.C., Louisville $250/HR.
TJ YEATON / 34 Belle Meade C.C., Nashville $200/HR.
DAVID ANGELOTTI / 33 Sea Island G.C., St. Simons Island, Ga. $245/HR.
CHRISTOPHER ARDOLINA / 37 Cove Cay G.C., Clearwater, Fla. $120/HR.
CHRIS BIGGINS / 30 The C.C. of Birmingham (Ala.), $80/HR.
MEGAN PADUA BUZZA / 37 Bonita Bay C., Bonita Springs, Fla. $220/HR.
DAN CARRAHER / 38 Dan Carraher Golf Academy, St. Augustine, Fla. $200/HR.
Toss your slice in a bucket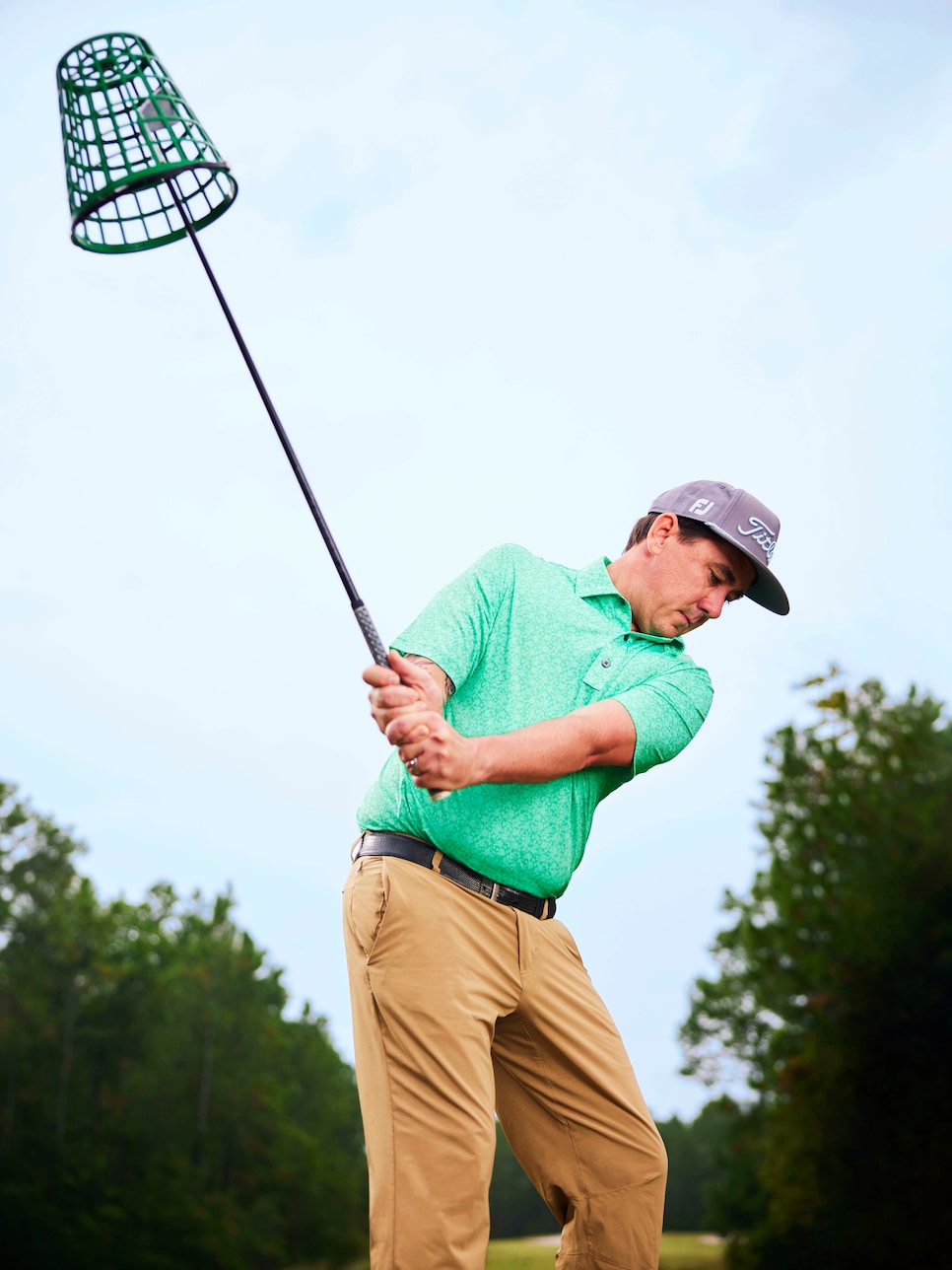 My teaching philosophy is that whoever is doing the work is the one who's learning. Instead of prescribing drills that help steer my students into the correct positions, I choose ones that force them to work harder to get into the right spots. I use resistance to create awareness of what their bad tendencies are, so they're more incentivized to fix them. That's how the fastest learning is done.
For my slicer students who struggle with an overly flat, inside takeaway, I place an empty range bucket over the top of their clubhead. As they make practice backswings, the weight of the basket discourages them from pulling the clubhead to the inside. If they do that, they're going to dump the bucket. To keep it in place, you need to rotate your forearms less during the takeaway and keep the clubhead and bucket just in front of your hands on a more vertical plane (above).
If you normally whip the club inside, this drill will be difficult at first. Once you get it, the club should feel lighter and easier to swing when you go back to hitting shots. You will be in a better position to swing down from inside the target line and avoid a slice.
DAN CARRAHER runs the Dan Carraher Golf Academy in St. Augustine, Fla.
CODY CARTER / 34 Druid Hills G.C., Atlanta $165/HR.
PRESTON COMBS / 33 Preston's Putting, Kissimmee, Fla. $270/HR.
JOE COMPITELLO / 37 Indian Creek (Fla.) C.C. $200/HR.
RYAN CRAWLEY / 30* Ryan Crawley Golf, Lowell, Ark. $125/HR.
BRIAN CREGHAN / 35 Pine Tree G.C., Boynton Beach, Fla. $250/HR.
TAYLOR CROSBY / 39* The Kingdom at Reynolds Lake Oconee, Greensboro, Ga. $200/HR.
KATIE DETLEFSEN DAHL / 34 West Bay C., Estero, Fla. $160/HR.
STEVEN DEBOER / 33 Steven DeBoer Golf Academy, Hanceville, Ala. $120/HR.
MATT DEJOHN / 32 Matt DeJohn Golf Academy, Port St. Lucie, Fla. $300/HR.
JESSICA DICKSON / 39 Palmira G.C., Bonita Springs, Fla. $120/HR.
SARA DICKSON / 35 Wilderness C.C., Naples, Fla. $120/HR.
KATIE DIXON / 39 St. Andrews C.C., Boca Raton, Fla. $120/HR.
ALEX FERNANDEZ / 31 Jim McLean Golf School at the Biltmore Miami, Coral Gables, Fla. $195/HR.
MORGAN HALE / 33* Dewsweepers Downtown, Mobile, Ala. $125/HR.
JACKSON KOERT / 32 Atlantic Beach (Fla.) C.C. $150/HR.
JASON KUIPER / 37* Grand Slam Golf Academy at Bobby Jones G. Cse., Atlanta $200/HR.
STEVE LIPPINCOTT / 38 GolfTec Carrollwood, Tampa, Fla. $175/HR.
MATT MCLEAN / 38 The Concession G.C., Bradenton, Fla. $200/HR.
BRETT MEYER / 37 Golfzon Leadbetter Academy HQ Reunion (Fla.) $250/HR.
JOHN MONTGOMERY / 32 Celebration (Fla.) Golf Academy $200/HR.
Take the fear out of shots over water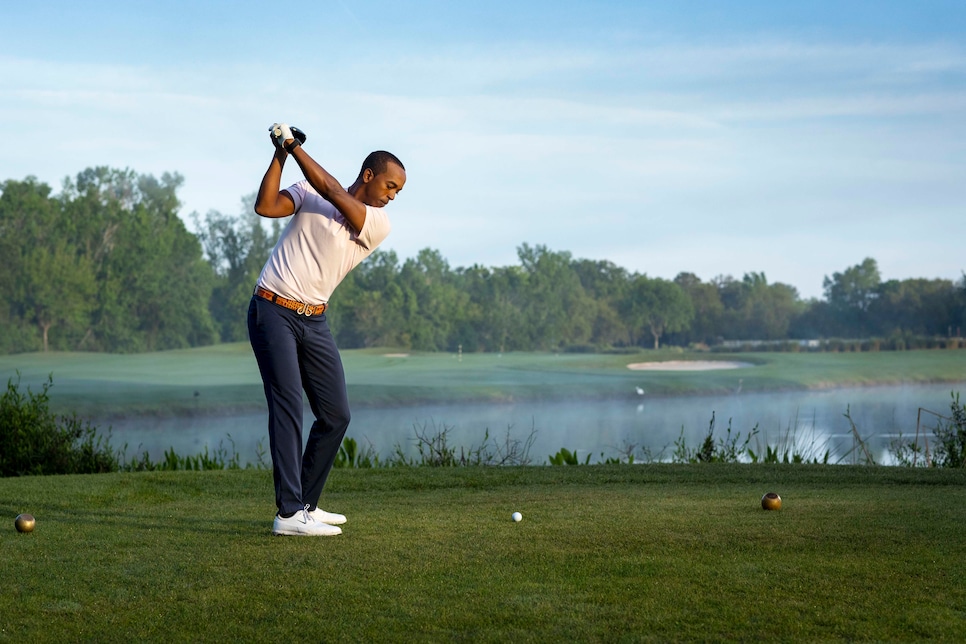 I get it. When you have to carry a water hazard, it's hard to turn your brain off and not think about all of the previous times you drowned your golf ball. You might even resort to grabbing a "water-hole ball" as a precaution.
The reality is, those who revisit failures in their mind are doomed to repeat them. You need to change the script and send your brain a different message. The next time you're on the practice tee, imagine there's a water hazard between you and whatever target you choose (above). Stand directly behind your ball, and pick a target off in the distance. (If you're someone who likes to curve the ball, choose a starting point and a finishing point.) Now visualize the trajectory and shape of the shot over and over until it's perfectly clear. Once you address the ball, spend no more than five seconds over it before swinging away.
Work on this routine again and again with the goal of visualizing the desired outcome. Fairly soon the process of carrying a hazard will be easier than you could ever imagine, and you can chuck those water-hole balls for good!
JOHN MONTGOMERY teaches at the Celebration (Fla.) Golf Academy.
RENEE O'HIGGINS / 39 Quail West G. & C.C., Naples, Fla. $170/HR.
JOE OSTROWSKI / 37 The Concession G.C., Bradenton, Fla. $165/HR.
CARLA OVERHISER / 35 John Webster Golf Academy at The Breakers, Palm Beach $275/HR.
JAKE PLECZKOWSKI / 36 Naples (Fla.) National G.C. $150/HR.
OLIVER POLLAND / 30* Jim McLean Golf School at the Biltmore Miami, Coral Gables, Fla. $300/HR.
JASON SEDAN / 37 Old Marsh G.C., Palm Beach Gardens, Fla. $350/HR.
JUSTIN SHEEHAN / 37 Pelican G.C., Belleair, Fla. $200/HR.
NATHALIE SHEEHAN / 29* Vinoy G.C., St. Petersburg, Fla. $150/HR.
ERICA STONER / 25* Raleigh (N.C.) C.C. $175/HR.
ALANA SWAIN / 34 PGA Tour Performance Center at TPC Sawgrass, Ponte Vedra Beach $225/HR.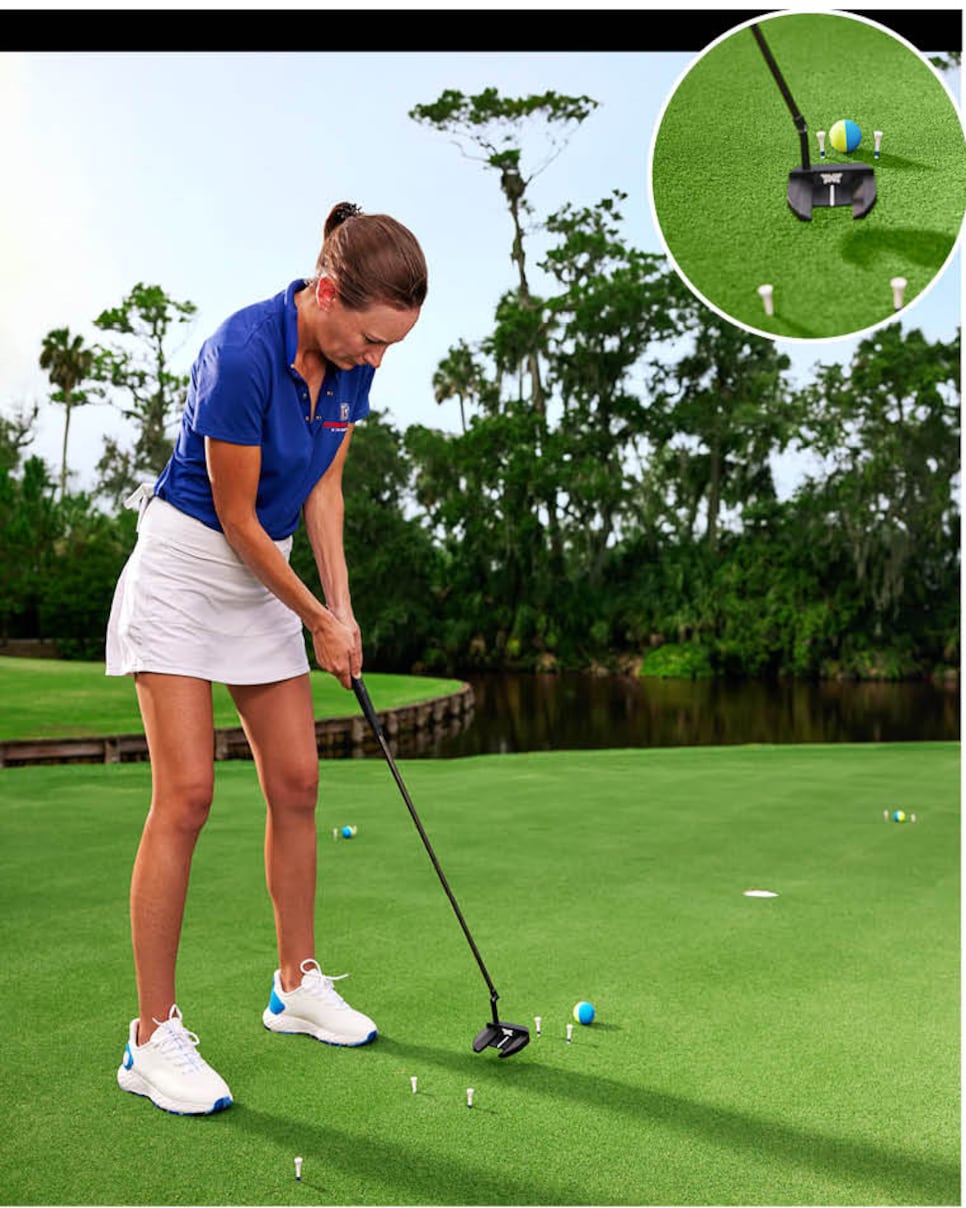 Feedback and consistency—those are my two buzzwords for practice. Without feedback, how are you going to know if you're doing something right? You can make a not-so-good swing on the range and still hit a good shot. For lasting improvement, you need to practice with feedback.
One putting exercise with tons of feedback is this drill using tees. Get yourself some two-toned balls or color one side on some white ones. Set up about six feet from a hole and stick two tees in the turf on either side of the ball, slightly wider than the width of your putter. Practice hitting the center of the face without hitting either tee, which produces an end-over-end roll with almost no sidespin or wobble. The two-toned ball will help you see this steady movement. Next, add a tee 12 inches behind the ball to help control the length of your backswing. Finally, form a narrow gate along your starting line and see if you can roll the ball pure through the gate (above). Move around the hole repeating the drill, so you can experience different breaks.
If you're able to get the ball rolling end over end without hitting the five tees, you'll build a reliable stroke that starts the ball on the line you choose.
ALANA SWAIN teaches at the PGA Tour Performance Center at TPC Sawgrass in Ponte Vedra Beach.
DEREK SWOBODA / 34* Ocean Reef C., Key Largo, Fla. $175/HR.
BRANDO TOMMASI / 39 Jim McLean Golf School at Miami Beach (Fla.) G.C. $250/HR.
GRAYSON ZACKER / 37 Jim McLean Golf School at the Biltmore Miami, Coral Gables, Fla. $300/HR.
GREG BARESEL / 38 Cantigny G., Wheaton, Ill. $140/HR.
GARY BISSELL / 33 The Meadows G. Cse., Allendale, Mich. $120/HR.
TIM BOEGH / 38 GolfTec Madison (Wisc.) $165/HR.
MOLLY BRAID / 35 Westmoor C.C., Brookfield, Wisc. $150/HR.
LUKE DONAH / 29 Cedar Rapids (Iowa) C.C. $150/HR.
ADAM FARABAUGH / 36 C.C. of Detroit, Grosse Pointe Farms, Mich. $150/HR.
MAUREEN FARRELL / 35 Oakwood C.C., Kansas City, Mo. $200/HR.
MITCH FARRER / 31* The Golf Room, Dublin, Ohio $195/HR.
RICHARD FRANKLIN / 39 Deerpath G. Cse., Lake Forest, Ill. $175/HR.
CHRIS GREEN / 36 Glen View C., Golf, Ill. $195/HR.
COURTNEY MAHON / 39 Falcon Ridge G.C., Lenexa, Kan. $150/HR.
JOE MEGLEN / 38* Stonewater G.C., Highland Heights, Ohio $140/HR.
CHAD MIDDAUGH / 38 Muirfield Village G.C., Dublin, Ohio $100/HR.
PATRICK MILKOVICH / 28* Canterbury G.C., Beachwood, Ohio $140/HR
KYLE MORRIS / 37 The Golf Room, Dublin, Ohio $400/HR
CLAYTON PENDERGRAFT / 28* Cog Hill G. & C.C., Lemont, Ill. $90/HR.
EVA ROGERS / 34 Medinah (Ill.) C.C. $155/HR.
JOE SHEREN / 36* Smart Golf & Fitness Instruction, Chicago $200/HR.
TJ SULLIVAN / 38 GolfTec Oak Brook (Ill.) $250/HR.
SAM VOSLER / 34* Sanford Sports Golf Academy, Sioux Falls, S.D. $125/HR.
JEREMY ANDERSON / 39 Legacy Golf Performance Center, Phoenix $300/HR.
JONATHAN BUCHANAN / 38 Dallas C.C. $200/HR.
STEVE BUZZA / 36 Brook Hollow GC, Dallas $220/HR.
JOSEPH DICHIARA / 39 Ancala C.C., Scottsdale $200/HR.
NICK DUNN / 34 Altus Performance at Old American G.C., The Colony, Texas $200/HR.
ADRIAN KELLEY / 34* Slicgolf, Mansfield, Texas $125/HR.
JUSTIN KLEMBALLA / 35 Forest Highlands G.C., Flagstaff, Ariz. $135/HR.
JOHN KOSTIS / 35 Grayhawk G.C., Scottsdale $195/HR.
MIKE KRAHE / 36* Tour Striker Golf Academy at Raven G.C., Phoenix $165/HR.
LINDY LABAUVE / 34 The Westin Kierland G.C., Scottsdale $150/HR.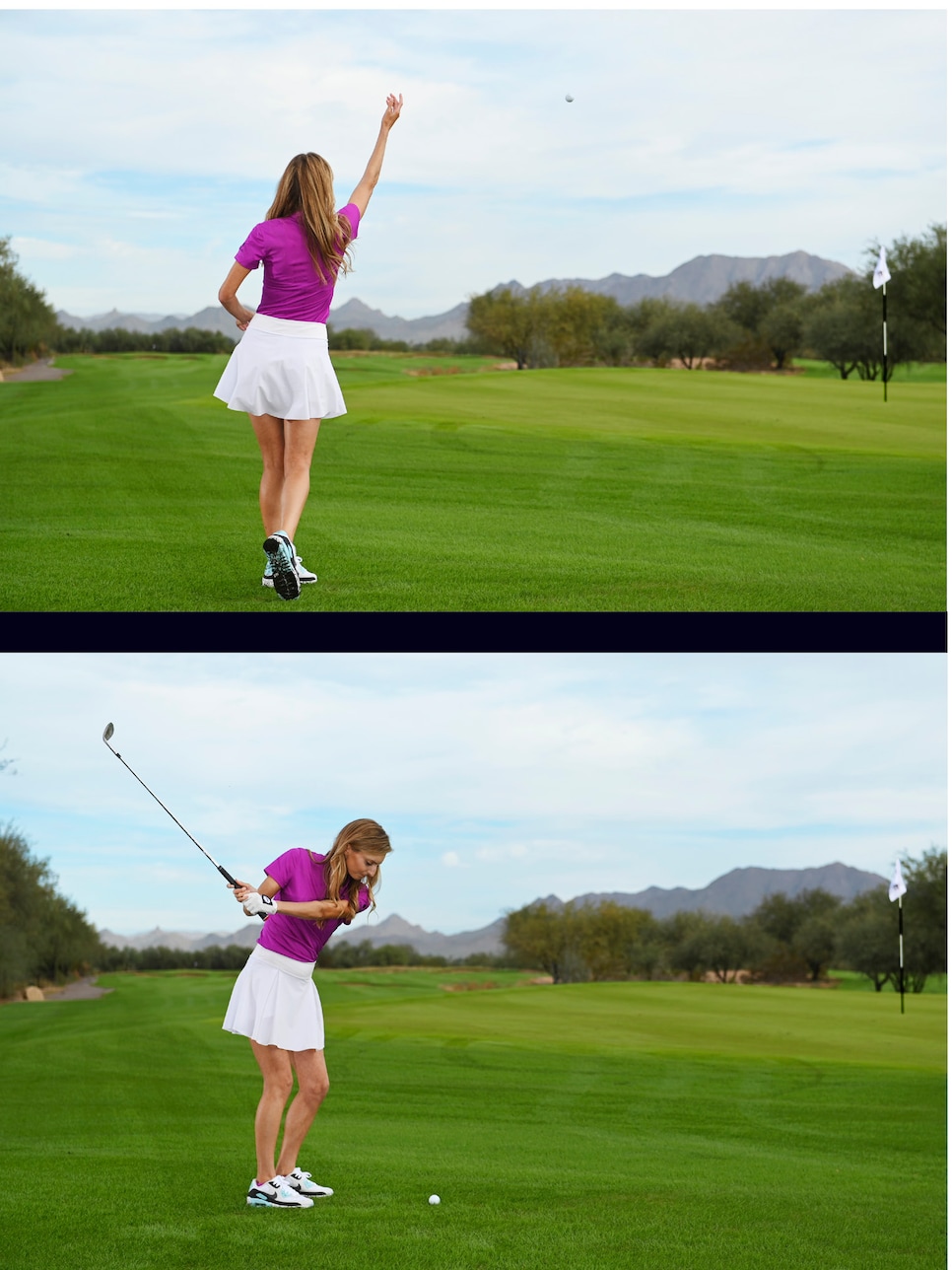 Hit your pitches like your tossing a ball
Growing up, I played softball and a number of other sports, which I use to cross-train my students so they have a better understanding of the swing and feel required to hit certain shots. Take a soft pitch shot. Unlike a full swing, it requires more finesse than speed. I'll have students take a golf ball and toss it underhand at the flagstick (below). I ask them to picture the ball flight, where they want the ball to land, and how much it rolls out. I also have them note what their throwing hand is doing—it should be more quiet and not flip much, just like when hitting a pitch shot.
By practicing these tosses, I find that when it comes time to execute short shots, they're less concerned about technique and thinking about 15 other things, because the focus changes to what they want the ball to do. They're also able to better calibrate the length of their arm swing and the speed needed to hit the ball the right distance.
LINDY LABAUVE is the director of instruction at the Westin Kierland Golf Club in Scottsdale.
ANDREW LEWIS / 38 Sherrill Park, Richardson, Texas $200/HR.
COREY LUNDBERG / 39 Altus Performance at Trinity Forest G.C., Dallas $250/HR.
KENNETH MESIMER / 36 Lakeside C.C., Houston $130/HR.
CLIFF MISHLER / 34 Stonebridge Ranch C.C., McKinney, Texas $175/HR.
ASHLEY MALASKA MOSS / 32 Malaska Golf, Mesa, Ariz. $200/HR.
PAXTON O'CONNOR / 31 Desert Mountain C., Scottsdale $250/HR.
JARUT PADUNG / 34 McCormick Ranch G.C., Scottsdale $150/HR.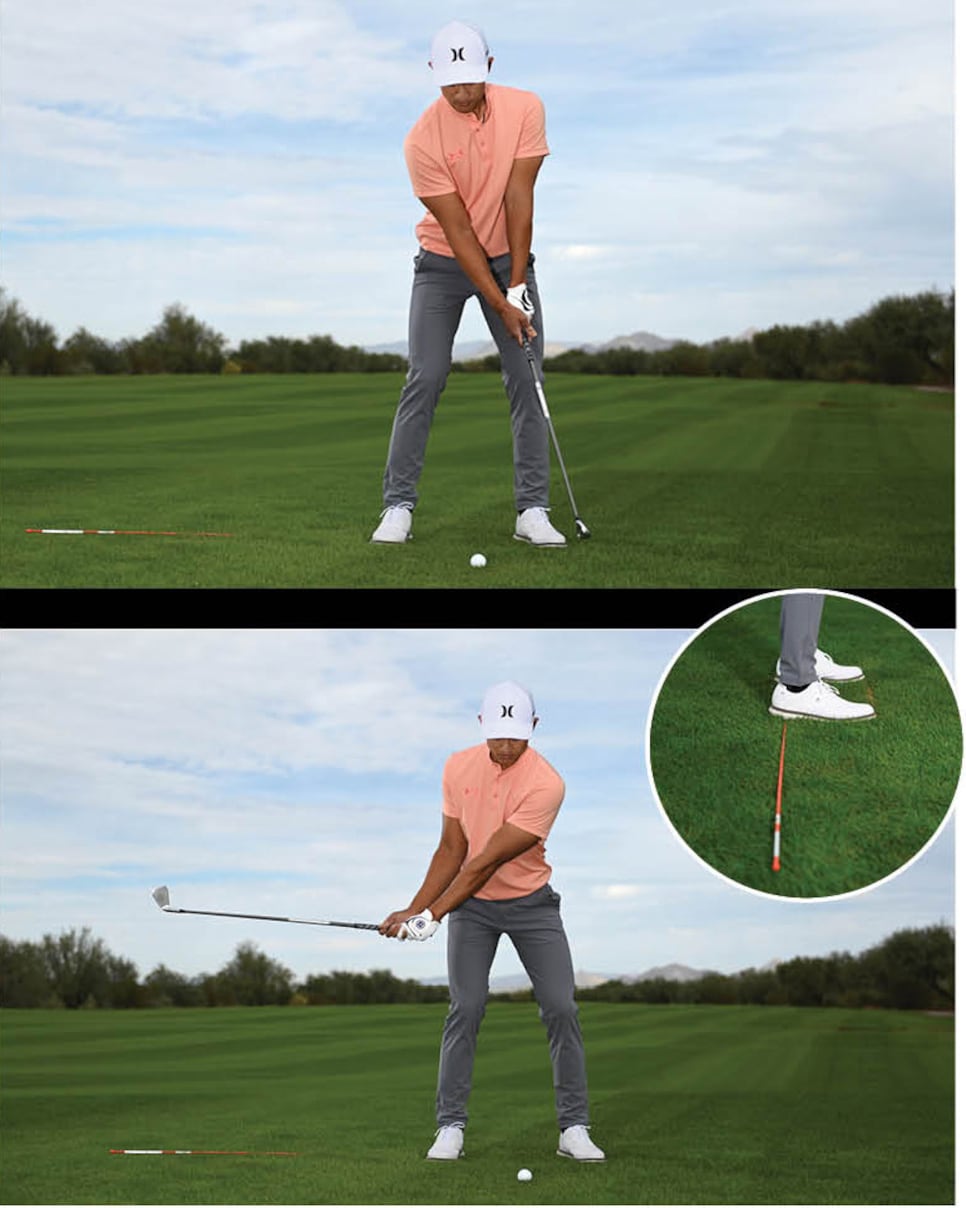 While it's important for me as a teacher to guide you through the right positions, it's just as vital that you understand how to move your body to get in those spots. Without fluid dynamics, you'll get stuck or tend to get to the right positions too slowly.
I use the following drill with golfers who struggle with the proper sequencing of the swing. First, grab a club and address a ball with an alignment stick under your trail foot's heel (right heel for righties). Lift the clubhead over the ball and swing it forward about a foot toward your target (top photo, above). Now make a backswing while applying pressure on the stick with your trail foot. Finally, shift pressure back into your lead foot as you swing down and hit the ball.
Why start with the club in front of the ball? It adds some flow to your swing. You're more likely to make a fuller, deeper hip turn, and it makes it easier to shift into your lead foot in the downswing. When your swing is more fluid, you can increase your clubhead speed with a lot less effort.
JARUT PADUNG teaches at McCormick Ranch Golf Club in Scottsdale.
ANDY PATNOU / 34 Starfire G.C., Scottsdale $225/HR.
RYAN RODY / 37 Southern Hills C.C., Tulsa $200/HR.
KAYLIN SKOVRON / 35 Jeff Isler Golf, Southlake, Texas $170/HR.
HENRY STETINA / 36 Red Hawk G.C., Las Cruces, N.M. $150/HR.
JJ WOOD / 38 Hal Sutton Golf Academy, Houston $195/HR.
BRIAN ZEIGLER / 35 Dallas National G.C. $450/HR.
ZACH ABELS / 37* Canyon Springs G. Cse., Twin Falls, Idaho $75/HR.
JOHN BATTAGLIA / 37 PGA West Golf Academy, La Quinta, Calif. $200/HR.
KEITH BENNETT / 31* The G.C. at Newcastle (Wash.) $250/HR.
MARIO BEVILACQUA / 33 TPC Summerlin, Las Vegas $300/HR.
BRANDON BITTNER / 36* Golf Schools by Golf Made Simple, Palm Desert, Calif. $185/HR.
DEVAN BONEBRAKE / 37 Beach City G.C., Hermosa Beach, Calif. $300/HR.
ALEXANDRA BRAGA / 38 Denver C.C. $150/HR.
JARED BUTTS / 36 Will Robins Golf, Folsom, Calif. $150/HR.
BRYAN COLLINS / 33* GolfTec Englewood (Colo.) $400/HR.
TANYA DERGAL / 38 Brentwood C.C., Los Angeles $160/HR.
STEFANIE FERGUSON / 35 Experience Golf at Common Ground G. Cse., Aurora, Colo. $140/HR.
MATT HENDERSON / 37 TPC Las Vegas $175/HR.
AYUMI HORI / 37 Balboa G. Cse., Encino, Calif. $175/HR.
JON HORNER / 37 Menlo C.C., Woodside, Calif. $200/HR.
JAKE HUTT / 34* Dryvebox, San Francisco $250/HR.
BLAKE JIRGES / 31* Coto de Caza (Calif.) G. & Racquet C. $180/HR.
KYLE KUNIOKA / 37 Mid-Pacific C.C., Kailua, Hawaii $150/HR.
JON MCLEAN / 36 The Club at 3 Creek, Jackson, Wyo. $175/HR.
NATHAN MORRIS / 39 GolfTec Westminster (Colo.) $220/HR.
ANDREW NAVARRO / 36 The Club at 3 Creek, Jackson, Wyo. $175/HR.
TRAVIS OLSON / 36 Rock Creek Cattle Company, Deer Lodge, Mont. $140/HR.
JAMIE PUTERBAUGH / 38 Aviara Golf Academy, Carlsbad, Calif. $195/HR.
JON SCHOEPF / 30 Rolling Hills C.C., Rolling Hills Estates, Calif. $250/HR.
KEVIN SHIMOMURA / 39 Ko Olina Golf Academy, Kapolei, Hawaii $140/HR.
DREW STECKEL / 36 Southern Highlands G.C., Las Vegas $350/HR.
RORY SWEENEY / 31* Los Angeles C.C. $140/HR.
JORDAN KING THOMAS / 39 Rick Smith Golf Academy, Rancho Palos Verdes, Calif. $225/HR.
JAKE TOLIVER / 32 Los Angeles C.C. $160/HR.
MICHELLE WINKLER / 32 California State University Northridge $200/HR.