From the Magazine
The Arnie Awards 2021: Golfers Who Give Back
Clint Eastwood talks golf, jazz, Tiger and more as we recognize his charitable work along with fellow honorees Brandt Snedeker and Morgan Pressel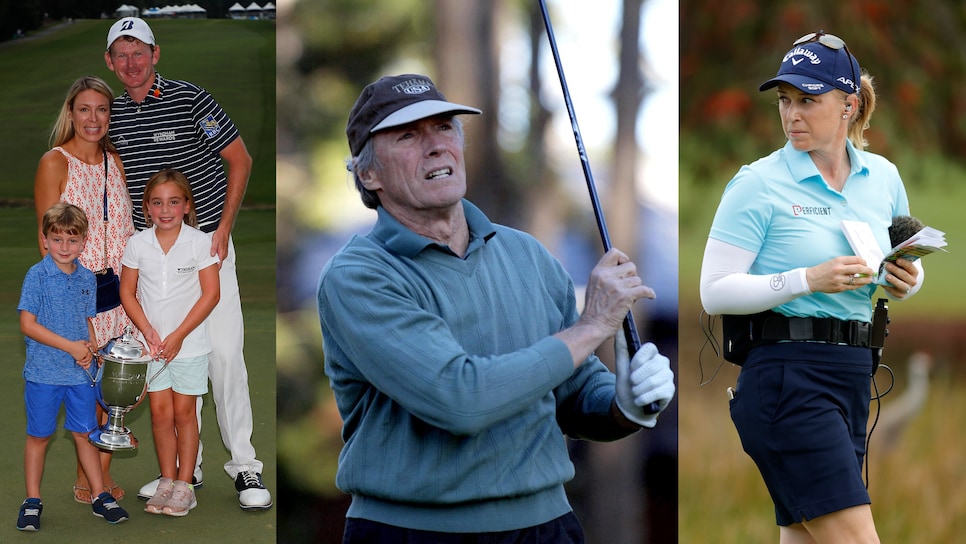 For the 10th consecutive year, Golf Digest is celebrating Golfers Who Give Back, partnering with the AT&T Pebble Beach Pro-Am, the Monterey Peninsula Foundation and the Arnold & Winnie Palmer Foundation. Our joint committee has selected legendary actor and director Clint Eastwood, the PGA Tour's Brandt Snedeker and the LPGA Tour's Morgan Pressel as this year's Golfers Who Give Back. No individual golfer gave back more than Arnold Palmer, and each of these three honorees will receive The Arnie Award, Golf Digest's highest honor, ahead of this week's tournament at Pebble Beach. The Arnie is a trophy-size version of a Palmer bronze sculpture created by the artist Zenos Frudakis. As part of the Golfers Who Give Back program, Golf Digest will donate a total of $100,000 to the Monterey Peninsula Foundation and the Arnold & Winnie Palmer Foundation.
PREVIOUS WINNERS
2016: Niall Horan, Peyton Manning, Phil Mickelson
2017: Juli Inkster, Kelly Slater, Clay Walker
2018: Davis Love III, Jim Nantz, Darius Rucker
2019: Toby Keith, Jordan Spieth, Steve Young
2020: Arnie's Army
Legendary actor/director talks golf, jazz, limitations, Tiger and Killer Joe
We did this interview at the clubhouse of Teháma Golf Club in Carmel, Calif., a 2,000-acre golf course and gated community that is Eastwood's vision of sustainability. While the 91-year-old actor-director hit balls on the range, wild turkeys and blacktail deer moved majestically across the club property.
No wonder he fell in love with the Monterey Peninsula while doing Army basic training at Fort Ord, had his first legal beer there at the Mission Ranch Hotel, which he now owns, served as mayor of Carmel, where he has often said he wants to live forever, and has come to be synonymous with the area like John Steinbeck and the Salinas Valley. Along the way, Eastwood became golf 's No. 1 celebrity, perched in the tower at the AT&T Pebble Beach Pro-Am and chairing the beneficiary Monterey Peninsula Foundation.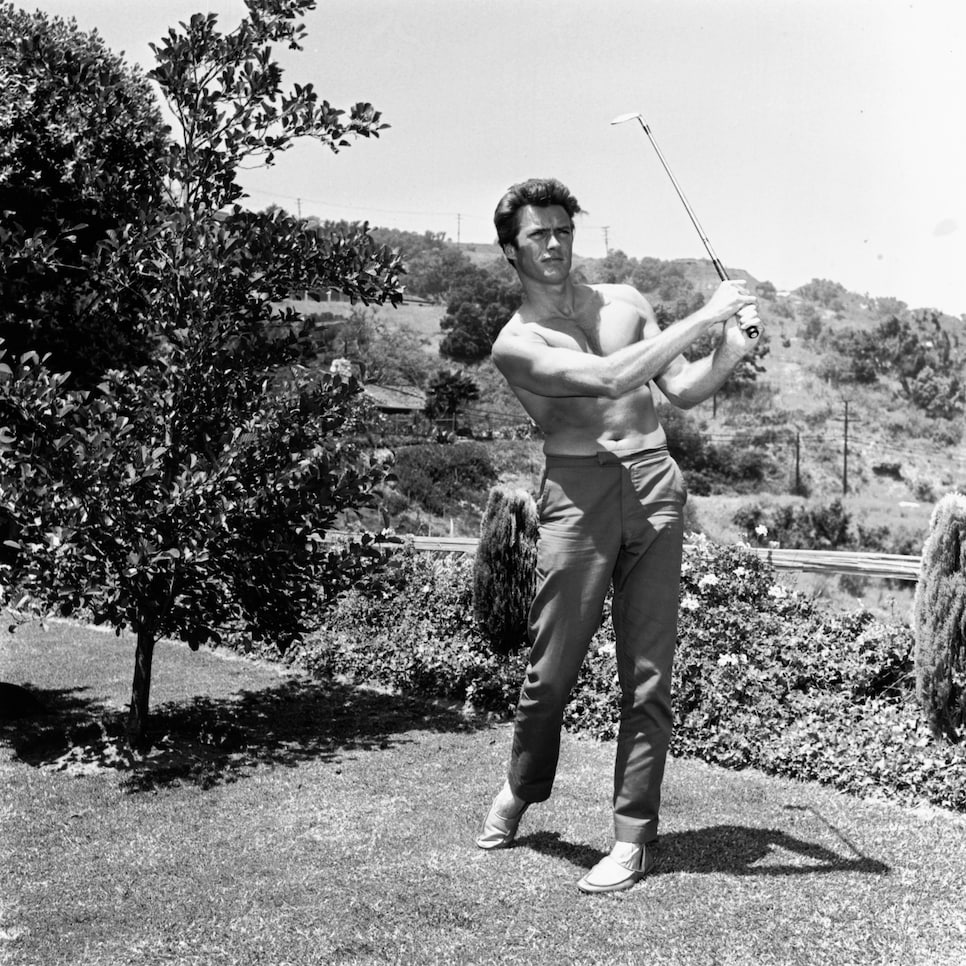 Leading Man Eastwood, here circa 1970, was a golfer before he was an actor.
Archive Photos
A decade ago he appeared in a series of USGA commercials staring down Arnold Palmer, who was admonishing him for slow play over a 9-iron on the seventh tee at Pebble Beach: "While we're young … please," Palmer said. It's only fitting that Eastwood will be honored with Golf Digest's Arnie Award for Golfers Who Give Back at this year's tournament.
Eastwood is probably the most iconic figure in film today, with Sean Connery passing in 2020 and Jack Nicholson now runner-up—three legends of the links. From his $700-a-week starring role in the TV series "Rawhide" (1959-'65) and his spaghetti western breakout as "The Man With No Name" through the "Dirty Harry" pentalogy and four Academy Awards to his latest movie released last year, "Cry Macho," in which he throws a punch and rides a horse on screen for the first time in 30 years ("Unforgiven"), Eastwood has been the epitome of Hollywood's strong silent type.
Likewise, Palmer let his swing do the talking but established a long career of connecting with people and giving back to the community. On a handshake with Palmer and now through his family foundation, Golf Digest created the Arnie Award to recognize the golfer's tradition of philanthropy.
Eastwood focuses his contributions on the Gary Sinise Foundation, benefiting veterans and first responders; the Monterey Jazz Festival, owing to his passion for music; and the Monterey Peninsula Foundation (MPF), which distributes more than $10 million a year to underprivileged youth, education, the environment, health and human services and the arts.
I met Eastwood about 20 years ago when we played a round at Cypress Point with a couple of friends. He was a solid 12-handicapper then, serious about the game, but not much of a talker, with the distinctive melancholy delivery of his film characters. During our conversation in November, he exhibited the same grace and decency, but the voice had a softer edge, his word choice a little less certain with age, and he seemed to laugh more easily: "What is forever anyway?"
We talked about his sense of escape in Northern California, how he has had a lifelong attraction to golf and his commitment to various causes. We stayed away from politics, but it was clear he doesn't like the current climate of divisiveness in the country. I started the audio recorder when the conversation moved to his beloved course in the hills above Carmel-by-the-Sea. —Jerry Tarde
Eastwood: Jim Garner and I bought some property here quite a few years ago, and we ended up giving it to the county, got some tax write-off or something. I bought a larger piece of property out here, and I said, maybe someday people will want to get away from civilization. A friend asked if I'd want a golf course. Yeah, that's a good idea. So I had [the late architect] Jay Morrish up here and flew him around in my helicopter, and he ended up laying out the course. Then we built this clubhouse, and I wanted an underground parking lot—cool in the summer and dry in the winter. Now we have COVID, and this place is how I thought it'd be: privacy, safety, an escape.
As an actor, you're known for cutting lines rather than adding them. As a director, they say you "shoot lean." I was thinking, what Coore and Crenshaw are to golf architecture, you are to film. Do you think of yourself as a minimalist?
I guess I just try to make it efficiently. I believe I have a story to tell, and I like the story. I don't try to screw it up by doing another story, so I keep my head to the grindstone.
How did you come to settle here on the Monterey Peninsula?
I was drafted into the Army in 1950. I turned 21 at basic training at Fort Ord. I went into Carmel on a day off, and I said if I ever had a buck, I'm going to live here, and I did.
When Peter Ueberroth made the decision to buy Pebble Beach, he says you were the first person he called, even before his pal Dick Ferris. He thought you were important to making the deal work.
He knew I was interested in the area, but he figured I could help with the Japanese ownership. I'd been lucky enough to be seen in a lot of movies in Japan.
You're a revered star in Japan.
I was fairly well known there, so it helped sell the idea. I don't know, but that's what he said.
I'm sure you navigated the local politics, too.
Not really. Locally, everybody thought it was a good idea to have an American company [own Pebble Beach].
When you look back on being mayor of this golf place, do you feel you accomplished what you wanted to do?
Well, yeah. In small towns, you get certain cliques of people who get in office and forget that they're supposed to help move things forward and not stop [progress]. I enjoyed my time as mayor.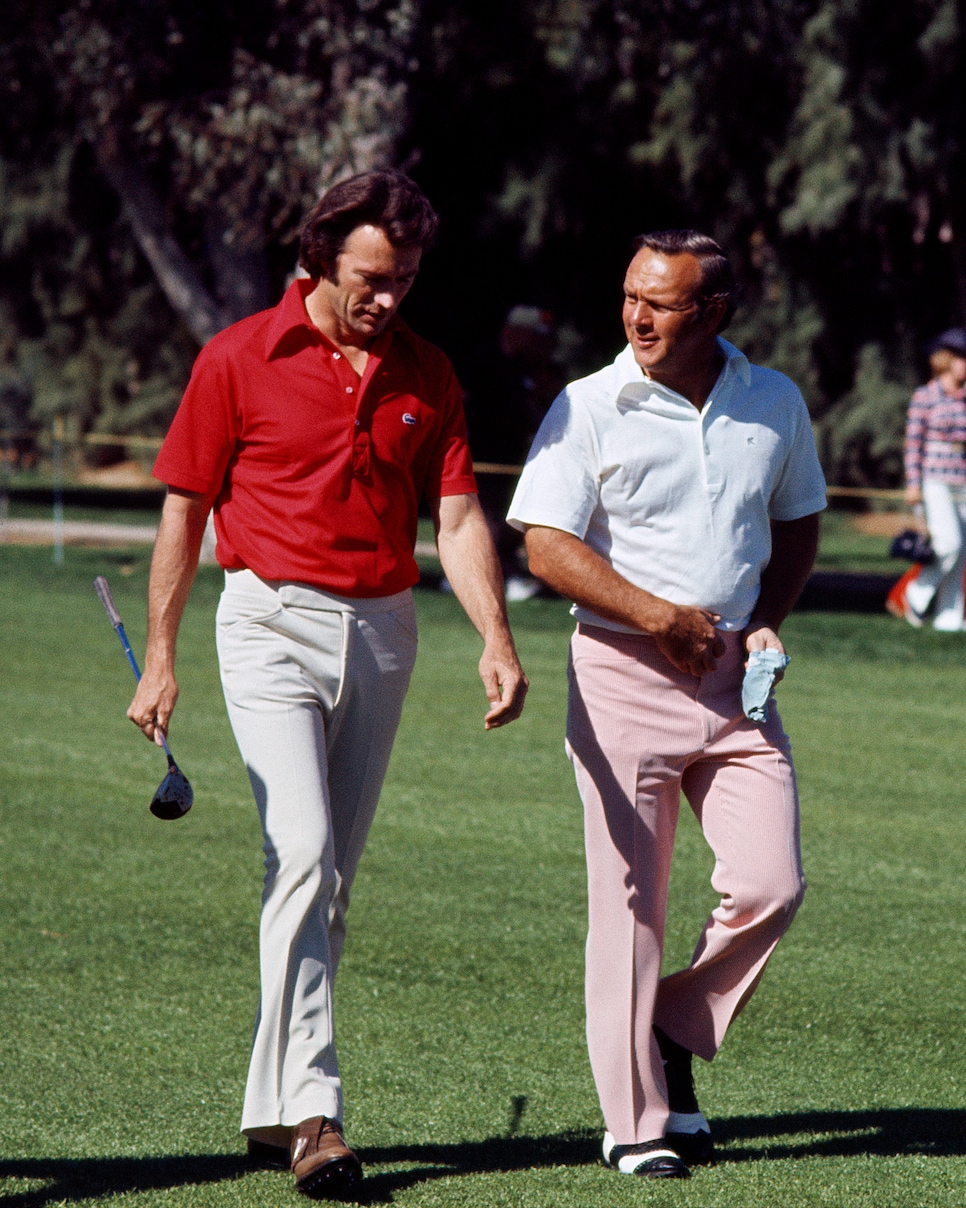 Harry and the King: A premier pairing at the 1975 Crosby Pro-Am at Pebble Beach.
Historic Golf Photos © 1998-2011
Did you ever aspire to higher office?
No, it was suggested to me on numerous occasions, but I figured this was about as far as I want to go.
Well, congratulations on winning the Arnie Award. You and all our honorees have given a lot back to the community in that spirit Arnold Palmer embodied.
I'm flattered to receive it. Arnie was the fourth member of our team that bought Pebble Beach. It was Arnie and me and these two other guys. [Laughs.]
Did you know Arnie well?
I did. We played golf together in tournaments, sometimes practice rounds, in Hawaii or wherever.
Arnie was larger than life. Who would you cast as Arnie if you were doing his story?
[Long pause.] I don't know. He was one of those guys who was such a distinctive character. You can't see anybody else doing him. He was quite a guy.
I once asked Sam Snead who he would have liked to play himself in the movies, and he immediately said Fred MacMurray.
Actually, I could see that.
He was a big golfer back in those days.
I never got to know Fred, except through his work, and I didn't know he was a golfer. I knew some of the old actors who played in Bing's tournament like Randolph Scott, Johnny Weissmuller. It always was quite an event. I snuck into it the first time.
You snuck in?
When I was in the Army, I went to the pro-am with a friend, and we snuck into a party and ended up having dessert on them.
So that was the start of it all?
Later, when I got a little bit of notoriety, Bing's brother, Larry, who was sort of the nutsand-bolts guy for the tournament, he sent me an invite, and I kept coming back. In those days, most amateurs were just plugging along, and that was me. Raymond Floyd got me to be his partner, and we played in quite a few. It was fun to hang out with good golfers.
'I've had some lessons from some fantastic players. That's what's depressing for me. Not much has stuck.'
—Clint Eastwood
You and Raymond became good friends?
He was a young guy just on the tour. We called him "Junior." A good player, but he could have been a better player than he showed because he liked to party and loved the good life. I talked to him recently, and he said he didn't play much anymore.
How did you get started in golf?
I was a caddie in Oakland at Claremont Country Club when I was a kid, about 13. I was a little bigger for my age. None of us knew the game like the old pro caddies. I'd go out there on weekends and do a couple of rounds and pick up a dollar and a half or something like that. I wish I played more, but I couldn't afford it in those days.
What is it about golf that appeals to you? I saw a clip once when you told Oprah that golf takes your mind off everything else; you can't do it and think about anything.
I remember that. I was giving Oprah some golf instruction at Pebble Beach. Golf is a unique sport in the sense that it's all laid out in front of you. It's much more time consuming than, say, tennis or football, and you get to spend more time with people and develop friendships.
We once did an interview with Bill Clinton, and he said the best and worst thing about golf is how much time it takes.
Well, he's right. In fact, he and I were partnered together at a tournament right here some years ago. We were on the same cart together riding around. We talked about golf, not too much about politics. Probably a little bit about women, but he seemed like a decent bloke, and we had a good laugh.
You have a well-known love of jazz, and you still play the piano a bit. There's a rules official on the PGA Tour, Ken Tackett, who is a part-time jazz drummer. He said golf is about improvisation: "You start on the tee and end on the green, but where you go in between is endlessly different."
I could see that. I grew up liking golf as a kid, and I always liked everything about jazz, Dixieland. Growing up in Oakland, I got to see Charlie Parker and Coleman Hawkins. I just liked that kind of music. I don't play well, but I play enough to have written some songs for movies I've done. I love it. When you get wrapped up, it's pretty hard not to stay affiliated with it your whole life.
You mean jazz or golf?
Well, maybe both, but they're both difficult [laughs] unless you're extremely talented.
I hear that Justin Timberlake downplays his golf because he doesn't want to appear uncool to his young audiences. Did you ever worry about ruining your tough guy reputation by playing golf?
No, I never thought about that. Acting is make-believe. Golf is not make-believe.
It's life and death.
Yeah. So there's no real connection for me. I know Timberlake; I've played golf with him once or twice. He's pretty good as I recall.
He's a 4- or 5-handicapper.
One time we were working together on the same picture ["Trouble With the Curve," 2012] in Georgia, and we took off a day and drove up and played the famous Augusta National. We walked with caddies, which was fine, but it's a hilly course, and we played 36 that day. Timberlake was in his 30s; I was in my 80s. I gotta tell you, when we got to that last hole, I was hoping somebody would come out and shoot me—or carry me up the fairway.
Ever play with Tiger Woods?
I've seen him here a few times. I played with him in Hawaii once. He's a very quiet guy.
He has a bearing that in some ways is like the characters you've played, you know, kind of a lonely, quiet, killer type.
Yeah, Killer Joe.
His dad was an Army guy, Special Forces, but his mother is the one who instilled his killer instinct on the golf course.
He says that, too. He has great regard for his mother, and when everybody tried to make a deal out of him and his dad, he'd always bring his mother into the conversation.
What kind of golfer was your dad?
He played a little when he was young, long before golf was popular. He wasn't great at it. I probably follow him this way.
I read that he was getting ready to play golf at Pebble Beach when he had his fatal heart attack at age 64.
He and my mother were living in the neighborhood of [Monterey Peninsula Country Club], where they were members.
How good a golfer were you at your best?
I was never very good. Over the years, I've had a couple of moments when I was OK.
Like an 8- or 9-handicap?
Not a single figure, for 18 holes at least.
'One thing about golf: If you have a big ego, it's going to be a very disappointing life.'
—Clint Eastwood
Are you still playing?
I haven't been playing much because I whacked my shoulder, and I've had to take it easy. Now I'm back and available. But, you know, one thing about golf: If you have a big ego, it's going to be a very disappointing life. Just when you think you've got it, you think it's safe to go back in the water—"Jaws II." [Laughs.]
Are you a lesson taker?
I've had lessons from some fantastic players. That's what's depressing for me. Not much has stuck.
There's a line in your latest movie, "Cry Macho": "Look where you're going, and go where you're looking." I thought it sounded like a golf tip from Butch Harmon.
Yeah, it probably came from golf.
Golfers know you obviously for your movies, but they also know you for your time in the TV booth at the AT&T. You've been an important transition celebrity for Pebble Beach. Do you enjoy going up in the tower?
Jim Nantz was always asking me to come up and even gave me his CBS jacket so that I look like part of the team. It's been fun. I like sitting up there and watching everybody play.
A lot of people have noticed that at the end of your movie "Dirty Harry," you threw away the sheriff's badge with your left hand. Are you left-handed or right-handed?
I was born left-handed, but I got changed to right. In those days we didn't have ballpoint pens. Inkwells were on the right side of school desks. If you wrote left-handed, you'd smear the ink, so the teachers made you switch. In history the left hand was thought to be siniestro or evil. That's why I have terrible penmanship even today.
Did you ever play golf left-handed?
Never did, because I never had left-handed clubs.
Another movie question. Of all the roles you've played—you know, like Harry Callahan, Josey Wales, Robert Kincaid, Bill Munny, Walt Kowalski—which of them would have had the best temperament for golf?
I don't know. I never thought of it that way. Give 'em to me again. [Pauses.] I don't think any of them would have been any good. They had other issues. Golf is a cultivated sport. It requires learning strategy.
Have you ever wanted to make a golf movie? I understand you once held the movie rights for the Michael Murphy book Golf in the Kingdom. Why didn't you make it?
I had a lot of other things going on, and I couldn't get a handle on the story.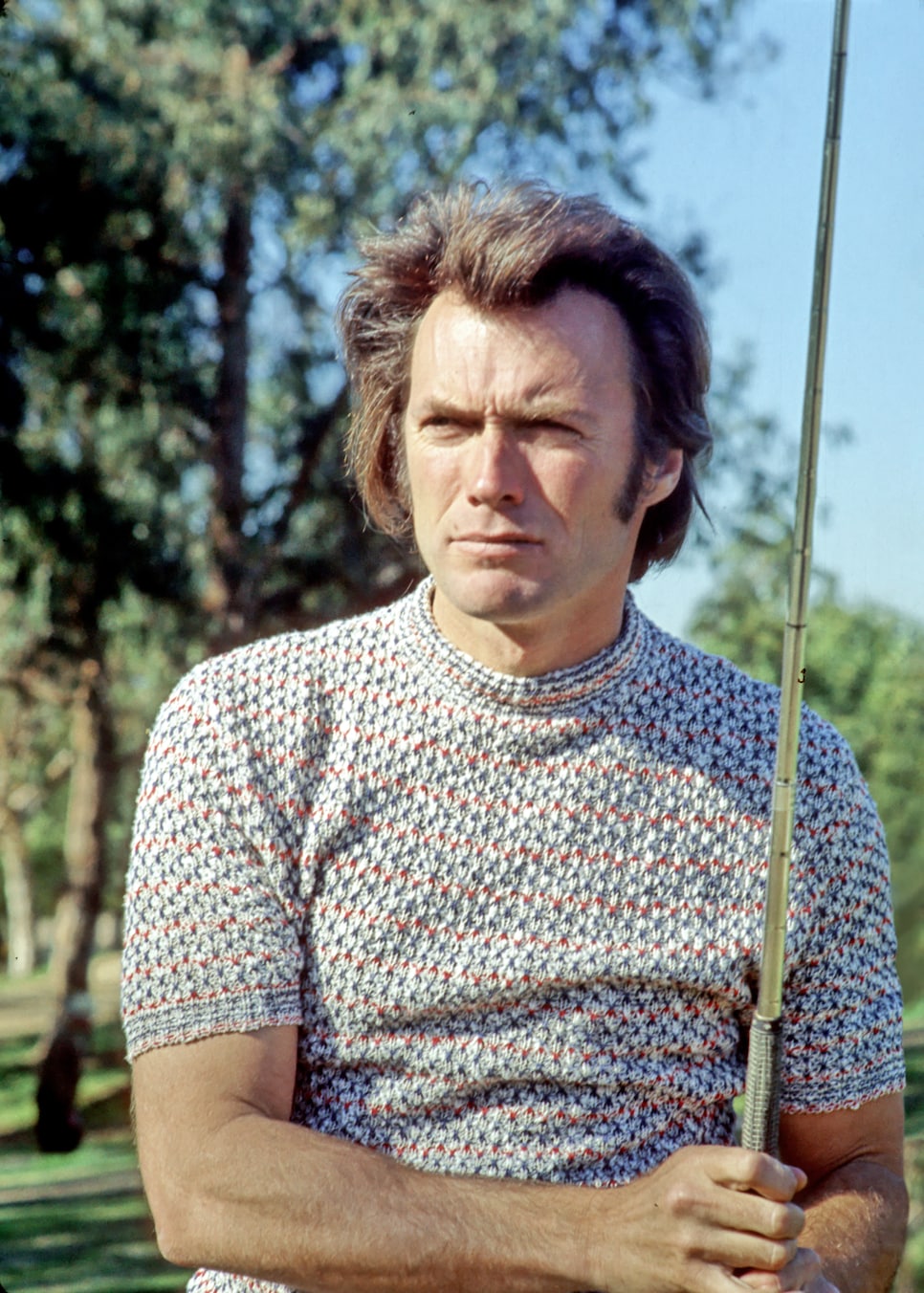 I read that you wanted Sean Connery to play the lead role, Shivas Irons, and he was game.
We never got to that.
When the movie was made by somebody else, it wasn't very good. Why is it so hard to make a good golf movie? It seems like the best golf movie is "Caddyshack," and that kind of makes fun of the game.
It is a very funny movie. I don't know if anybody's made a serious [effort]. The only one I recall is the Ben Hogan story ["Follow the Sun"] coming back from his car accident.
There's a golf connection to your picture, "The Mule." Tell us the story of Toby Keith's song.
We joke about it around here. I was playing in a little tournament with Toby, and we were talking about age and being older and playing golf. I just said, "I wake up every morning and don't let the old man in." It applies to you or me or Tiger Woods. What you are when you're at your best—that's the age you want to be. So think that way. Don't let the old man in. Toby said, "Can I have that?"
He wrote the song, and you used it in "The Mule"?
If you think old, if you talk about it enough, you will be. I guess that's true in almost anything, any kind of work or sport.
[The late USGA president] Sandy Tatum told me once you need to keep traveling. He said you want to keep the circle of life as wide as possible by continuing to travel and meet people because one day you'll end up alone stuck in a room, and that's a very small circle.
And that room has bars on it. That's along the same philosophy. I know people who grow old fast because they were too conscious of staying within the rules.
Your mom lived a long life. Did you learn this from her?
She lived till 97. That's the way she was. When she got into her 90s, she said, "I want you to take my club membership," and I said, "I want you to keep playing." She was still in good shape.
There are a lot of guys who lived a long time, like a Gene Sarazen or a Bob Hope, but they outlived their legend. Their genius was forgotten. Not completely, but they were relics. You've remained active doing what you do—acting, directing and producing pictures.
Maybe I'm a little more stubborn than they were. You know, the line I used [in "Magnum Force"] that a man's got to know his limitations. That was meant to be humorous. If you're worried about your limitations when you're 25, that's a problem. Don't let the old man in, and if you're a woman, don't let the old lady in.
A final question. What do you get your greatest joy out of these days?
Well, I don't sit around and dwell on it much, but I think it's getting an opportunity and helping out somebody. You fork over some dough or you fork over some time. Time is a little more gratifying because you have to dig deeper. Do the best you can. It's kind of like acting or playing a sport. It's better not to think about it too much.
For the Snedekers, it's all about helping kids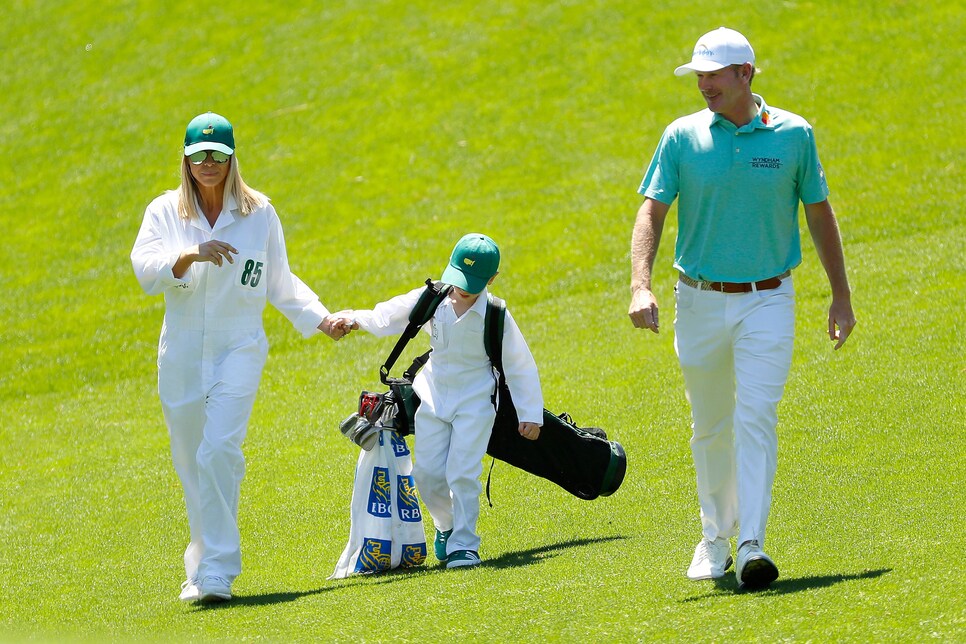 Tennessee Volunteers: Brandt Snedeker and his wife, Mandy, (with son Austin) are making a difference in their home state.
Kevin C. Cox
After winning the 2012 FedEx Cup and its $10 million payday, Brandt Snedeker sat down with his wife, Mandy, to discuss starting a foundation. Both had gone to Vanderbilt and settled their family in Nashville, so they knew they wanted to support their local community.
"We wanted to impact kids in middle Tennessee in a positive way, enrich their lives, give them opportunities they perhaps wouldn't normally have, and give them the resources they need to be successful," Brandt says. Although Brandt and Mandy donate to several charitable organizations in Tennessee, they focus most of their energy and funding on two groups.
In 2015, the Snedekers had the opportunity to sponsor the junior golf tour in Tennessee. They went in with a plan: "We wanted to make sure the events were well run and at an accessible price," Brandt says. "We've decreased the entry fee every year we've run it."
The Sneds Tour plays 174 events a year across nine states and has more than 1,900 members. It costs $99 to join the tour. One-day events cost $28, and twoday events cost $130, with sponsorships available for players needing financial assistance. There are events for boys and girls ages 4 to 19. Brandt has even gotten some of his sponsors—Bridgestone and Peter Millar—to contribute gear. Brandt's 9-year-old son, Austin, plays, so at some events you might see Brandt caddieing for him.
"Some people just put their names on things," says Rob Cherry, director of competitions for the Tennessee Golf Foundation. "But Brandt and Mandy really pour their time and energy into this tour."
The other organization the Snedekers work with is Our Kids, a nonprofit that provides support to children who have been victims of sexual assault. Mandy volunteered for Our Kids while she was in college and has had a passion for the work since. Our Kids provides a safe, unintimidating environment for children and families to get counseling and medical evaluations.
"It has been incredibly powerful," Brandt says. "These people need access to medical care, people who believe their story and will investigate it and give them the resources to get through it. There's always more we can do." —Keely Levins
How the LPGA major winner turned a tragedy into her life cause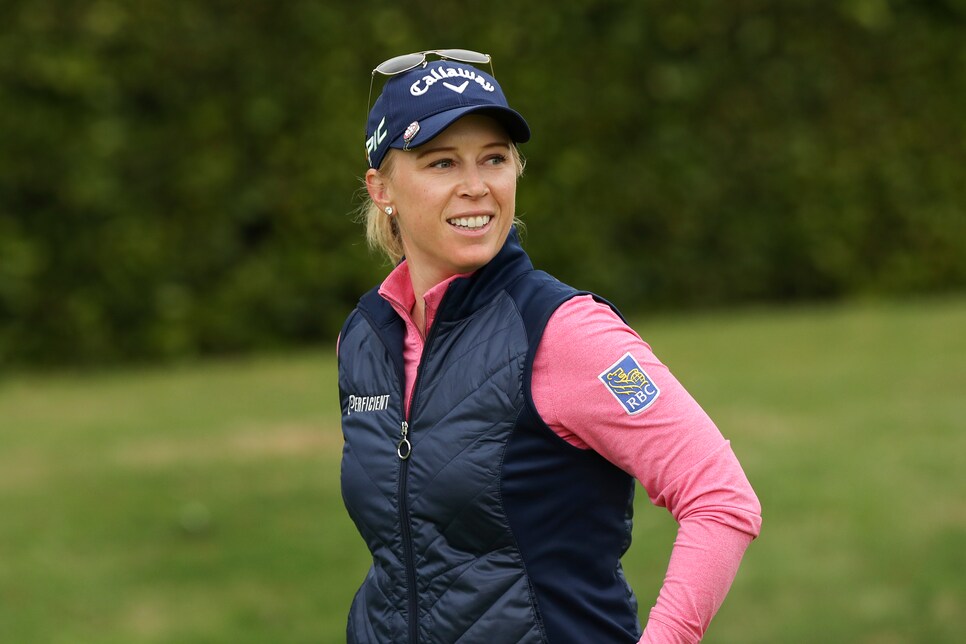 Near and Dear: Morgan Pressel has raised millions for breast-cancer prevention.
Meg Oliphant
Morgan Pressel knew she wanted to do something; just what, she wasn't sure. Pressel was confident in golf 's fundraising power and knew the cause she wanted to support. That had been clear to her since she was a teenager. "My mom [Kathryn] passed away from breast cancer when I was 15," Pressel says. "She was only 43." Pressel spoke with friends at her club, St. Andrews in Boca Raton, Fla., and set up a fundraising tournament for breast-cancer initiatives at Boca Raton Regional Hospital, where her mother was treated.
"We had no idea what to expect. We raised $500,000," Pressel says. "I remember being blown away. I realized we could really make an impact."
That was 15 years ago. Today the "Morgan & Friends" tournament has 220 golfers and eight LPGA Tour players. After a dinner and an auction, golfers can bid to join the LPGA Tour players in a nine-hole pro-am the next day. In the afternoon, everyone goes out for another nine holes, with the tour players joining groups for celebrity shots. The event routinely raises $1 million now.
With that money, Pressel bought Boca Raton Regional Hospital a "MammoVan." Equipped with the same mammography technology that can be found at a hospital, the Kathryn Krickstein Pressel MammoVan is on the road four to six days a week, providing mammograms for women across Florida. The van is often booked by employers, who have it park at their workplace and allow employees to schedule a mammogram during the workday. About 30 percent of the time nonprofits use it for uninsured women and help them sign up for free mammograms. If technicians see something concerning, they help the woman schedule a follow-up appointment at the hospital. Technicians have given 16,000 mammograms in the MammoVan, and 54 women have been diagnosed with breast cancer.
"This one woman, 51, came in recently, and the radiologist says, 'You have to get her to come in for more imaging,' " says Michelle Stallone, lead imaging technologist at Boca Raton Regional. "She kept saying she's too busy; she's a teacher and does aftercare, so we got her in on a Saturday. We got her biopsy back, and she has breast cancer. She'd never had a mammogram before. If the van wasn't there, who knows if she'd ever have gotten a mammogram?"
Pressel's foundation also funds genetic testing and imaging, and biopsies for uninsured women. She plans to fund a MammoVan in the Washington, D.C. area.
"She's so humble about it," Stallone says, "but she's saving lives." —K.L.