If you're like me, it has felt like approximately ten years since the day Netflix announced it was bringing the hugely popular Drive to Survive documentary formula to our beloved sport. It hasn't been that long, but anticipation has been building and building, and finally—$*%#&ing finally!—it's here. I was lucky enough to get a front-row seat for the actual production of the show in Memphis last summer, and if you want to read a behind-the-scenes look at how the sausage was made, you can do so here before we get into Episode 1. But the first thought, and the most important, is that we made it through the days of hype—the whole show is now available, and we deserve a good binge.
Episode Title: "Frenemies"
Tagline: "Childhood best friends Jordan Spieth and Justin Thomas become fierce rivals as they battle to win on the PGA Tour"
This is for the nuts-and-bolts play-by-play of what actually happened. No frills, folks! (Okay, a few frills.)
This is the Jordan Spieth and Justin Thomas episode (obviously). We start, as we must, in a private jet, Spieth drinking a Bell's Two-Hearted Ale, playing the world's most boring card game, literally called "guess the card." Truth be told, it's all a little awkward. In a series of clips that start in childhood, we revisit their history to present and arrive at the theme: these guys are best friends, but maybe they kind of hate each other, too?
From there, we meet Mike Thomas, Justin's father and coach (very much in that order), someone who has always seemed like a remote, even stern figure when I've seen him in person at tournaments, but who is very human here as he shows us the marks on a garage wall tracking his son's height over the years. He'll loom large later in the episode, but next we get an awkward phone call between the two players, footage of the spring break trip that took the Internet by storm a few years ago, and the talking heads—a Greek chorus of Rickie Fowler, CBS' Amanda Renner, swing coach Sean Foley, and journalists Dylan Dethier and Dan Rapaport—provide context.
Next comes Hilton Head, where Spieth wins and we meet a few other featured subjects who will appear down the road in the first season: Rory McIlroy, Matt Fitzpatrick, Collin Morikawa, Dustin Johnson, Sahith Theegala, and Joel Dahmen. Fitzpatrick says, "success this season will be winning on the PGA Tour"...well, past Matt, have I got some good news for you!
Jordan does a commercial shoot, the two of them play a practice round at Southern Hills complete with gambling and shit-talking, and finally, it's on to the PGA Championship, where Thomas puts himself in contention, seemingly plays himself out again, only needs 12 or 13 tries to swipe a credit card at CVS as he battles definitely-not-COVID-definitely-just-allergies, and then wins his second major in a playoff to the sounds of Hozier's "Swan Upon Leda."
From the very first sequence—a season preview montage complete with ominous music, raucous fans (thanks Phoenix), more bikini-clad women in 20 seconds than I have seen in a decade of covering the sport, and clanging background drums building to a desperate cacophony—it's clear that this show is going to do its utmost to make golf SEXY. Can this work over a full series? While F1 racing with its noise and speed and confrontation lends itself to this kind of depiction, golf tends to be more serene in the average moment, so it'll be fascinating to see whether the creators can pull off a more frenetic tone when they need it.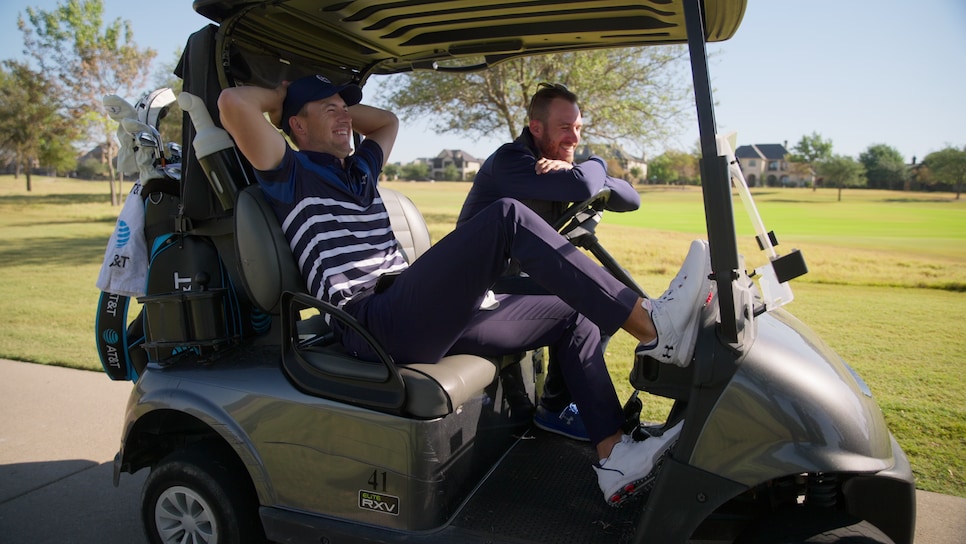 —Mike Thomas was the star of the show for me, and the most affecting moment came when he spoke about how tough his own father had been on him as a kid, and how badly it hurt. He vowed never to treat his own kids like that, and there's irony here, because that very week, Justin Thomas said in a press conference that he wants his dad to be harder on him at times, to press him more. ("I get pissed at him sometimes...he's not going to go full Butch Harmon or Pete Cowan and tell me I suck...and sometimes I would love for him to say that just because I want to hear it.") But Mike has his own perspective on what that can do to someone's psychology, and as this episode goes along, it becomes abundantly clear that he's 100% right in the decisions he makes. He's the calm center who can talk his hot-tempered son off the ledge, and who, at the PGA Championship, cajoles him at a very low moment and gets him back to an emotional place where he at least has a chance. This is the kind of stuff we wouldn't have gotten without this show...in short, Full Swing at its best.
—My second-favorite moment comes in the aftermath of Thomas' win, as he's walking alongside the PGA of America's Julius Mason, and says "it just happened so fast, man. It sucks. I wish it would go slower, so you could enjoy it more, you know what I mean?" It's a tremendous insight into what matters to these guys, what gets their juices flowing, and also into the temporary nature of this kind of triumph. To have won is great, sure, but even that doesn't compare to the actual in-the-moment act of winning, and in the aftermath, Thomas laments the fact that he'll never get those precious minutes back. Something phenomenal and irreplaceable is already in the past.
—In general, the show is at its best when the action is flowing organically, and at its most stilted when we're boomeranging between sit-down interviews. BUT! One of the best insights of the show comes from Sean Foley, who makes the critical point that it's very normal and almost expected for a player like Spieth to go through an incredible hot streak like 2015, when he won two majors, but then slow down for years at a time. See also: Koepka, Brooks, and McIlroy, Rory. This doesn't really happen in other sports; and the fact that everyone not named Tiger Woods hits the brakes after a short stretch in golf is different, and it's really important for viewers to know.
—In terms of dramatizing the on-course action, Hilton Head felt a little stilted—more on that below—but it was much better at the PGA Championship, particularly on Sunday. There's music, there's momentum, there's Spieth getting mad, and there's the terrific arc of JT's near-miraculous comeback, Mito Pereira's collapse, the playoff victory, and the emotional catharsis...and, of course, Hozier.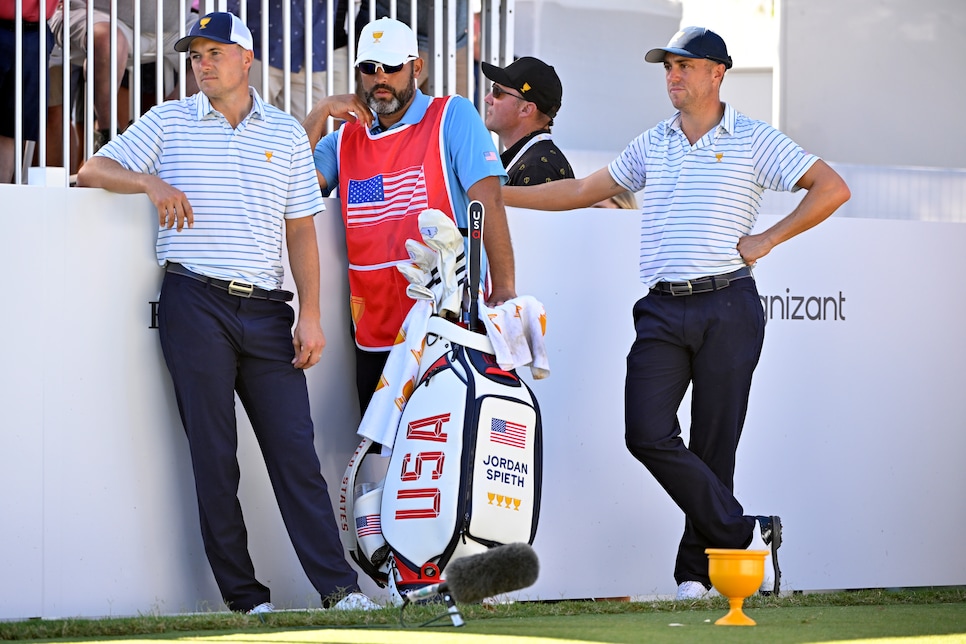 —At times in this series, there are going to be moments that feel staged in a not-so-great way, and we get our first of these with the "surprise" phone call from Spieth to Thomas—with cameras rolling on both—about Spieth's best man speech for Thomas' wedding. The whole thing is slightly, or maybe a little more than slightly, cringe-y. It just looks manufactured, and while I'm not so naive that I think there's no artifice in this stuff, it's not very well disguised here.
—Same deal when we meet Michael Greller, who asks Spieth "casually" to remember the first time he and Thomas met. Having watched future episodes, the series is at its best when this kind of storytelling feels organic. Here, again, it doesn't; it feels set up, staged, and the payoff (shock: they met at a golf tournament) doesn't seem worth it.
—A lot of the non-tournament scenes, from the commercial shoot to the practice round at Southern Hills ahead of the PGA, are vaguely interesting, but ultimately a bit bland. This is another reality we have to come to terms with in Full Swing: The strength of each episode depends on how much access they were granted by the players, and how comfortable, open, or funny those players are on camera. The latter, especially, is not always easy, but the puzzling thing is that while Spieth and Thomas have brought the goods at "The Match" and in other videos, here there's almost an underlying sense of unease or discomfort. I'm not sure Netflix got the "best" Thomas and Spieth.
—Like it or not, we're going to have to deal with very basic concepts being explained for the benefit of the less-informed general audience; for instance, Amanda Renner bites the bullet at one point by defining the cut. Sometimes, as mentioned above, this is totally fine. Sometimes it can feel like a speed bump, though, and sometimes we get super basic, as with a graphic telling us that par is "the expected score on a hole." Not the way I play, Netflix!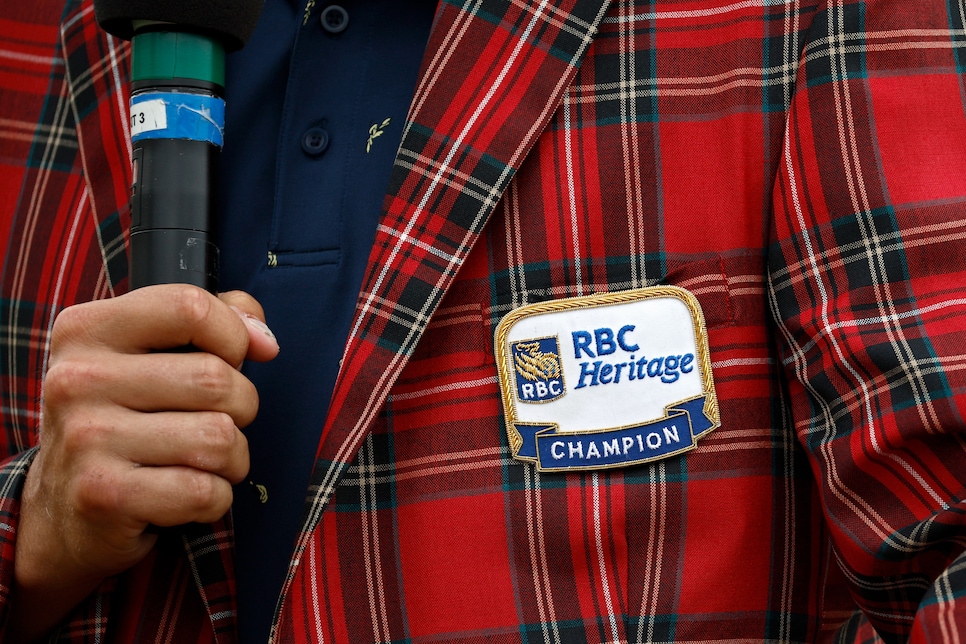 I know nothing about F1, but I've heard criticisms that Netflix stretched the truth in certain ways in that series for convenience of storytelling. In this section, we'll be looking at how events and depictions in the show stack up to the cold hard facts.
—The RBC Heritage at Hilton Head is a tournament I've covered for a number of years, including last year, and it's distinct among Tour stops for its laid-back coastal vibe, which is particularly welcome since it's played just after Masters week. Here, though, Netflix tries to make more of it, to treat it as a "springboard" for the rest of the season, which doesn't quite check out, but it's easy to understand why they're doing it: Spieth won, and they need it to feel capital-B Big for the story.
—Hilton Head is also the first time we see an actual tournament documented, and it's done through a succession of actual footage, announcer voiceovers, and a few sit-downs sprinkled in. Spieth wins, they contrast his $1.4 million check with Thomas' $38,000 and change, and it's at this point that you start to wonder if a little too much is being made of their "rivalry" tournament to tournament. This is a show that's going to make use of contrasts wherever it can, and it will work brilliantly at times, but unfortunately, they're leading with one that feels a little forced.
—Still, the friendship stuff wasn't all bad, and it was legitimately insightful to hear Thomas talk about how Spieth's early success almost made him angry, or to hear Fowler speak broadly about the strangeness of having friends you compete against every week. Despite the clunkiness of the contrast between the two main characters at times, I do think Netflix showed admirable restraint in not trying to go too far into their rivalry. At the bottom, these guys clearly love each other, and it would have rung false if they leaned too hard on the "frenemies" angle.
We knew it was coming: LIV Golf, baby! We've got Brandel Chamblee introducing the moral component, talk of Phil Mickelson seeming to be on the verge of going, and lines being drawn as the reality of the breakaway league becomes imminent. Needless to say, this is a theme that will continue through the entire series, but in Episode 1 we just get a taste.
The biggest lingering question about this episode is going to be why Netflix chose to run it first. It rounded into form by the end, but it was occasionally awkward and clumsy early in a way that I'm afraid might turn off the average viewer. That would be a shame, because the episodes to come are better—I consider this one of the weakest episodes of the whole run. In short, the things that worked here work even better as the series goes along, and the things that didn't work become less central. This was occasionally good, and never really great, but rest assured there is great stuff to come.