AIRTIME
Behind the scenes of Netflix's highly anticipated golf docuseries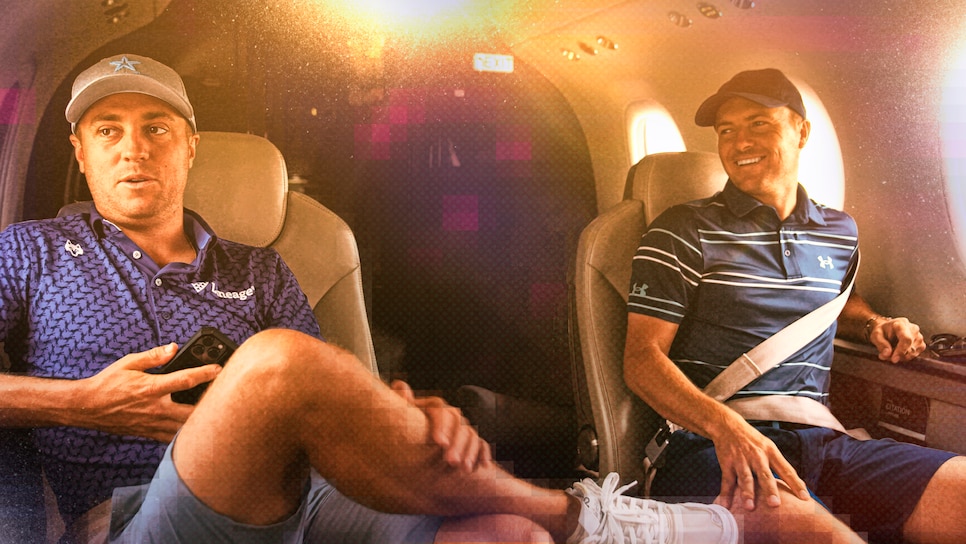 The standard for any access-based sports documentary has to be "Formula 1: Drive to Survive," which debuted on Netflix in 2019 and has become a top-10 show in 56 countries for the streaming service. The ripple effects for a relatively niche sport have been staggering. The United States is now the biggest market for F1 online merchandise sales, and viewership is up 40 percent.
"Full Swing," the eight-episode series documenting a year in professional golf, debuts Feb. 15 on Netflix (Editor's Note: Golf Digest recapped and analyzed every episode of the show in story and podcast form, available here.) If the creators were ever worried about a dull season, the emergence of LIV Golf tempered those fears. It might be hyperbolic to suggest that the show will transform professional golf, but there is a chance, at least, that golf could become a cultural sensation by the time the boys tee it up at Augusta National in April.
On the Saturday of the FedEx St. Jude Classic last August, I met a small crew from "Full Swing" who arrived in Memphis to cover the rookie-of-the-year race. Cameron Young was the favorite, but players like Sahith Theegala and Mito Pereira still had hope, and all three were in the field at the PGA Tour's first playoff event. Mary Stamm-Clarke, a freelance producer for Vox Media Studios, which is filming "Full Swing" for Netflix, had the job of following Theegala on the front nine with her production assistant, Patrick Rodgers. They knew from experience that Muralidhar Theegala, Sahith's father, would happily wear a microphone while he followed his son. Sure enough, he was rarely silent that day, chatting with anyone in the vicinity. When he high-fived a fan, Rodgers drove up in his cart with a release for the man to sign.
Late on the front nine, Rodgers spotted Michael Beard, the head men's golf coach at Pepperdine. Theegala had won every national player-of-the-year award while playing for Beard in 2020, and the crew wanted him to wear a microphone, too. He wasn't so eager. "I'm just here to cheer him on," he told Rodgers. "I want this to be about him."
As if by instinct, Stamm-Clarke appeared at his side. "That's all we want," she said, pleasant and reassuring, but also conveying the inevitability of his acquiescence. "We just want it to be about him." Even as she spoke, she was preparing the microphone, and soon it was clipped to his shirt—he was now part of the show. After complimenting Stamm-Clarke on her powers of persuasion, I wondered what came next. "Now you let it breathe," she said.
Stamm-Clarke, originally from London, had worked with Vox previously on shows about surfing and tennis, and she knew her way around people. Beard walked alone for another hole before Stamm-Clarke approached again to ask if he would join Theegala's father. There was no need to ask him to talk; if he was around Muralidhar, that would be inevitable. He obliged and soon fell into the conversational orbit.
As I found out later, this hustle was in vain, and nothing from that day was used in the final cut. Still, it was a fascinating insight into how this docuseries is made. The producers refuse to stage anything or to ask for second takes of organic moments, but they do occasionally feed conversational topics to their subjects. Mostly, though, the team's job is to be the invisible observers through the long hours, punctuated by moments of frenetic preparation—like dropping everything to visit a player's house when he finally gives the OK or jetting off to Detroit, as producer Dan Wilson and his crew had done two weeks earlier, when Tony Finau, one of the show's featured players, was on the verge of winning the Rocket Mortgage Classic.
One of the title options Netflix rejected for the show was "The Long Game." It would have been thematically appropriate for how the crew operated—being there, relentlessly, until lightning struck. If lightning struck enough times throughout the year, the team might have enough material for a storyline, an episode, or even a whole season of TV.
Chad Mumm, chief creative officer at Vox and the lead producer of "Full Swing," said the show has been in the works for a long time. As far back as 2014, when he was running Vox's ad agency, he met with the PGA Tour in Ponte Vedra Beach to pitch an SB Nation-style team community. The tour chose a different partner instead, but its media team loved Mumm's pitch, which included an original series. They stayed in touch and played golf together each year at the Consumer Electronics Show in Las Vegas. The timing was finally right in 2019; by the end of their round at Shadow Creek, they had hashed out an informal plan of how the deal would work, and Mumm had exclusive rights and a signed deal later that spring. "Chad's pitch was, 'It's got to be truthful,' " said Chris Wandell, the tour's vice president of media-business development. " 'Whatever we do, whoever provides access, it's got to be real. It can't be an infomercial for the PGA Tour.' "
To sell the show, Mumm needed players, and he started that process in April at Augusta National. He didn't have a pass to get near the famous oak tree where the VIPs mingle, so he printed out the name and picture of every agent for every player he wanted to sign, studied the pages as he stood against the ropes and waited for them to appear.
His biggest hindrance was that he couldn't pay anyone, but he could offer exposure and the ability for the player to dictate the extent of Netflix's access. That was enough to sign Rickie Fowler, Tony Finau and Justin Thomas. ("Signing," in this case, grants Netflix the rights to use the footage shot off the course, like in a locker room or at a player's home. The player determines his level of participation, but signing signals a willingness to give Netflix access.)
Every player I spoke to, from Finau to Joel Dahmen to Max Homa to Matt Fitzpatrick to Theegala, said he was a fan of "Drive to Survive," and having that point of reference for the potentially career-altering benefits made it easy for them to commit. By the summer of 2020, Netflix had emerged as the primary suitor, and Mumm turned his attention to the majors. Once again, he started at Augusta National, and Wandell was critical to this process: "We're doing it for the sport, not for us," Wandell told the governing bodies, and to Mumm's surprise, the reception at Augusta National was positive. By 2021, Augusta was on board, and so was Netflix.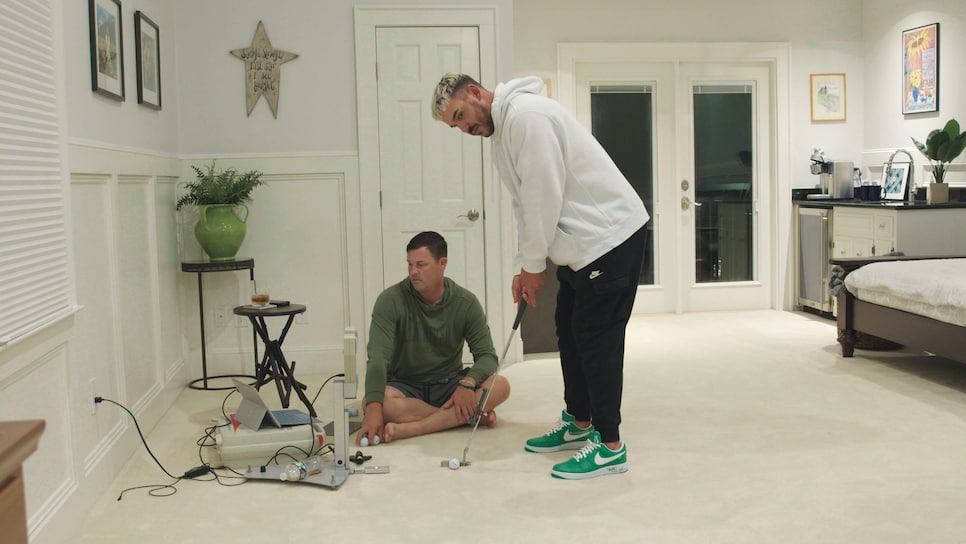 BEHIND THE SCENES Brooks Koepka and putting coach Jeff Pierce get in some practice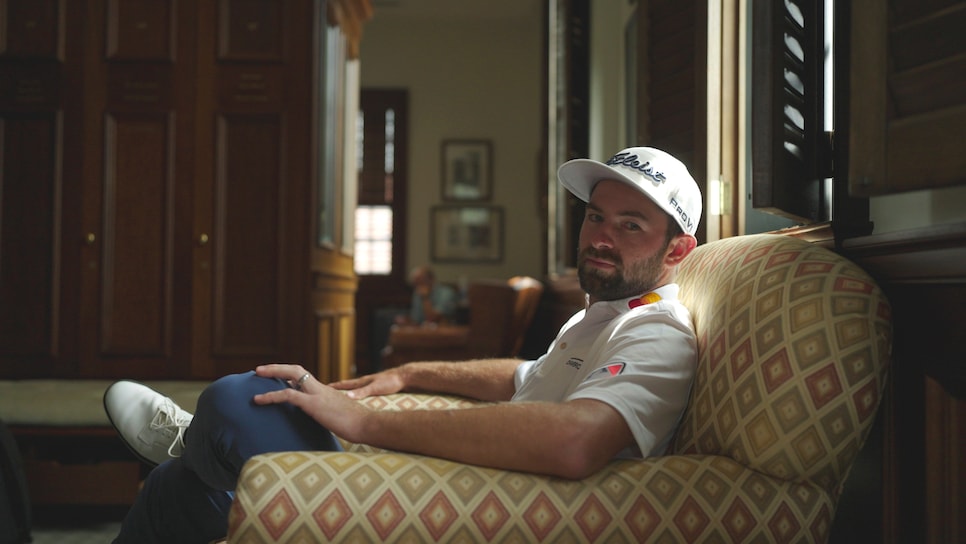 Cameron Young, PGA Tour Rookie of the Year for 2022
Netflix
The crew began what would become a yearlong effort in late 2021 at Tiger's Hero World Challenge in the Bahamas. With additional big names like Brooks Koepka agreeing to participate, the first interviews were conducted. Crucially, these were audio only. "We found that if you stick a camera in their face, they go into media-training mode," Mumm said. "It just kind of clicks into the same platitudes. If you take the camera away, and you just set a mic on the table, their whole posture changes, and it's just a conversation."
The audio will be used over B-roll footage, and to the viewer, it's indistinguishable from filmed interviews. It's an ingenious method of mining material that a player might not divulge in front of a camera. The technique proved so successful that it was used to explore controversial topics such as LIV Golf. Lose the camera, and the words flowed.
KOEPKA REVEALED HE WOULD LAY IN BED AT NIGHT UNABLE TO SLEEP, GRIPPING AN IMAGINARY GOLF CLUB, AGONIZING ABOUT HIS GAME.
One of the players they interviewed at the Hero World Challenge was Fitzpatrick. He wasn't part of the original plan for the series, but Vox already had Thomas and Collin Morikawa from Excel Sports Management, and Mark Steinberg, agent to Tiger Woods, encouraged the film crew to give Fitzpatrick a look. When Vox signed him, it was almost as a favor to Excel, which had been supportive of the show from the start. "Fitzpatrick comes in and sits down for his interview," Mumm recalled, "and we were like, Oh, my God."
Part of their astonishment was with Fitzpatrick's analytical approach. The team was used to interacting with golfers who were competitive to their core and exuded swagger. Fitzpatrick, obsessed with the data points he meticulously keeps on every aspect of his game, was studious by comparison. In his matter-of-fact way, he explained how his numbers showed incremental improvement and how that grind would inevitably pay off even against the best players. He became one of the show's best stories when he won the 2022 U.S. Open.
The one player who didn't even bother to bring his agent to the studio was Koepka. He drove there alone, stayed for 90 minutes and was more vulnerable than anyone expected. At one point, he spoke about the perception that he doesn't care and was adamant that he did—a lot. At night, he told them, he would lie in bed next to his wife, Jena, unable to sleep, gripping an imaginary golf club and agonizing about his game. All he thinks about, he told them, is golf—even at 2 a.m.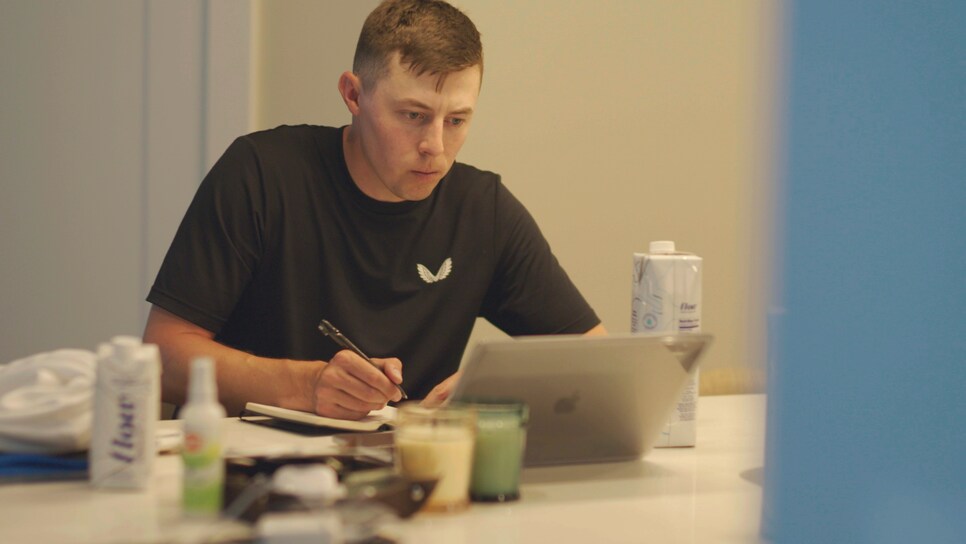 SCENE-STEALERS Matthew Fitzpatrick (top) and Scottie Scheffler have major storylines.
Netflix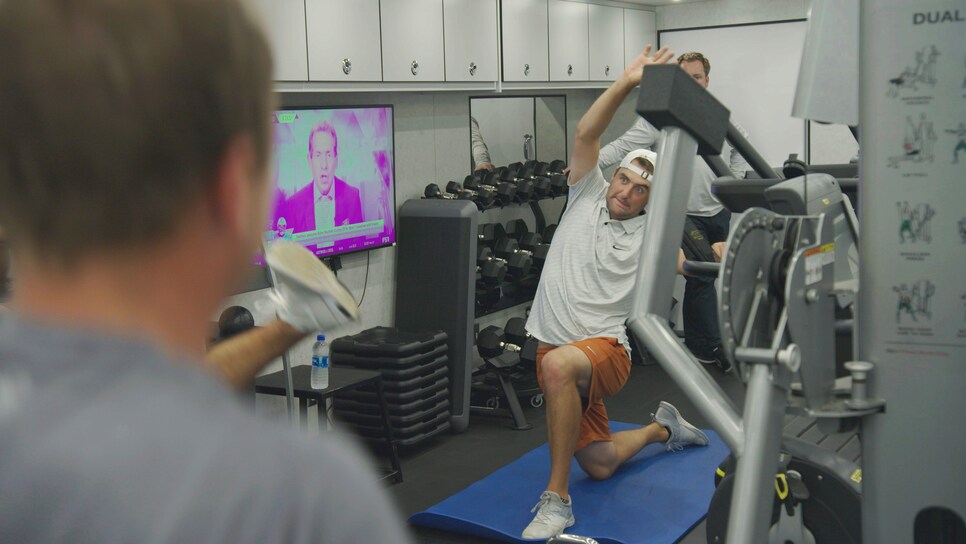 At that point, Mumm shared a look with Paul Martin, the co-founder of Box to Box Films, the producer of "Drive to Survive," and they had the same thought: Holy shit. We've got a show.
The crew's first full field event was at Torrey Pines in January 2022, but the first time they ever shot golf happened because of a happy accident. In Hawaii, Joel Dahmen had tweeted that he and Harry Higgs would face a team to be named later on Jan. 24 at a course called Goat Hill Park the week of Torrey. Netflix tagged along to find Dahmen with a bag of White Claws and dozens of fans waiting for him. "It was this sixman scramble, the kids were freakin' ringers, and it was this awesome, sunset vibe," Mumm said. "That was our first shoot, and we just thought, Golf needs this. It needs the anti-country club."
'FITZPATRICK COMES IN AND SITS DOWN FOR HIS INTERVIEW, AND WE WERE LIKE, OH, MY GOD.'
That day formed the backbone for an episode, and though Dahmen worried he would be cast in the role of a "clown," he believed the crew came to understand the nature of the relationship between himself, his wife, Lona, and his caddie, Geno Bonnalie. Soon, cameras were everywhere, including a Taco Tuesday night at their home, and when I joked with Dahmen that they kept coming back because the other golfers were too bland, he laughed. "I think that's exactly what happened," he said. "Like, we're going to go film this guy, and suddenly it's like, nobody wants to watch that. So it was back to me and Geno—best friends who play golf and laugh at each other because we get to do this for a living."
Dahmen was comfortable with granting full access, but others drew boundaries. Homa declined a home visit the week of the Genesis Invitational at Riviera. Theegala, who describes himself as an "aggressive introvert" in a family full of extroverts, had similar reservations. "My family gets energy from people, and I've always been awkward and not wanting to talk to people," he said. "I still get nervous and have anxiety about any kind of social interaction."
He made his parents—immigrants from India who poured much of their modest income into Sahith's development and who, according to Muralidhar, faced incidents of racism along the way—promise not to say anything too embarrassing. After Theegala failed to close out potential wins with the cameras around, his caddie, Carl Smith, gave the crew a hard "no" at the BMW Championship as Theegala attempted to qualify for the Tour Championship.
Tony Finau's background is similar in some ways to Theegala's—immigrant parents and little family money—but he leaned more toward Dahmen's perspective. It helped that Finau's agent, Chris Armstrong, was a major F1 fan and knew what to expect. "I was open for the challenge and exposure," Finau said. "The good thing for me is that I'm different, my background is different, my journey's different. I have five kids; I come from a huge family. I have a whole different perspective, and people are going to see that right away."
For Netflix, the good luck that began at Goat Hill continued when Justin Thomas won the PGA Championship. Thomas' father, Mike, became a central figure because of the complex dynamic of being both coach and parent. Early in the week at Southern Hills, Justin struggled with swing issues and admitted that he often gets "pissed" at his dad for being too soft as a coach. This complicated relationship paid off in a big way when the crew was embedded with Team Thomas in the tense moments before he defeated Will Zalatoris in a playoff. (The PGA Championship was a fertile weekend for Netflix, which had also signed Pereira, who lost his chance to win with a double bogey on the 72nd hole and was consoled in the parking lot afterward by a group of his fellow Latino players.)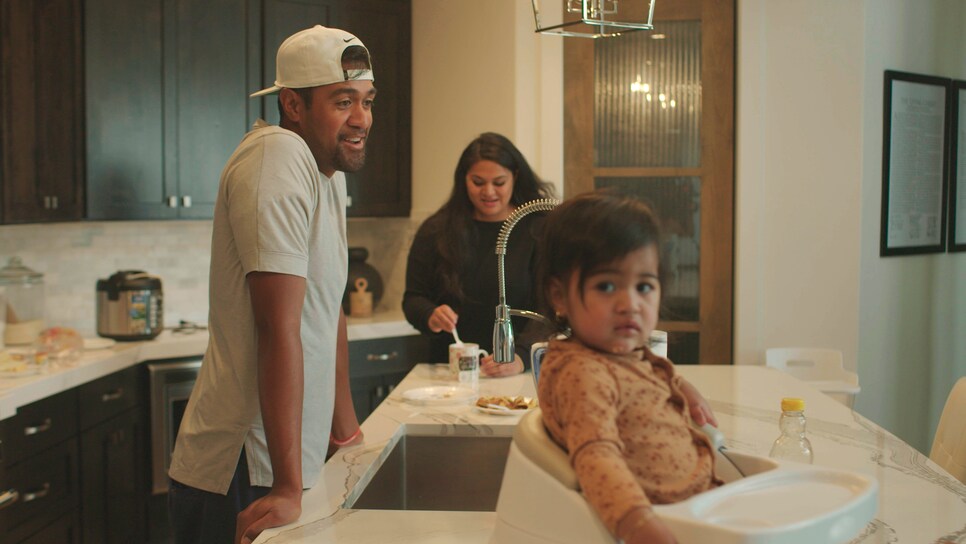 FAMILY LIFE Tony Finau, with his wife, Alayna, and daughter Sienna-Vee, was an eager participant.
At least one signing happened almost by accident. At the 2021 U.S. Open, Mumm had a long meeting with Bryson De-Chambeau's agent, Brett Falkoff, to secure his participation. That never panned out, but at a nearby table, Ian Poulter looked at his phone and pretended indifference, long after he had finished eating. When the meeting ended, Mumm decided he had nothing to lose and introduced himself. Poulter was happy to talk and told the Netflix team that if they were making "Drive to Survive" for golf, he was their man. Poulter would become an important figure when he made the transition to LIV Golf. He wrestled with the decision, and this struggle is apparent in the show.
Early discussions with Rory McIlroy, who would end the year ranked No. 1 in the world, yielded an unsatisfying compromise: McIlroy would likely be in for a second season of the show but didn't want to be a full participant the first season. As the year went along, though, the crew noticed he kept appearing in their shots to the point that it seemed like he wanted to be on camera. At the Open Championship, a series producer pitched him again. McIlroy reiterated that he hadn't signed, so Mumm offered a compromise: "You've been around our cameras the whole time," he said, "so what if we just film you, and you tell us if it's too much?"
'I HAVE A WHOLE DIFFERENT PERSPECTIVE, AND PEOPLE ARE GOING TO SEE THAT RIGHT AWAY.'
They filmed him all week at St. Andrews, through the heartbreaking loss to Cam Smith, and he never balked at the presence of cameras. The problem was the loss; it was understood that if he won, he would sign on, but when the narrative changed, the reluctance returned, and that cast doubt on whether Netflix could use the footage.
That's when Mumm decided to throw a Hail Mary. He flew to the Tour Championship in Atlanta and arrived at the clubhouse early Monday morning, hoping to score a private meeting with McIlroy. Mumm was meandering around the hallways, reflecting on the futility of the mission, when he saw McIlroy eating breakfast by himself in player dining. Mumm approached, was invited to sit, and gave his five-minute pitch: You're the de facto spokesman for the PGA Tour, you've got a major platform, and it might never be this important again.
"I'm in," McIlroy said. Three hours later, they signed an agreement.
McIlroy would become a critical part of how Netflix tells the story of LIV Golf. In the documentary, he holds hushed, seemingly private conversations with other players, all with a camera less than five feet away and a boom mic hanging above his head. At times, the content seemed so personal that the crew offered to back off, only to have McIlroy insist they stay. In addition, having McIlroy on board gave them the inside access to the secret meeting of players he organized with Tiger Woods at the BMW Championship.
Netflix maintained its ties with the featured players who went to LIV, too, including Koepka, Poulter and Dustin Johnson. A crew traveled to the first LIV event in London. Although initially ambivalent about whether the LIV story had been "good" for the documentary, Mumm believes it created tension, and tension creates a story. All the producers had to do was show the player decisions in real time, whether the players came off as sympathetic or not. One of the episodes, Mumm says, will focus extensively on the LIV drama, but it's a theme that runs throughout the series, and he predicts that even hardcore golf fans will be surprised by their access.
As the heat picked up in Memphis that August morning and Stamm-Clarke followed Theegala, Mumm made it a point to find Scottie Scheffler on the putting green to secure a home visit before they wrapped shooting for the year. By the clubhouse, producer Dan Wilson, tall and athletically built, filmed Pereira in his workout trailer. Wilson was obviously comfortable with the players, and he told me that the moment he knew he was "in" came when a grinning Scheffler shoved him as he passed by in the locker room—one jock's token of affection for another.
The goal was to wrap shooting at the Tour Championship in August, but they wound up going two months longer, concluding at the end of October when they shot with, among others, Paulina Gretzky. By then, Mumm felt "excited and exhausted." I asked about the pressure—this was his creation and maybe the most personal project of his career.
"It's hard at every single point," he said. "You've got to build the trust, the access; you've got to make sure you're there, that your cameras are there, that things are in focus. Then you get it all in, and you think, How do we make this into a story? How do you make the energy and emotion come out? The stakes are so high because it's the first non-'Drive to Survive' show made for Netflix, and it's golf.
"It's terrifying," he said. "It has to be awesome."