Episode Title: "Win or Go Home"
Tagline: "With his career in a frustrating slump, Brooks Koepka hopes to reclaim his place as one of the top golfers at the Masters"
Folks, Brooks Koepka ain't happy. He's got lots of money, beautiful house, beautiful wife, but this man is all about the W-I-N. And the w-i-n has been elusive for Brooksy the past few years, following his time at the peak of his game when he captured four majors. The action opens in Phoenix, with Koepka emerging through the tunnel into the chaos of No. 16, and giving us a tough-guy sound bite about how golf is rough and tumble and he wants to step on everyone's throat. But at the very next moment, he's lamenting to NFL receiver Adam Thielen that he didn't stick with baseball. "Winning is an addiction," he says, but lately Koepka hasn't been getting his fix, and this sets the theme for the episode: Here we have a guy who just doesn't love his job enough to abide it in happily if he's not the best in the world.
After establishing Koepka's bona fides, we come to the unhappy present, where's lost his alpha status due to a string of injuries and a loss of form. He wants it back, badly, but he doesn't know how to get it, and one way to look at this episode is that it's a long explanation for why he eventually joins LIV Golf.
The 16th hole at Phoenix is a major stage here, it's built up as a complete circus (fact check: true), and it's also the scene of Koepka's latest failure, where a bogey on Sunday takes him out of contention. The winner is a young fellow named Scottie Scheffler, and something tells me we'll hear more from him.
We head to Koepka's home, meet his wife Jena Sims, and learn that Koepka is perpetually distracted by his failures on the course. He can't even focus on wedding details, which Jena takes in stride. "This f***ing thing can consume you!"
Then it's off to Texas to meet Scheffler, and the contrast between the confines of Florida wealth and the small-town vibe should be (but is not) set to the vintage Driving Miss Daisy this-is-regular-ole-America music. Scheffler is the kind of guy who can keep things in perspective, his wife Meredith provides a down-home contrast to the glitz and glamor of Jena (they talk about coffee instead of bikini cover-ups), and he's smart enough to know that even if he wins, he won't win forever.
And man, does he win. Phoenix! Bay Hill! Austin! And finally, it's off to Augusta, where Koepka flounders when he needs it the most and Scheffler takes home the green jacket and becomes immortal.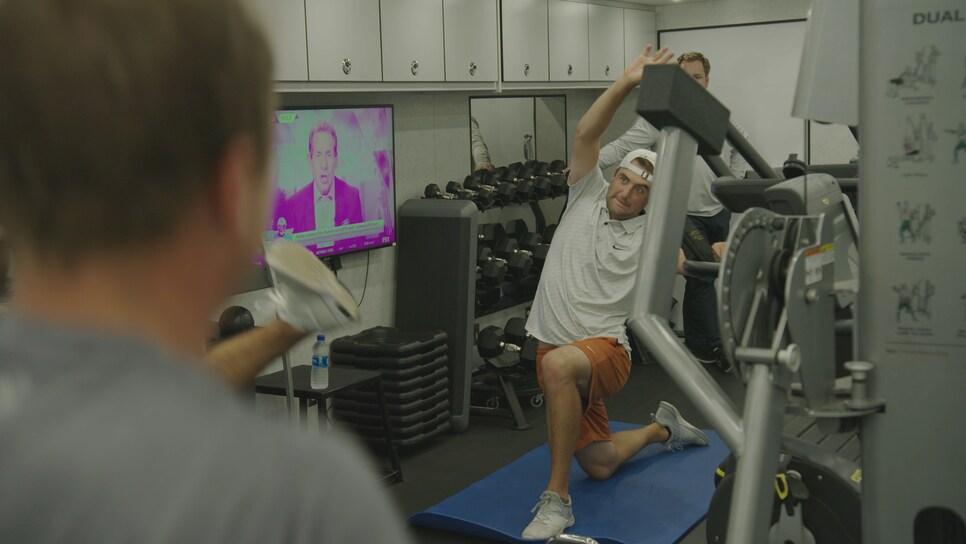 —To some extent, this is one of the episodes Netflix was hanging its hat on, and watching this was a very different experience from Episode 1. If you read that review, you know I (and others at Digest) were disappointed, but speaking in very general terms, the pizzazz that one lacked is present in spades here.
—We have to talk about Brooksy. I don't know if people are going to like him more after this—I suspect not—and I don't even know if this presents an accurate picture of what his life is like on a day-to-day basis. But man, it was certainly a warts-and-all performance! You can tell he's hooked on the idea of being a Jordan-esque (or Tiger-esque) badass, but the problem in golf is that nobody but Tiger ever stays on top for very long, and he simply can't handle life in the middle. There's a certain entitlement here, a certain neuroses, and a certain lack of perspective. You see a scene like the empty trophy case spots, and while it's clear the vacancies are supposed to be inspiring, now the whole thing is just sad; not to get too ham-handed here, but it's a pretty damn good metaphor for the emptiness he seems to feel at his core.
—The great irony is that all his swashbuckling attitude works against him now that his prime is over. His decision to go to LIV is depicted here as an act of submission, like a dog showing its belly; he can't go toe-to-toe with the Scottie Schefflers of the world anymore, so he's surrendering. It's not very Jordan-like, and Koepka may come looking at times like a bit of a whiner, but I also think he deserves credit for that level of openness with the cameras. I certainly didn't expect him to admit that he was on a downward trajectory in his career, for one thing. This is one of those situations where I can't wait to see what the general public says when the episode is released.
—We talked last time about Netflix's use of contrast, and we're going to talk about it a bunch more. When it fails, it fails noticeably, and that was the case in the Jordan/Justin episode. Here, however, the Koepka-Scheffler contrast felt both organic and worthy. One guy goes up, another man goes down, and with Phoenix and Augusta as the centerpieces, this is a great portrayal of the circle of life on the PGA Tour. Sure, to some extent they probably cooked the books in painting Koepka as the failing Gatsby and Scheffler as the strapping aw-shucks all-American, but by and large this felt real.
—The best moment of the episode came on Masters Sunday, when Ted Scott gave some last advice to Scheffler before the biggest day of his professional life—you've done this before, and you're not alone because God is in control of everything. It was simultaneously a great message for someone who had to be petrified of the task before him, and a terrific example of what makes Scott such a great caddie. And while their faith is about more than golf, this was also a good window into the prevalence of religion in sports; there's real utility in the belief that something bigger is on your side, and it's not just you against the abyss.
—Similar: Koepka saying that he'd give up all his trophies, all his money, just to feel the rush of contention at a major for an hour. That felt totally honest; he took the cash grab in the end, but only because he judged that at age 32, the competitive rush was behind him. For true competitors, that's all that really gets the juices flowing, and it reminded me of Episode 1 when Justin Thomas lamented how quickly his own moment in the PGA passed him by.
—In the most general terms, it was a masterful presentation of why Koepka's attitude can only work in golf for a limited time, and why Scheffler seems like he'll be a much happier human being in the long run. I mean, imagine being a four-time major winner and still feeling "embarrassed" that you missed one cut. That can't be healthy!
—Terrific use of the hidden interviewer's voice when Koepka claimed not to remember who won the Masters. "Yes you do," the voice shot back, and Koepka was forced to squirm and go "Oh yeah, Scottie." It's these little moments that are sublime in their own strange way, because it gives you a window—or at least a perceived window—onto quirks of behavior. I mean, did you believe him?
—It's very easy to misjudge this stuff from a few video clips compiled over a year, but it seemed to me like for all his bluster, Koepka needed to talk to someone who understood him, and understood what he was going through, and he didn't have that person. The dinner table scene, where everyone just seemed to stare at him while he talked himself in circles, was profoundly sad in some way.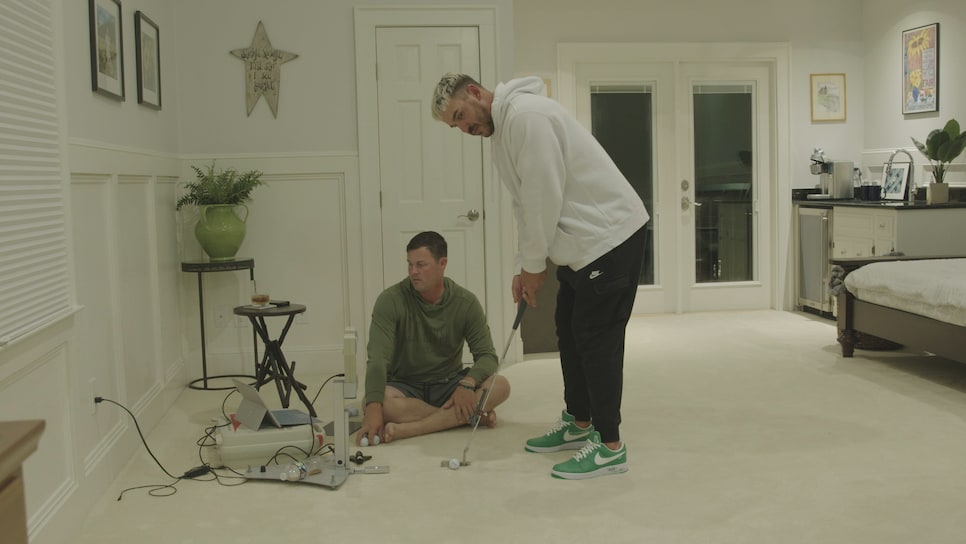 —Some of the Brooks-Jena scenes were excruciating, and felt very set-up by the producers to make a point. When she's showing him her clothes, and he's forcing an awkward laugh or two, it's Full Swing at its most contrived.
—Ditto for the "family following the player on the course" scenes. I get what it adds, but throughout the series it tends to come across as awkward.
—The talking heads style of storytelling is very, very conventional. This is a total nitpick, because sometimes you absolutely need it to set up the story, but whether it's the glut of sports documentaries we've seen lately, or whether it's just the execution here, it comes off so basic. This is not a knock on the presenters, either; they're all doing a fine job. It's just that the technique itself has an inescapable paint-by-numbers vibe.
—I genuinely don't know if underplaying the mythos and etc. of Augusta was a good choice or a bad one. Could they have done more? Maybe. Would it have added anything that we haven't already gotten in our decades of seeing the place romanticized? Maybe not. I'm torn here.
—Before Scheffler attempted the birdie putt that clinched the Phoenix Open, there's audio of Nick Faldo saying what sounds like, "Well this for the first win, Jim!" And when he makes it, Jim Nantz says "Scottie Scheffler is a Tour winner for the first time!" Something struck me as odd about it, both in memory and in Scheffler's reaction, so I looked it up, and as I suspected, that was not a "winning" putt in the truest sense, because Patrick Cantlay actually had a shorter birdie putt to keep the playoff going. Frustratingly, I couldn't find footage of the final round to 100% confirm my hunch, but it seems like they probably shifted some audio around to improve the story and make Scheffler's putt look like a walk-off. Is this nitpicking? Does anyone actually care? Your mileage may vary, but there's something about it that makes me just a little uneasy.
—I'm going to introduce a term here: "The invented discourse." By this, I mean talking points that are presented on the show that have very little bearing on reality for those of us who follow this stuff, to where it seems like the show is pushing an agenda to goose the story. We had a couple moments like that here, the first when we hear the claim that Koepka "came to define this generation of golfers." Don't agree! If anyone defined it, and I'm not sure anyone fully did, it's Rory or Spieth, with Koepka next. Second, the contention that he was Tiger-esque in how it seemed like he'd win each time he teed it up. The dude has won eight times on the PGA Tour. That's nothing to sneeze at, but it's certainly not anywhere remotely close to Tiger level.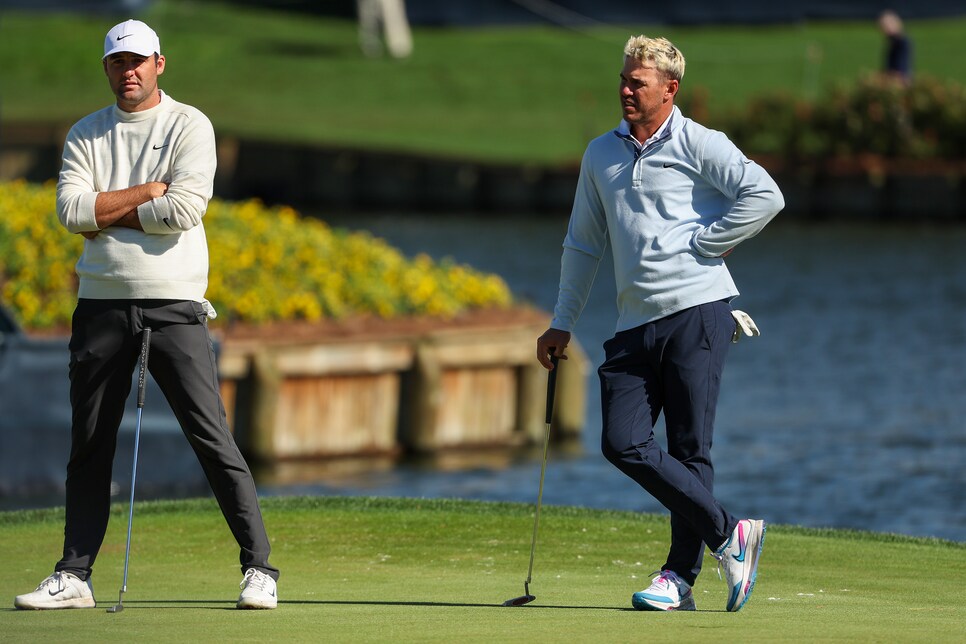 –I love when I hear sound bytes like Koepka's, speaking about his younger days: "They told me I was never going to win anything." I would like to know exactly who said this! Who was thinking about Koepka enough to go out of their way to say that?? I'm dubbing this the "fake haters" trope.
—Koepka is constantly trying to be too cool for golf—he can't help himself. Whether he's moaning about giving up baseball (maybe he could have made it; his great-uncle was Dick Groat) or saying things like "it almost feels like a real sport." Even "not remembering" the Masters winner felt like an attempt at portraying a kind of detachment. He's always laying bare his insecurities that he's not a real jock.
—I want one of the putting gizmos Koepka was using on his carpet. I feel it could reduce my putts per round from 60 to 50 in no time.
–Good stuff from Dan Rapaport avoiding the easy explanation for someone falling off the map: "Golf is weird. Sometimes there's no rhyme or reason. It just happens in an instant."
—Loved this from Koepka, on Scheffler: "That kid, I guarantee if you ask him what he's thinking about, he goes, 'Nothing.' The best damn player in the world doesn't have any damn thoughts in his head, so why would you?" If only it were that easy.
Much improved. Real drama, real character, and just a ton to talk about. This is more in line with what we expected when the news came out that Netflix was making a golf series, and after a very bland first episode, it's a very positive sign for what's next.