Newlywed game
Brooks Koepka and Jena Sims play everyone's favorite couples game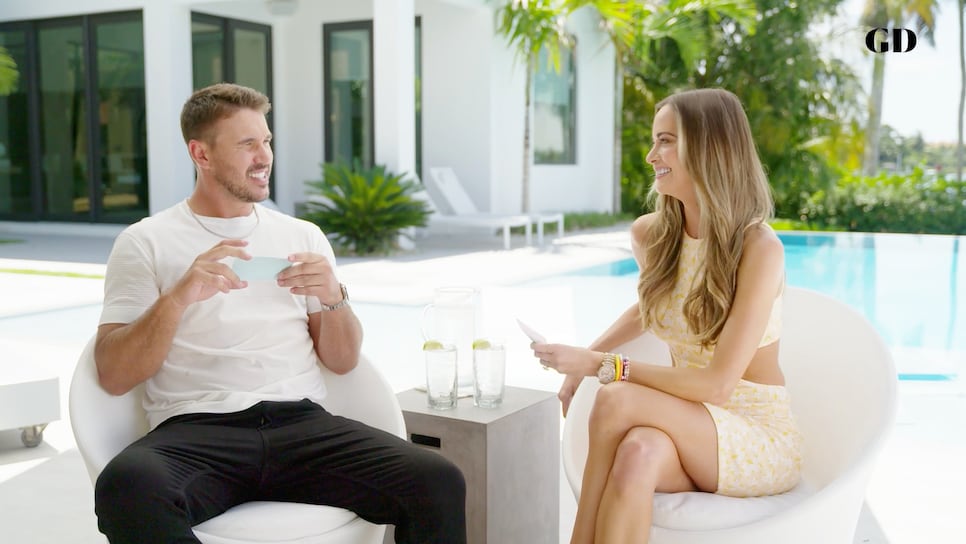 It's been quite the week for Brooks Koepka.
The four-time major champion, in a recent interview with Golf Digest, started a bit of a golf firestorm with comments on the on- and off-course challenges associated with the Ryder Cup, noting how different it is to adopt a team mentality. Former U.S. captain Paul Azinger responded to those comments in a conference call Wednesday, suggesting that Koepka should "relinquish his spot" if his heart wasn't truly in it.
All this to say, Koepka has been the main character in golf this week, and that's without even touching a club.
But it's his candor that makes Koepka such a compelling interview and a true star in today's social media age. There is perhaps no better place to put that quick brain and smart mouth to the test than mic'd up in front of a camera with your fiancee.
Koepka and Jena Sims, golf's pop culture power couple, sat down with Golf Digest to partake in everybody's favorite couples activity: the newlywed game. Or, in this case, the not-yet newlywed game.
Koepka and Jena Sims answered an assortment of questions, ranging from Koepka's favorite cheat meals to Sims' favorite stop on tour to which one of them their dog, Cove, loves more. Koepka, who is famously nonchalant when talking about golf, was even all smiles when admitting that Sims may want to just outright replace him with Ryan Reynolds, if she could change one thing about him.
Spectators are more connected to players now than they've ever been, so whether through Sims' Instagram or taking subtle—or not so subtle—shots at rival Bryson, we all have a pretty good idea of what's going on in Koepka's world at all times. This sitdown is an even bigger window into the lives of the recently engaged couple.
You can watch the interview, in its entirety, below.