Party Police
Here's why you (probably) won't see more beer showers on the 16th hole this week at the WM Phoenix Open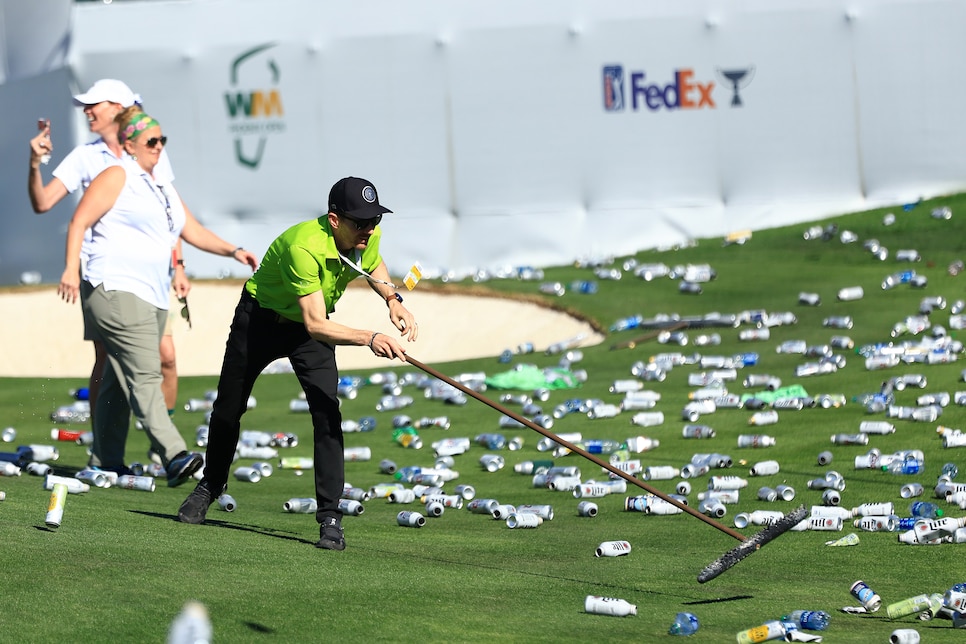 SCOTTSDALE — The OG beer shower at last year's WM Phoenix Open for Sam Ryder's incredible third-round ace at TPC Scottsdale's 16th hole, aka "The Coliseum," was an all-time great scene. Unfortunately, though, the 17,000 fans in the grandstands took it a little too far, making it rain suds for seemingly every routine birdie, par and chest-hair flash that came afterward.
Much like an actually-witty commercial, it was fun the first time, but it got old quickly. In addition to causing damage to the golf course, it was flat-out dangerous for the players, caddies, volunteers and everyone else situated inside the ropes. Sure, an empty beer can might not put somebody in the hospital, but a full one could certainly inflict some pain.
That's why in 2023, with the tournament ramped up even more thanks to its designated-event status and $20 million purse, measures are being taken to reduce the risk of injury or damage to the course (and people) should another ace occur. Ryder's hole-in-one was the first on the 16th hole in seven years, so it's not like it's a common occurrence (though it did happen again the following day with Carlos Ortiz). But it's better to be safe than sorry.
According to the PGA Tour, the measures that are being taken include, but are not limited to, the following:
• All alcoholic beverages on the 16th will be served in commemorative plastic cups
• Fans will not be allowed to enter the 16th from other areas with a canned alcoholic beverage
• Elevated security and police presence in both the General Admission and Hospitality areas on the 16th
• A social-media campaign on this policy
• Signage in General Admission and Hospitality areas of Zero Tolerance for throwing anything on the course
As for whether or not they'll actually be able to enforce this, that remains to be seen. The tour is certainly hoping for another ace and more big moments on the famous par 3, but the goal is to avoid damage to the golf course and those inside the ropes on 16 in any way possible.