Podcasts
Xander Schauffele on the photo Patrick Cantlay will never see, his lingering back injury and why he doesn't tweet more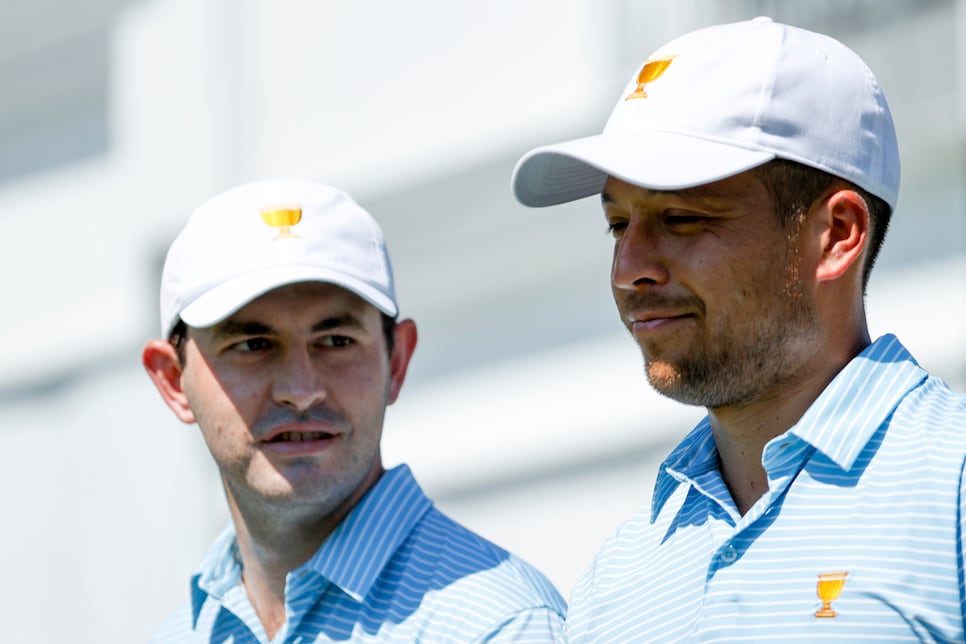 Even after the PGA Tour began incentivizing players to take to social media with the Player Impact Program (PIP), nothing in Xander Schauffele and Patrick Cantlay's life really changed. Neither of them were big social media guys before and they certainly didn't become ones after, which might explain why the two low-key pros are such good friends.
When the wives and girlfriends want you to post and Insta, however, you post the Insta first and ask questions later. That's what led to a now infamous New Year's Eve picture of Schauffele, Cantlay, and Schauffele's wife Maya and Cantlay's fiancee Nikki Guidish. Infamous because of Cantlay's outfit, which got ripped to shreds on social media, hence why he and Schauffele usually stay off of it:
What seems like a relatively normal outfit quickly became the fashion faux past of the century according to the opinionated commenters of Instagram and Twitter. Fortunately, as Schauffele explained on this week's episode of The Loop podcast, Cantlay will likely never see those comments, and he might not have ever even seen the picture itself.
"You can imagine it wasn't us who wanted to take the photo," Schauffele said. "But that's just how it goes. We took probably one too many than we wanted after dinner. Happy wives, happy lives. The girls got their photo. My wife has Instagram and showed me, she was laughing and said 'people are so mean.'
"I literally wear the same button down everywhere I go. If someone knew that they could have called me out on that. There's a good chance Pat hasn't even seen it knowing him, and he never will."
Schauffele, who joined us on behalf of Hyland this week, also talked to us about his lingering back injury, his "stale" 2022 majors season and the Hyland X Vision Challenge, which featured Schauffele playing a par 3 blindfolded like he used to do as a kid during practice. The full video can be viewed below:
All credit to Schauffele's dad Stefan and his caddie Austin Kaiser for the insane near ace on that one. To hear our full chat with Schauffele, plus our recap of two major Golf Twitter topics, Aaron Rodgers handicap and the stonework around the Swilcan Bridge, please have a listen to the full episode below, and like and subscribe to The Loop wherever you get your podcasts.