Episode Title: "Everything Has Led To This"
Tagline: As the season winds down, Rory McIlroy faces Cam Smith at the Open Championship, while fighting for change within the PGA Tour
In the very first scene, speaking on the patio of what looks like a country club, Rory acknowledges that he may have made things "too personal," but then launches into what can be considered his mission statement: "I'm just trying to fight for what I think is right." From there, we get into the standard talking heads plus canned audio scene setting, emphasizing the LIV schism and introducing the idea that Rory really needs to win a major because, well, he hasn't for a long time.
The on-the-ground footage starts at St. Andrews, with a departure for some background on Rory's childhood, including the famous footage of him hitting a golf ball into a washing machine on Irish TV. The Open dominates the rest of the first half, followed by an interlude for the Delaware players' meeting with Tiger and a few shots of Rory doing clinics and virtual reality trials, and continuing to push his message regarding LIV to the media. We get a quick recap from the other featured players we've seen this season, and then it's off to Atlanta, where Rory wins, gets a congratulatory text from Tiger, and sips a glass of red wine in the locker room while checking his text messages to bring the season to a close.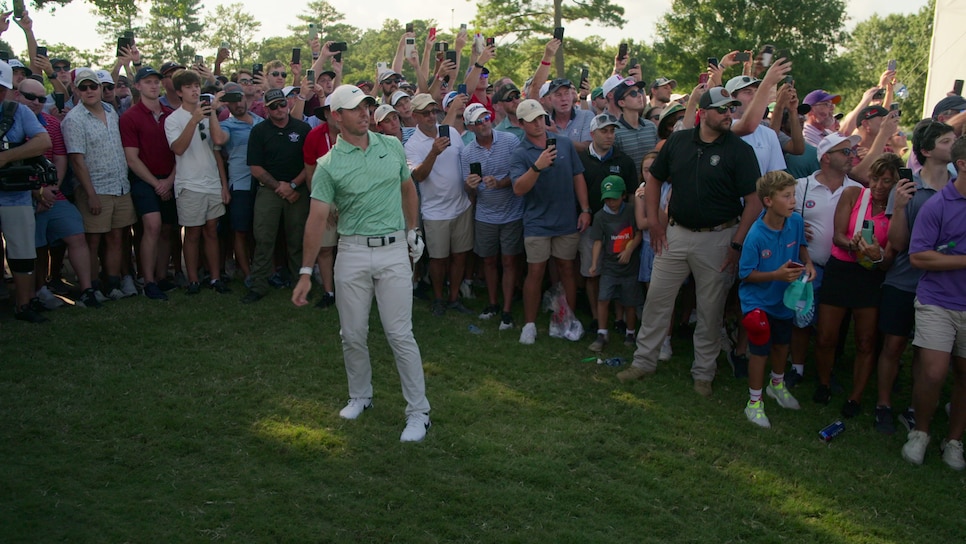 —The actual golf is documented fairly well here, and while certain elements are overplayed (a British announcer goes absolutely nuts when Rory holes out at The Open on a Saturday, as if he just scored the winning goal at the World Cup), and certain elements are underplayed (they showed Cam Smith's phenomenal putt at the 17th, but failed to convey just how ridiculous and important it was), for the most part it's a compelling tapestry. As we've said before, this series is at its best when it can show instead of tell, and both Rory's failure and ensuing triumph have a lot of dramatic heft.
—For those looking to see inside Rory's mind, there are a lot of great little moments here, from the barbs directed at Phil Mickelson (bluntly, "f*** Phil") and Patrick Reed to the various conversations where we get little nuggets we never expected to see on camera. The one that sticks out is his chat with the Tour's Andy Pazder, when he talks about how the players were "blindsided" by the mandatory events in the new schedule, and how he tried to make the point that no other athletes get to choose where they play. "We've all just gotten a little soft," he tells Pazder, who seems as shocked as we are that he's saying this with a camera hovering over his shoulder.
—Another great small moment came when he spoke with Morikawa and Rahm about how he's slowly becoming one of the old guys on Tour, and how he can see his 40th birthday on the horizon. They don't quite get it, but they will!
—It was particularly funny to me that his daughter, Poppy, doesn't like golf. He tries to tell her that literally everything she has is because of golf, but asking children to be grateful is like running headfirst into a tree. Not that I would know...
—I liked the choice to show the Press Association's Phil Casey asking Cam Smith the LIV Golf question. Smith tried to chide him about his timing—"I just won the British Open"—but Casey stood firm, saying, "I appreciate that, but the question is still there." Some people are going to agree with Cam here, and that's fine, but I'm glad this is on camera for perpetuity because Casey's response is exactly how a pro handles that moment. No timidity, but also no defensiveness.
—Also kudos to Netflix for contextualizing (in the person of Dylan Dethier) what a massive deal it was for Smith to be LIV-bound; this wasn't one of the Great Disgruntleds or a member of the Aging European Lifetime Achievement Cash-Out Committee. This was someone at the top of his game, and they accurately depicted what a massive blow it was to the Tour.
—There's a lot of talk about responsibility and loyalty here, and while some of it rings hollow, it was neat to hear Rory speak about the letters he received from Jack Nicklaus and Arnold Palmer after he won his first major. The letters weren't just congratulatory, but also imparted that idea of responsibility; to some extent, the game was now in his hands. Obviously, he took that to heart.
—Speaking of Nicklaus, he gets roasted by Trevino in a funny moment at the Open. "Who am I?" Trevino asks, before chunking his wedge into the ground. The answer, apparently, was Nicklaus, and Tiger finds it uproarious. Nicklaus almost looks puzzled, and has to ask what he's talking about. Apparently, somewhere in the midst of his 18 majors, he made a mistake once. From Trevino, this is both funny and also petty in a way that makes it more funny.
—Great detail I didn't know about: Rory met with Cam Smith just days after the Open to discuss LIV Golf. That had to be an awkward talk.
—It was strangely moving to watch Scheffler's dad hug him and tell him he loved him when the Tour Championship came to an end. Ditto for Justin Thomas telling him the entire world knows why he's no. 1. Neat little interactions to capture.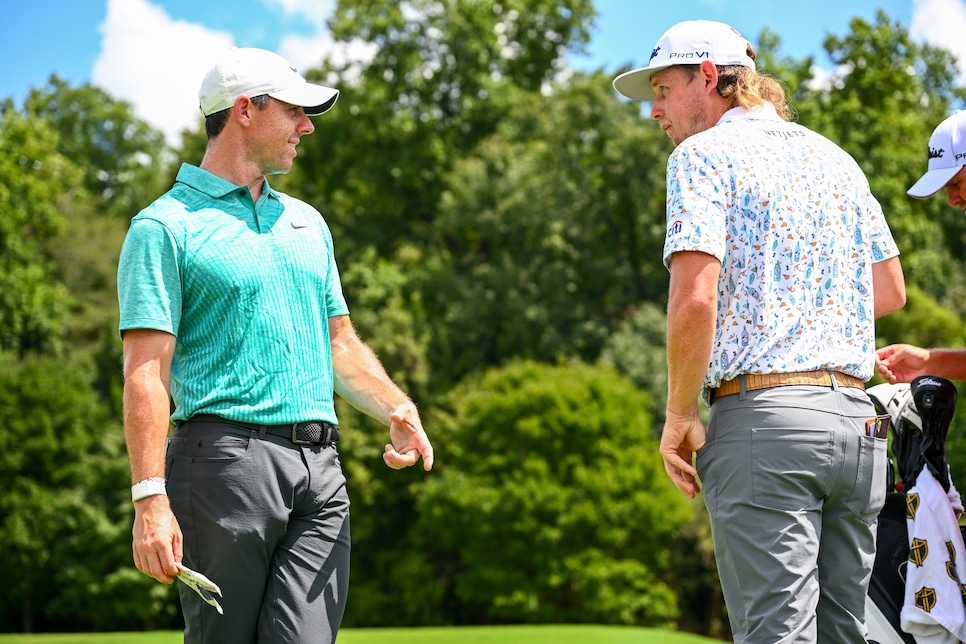 —This is probably an "only me" problem, but as a golf writer who spent the year hearing about and experiencing everything they recapped on the LIV Golf front, I was a little bored and thought the middle of the episode dragged, especially compared to what surrounded it. Again, though, to a viewer who didn't endure every bit of this, perhaps it came across as fresh.
—I had to laugh at the decision to juxtapose Rory speaking about responsibility, and the letters he received, with B-Roll footage of him wearing a virtual reality headset. Nothing says poignant ode to golf's preservation like Rory stumbling around in a helmet.
—They didn't have the reaction goods from Rory's loss at St. Andrews. This is likely a combination of the fact that he wasn't officially signed on with Netflix until Atlanta, and while they had some cameras on him at the Open hoping for something like this, it seems likely that the answer was "no" when they tried to follow him into the locker room...or maybe they knew better than to try at all. This is nobody's fault, since they were at the mercy of what was offered, but it was disappointing to go from the 18th hole to a kids clinic a few weeks later. I'm dying to know what the intervening time was like.
—Once again, it seems like there was a conscious choice not to go too deeply into an important venue in golf. As we saw in Augusta, so we saw at St. Andrews—it's not that they don't mention the importance, and to some extent the visuals speak for themselves, but since we're nitpicking, maybe there was a chance for a bit more.
—I could have used wayyyyy more inside detail from the players' meeting. What we got was very good, but it felt like they couldn't get the full scoop. Again, though, this s*** is hard, even for Netflix. They had to scrape and claw for access with certain guys, and this episode in particular came together late.
—Compared to the rest of the episodes, they really didn't seem to stretch much of anything here. Rory is such a big figure, and these two tournaments were such big moments, that there was no need to over-hype it, and they didn't. The "imagined discourse" plaguing other episodes was pretty much absent here.
–Praise is due to Netflix for not succumbing to the temptation to treat the Tour Championship as bigger than it actually is. It's big, no doubt, but it's not Open Championship-at-St.-Andrews big, and they did a nice job contextualizing that. Yes, Atlanta was the series climax, but not once did I feel like they were trying to portray it as full redemption for Rory losing the Open. Nice show of restraint there.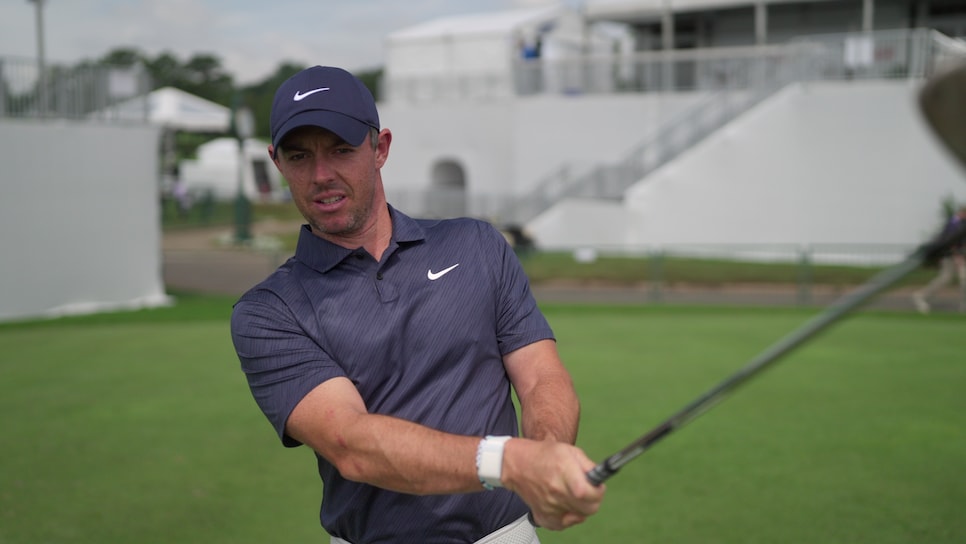 —I've seen that clip of Rory as a kid on the Irish talk show a few times, and it always weirds me out how the host holds his face. Had to get this off my chest.
—I think I might try to get my hands on a copy of "Nick Faldo's Junior Masterclass."
—I think Sean Foley did a solid job this whole series, and I wish they had given him even more to do and let him get a little technical, but man, I loathe the word "disruption" and want to fire it into the sun on a rocket. If anyone knows how to do that with a word, please let me know.
—The song that plays at the end, with the lyrics "you had to be there," is absolutely unfindable. Can't Shazam it, can't Google it. It's almost like it doesn't exist. Very glitch-in-the-Matrix type stuff here.
—That guy at the kids clinic is Martin Hall, a teacher and Golf Channel host, and he really knows how to pump up a crowd. I want him to come to my next party. Or the next time I go grocery shopping.
This was definitely a fitting ending to the first of what is hopefully multiple seasons, and Rory McIlroy is such a tremendous personality that the episode shines despite some stretches that may verge on dull if you're already saturated with last year's LIV drama. It doesn't rise to the level of the Joel Dahmen episode, and I wouldn't call it great, but it was definitely "solid to good" and a great setup for 2023 if they do get the green light to film season two.
Until next year, thanks for joining us on the ride.