Analysis
Rory McIlroy became golf's biggest figure in 2022 by being here, there and everywhere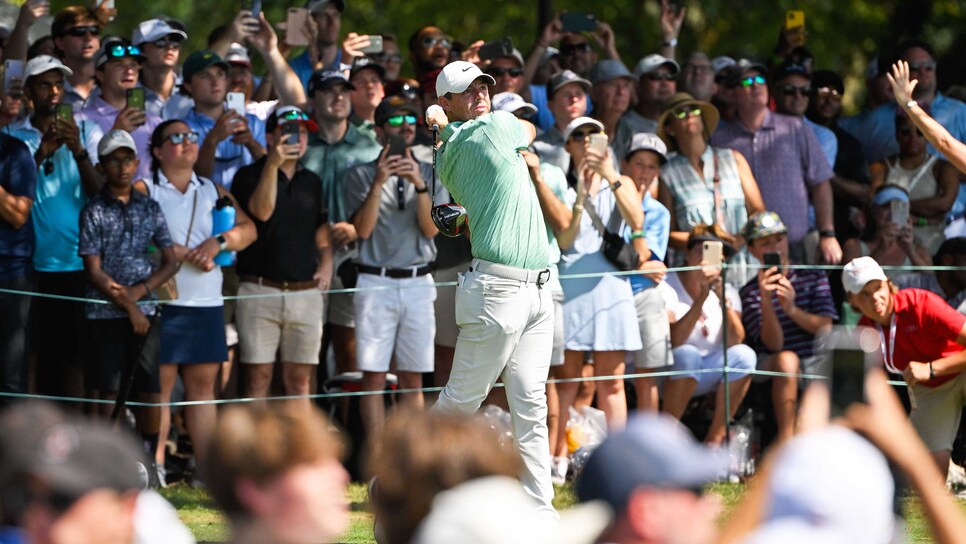 Before there was Forrest Gump, present for seemingly all of American history's biggest events from 1962 to 1972, there was Leonard Zelig, Woody Allen's chameleon creation who was seemingly everywhere at once, and all things—both good and bad—to all people. Now that Rory McIlroy has won the FedEx Cup and its $18 million prize, what stands out in the aftermath is his own Zelig-esque ubiquity in this strangest of years.
On the course and off, no matter what story took prominence, McIlroy was there, the PGA Tour's universal soldier, turning up to win and lose in the most dramatic fashion imaginable. You can't help suspecting at least a few important people in Ponte Vedra Beach were glad he was able to make the charge on Sunday at East Lake, ultimately outlasting Scottie Scheffler. McIlroy earned that money, and that would have been true whether he hoisted the trophy (for the third time in his career) or shot four straight 80s to finish dead last. The fact that there's an excuse to cut him a massive check at the final hour must seem like history and fate aligning on the side of cosmic justice. For once.
Speaking of Scheffler, there was an interesting moment following a post-round interview at the year's first playoff event, in Memphis, earlier this month. It was a tame back-and-forth, and at the end, when the recorders were off and the cameras stopped, Scheffler laughed.
"I'm always ready for the LIV question," he said, "but I never seem to get it."
"We can ask it if you want," came the reply, but Scottie was already halfway to the parking lot.
This was the No. 1 golfer in the world, one of the most important faces of the PGA Tour, and in that moment he revealed his surprise—not just this once, but continually—about how infrequently he had been asked the difficult questions about the breakaway league.
For that, he can thank McIlroy. Time and time again all year, the now 21-time tour winner has been vocal in his opposition to the Saudi-funded upstarts. He gets asked about LIV Golf at every interview, bar none, and as has been the case his entire career on any number of issues, he's always ready with a thoughtful answer. The fact that players like Scheffler haven't been cornered more often on these topics owes a little to the way they're able to dodge the issue—offer enough bland answers, and you'll stop being asking the question—but owes a lot to the fact that McIlroy does the hard work for them. He's the man who will always speak his mind, and that fact works as a shield for many of his fellow players.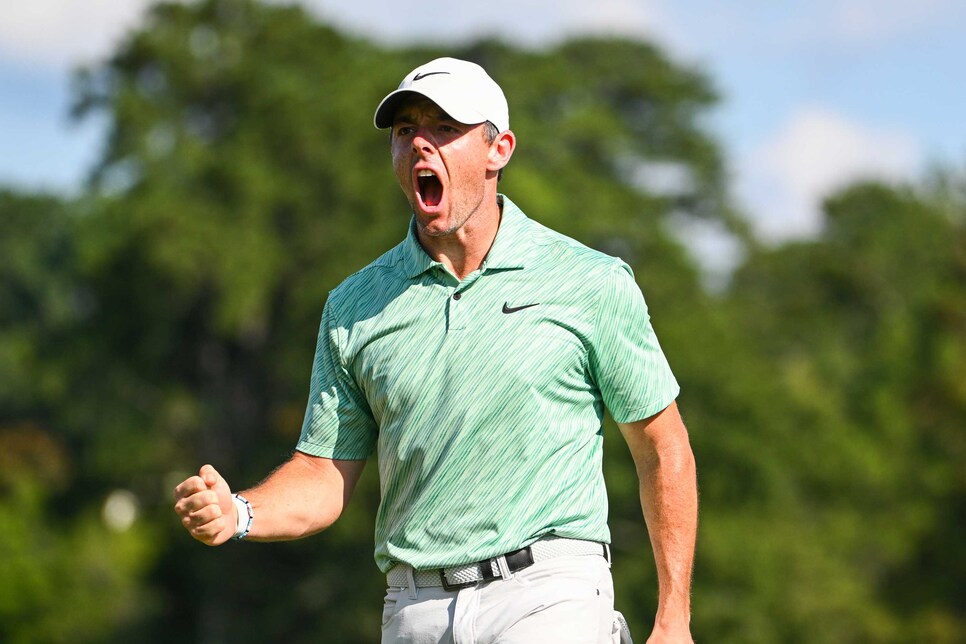 Rory McIlroy hasn't ducked any questions about the threat of LIV Golf to the PGA Tour, even when it's put stress on his golf game.
Tracy Wilcox
Paul McGinley, one of golf's smartest minds, once said of Rory that he gives too much of himself, and it hurts his on-course success. That might be true—despite an impressive season of play he failed to end a winless drought in majors, still with just four titles, same as at the end of 2014—but as Rory himself said on Sunday, he doesn't regret it and doesn't even consider it a "burden."
"If you believe in something, I think you have to speak up," he said, "and I believe very strongly about this. I really do. I hate what it's doing to the game of golf. I hate it. … I believe what I'm saying are the right things, and I think when you believe that what you're saying is the right things, you're happy to stick your neck out on the line."
Of course, it's not all altruism all the time with Rory. In a league with Tiger Woods and, you'd have to imagine, a bevy of agents, he has successfully used the enormous leverage at his disposal to re-shape the PGA Tour in a way that should yield enormous personal profits. So thorough was his influence (and perhaps his control) that Jon Rahm, when asked about potential changes to the new format, laughed and said, "You're asking the wrong guy. If you want to know about that stuff, you know who of the two players you have to ask."
From the start, McIlroy has been a advocate for the vision of golf's future he wants to see, and now he has ensured that he'll get a significant piece of the pie as that vision at least partially materializes.
In order to solidify that position, he's also shown more willingness than most to call out his fellow players, from Phil Mickelson (by name) to anyone who defected. That continued even after his victory on Sunday.
"It's going to be hard for me to stomach going to Wentworth in a couple of weeks' time and seeing 18 of them there," McIlroy said, referring to LIV golfers who are currently in the field at next week's BMW PGA Championship on the DP World Tour, in which Rory is also competing. Later, when referencing the players' meeting ahead of the BMW Championship that helped solidify the new changes, McIlroy called out a single potential heretic: "The 20 whatever of us that met in that room in Delaware all committed, most of us, maybe 22 out of the 23, committed to each other."
It's a sign that he'll remain on the warpath for himself and the PGA Tour—his role in this fight, he seems to be saying, has only begun.
As for his work on the course, haven't the details been firmly etched in our minds? The majors alone, regardless of winner, were a story about Rory McIlroy. There was his surge on Sunday at Augusta, capped by the hole-out on 18 for a closing 64 to finish (albeit a distant) second. There was his first-round lead at the PGA, followed by another Sunday charge. There was the hovering at the U.S. Open in Brookline, so near but so far. And, of course, there was the coup de grace, his wrenching fall from the lead on Sunday at St. Andrews, facing down and losing to at least one player who, by all accounts, is bound for LIV Golf (Cameron Smith). Even then, in a sport that doesn't lend itself to one-on-one narratives, it was McIlroy throwing himself headlong into battle, seemingly undeterred by the sheer effort of standing alone. It's both a miracle and a relief that he came through in Atlanta; to have won only a Canadian Open and a CJ Cup in the fall, after a season like this, would be practically tragicomic.
The inescapable truth of the year 2022 in golf, through the wins, losses and draws, is that everywhere we looked, Rory McIlroy was there. He was the mathematical constant, the North Star. Call him Gump, call him Zelig, but this was the definition of a man—and a real one, not fictional—whose omnipresence made him larger than life and almost larger than his sport. No matter the moment, Rory McIlroy was here, there and everywhere.