TIGER, RORY PARTNER
Tiger Woods, Rory McIlroy combine to lead new sports, entertainment venture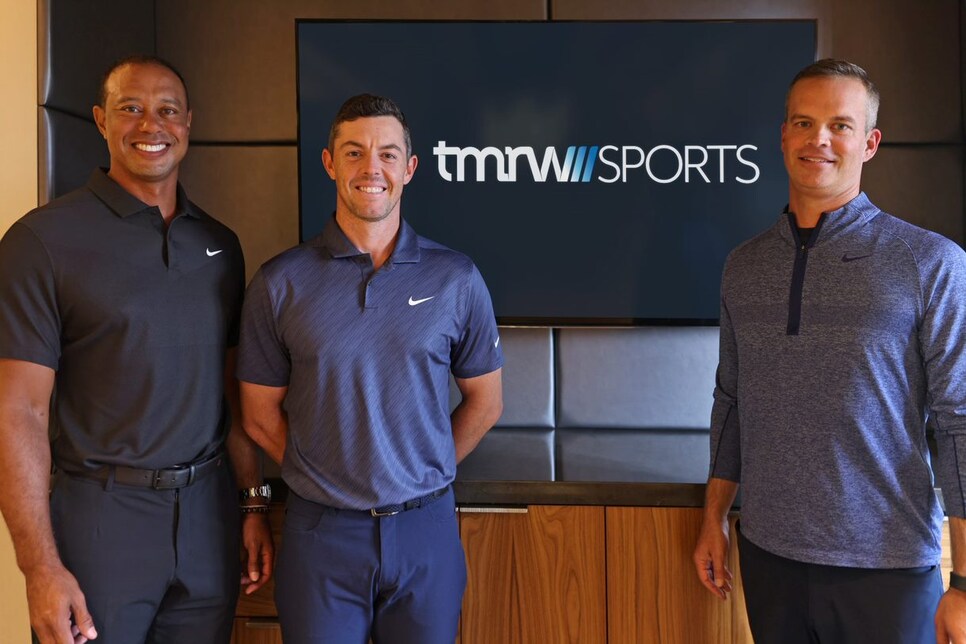 Tiger Woods, Rory McIlroy and former Golf Channel president Mike McCarley are the co-founders of TMRW Sports. (Photo courtesy of TMRW Sports)
Tiger Woods and Rory McIlroy announced on Tuesday that they have formed a technology-focused company that will venture into "progressive approaches to sports, media and entertainment."
Their company is called TMRW Sports (pronounced as "tomorrow") and former president of NBC Sports' golf Mike McCarley is a co-founder and will be the CEO. The announcement, via press release, identified former NBC Sports chairman Dick Ebersol as an initial investor.
In the release, Woods said, "I am excited to work with TMRW Sports in bringing people more access to sports. So many athletes, entertainers and people I meet from all walks of life share our passion for sports, but they also share our desire to build a better future for the next generation of sports fans. Together, we can harness technology to bring fresh approaches to the sports we love."
The release said that additional partners and investors, along with early projects envisioned by TMRW Sports, would be announced soon.
Golfweek reported on Aug. 21 that Woods and McIlroy were creating a business that will see some of the top golfers in the world compete against each other in a "non-green grass, stadium environment." The venture reportedly had the approval of PGA Tour Commissioner Jay Monahan and was discussed with some of the game's elite players during a meeting, led by Woods, that was held before last week's BMW Championship in Delaware. The report said more details would be announced this week ahead of the Tour Championship at East Lake in Atlanta.
"For the last few years off the course, I've been focused on helping to lead golf into its digital future," McIlroy said in the release. "Now, by joining forces with Tiger, Mike and other TMRW Sports partners, we can shape the way media and technology improve the sports experience."
Since 2019, McIlroy has been the face of GolfPass, a digital membership site, started by McCarthy and Golf Channel, on which he provides golf tips while also sharing glimpses of his personal life.
The announcement of the Woods-McIlroy partnership comes, of course, in the summer of the game's great upheavel with the arrival this year of the LIV Golf Invitational Series that has signed some prominent players to multi-year contracst—with more seemingly signficant acquisitions to be announced after the end of the Tour Championship. Woods and McIlroy have both been vehemently anti-LIV while strongly stating the case for the legitimacy and legacy of the PGA Tour.