What the what?!?
Rory McIlroy chucking a remote-control golf ball in a lake is the most outrageous incident with a fan we've seen in ever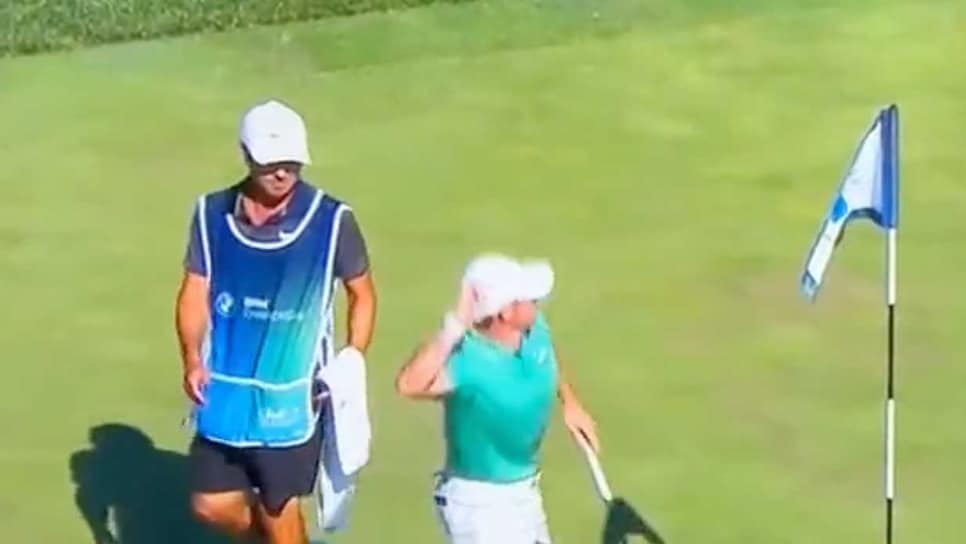 You think you've seen most everything in golf. And then this happens. This being a fan getting inside the ropes at a PGA Tour event and rolling a remote-control golf ball on the same putting green that a four-time major champion is playing on.
Kind of makes the mashed potatoes folks seem ordinary, doesn't it?
Yes, as strange as this sounds, this actually took place on Saturday at the BMW Championship. And Rory McIlroy, the four-time major champion involved here, hardly seemed all that pleased about it.
On the 15th hole at Wilmington (Del.) Country Club, McIlroy noticed that in addition to his ball being on the green and playing partner Scott Stallings' ball being in a greenside bunker, a third ball was on the putting surface. And there was a fan in a white visor standing just off the green … controlling the golf ball?!?
Don't believe us? Take a look for yourself.
As the video shows, McIlroy is understandably dumb-founded by seeing the guy standing beside the green. As the rogue ball comes "rolling" toward him, McIlroy hits it with his putter a couple times between offering a death stare at the fan that suggested he thought of him about the same as Greg Norman of late.
McIlroy then proceeded to pick the ball up and chuck it into the water adjacent to the hole, which earned him the applause of the crowd watching this bizarre scene play out in real time.
Surprisingly, it took that long before a security official finally introduced himself to the fan and kindly escorted him outside the ropes.
A couple quick housekeeping items:
1: How about the throw from McIlroy? A pretty good toss if we say so
2: What gives with McIlroy and moron golf fans. Remember this one from July 2021.