BMW
Friends Patrick Cantlay and Xander Schauffele will turn into Sunday foes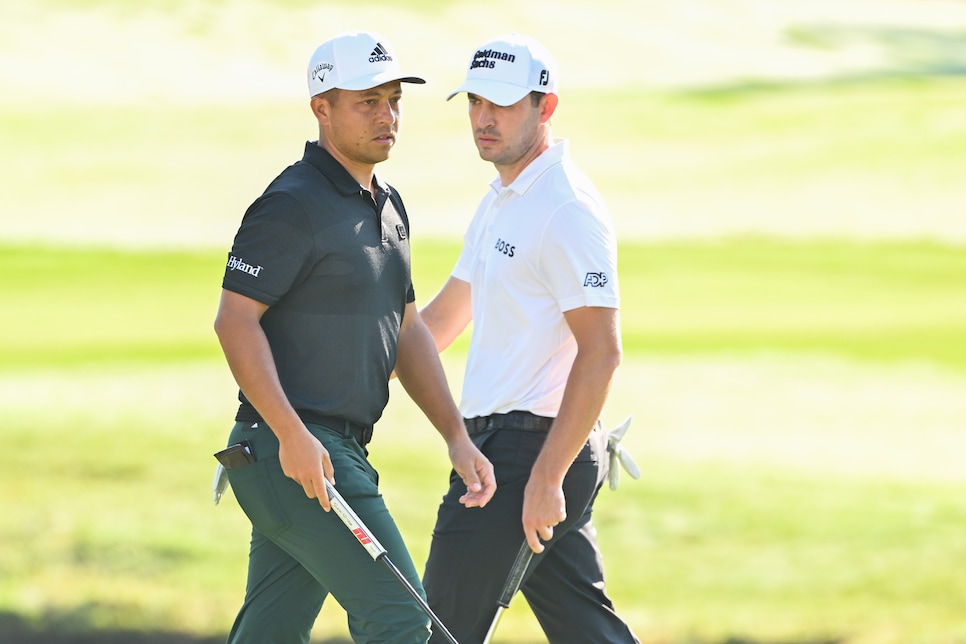 WILMINGTON, Del. — They practice together. They've vacationed together. They've teamed up to take down opponents at the Ryder Cup and Presidents Cup. They've played together for the first three rounds this week and they're set to play again in Round 4.
But to get where each wants to go on Sunday, the other must go down.
Friends Patrick Cantlay and Xander Schauffele will turn into temporary foes as Cantlay holds a one-shot lead over Schauffele and Scott Stallings with 18 holes remaining at the BMW Championship.
"It's just a comfortable pairing," Schauffele said on Saturday evening. "We've played so much together, with each other and against each other, that I can club off him. I know how he hits the ball, he knows how I hit the ball. If I flush one or he flushes one, it sort of is extra information that we can use. I like to use that as an advantage, and we're good friends, so it's a very sort of easygoing pairing even though we're trying to beat each other."
Professional golf (well, this year notwithstanding) is a fraternal ecosystem. There are cliques, sure, and sometimes personal beefs arise, yet there are few lone wolves on this circuit. Cantlay and Schauffele were the exceptions, players comfortable doing their own thing against the band-of-brothers backdrop.
But a kinship was formed between the two on a 23-hour flight to Melbourne for the 2019 Presidents Cup. They drank coffee, they stayed awake, they played gin. And that week in Australia they took care of business, winning two points together as the United States defeated the International squad. A bond was formed that has grown since.
"I don't think either of us would have gone out of their way to be friends with each other, but then spending that time together, we realized that we really got along with each other," Cantlay said before last year's Ryder Cup, where they won both of their matches together in the Americans' route of Team Europe. "He's incredibly smart, and incredibly conscientious. He is someone that probably brings out the best in me. He's more positive, and he has a way of being lighter as opposed to me being serious. Yet he's very quiet and reserved, so we kind of have that bond, and yet he balances me out a little bit."
The two are now regular practice partners. Earlier this year at the team-centric Zurich Classic they rolled to a two-shot win. Cantlay and Schauffele went on a Napa trip together last year with their significant others. The singular spirits have found kindred souls.
Perhaps it's no coincidence that their individual games have grown. Cantlay has won five times since the 2019 Presidents Cup, highlighted by capturing this event as well as the Tour Championship and FedEx Cup last season. Schauffele, whose multitude of near-misses had turned from close calls to whispers of something more, grabbed an Olympic gold medal last summer and has won three times this season. They have transformed from fledgling stars to indisputable studs.
This week, those studs have locked horns. Both entering Saturday at six under, Schauffle took an early lead with two birdies and an eagle through the first six. Cantlay made the turn in 32 to sit just one back of Schauffele's lead, but the deficit went to two with a bogey at the 12th. The pair traded birdies at the par-5 12th, with Cantlay notching another birdie at the par-3 13th. Cantlay then hit one of the best shots seen through three days in Delaware, holing out his third from just over 100 yards at the par-5 14th for eagle.
"Yeah, 107 [yards], I think, a big lob wedge," Cantlay said. "It was downwind and just got lucky and fed off the sleep perfect right in."
"I said 'Nice shot,' Schauffele added.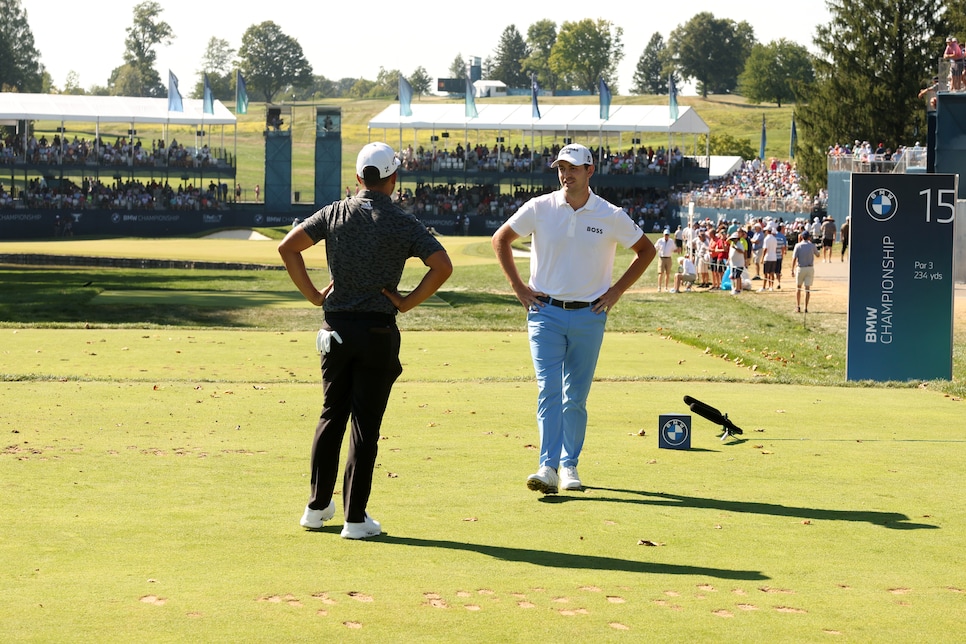 The two played the final four even—Schauffele four straight pars, Cantlay missing a three-foot par on the 17th but sinking an eight-footer for birdie on the 18th—giving Cantlay a 65 and Schauffele a 66.
Now, the friendship narrative is an easy sell and one that will no doubt be sold during Sunday's broadcast. It's worth remembering it's not a two-man race. Stallings, after authoring his own 66, is a shot back. Adam Scott and World No. 1 Scottie Scheffler are two behind, with Collin Morikawa and Aaron Wise in shouting distance at nine under. With firm conditions expected on Sunday, things could go sideways and bring more into the mix.
Conversely, Cantlay and Schauffele have been two of the best players in golf all year and they're on the precipice of legacy-defining spoils. Schauffele is five rounds away from winning the FedEx Cup, and though the cup is only 16 years old there aren't many pretenders who have captured it. Among those names is Cantlay, who can become the first player to successfully defend his FedEx Cup title.
"As important as it is to win events, it's really putting yourself in position to give yourself a really good chance next week," Schauffele said. "I'd be the first one to tell you if you're not in prime position, you're just not going to win next week. I've kind of been around that. Yeah, one day at a time."
Added Cantlay: "You know, my head is not even there right now. I think the best way to handle this playoff system is to just focus on doing your best in the tournament that you're in and not worry too much about the points. So that's what I'm going to do."
The two will likely be paired again in next month's Presidents Cup. Schauffele said there's another vacation scheduled for Napa. Those communal activities are all well and good and may deepen the rapport between the two. But that is the future and in the present there's a golf tournament to be played, and it can only be had by one.