Zurich Classic
Why good friends Patrick Cantlay and Xander Schauffele make for even better partners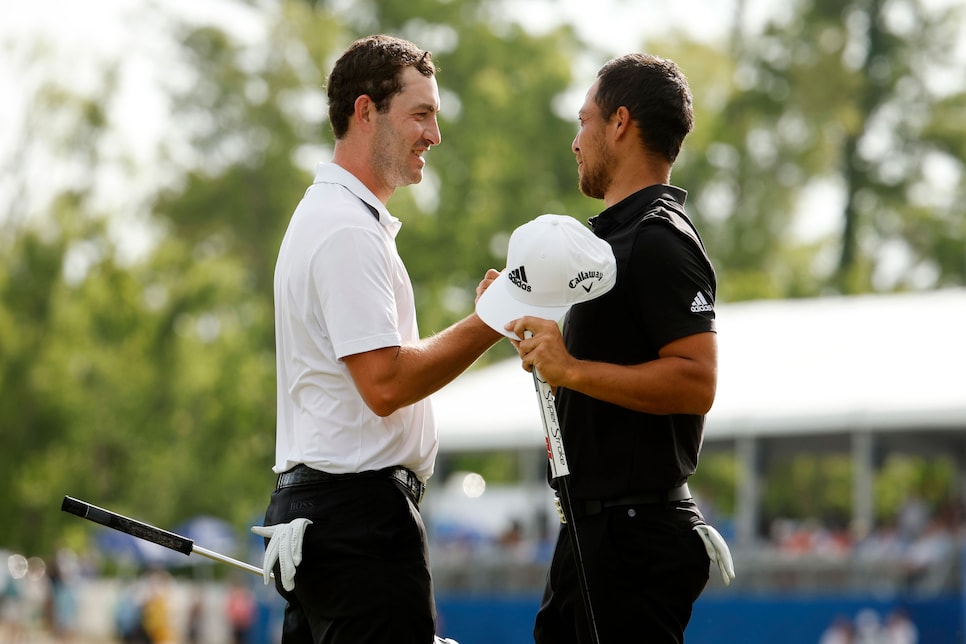 We pause in our praise of the American juggernaut of Patrick Cantlay and Xander Schauffele to give a hearty shoutout to Sam Burns and Billy Horschel, whose concerted efforts on Sunday at TPC Louisiana ensured that the Zurich Classic of New Orleans didn't become the Zzzzzzurich Classic.
With a closing four-under 68, Burns, a Louisiana native, and Horschel, a Floridian, put a little Cajun heat on the sensational Californians, who for three days were body-slamming the rest of the field in the two-player team event with the ease of an NBA security guard. But in the final accounting, Cantlay and Schauffele collected the victory that appeared destined from the start when they opened with a record 13-under 59 in four-ball play on Thursday.
And so it came to pass, even with a final-round 72 that almost backfired like a prevent defense. Cantlay and Schauffele played cautiously and away from trouble—because they could afford to—in the foursomes format at which they have proven impervious in their team match-play forays in the Presidents Cup and Ryder Cup. They still won by two strokes, giving Cantlay his seventh PGA Tour title and Schauffele his fifth.
"We definitely bring out the best in each other, and we enjoy being out here together," Cantlay said after he and Schauffele finished at 29-under 259, which is among several records the duo set over their four days that brushed aside the notion of the ham-and-egg bromide in favor of something more … lavish. This was a ribeye-and-lobster effort, with a side of crawfish, of course. And lots of hot sauce.
The 28-year-old Schauffele, meanwhile, hadn't won on tour since the 2019 Sentry Tournament of Champions, and only once had he finished in the top-10 this season—though he did pick up a nice parting gift in last year's Olympic Games when he won the gold medal. Schauffele said he needed to see some good golf, and he found the perfect partner for inspiration. When they added a third-round 60 in Saturday's four-ball, which, by the way, isn't their specialty in other competitions, the pair had built a record five-stroke lead and broke the 54-hole scoring record at 29-under 187.
Together they became the first pair to win the event in wire-to-wire fashion since the event took on the team component in 2017. Seemed like a formality with South Africa's Branden Grace and Garrick Higgo their nearest pursuers. Burns and Horschel were among three teams six back after three rounds.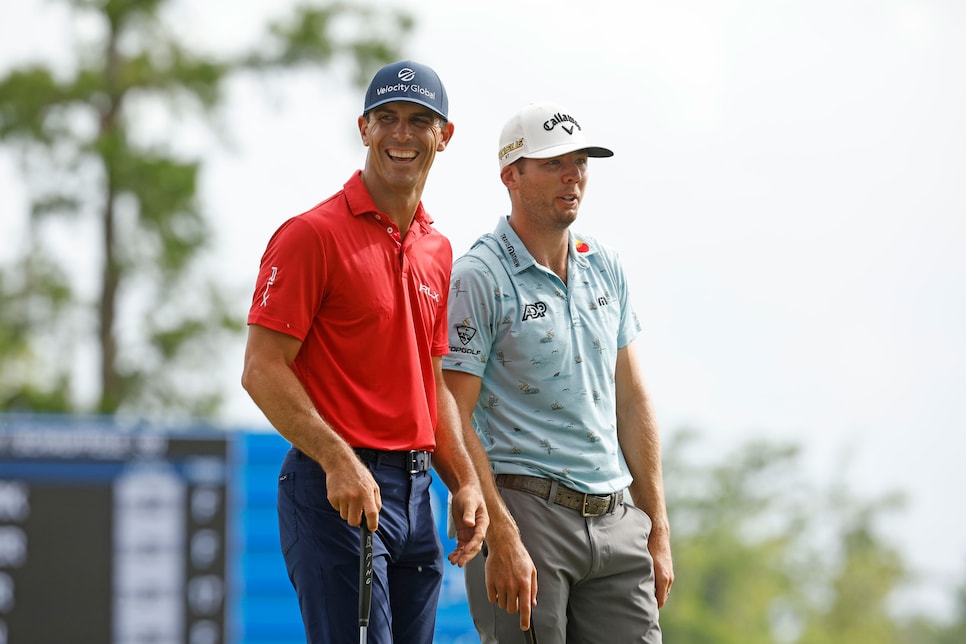 Horschel and Burns were the only pair to apply pressure on Cantlay and Schauffele, cutting their lead to one shot on the back nine.
Chris Graythen
"I obviously found a really good partner," Schauffele said. "He played unbelievable golf this week, made me feel comfortable. He brought the best out of me on the course. Yeah, there's a lot to take from this week."
The two men already were becoming fast friends before U.S. captain Tiger Woods—yes, he's responsible—paired them together in the 2019 Presidents Cup at Royal Melbourne, where, as rookies, they went 2-2, winning both times in foursomes. On the 23-hour flight to Australia they drank coffee, stayed awake, played countless hands of gin and in the process each decided the other was good company. They traveled to Napa with their girlfriends prior to last year's Ryder Cup for more bonding and won twice more in foursomes at Whistling Straits to assist in America's record romp over Europe.
Each exudes a palpable coolness on the golf course, and that certainly helped them maintain a sense of equilibrium on a breezy day that threatened what appeared to be, appropriately, a Big Easy march to victory.
On consecutive holes around the turn Schauffele missed a pair of par putts of less than 10 feet, and in that same span Burns/Horschel made a pair of birdies at 10 and 11. Suddenly, a five-shot lead was down to one. A bounce-back birdie at the par-5 11th from Team Schaufflay restored order, and they calmly closed it out despite a bogey at the last while Burns and Horschel played their remaining seven holes in one over par.
"We played really well on the front and we were right there with six holes left to play, and then we just couldn't make anything happen," said Horschel, who had a goal of 10 under—in foursomes!—at the start of Sunday. "Sort of sucks like that once in a while when you feel good and you're trying to chase down some leaders, but sometimes you just can't make it happen, and that's what it was for us on the last six holes."
Despite their coolness, Cantlay and Schauffele are intense competitors. They came to Avondale, La., determined to improve on their T-11 showing a year earlier. "I was, personally, and I think Pat was, as well, looking forward to coming back. We've done so many team things together that we know we're capable of doing better than last year," said Schauffele, who has been inspired since college by "Patty Ice," as Cantlay has become known because of his stoic demeanor.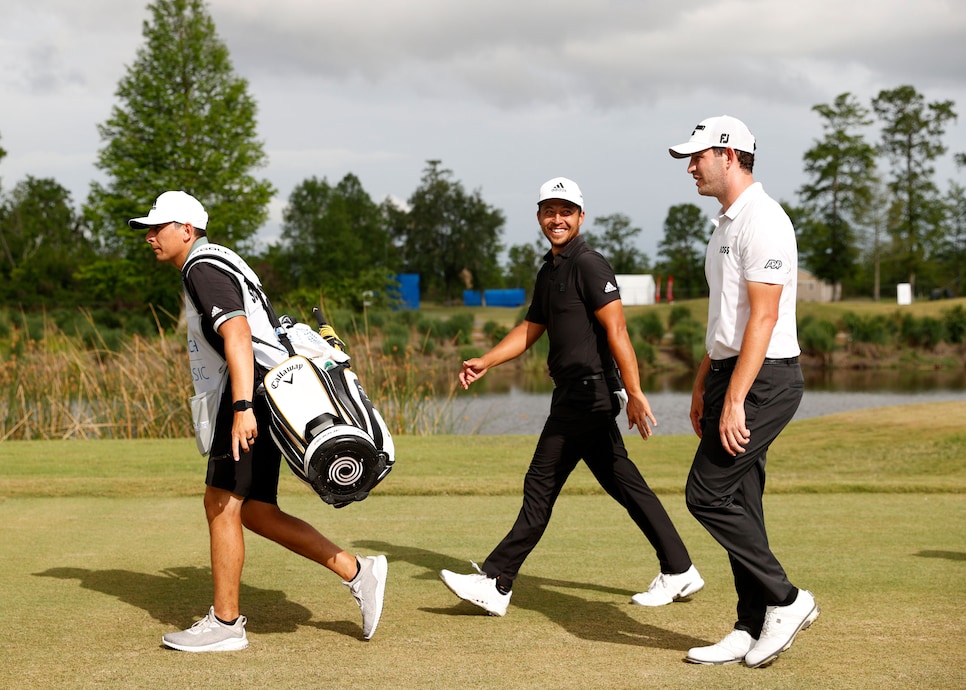 Schauffele and Cantlay walk on the 18th green during the final round at TPC Louisiana.
Sarah Stier
"I definitely can be exactly myself with Xander, and I don't think twice about it," Cantlay said. "He knows exactly who I am. I think that really benefits both of us. We both feel like we can be exactly ourselves and don't have to put anything extra on."
"I felt like I did half as much work as a usual win," Cantlay added. "I probably won't be as tired tomorrow. Xander played great all week. I think anytime you can share success, I think that makes it just a little sweeter. Similar to a Presidents Cup or a Ryder Cup, winning a match and then winning both the Cups that we've played in together, it just adds to it and makes it a little more … like I said, a little sweeter because shared enjoyment and shared success is just that much better."
It's almost a foregone conclusion that they will be an item at the Presidents Cup in Charlotte this September, but Cantlay wasn't taking that for granted. "That's up to the captains," Cantlay said. "We'll take it one at a time. If you can get DLIII [captain Davis Love III] on the horn, he'll let you know."