Finding a way
Jordan Spieth is the RBC Heritage champ thanks to his own unique bravado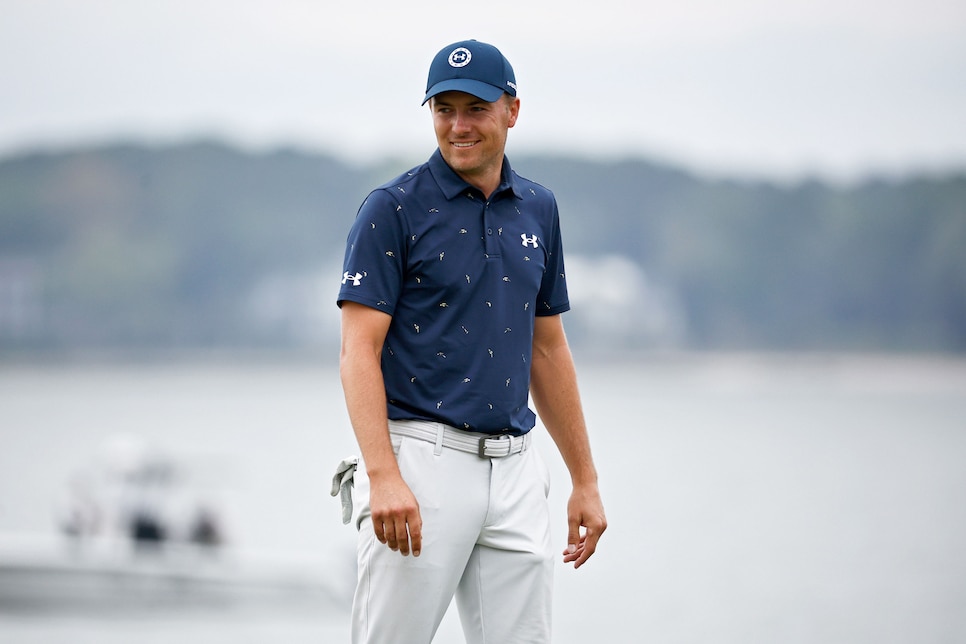 Photo By: Jared C. Tilton
HILTON HEAD, S.C. — When Jordan Spieth finished his final round at the RBC Heritage by holing a 10-foot birdie putt to reach 13 under and take the clubhouse lead with a closing 66, he made his way to the scoring shack and was greeted by a group of about 40 delirious children. As he signed his scorecard, the chants came from outside: "Spieth! Spieth! Spieth" and then "We want Jor-dan!" He wasn't quite ready to sign their hats and flags, but he walked over to the rabid young mob and explained the situation with that measured, sincere tone that has become so familiar—he was sorry, but there was a playoff coming maybe, or maybe he'd lose outright. One way or another, however, he'd be back when it was over.
Witnessing that moment, two questions came to mind: Who else would do that? And who else in golf, give or take a Tiger Woods, would inspire that kind of reaction in the first place?
A moment later, the epiphany: He inspires that kind of reaction because he's the kind of person who would take the time to explain to a group of kids why he couldn't stay.
Many, most, or perhaps all of us believe golf is better when Jordan Spieth is winning tournaments, and he brought a bit of that old 2015 spark on Easter Sunday for the second straight year, prevailing in a playoff against Patrick Cantlay at the RBC Heritage. On the first playoff hole, in the shadow of the iconic Harbour Town lighthouse, as the sky grew darker and the air thicker with the dual promises of night and rain, both players went from the fairway to the bunker on their approaches. When Spieth found his ball near the edge of the sand, he may have had flashbacks to a brutal break on the momentum-killing ninth hole, when his attempt to drive near the green ended with a similar lie, forced him to pitch out sideways, and resulted in a bogey when it seemed like par was the absolute worst he could do.
This time, though, he had clearance, and the wheel of misfortune had spun back to Cantlay, whose ball was in a fried egg, sunny-side down. Spieth nearly holed out, tapped in for par as the world held its breath, and then watched as Cantlay pushed his shot well past the hole and couldn't make the comebacker. That unleashed it all—the cheers, the hug with Michael Greller, the meeting with wife Annie and their new baby Sammy and dozens of horrendous resurrection jokes on Twitter for the second year in a row.
Later, his thoughts turned to two other tournaments.
"Every year, I think about Kapalua at the beginning of the year," he said of the Hawaiian destination for the previous year's champs, "and I missed it for a few years, and I never want to miss it again, and I'm really glad that this will get me there. What a great tournament to win."
But if every win on the PGA Tour is defined by triumph, and by reward, there is never one that comes without a bad memory to inspire it. Spieth only had to look one week into the past to find his bitter inspiration.
"I never missed a cut at the Masters before," Spieth said, "and very rarely had not had a chance to win on the weekend. So I hated it. It was the worst feeling. It was the worst feeling as a golfer that I can remember."
And so, he redoubled his efforts, put in hours of practice, and managed—just barely—to cross the line again, the 13th victory on tour for the 28-year-old. Was he lucky to win, or unlucky? On the unlucky side, there was the debacle on nine and the horror story from the 18th hole on Saturday, when for the second time in three weeks, Spieth somehow blew a tap-in in a scene that remains painful to watch.
"I won the tournament without a putter," he said after his round, and later, he reflected on the embarrassing moment.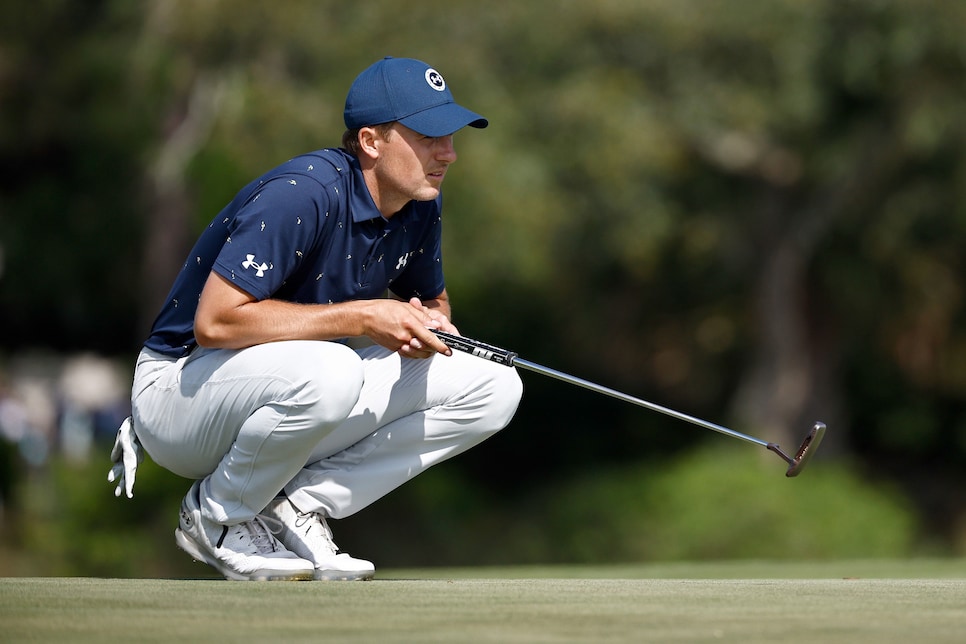 Spieth struggled finding any form with his putter for most of the week at Harbour Town. "I won this tournament without a putter."
Jared C. Tilton
"I was about as upset after the round yesterday as I've ever been in a golf tournament," said Spieth, whose victory pushed him past the $50 million mark in career earnings, just the 11th player to break the barrier in PGA Tour history. "There's just no excuse for those kinds of brain farts as a professional to myself, but also to Michael [Greller, Spieth's caddie], who's working his butt off, to go out there and do that that could potentially affect the outcome of a tournament. And I've done that a number of times on this stretch in the last four weeks."
"I won the tournament without a putter."
—Jordan Spieth
Things got so bad that Annie, who never comments on his golf, advised him to take five seconds before his tap-ins, and he thought of her advice again and again on Sunday.
On the lucky side, Spieth started the fireworks on Sunday with a hole-out from the bunker for eagle on the second hole, and, of course, benefited from Cantlay's misfortune in the playoff. In the end, the question of "lucky or unlucky?" misses the bigger point, which is that to ride with Spieth in the heat of contention is to ride a roller coaster, and you can bet that no matter what happens, it's going to be strange, breathless, exciting. It's how he wins, it's how he loses, and it's why, give or take a Rory McIlroy, nobody else is quite as electric in the post-Tiger era.
"I was pretty excited coming off the eighth, being five under," he said. "I thought I was in a good place, and I really tried to settle down on the ninth tee because it's an important tee shot, and I hit it right where I was looking. It got about as bad a break as I've gotten on a tee ball to where I really didn't know what I could do."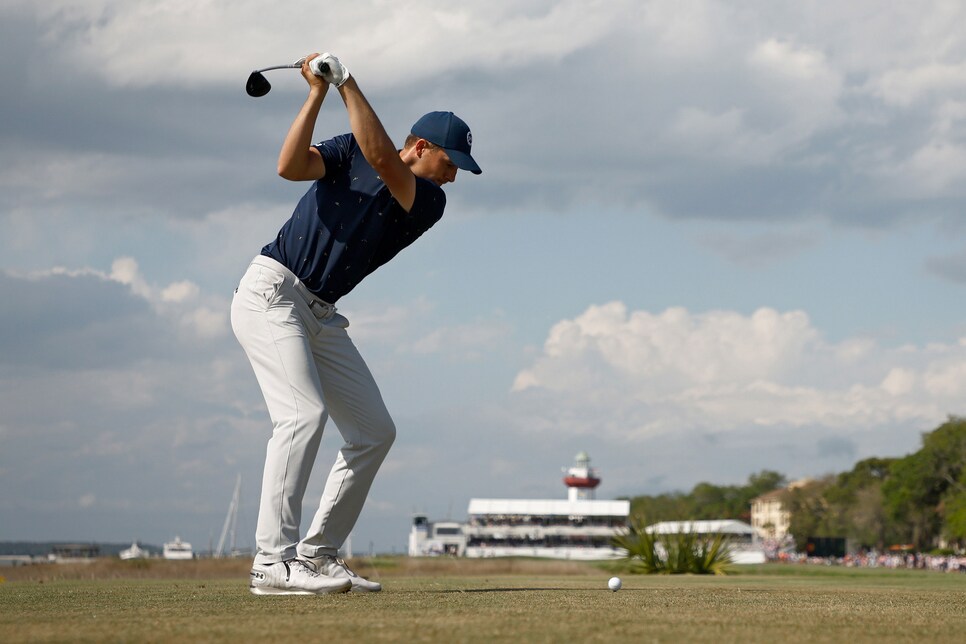 Spieth regrouped, figuring he needed to shoot three under on the back nine for a victory. "And I think I shot … just one. So I thought I needed to get three. So in that sense, yes, I felt pretty fortunate to win at only shooting one [under] on the back nine."
When he finished, roughly an hour ahead of the final group of Harold Varner III and Shane Lowry, Spieth had to suffer through the anguish of watching the others try to catch him, an experience he called "way more nerve-wracking than actually playing."
To his good fortune, players who found themselves near the lead on Sunday managed to stumble over and over at critical moments, none more so than Lowry, who held a two-shot lead with just five holes to play after reaching 14 under with a clinical start to the day. Just when it seemed like he might be able to coast home, disaster struck on the long par-3 14th. Lowry pulled his tee shot into a waste bunker and compounded that error by punching out across the green and into the water. By the time the carnage was over, he'd made double bogey and fallen to 12 under. He needed just one birdie on the final four holes to make a playoff, yet despite leaving himself four great looks of 20, 13, 11, and nine feet, he couldn't make any of them.
Meanwhile, Varner, the 54-hole leader, was hunting for his first PGA Tour win and had been fueled through Saturday by a second-round ruling that had irritated him. That fuel ran out on Sunday, when he was one of just two players in the top 10 who failed to break 70. His round of one-under 70 concluded with a stretch of nine straight pars. It was his iron game that let him down—on hole after hole on the back nine, he left himself with extremely long birdie putts and could do no better than a two-putt. In a critical moment on the par-5 16th, he reached the greenside bunker in two, but left his shot from the sand well short and barely on the green. On the 18th, needing birdie to tie, his 36-footer slid by on the right side, consigning him a T-3 finish. It will be a bitter disappointment for Varner, especially considering that none of his nearest competition went particularly low on the pressure-packed Sunday—and a 69 would have been enough to make the playoff.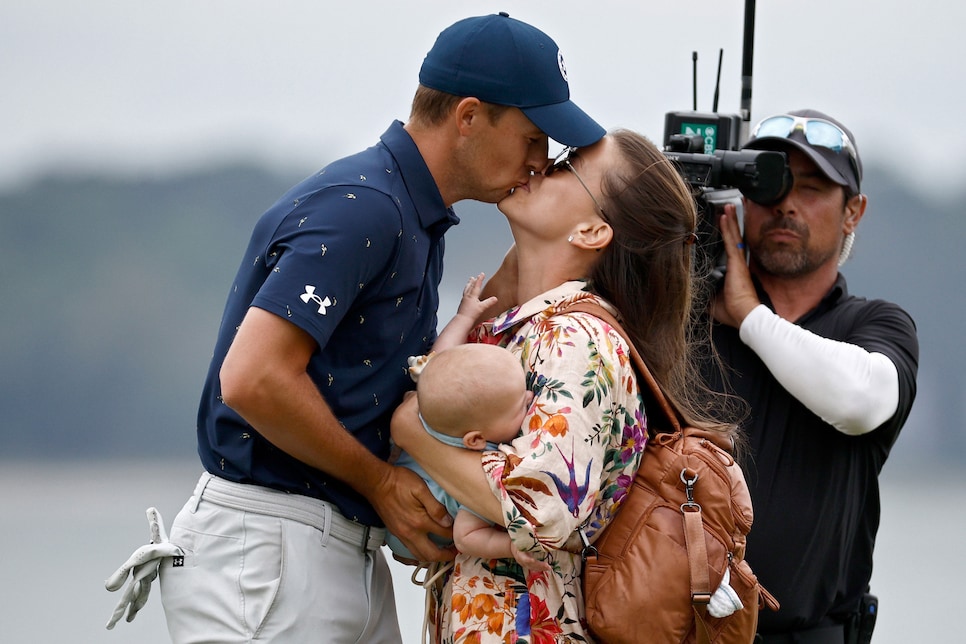 Spieth greets in wife Annie and their newborn son, Sammy on the 18th green after his playoff win.
Jared C. Tilton
The other top-10 finisher who couldn't break 70 was Erik van Rooyen, seeking his second tour win. He was perhaps the best example of succumbing to nerves late in the day. He started spectacularly, making birdie on four of his first five holes, and posted a 32 on the front and held the outright lead at 14 under. That score would have won the tournament outright, but it all went sideways starting on the 10th, where a woeful approach from the fairway led to bogey. A similar pattern dogged him on the 13th and 16th holes, and by the time he made birdie on 18, it was too late to matter.
That left only Cantlay, who, unlike the others, appeared to be on the right side of the chase, hunting down birdies with his usual aggression under pressure. He finally broke through on 17, landing his tee shot eight feet from the hole and burying the birdie putt, and it looked like he might win outright when his approach on 18 left him 15 feet for the win. He'd birdied the hole his first three rounds, but couldn't convert a fourth time, and the playoff awaited.
Afterward, a terse Cantlay pointed out that his approach in the playoff was a near-exact replica of the one he'd faced just moments before.
"Same number as in regulation and hit a similar shot with the same club," he said. "It obviously caught a different wind than what I was expecting. The wind was supposed to be off the right...obviously with it plugged like that, it's darn near impossible to get it close."
When it was over, Spieth made his media rounds—with him, obligations matter, but his openness and intelligence as he fielded questions proved that it's more than just an obligation—but he made sure to tell someone to radio back to the kids: I'll be there.
And finally, man of his word, he headed back with a glass of champagne in his hands. They'd been waiting for hours, into the night, and now it was time to make their days.