RBC Heritage
Angered by second-round mishap, Harold Varner scorches Harbour Town with a 63 to take solo lead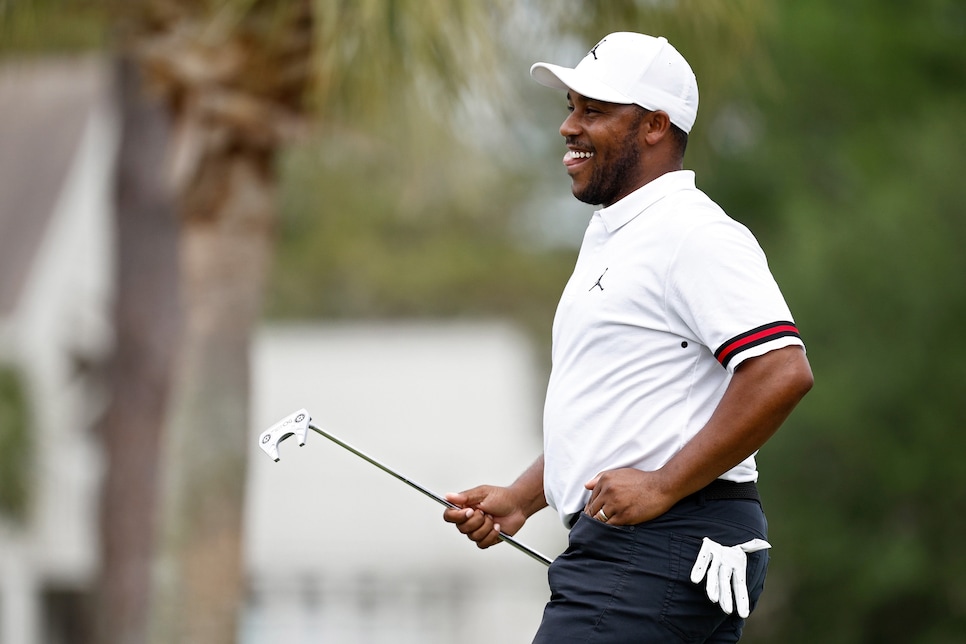 Harold Varner III reacts after making birdie on the 16th green during the third round of the RBC Heritage.
Jared C. Tilton
HILTON HEAD, S.C. — On Friday, a strange incident came to pass on the sixth hole at the RBC Heritage. Harold Varner III pushed his tee shot far to the right, and the question in his mind as he walked to the ball was whether it was out of bounds. What happened next is slightly confusing, but in a nutshell, the ball could have possibly been picked up by a course-side homeowner, and maybe (but not definitely) deposited in a different spot.
"Hit it out of bounds and just—man, I didn't know what to do. This old man was trying to help, and he ended up picking up my golf ball, and then he almost fell in the creek," Varner said Saturday after he shot eight-under-par 63 to take a one-shot lead into the final round at Harbour Town Golf Links. "Then we're sitting there, and we're like, well, the ball's not exactly where it was."
Varner's concern was that the ball may have landed in-bounds and subsequently been moved out by the man in question. It likely will remain unclear exactly what happened, or whether he had a case, but Varner felt as though the man's word was taken over his, and this, in turn, put him in a foul mood as he made double bogey on the hole.
"It pissed me off," Varner said, "and made me ready to fight every chance I could."
He was "irate," and stayed mad through the rest of his second round of one-over 72. It didn't help at first—a bogey on 8 and a double on 12 Friday seemed to take him out of contention. But Varner finished with three birdies on the closing stretch, and on Saturday, in calmer conditions, his 63 was a tournament best to give him a one-shot lead over Shane Lowry, Erik van Rooyen and Patrick Cantlay.
Varner got rolling on Saturday's opening nine, making five birdies with a series of pinpoint approaches and a pair of made 11-footers. When he made two long birdie putts on 15 and 16, he was eight under for the day and seemed to have a shot at tying the course record of 61 before finishing par-par.
Following the spectacular round, as his young son Liam played with his wife Amanda in the background, Varner admitted to not being a particular fan of Harbour Town—mostly because of his own scar tissue.
"Every tee shot is super uncomfortable, especially when it's windy," he said. "And I've hit it out of bounds everywhere here. Last year, first hole, I hit it out of bounds. It's just hard off the tee. Sometimes I feel like I'm always kind of guiding it out there."
The fact that he still turned in a 63 and now holds the first solo 54-hole lead of his career, with a chance to win his first PGA Tour title, is testament to the strength of his game, highlighted recently by a T-6 finish at the Players Championship. Previously, Varner was tied after 54 holes in 2018 at The Greenbrier but shot a 72 that Sunday to finish T-5. Varner has won big events elsewhere—the 2015 Australian PGA and this year, the Saudi International, where he holed a 90-foot eagle putt on the 72nd hole.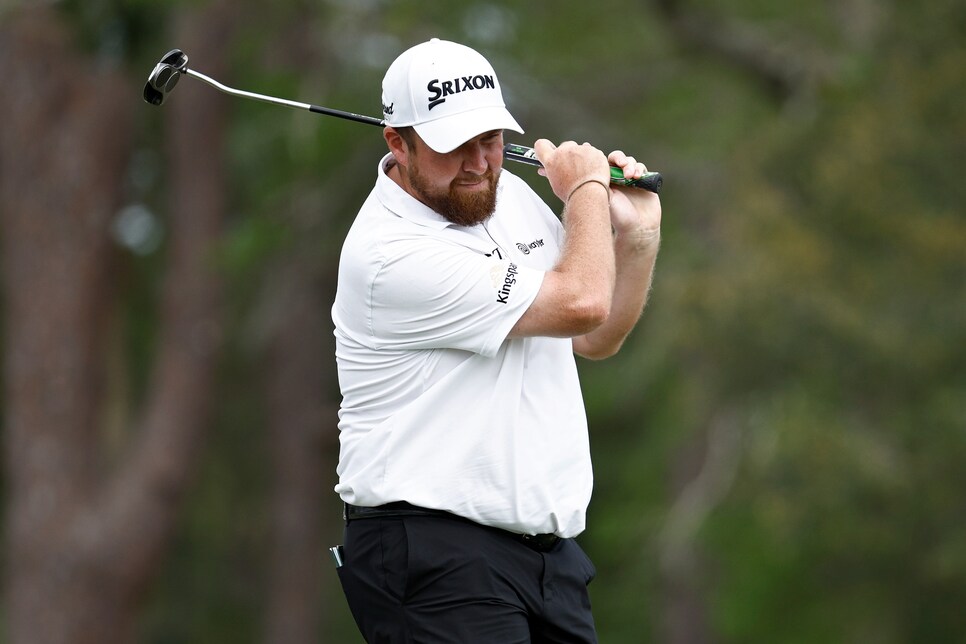 Shane Lowry eacts after missing a putt on the 17th green during the third round of the RBC Heritage.
Jared C. Tilton
On Sunday, with scattered thunderstorms in the forecast and tee times already pushed ahead by 10 minutes, he'll have plenty of competition. Along with the trio at 10 under, Matt Kuchar, Sepp Straka, Aaron Wise and Hudson Swafford lurk at nine under, and Jordan Spieth would have joined them in that group if not for a head-scratching blunder on the last hole, where he rushed a one-foot par putt. Prior to that mistake, Spieth crept within a shot of the lead following a long eagle putt from off the green on 15.
Cantlay, who held the 36-hole lead, was one of the few players at the top of the leader board who couldn't break 70 on a day that yielded birdies from the start. He still finished one under for the round, but lost momentum as the field surged past him. Even so, a birdie on 18 kept Cantlay just a shot off Varner's mark, though he won't be in the final group.
"If you get out of position on this golf course, it's hard to get back in position," he said. "I did that a few times. I made a few more bogeys than I usually would and didn't get the ball up and down early in my round, which usually I do. So, I'm going to throw this round out as a little bit of an aberration and take all the good vibes that I've had around this place into tomorrow."
The honor of playing in the final group goes to Lowry, who finished T-3 in last week's Masters and nearly came away with a win at the Honda Classic in February before a late downpour seemed to shake him on the final hole. Lowry made eight birdies total en route to a 65 on Saturday, and considering Varner's struggles, stands in great position to add to his career résumé.
"I feel like, without complaining too much, 65 is the worst score I could have shot," he said. "I hit the ball unbelievable today, and I didn't really hole anything. That putt on the last [an eight-foot birdie] is probably as long as I've holed all day."
Varner will technically be the man to beat on Sunday, but with 11 players three shots or closer to the lead and conditions likely to be wet and unpleasant, Harbour Town is setting up for an unpredictable conclusion. When the lighthouse overlooking the 18th green beckons the closing groups at the finish, the notion of stormy weather might be both metaphorical and literal, and it won't be rage or luck or scar tissue that determines the winner, but—as usual—simple endurance under pressure.