RBC Heritage
It's a good sign for Tommy Fleetwood when he can produce a Moving Day surge without his best stuff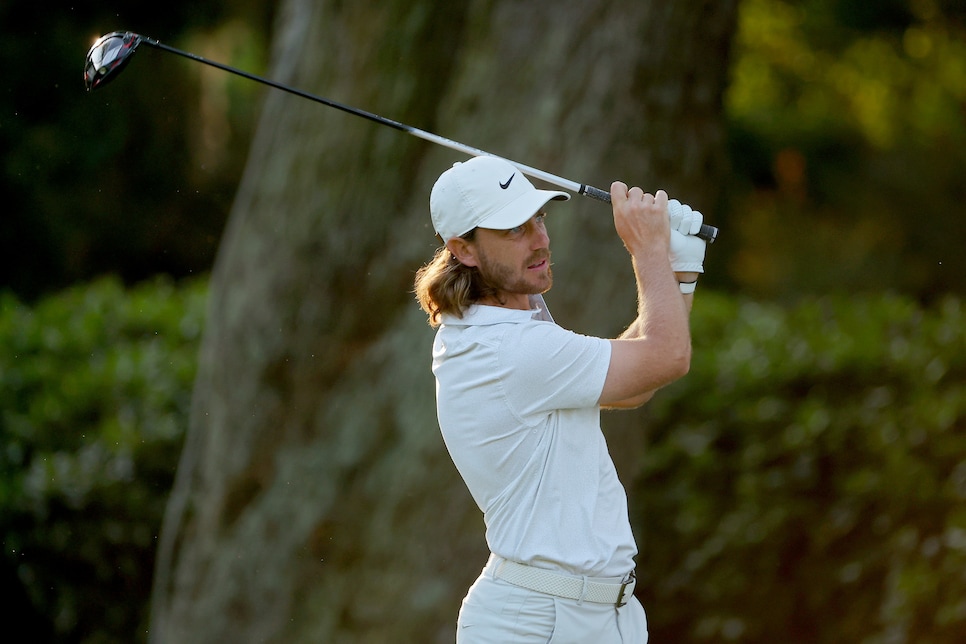 Tommy Fleetwood plays his shot from the third tee during the second round of the RBC Heritage.
Kevin C. Cox
HILTON HEAD, S.C. — If wins are your metric of elite golf, it's been a rough three years for Tommy Fleetwood, who hasn't rung the proverbial bell since late 2019. Even in last fall's Ryder Cup, The Englishman followed up his brilliant 2018 performance with a limp 0-1-2 showing for Team Europe, and that came on the heels of failing to finish in the FedEx Cup top 125 in the 2020-21 PGA Tour season. The descent has been slow but steady for someone who was once ranked as high as ninth in the world, but who is now struggling to hold on to a spot in the top 50.
In recent weeks, though, there have been signs of life in Camp Fleetwood. In eight stroke-play events this year, he's made all but one cut and had six top-25 finishes. That improving form continued Saturday at the RBC Heritage, where he posted a bogey-free 64 to move to eight under—a total that should put him in the competitive mix on Sunday at Harbour Town Golf Links. To hear Fleetwood tell it, though, he didn't even play that well.
"I never felt like I was playing particularly great," he said. "I never felt comfortable in my swing. Like I haven't played well this week. But today was the day where I had nothing destructive in there. If I missed a shot, it was like a skanky one that would be in place somewhere. ... I putted really, really well."
For someone without total command, he certainly pulled off some spectacular shots. Fleetwood pointed to his 6-iron on the par-3 fourth hole, a 199-yard bomb that set up a four-foot birdie putt. On the par-4 eighth, stuck in the right rough after his approach, he lofted a short pitch to three feet to salvage par, and on 14, after a poor approach on the par 3, he managed this bit of wizardry from 51 feet:
Following a brutal, windy Friday, the field took advantage of a calmer on Saturday morning, and Fleetwood felt the change instantly. (Harold Varner III took the clubhouse lead at 11 under by shooting eight-under 63.)
"It's such a difference when you're just looking at pins that are four or five from the left," Fleetwood said, "and when there's no wind around, you dictate what you're doing with the golf ball and what shot you're hitting and the way that you want it to come into the hole. When the wind's blowing, you're obviously fighting against the wind, and you're hitting a shot that works against the wind ... the scoring will be a mile different today."
He was right. After nobody could beat 67 on Friday, there were already five scores of 66 or better before the leaders had even teed off. As for his 64, Fleetwood sees it as a sign of how things have changed for him in the last few months.
"This year I feel like I'm on a much better track," he said. "I don't feel like I'm trying to find it every week. I was never playing that well, and then I always was trying to find the secret. I was never ready to play. ... This year I feel I've got a much better mix; when you're doing that, it's much easier to be accepting of yourself. You're like, 'I'm doing the right things. I feel like I'm getting better. Maybe this week's not my week, but maybe next week could be.'"
Fleetwood pointed out that the standard on tour is getting higher all the time, and that if you're not improving and playing well, it's easy to slip, and to slip fast. The fact that he's in contention after what he assessed as a sub-par week thus far has only bolstered his confidence more, and on Sunday, he'll be within shouting distance of the leaders, with a chance to capture his first PGA Tour win.
Of course, he knows that the frustrations are never far away. When one reporter asked him how he resisted pulling out his long hair during his struggles, he didn't even crack a smile before dropping a surprisingly good metaphor on resilience in a punishing game.
"I pull it out all the time," he said. "It just grows. It just grows quick."