Tribute
Jack Newton, Australian pro who turned tragedy into opportunity, dies at age 72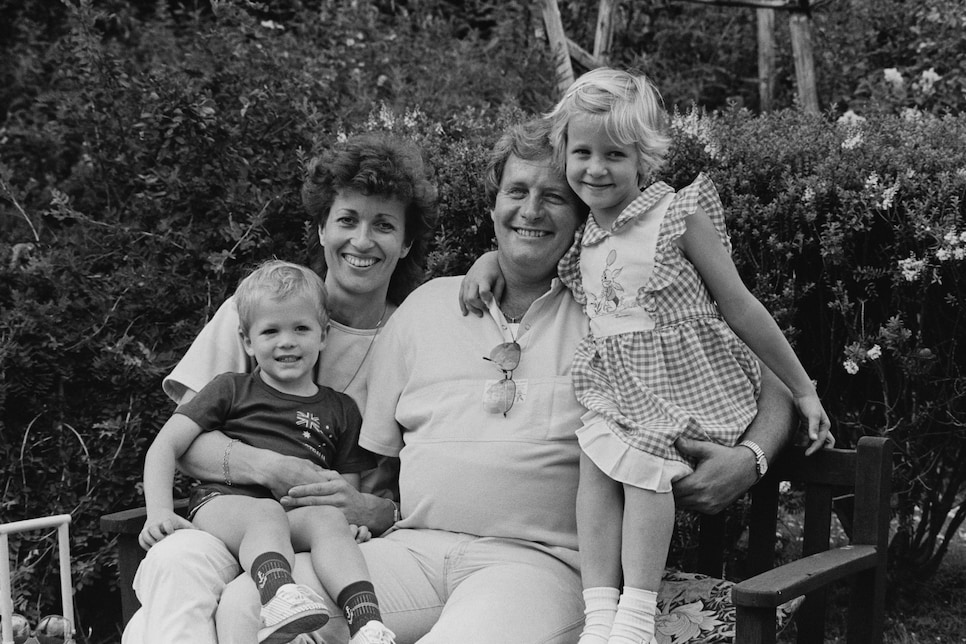 Australian professional golfer Jack Newton with his wife Jackie and their two children, Kristie and Clint, in July 1984, after the accident that cost him his right arm and sight in his right eye.
William Lovelace
When Jack Newton's professional golf career came to a premature end in 1983, the then 33-year-old Australian didn't let the tragedy that unfolded dampen his love for the game. A moving propeller on a small airplane at a Sydney airport severed his right arm, cost him the sight in his right eye and caused severe injuries to his abdomen. Months later, he returned to play with his one remaining arm (he would go on to carry a 12-handicap doing so) before turning to course design and golf commentary on TV and radio and in print, pursuits he'd follow for more than 20 years.
″[He] was a fearless competitor and iconic Australian, blazing a formidable trail during his professional golfing career," his family said. "He fought back from tremendous adversity as only he could."
That spirit made Newton, who died on Thursday at age 72 from health complications after suffering from Alzheimer's disease, a sentimental favorite for many in the game.
Before the accident, Newton's on-course accomplishments included 13 worldwide wins after turning pro in 1971. Among them were three European Tour victories and the 1978 Buick Open on the PGA Tour. Notable, too, were his runner-up finishes in two majors—a 18-hole playoff loss to Tom Watson at the 1975 Open Championship at Carnoustie and a T-2 to Seve Ballesteros at the 1980 Masters.
At Carnoustie, Watson benefitted from a wire fence that kept a wayward shot from going out of bounds on the eighth hole and chipped in for an eagle on the 14th to win by one stroke and claim the first of his five Open titles and eight major championships.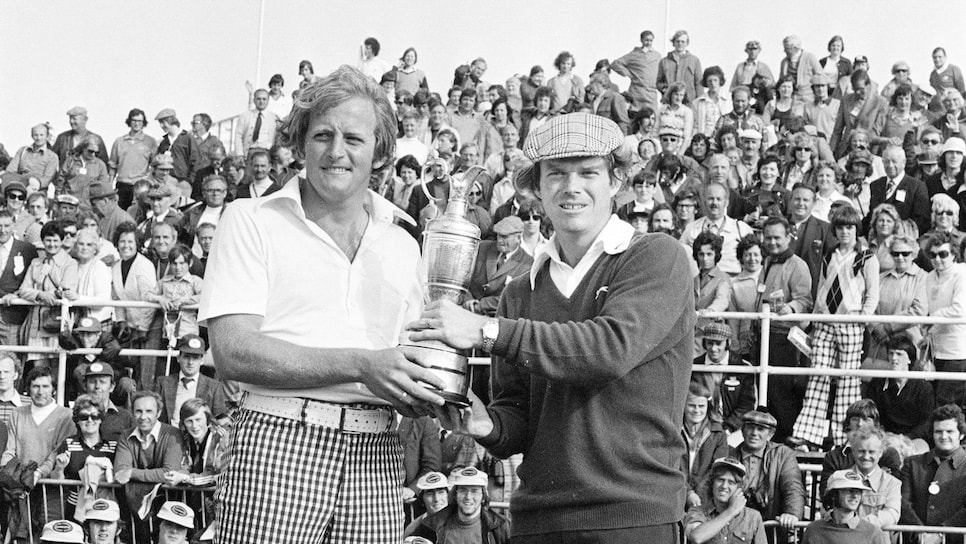 Jack Newton and Tom Watson played for the claret jug in a 18-hole playoff at Carnoustie in 1975.
R&A Championships
"I always felt that if I came into a major with some good form, then I could be dangerous," Newton said. "That's the way I played golf. Once I got my tail up I wasn't afraid of anybody."
In an interview with Golf Digest in 2008, Newton detailed the July 24, 1983, accident, noting that it was dark and raining at the time, and he was trying to board the small plane with a handful of friends. He failed to get the attention of the pilot, who was moving the plane and mistakenly hit the golfer.
Doctors gave Newton a 50-50 chance of surviving, the abdomen injuries the most severe. In the Golf Digest interview, he explained how he managed to handle the psychological part of the tragedy.
"I got a huge lift from all the messages I got. The guys on the tour were fantastic. … Jack Nicklaus wrote. So did Seve, who I loved. He's a good guy. Greg Norman. Ray Floyd. … They were all bloody good.
"But I'll tell you who shocked me, not so much then but later on, when I first saw him again: Craig Stadler. We used to drink beer together. He came up and hugged me. He was quite sentimental about it. He's not the hard-nosed character you see on the course, which is my sort of guy, really. But he was very emotional."
Beyond his design and golf commentary, his Jack Newton Junior Golf Foundation, started in 1986, raised millions for golf's up-and-coming players in Australia. Those endeavors were noted by fellow Australians on social media in the wake of Newton's passing.
Newton is survived by his wife, Jackie, and two children, Kristie and Clint, and six grandchildren.