PGA Tour
Sepp Straka wins a suddenly exciting Honda Classic with late, rainy charge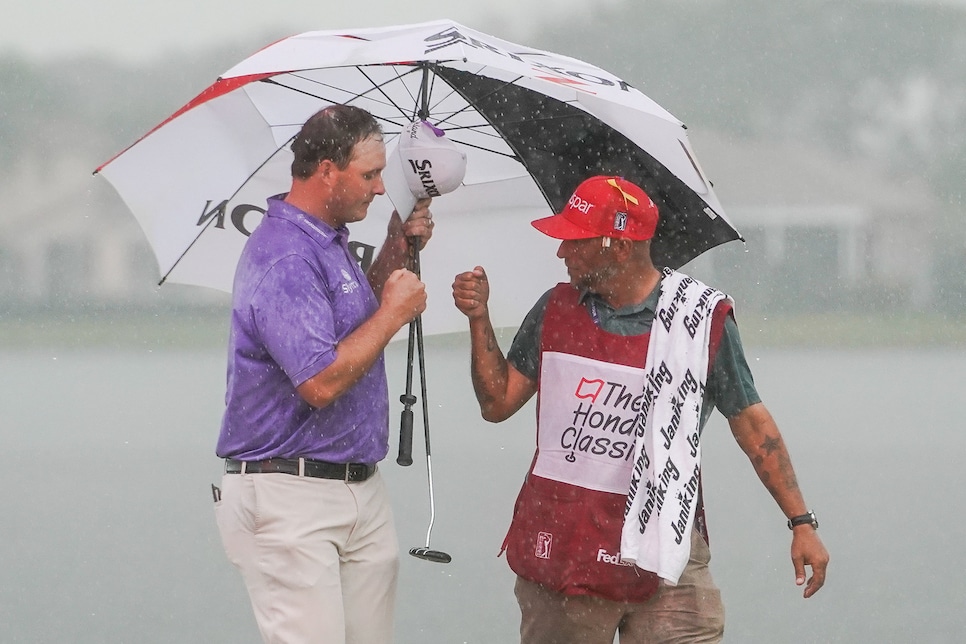 Honda Classic winner Sepp Straka celebrates after making a birdie on the 18th green on Sunday.
Aaron Gilbert/Icon Sportswire
PALM BEACH GARDENS, Fla. — What can you say about Sunday at the Honda Classic except that it was our latest lesson in the wild unpredictability of professional golf? What looked like a serene runaway in the Florida sunshine around 2 p.m. on Sunday turned into a dark, rain-soaked melee in which the palm trees bent to the wind, the umbrellas faltered in the onslaught and a timely rain propelled 28-year-old Sepp Straka to his first PGA Tour win—and the first triumph in tour history for an Austrian golfer.
"It's hard to take, to be honest," runner-up Shane Lowry said afterward. "It felt like I got the tournament stolen from me. ... That's as bad a break as I've ever gotten."
Lowry made sure to congratulate Straka and gave him a fist-bump in the loud scoring area when his interviews were done, so these were not sour grapes. He was only engaging in a favorite pastime of golfers the world over: lamenting the vagaries of the universe. And he wasn't wrong.
Straka, who birdied three of the final five holes in shooting four-under 66 to beat Lowry (67) by one, may have been the beneficiary of the meteorological whims, but nobody can say he didn't seize the moment.
Daniel Berger went into the fourth round with a look of invincibility, holding a five-shot lead (tied for the largest in this famously tight tournament's hisotry), and had played such steady, repetitive, error-free golf that it seemed impossible for anyone to catch him. And in fact, that was right—nobody caught him. Instead, he succumbed to the gravity of the field, and within five holes, his lead was gone. Berger, who shot 74, gamely faced the media in the aftermath of his collapse, but he was not in the mood for philosophy.
"Didn't play well, so I didn't win the golf tournament," he said. "I don't think I made a single putt today. I don't know what happened. Just didn't feel good over the putter today."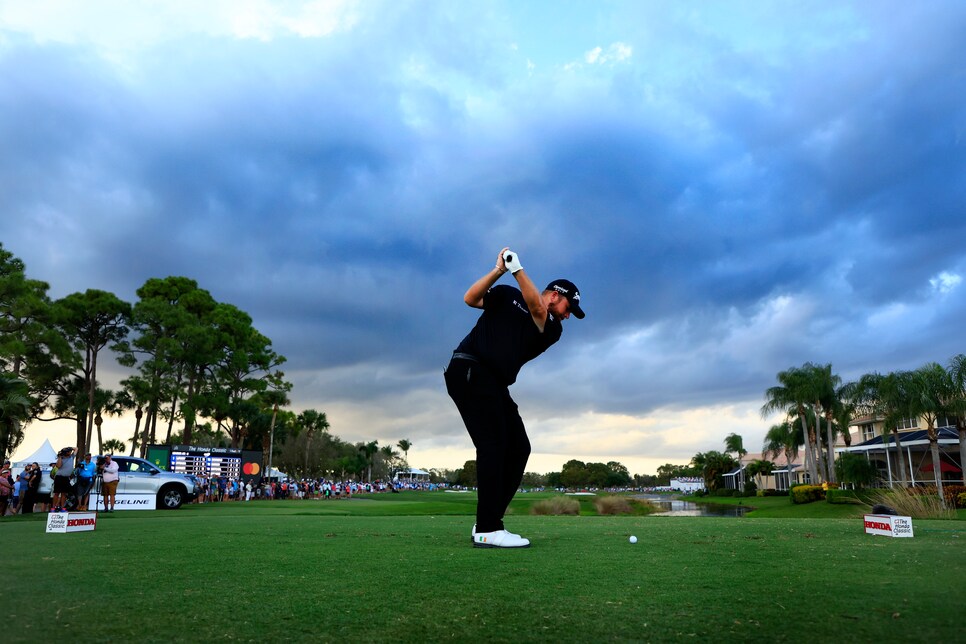 Shane Lowry plays his shot from the 16th tee during the final round of the Honda Classic.
Mike Ehrmann
The stats bore him out. In a field of 73 players, Berger ranked 73rd in strokes gained/putting, with an abysmal -3.807 number. The trouble started early, with a double bogey on the par-5 third and two more bogeys on 5 and 6.
At that point, a story began to emerge, and the story was about Lowry as predator and Berger as prey. Lowry had fought his way into the final group with a field-best 67 on Saturday, and he said he simply wanted to put some pressure on Berger from the start. He got his wish on the first, burying a 15-foot birdie, and again on the fourth, when a laser-like approach left him a gimme birdie. Before long, Lowry held the lead, and though Berger tied him before the turn, a 13-foot birdie for Lowry on 11 followed by a Berger three-putt on 12 put him in front of his playing partner for good.
At that point, Straka was not yet in the discussion. He started out at six under, just like Lowry, but a missed two-footer on the first hole cost him a shot, and left him, in his own words, "pissed off." He responded with two straight birdies, but a back-and-forth front nine kept him well behind the leaders, and by the time he reached the 14th hole, he sat at seven under. That's when the charge began, and the putts began to drop: 10 feet for birdie on 14, and 18 feet for birdie on 16.
Coming to the final hole, the famous par 5 with the car floating on the water, he was tied for the lead. It was his good fortune that he managed to get off his drive—a 334-yard beauty down the right side of the fairway—just before the rains fell. The skies opened as he marched down the fairway, and his playing partner, Kurt Kitayama, seemed loath to hit his own second shot. Barring any lightning, though, there was no choice. Both players reached the green in two, and when Straka's 47-foot eagle putt stopped nine inches from the hole, he had the critical stroke he needed. With only Lowry and Berger threatening, he took shelter from the rain at 10 under.
His fortune in staying dry on the 18th tee wasn't shared by Lowry and Berger, who stepped up amid a downpour. Berger, at eight under, managed to keep his drive in the fairway, but Lowry, at nine under and needing a birdie, flew his drive into the left rough. Berger was forced to take dead aim from 253 yards, sent his 3-wood into the water, and Lowry hit a weak third shot to 43 feet and missed the birdie putt. Straka's victory was secure, and along with the security of tour status, he also locked down his first Masters berth.
"It's crazy," he said. "It's a lifelong dream of mine just to be heading to Augusta in a month or so. It's still surreal."
With his mother in the audience, Straka fielded questions about his background. He is a graduate of the University of Georgia and sounds fully American despite spending the first 14 years of his life in Austria. His father is Austrian (he watched the final round from home, and got a phone call from his son moments after the finish), and his American mother now lives in Valdosta, Ga. As Golf Digest's Max Adler wrote in 2019, the parents met when his mother—who first traveled to Austria with a boyfriend, and stayed on after the relationship failed—sold a golf glove to her eventual husband in an Austrian pro shop. Sepp, whose given first name is Josef, considers himself something more than a blend.
"I have a good friend in Austria, Clemens," he said. "I used to always say that I was 50-50—50 percent Austrian, 50 percent American. He was, like, 'No, you're 100 percent Austrian and 100 percent American,' which is very accurate. I feel a connection to both countries and it's definitely split."
Straka represented Austria in last summer's Olympics in Japan, opening with a 63 to take the lead before eventually tying for 10th.
As a child, his loyalties were initially divided between soccer and golf, and when asked about the veracity of a story that he chose golf simply because there was less moving around, he laughed.
"Well, I was a goalie so there wasn't that much going on anyways," he said. "But, yeah, my brother and I kind of made that move together. We did a summer camp, and he really decided that we were going to start playing a little more golf. That's kind of how we got into it."
The brother is his twin Sam, who was considered the more promising prospect when they were young, and the camp was at Fontana Golf Club in a small town south of Vienna called Oberwaltersdorf. That experience changed everything, and led back to Valdosta, and Athens (the one in Georgia), and finally here to Palm Beach Gardens, where the welcome rain fell and Straka soared.