on second thought
Watch this tour player use his putter for a bunker shot—with disastrous results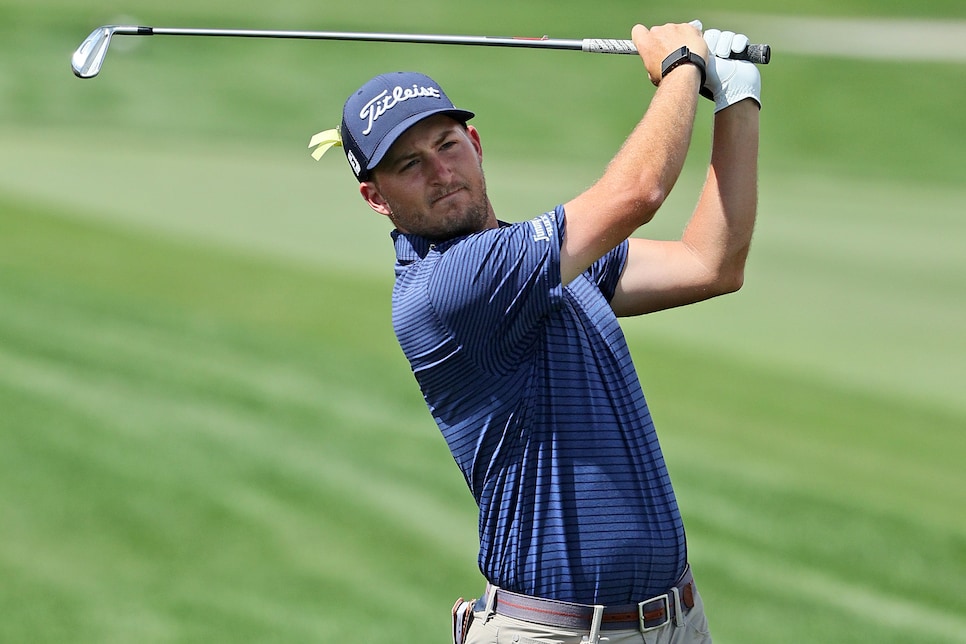 Lee Hodges plays his second shot on the third hole during the final round of the Honda Classic.
Andy Lyons
We've all probably got golfer friends who think they're just a little bit cheekier than the rest of us. On a tight runway, they'll putt with a fairway wood from 40 yards. Our favorite, though, is using a putter in a bunker when the lip is seemingly low. (Forgive us, please, for the quiet chuckle when it doesn't work out.)
Lee Hodges was that guy on Sunday in the Honda Classic in Florida, and his bravado—or was it just overthinking?—probably cost him thousands of dollars while he contended for a sizeable paycheck.
Hodges was looking at a possible second top-10 finish of the PGA Tour season when he arrived at PGA National's par-3 15th in the final round. He pulled his tee shot into the left greenside bunker, and though we didn't see on the NBC broadcast how Hodges' discussion with his caddie went in choosing the shot, we do know it was a delicate proposition—a downhill lie to a downhill slope on the green with water behind it. Pretty much everyone's worst nightmare.
Hodges opted to use his putter but didn't try to roll the ball out. He took a half-swing and the ball came out just as you might expect—low and much too quick. It rolled across the green and slowed down—but not enough to keep it from toppling over the bank and into a couple of inches of water and mud.
Adding to the ignominy, Hodges had to hike up his right pant leg, take off his shoes and socks and step into the goop. Considering the lie, he handled that OK, but still left himself an 18-footer for bogey. He missed it and made double. Damn you, Bear Trap.
To Hodges' everlasting credit, he steadied himself after that with three pars, shot even-par 70 and did get that top-10—with a tie for ninth.