Fire Pit Collective
Tiger Woods is possibly leading a movement that would create a circuit for elite players inside the PGA Tour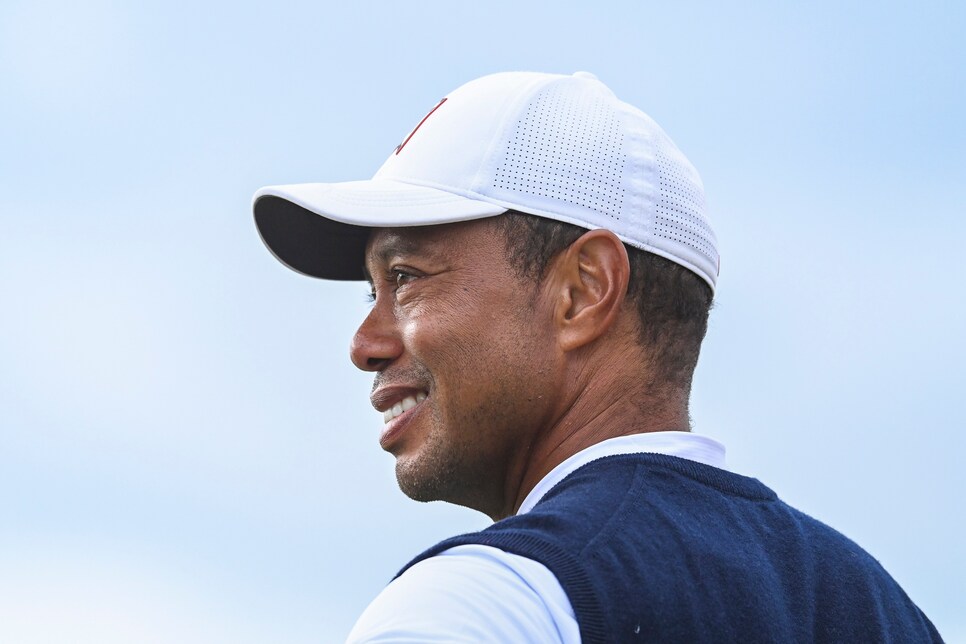 Back in February, as Saudi-backed LIV Golf was on the verge of launching, PGA Tour Commissioner Jay Monahan famously declared, "We're moving on." This has become golf's version of "peace for our time." In the ensuing six months, Monahan has tried to thwart LIV's incursion by making a moral argument, at one point saying on national TV, "Have you ever had to apologize for being a member of the PGA Tour?" Unmoved, no fewer than a dozen of his members bolted for a more lucrative competitor.
Monahan has also tried to sway players by belittling the LIV product as a "series of exhibition matches." His members continued to vote with their feet. The exodus is about to accelerate: On Aug. 29, the day after the FedEx Cup concludes, LIV will announce seven new signees, including one long-rumored superstar. This is not a collection of old-timers playing out the string or unknowns plucked from second-tier international tours—all seven players are PGA Tour members who competed in last week's FedEx St. Jude Championship, the first playoff event in the tour's flagship product, the FedEx Cup. All seven are expected to tee it up at the LIV event in Boston that begins on Sept. 2, triggering their ban from the PGA Tour. This will deeply impact another of the tour's marquee events, the Presidents Cup, which will begin three weeks later minus a heckuva lot of star power.
With all of this as the backdrop, the events of the past week mark the beginning of a new campaign in the ongoing battle for the soul of golf. Those who want to join LIV have already made their decision. Tiger Woods did not jet into Delaware on Tuesday and convene a meeting with the cool kids in an effort to talk anyone out of leaving. His mission, as a self-appointed shadow commissioner, is to reshape the PGA Tour in a way that enough new money will flow to ensure top players will want to stay, while giving himself a slice of the pie and more of a say in how the Tour operates.
According to a source with direct knowledge of the meeting, Woods and the 15 top players he assembled discussed the formation of a tour-within-the-tour: 18 no-cut tournaments featuring the top 60 players competing for $20 million purses. This basically would be two WGCs per month in the newly condensed January-August schedule. Such a structure would codify the schism between the tour's haves and have-mores, with lesser players consigned to lower-wattage tournaments for far less money. (One consolation that was floated at the recent Player Advisory Council meeting is fronting each of the 200 or so tour members $500,000 per year, taken against their winnings.)
Of course, this proposed slate of super-events sounds very much like what LIV has already created, with its 48-man, no-cut fields vying for $25 million purses. As word has leaked out among the players from both tours about what was discussed at Woods' confab at the Hotel du Pont, there has been a certain amount of gloating among LIV loyalists that the tour is stealing its blueprint. Says one LIV golfer, "The best part is the lower-tier guys [on tour] don't even know what is coming." As for the lower-tier guys on LIV, some will now be bumped to the Asian Tour (which has been revitalized by a $400 million commitment of Saudi money), but there is a mechanism for some to play their way back onto LIV through the Asian Tour's International Series.
Woods' new role as an activist is a fascinating turn for a 46-year-old whose playing days are clearly dwindling. He has been an amateur golf historian going back to boyhood, when he tacked Jack Nicklaus' career achievements above his bed. He cares deeply about his legacy and knows that a badly diminished PGA Tour does not help burnish his legend. But Woods is also a rapacious businessman. LIV frontman Greg Norman recently let slip that Woods turned down a $700-to-800 million offer from the Saudis, which begs the question: Beyond goodwill, what is the payoff for Woods to go all-in with the PGA Tour?
The answer is hinted at in the form of Woods' adviser J.P. McManus. The self-made billionaire, whose Adare Manor will host the 2027 Ryder Cup, is a confidante to many top players. It was at Adare last month, during McManus's eponymous pro-am, that Woods first gathered a small group of players to discuss reshaping the PGA Tour. A talking point at the most recent meeting—the room was booked under the name Adare Manor—was for the tour to renounce its non-profit status, which both Woods and Rory McIlroy are said to support. Doing so would force the tour to pay taxes—estimates range from $20 million to $50 million annually—but give it much more freedom in how it conducts its affairs.
The tour can't come close to matching the Saudi money by squeezing its corporate sponsors for a few extra million dollars, but a fundamental reshaping of its business model could change the calculus. If the tour were to privatize, heavy-hitting investors such as McManus (and his best friend Dermot Desmond) and private equity firms could pump in billions of dollars, and top players could be compensated with equity positions, as LIV has done with some of its stars. If the Tour needs to make Woods whole for turning down the LIV largess, the easiest way would be to award him, say, 10 percent of a $7.5 billion business, or 5 percent of a $15 billion concern. His duties would include hosting the Genesis Invitational in L.A. (and perhaps more tournaments), captaining Presidents and Ryder Cup teams, and, as McIlroy put it coming out of Tuesday's meeting, serving as the tour's Alpha.
Woods' agent is Mark Steinberg, the founder of Excel Sports Management. Excel is known in the industry to chase dollars ruthlessly, so it is a curiosity that not a single player in its stable has signed with LIV. (Justin Rose was inches away, but the deal fell through at the last minute.) That Steinberg has kept LIV at arm's length has fueled suspicions among various players that he—and by extension, his most important client—are playing the long game with the tour. One insider describes Woods's recent actions as a "coup," but that would compel him to depose Monahan. Woods doesn't need to run the PGA Tour. He just has to save it—for himself and sundry others.