Super Bowl Champs?!?
Rory McIlroy can't stop, won't stop daggering LIV Golf lawyers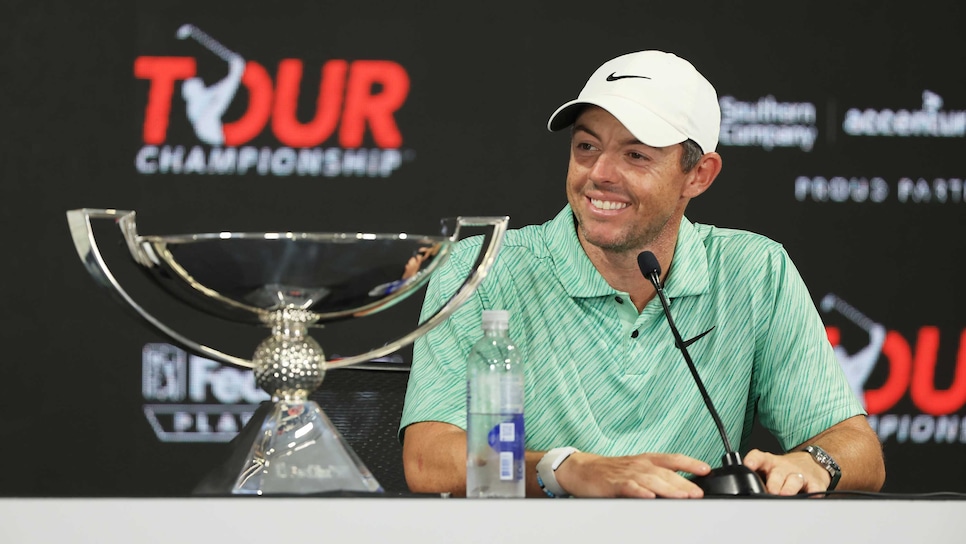 Rory McIlroy is by and large a humble winner, as evidence by how quickly he heaped heartfelt praise on runner-up Scottie Scheffler when interviewed by NBC's Mike Tirico after claiming the Tour Championship title on Sunday at East Lake Golf Club in Atlanta.
"If there's one thing I want to say, I think Scottie deserves at least half of this today," McIlroy noted as he held the FedEx Cup for the third time in his career. "He has had an unbelievable season. I feel sort of bad I pipped him to the post. He's a hell of a competitor. He's an even better guy. It was an honor and privileged to battle with him today and I'm sure we'll have many more."
And yet, the Northern Irishman isn't above throwing a dagger every now and then. You might recall when he won at the RBC Canadian Open in June, his 21st victory on the PGA Tour, McIlroy made a point of noting that it was "one more than someone else." That "someone else" would be LIV Golf CEO Greg Norman, who finished his PGA Tour career with 20 wins and who McIlroy had been indirectly sparring with in the midst of the PGA Tour/LIV Golf saga.
If you forgot this one, it's worth another watch, it's that good.
On Sunday at East Lake, McIlroy enjoyed another gratuitous moment at the expense of LIV Golf. When he entered the media center for his Sunday press conference after closing out his two-shot victory over Scheffler and Sungjae Im, McIlroy reportedly raised his arms and chanted to the gathered press: "Super Bowl champ!"
So what? Well, in case you don't remember, Robert Walters, a lawyer who represented LIV golfers Talor Gooch, Hudson Swafford and Matt Jones in their court hearing earlier this month seeking an injunction to gain access to the PGA Tour's playoff events, had described the FedEx Cup as "the Super Bowl of golf" and the hardest trophy to win. In turn, golf Twitter had a field day with what was characterized as an out-of-touch description of the postseason by the attorneys that also wasn't convincing to the U.S. District Judge, who ruled against allowing the suspended players to play in the PGA Tour events.
This wasn't the first time Rory had fun with the Super Bowl comparison.
McIlroy also got another dig in on LIV Golf during the presser when he noted that it wasn't until the 70th hole of the tournament that he actually was leading for the first time all week. "On the 70th hole is a nice time to take the lead of a golf tournament,'' McIlroy said. "Or the 52nd hole if you play somewhere else."

All kidding aside, there was a point during his Tour Championship press conference where McIlroy started to express true frustration about the LIV situation. Asked if being the face of the PGA Tour in the fight against LIV has worn on him, McIlroy noted:
"No, I don't think so, because if you believe in something I think you have to speak up, and I believe very strongly about this. I really do."
And then, McIlroy used his platform to make a point: "I hate what it's doing to the game of golf. I hate it. I really do. Like it's going to be hard for me to stomach going to Wentworth in a couple of weeks' time and seeing 18 of them there. That just doesn't sit right with me.
"So yeah, I feel strongly. I believe what I'm saying are the right things, and I think when you believe that what you're saying is the right things, you're happy to stick your neck out on the line."