RORY STORY
British Open 2022: Rory McIlroy didn't win the claret jug. But he won this Open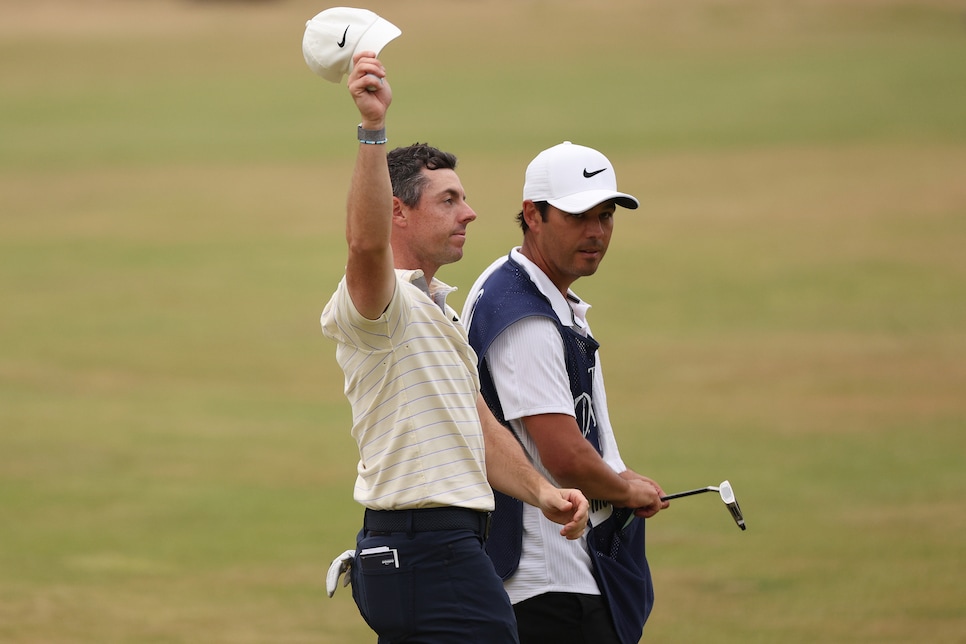 ST. ANDREWS, Scotland — There is a chapel on North Street called St. Salvator's, close to where the gray cobblestones of the road converge with the ruins of St. Andrews Castle. There are no church services during the summer so on this morning its pews were empty, pilgrims instead finding worship in the myriad pubs that lie in the chapel's shadow. But three men stood solemnly outside St. Salvator's gates Sunday, perhaps marveling at its 15th century architecture or maybe just seeking a moment of peace. That silence was broken by a shout across the road. "Hey boys," cried out the voice, "don't forget to pray for Rory."
It wasn't intended to be comical. It was not said with irreverence or blasphemy. Alister MacKenzie once wrote that golf and religion are two of the things the Scottish take seriously, and sometimes they are one and the same. For anyone who watched this championship, who saw and heard and felt the bond between the masses and Rory McIlroy, the shout's request was shared by many.
However, on this day, like so many days before it, those prayers went unanswered.
The tournament that was supposed to be his wasn't, as McIlroy leaves the Open without its cherished trophy.
"Disappointed obviously," McIlroy said, his 270 total two short of Cameron Smith. "Yeah, I felt like I didn't do much wrong today, but I didn't do much right either."
The result had seemed preordained and that it was decided by preference. That's not how golf tournaments work, of course, for if they did McIlroy would have a dozen or so majors to his name. So why did it feel like providence? This was McIlroy's week from the get-go, and anyone who says otherwise wasn't on property or wasn't paying attention.
It began Tuesday when McIlroy called this Open his Holy Grail. On the surface the parallel was easy to grasp and followed the edict from Bobby Jones, who stated a golfer's career is not complete unless he has won at St Andrews, and far be it from us to debate this notion. On a deeper level, however, the grail quest resonated in a way that explains much of the love he engenders. For nearly a decade, McIlroy has been on a crusade, trying to hurdle the pressures of who he once was against the hope of what he could still be again.
He proved those ambitions were not unfounded after an opening-round 66 and backed it up with a Friday 68. He went out in 33 on Saturday then sent a shock through the grounds and to his competitors with a bunker hole-out for eagle at the 10th, a shot so absurd Scottie Scheffler could only look back and laugh. McIlroy finished Saturday with a 66, tied with Viktor Hovland for the 54-hole lead, their nearest competitors four shots back.
Now, McIlroy had been in this position heading into a major Sunday before, and there's no need to rehash that his major total of four has remained at four for some time. This was different. Solid of a player as Hovland is and strong of a future as he holds, this would be his first time in major contention, and the majors are notoriously unkind to the inexperienced. The Camerons, Young and Smith, were the closest opponents at four shots back. McIlroy seemed in total command of his game, and just as importantly, himself.
Oh, and the crowds. Already one of the sport's most popular figures, the rapport between McIlroy and fans this week has somehow been strengthened. His practice rounds were greeted with spirited cheer, his tournament rounds were de facto pep rallies. He not just entertained but galvanized those that followed and they in turn returned the favor. From his Saturday bunker theatrics onward, McIlroy had turned the Home of Golf into a home game, and his opponents had to deal with trying to win the claret jug in front of a gallery that didn't want to see them do it. When asked if it was clear who the rooting interest was, Scheffler politely pointed out the obvious. "They're chanting his name out there," Scheffler said on Saturday. "How can you not root for Rory?"
What Rory was doing was the talk of every conversation in town, and it wasn't so much a discussion as an acknowledgement of what was destined. It was said in awe and said in reverence. It was said in self-congratulations, observers unable to process the luck of being here to witness something special. On one weekend night a group of well-watered fans walked down a side street, arms over the others' shoulders, crooning, "Rorrrrr-y, Rory, Rory … RORRRR-Y!" The improvised tune made up for its lack of harmony with joyful inflection. Heading into Sunday, the Open didn't feel like a competition as much as a coronation, and the people were ready to greet their king.
One problem: No one told Cameron Smith.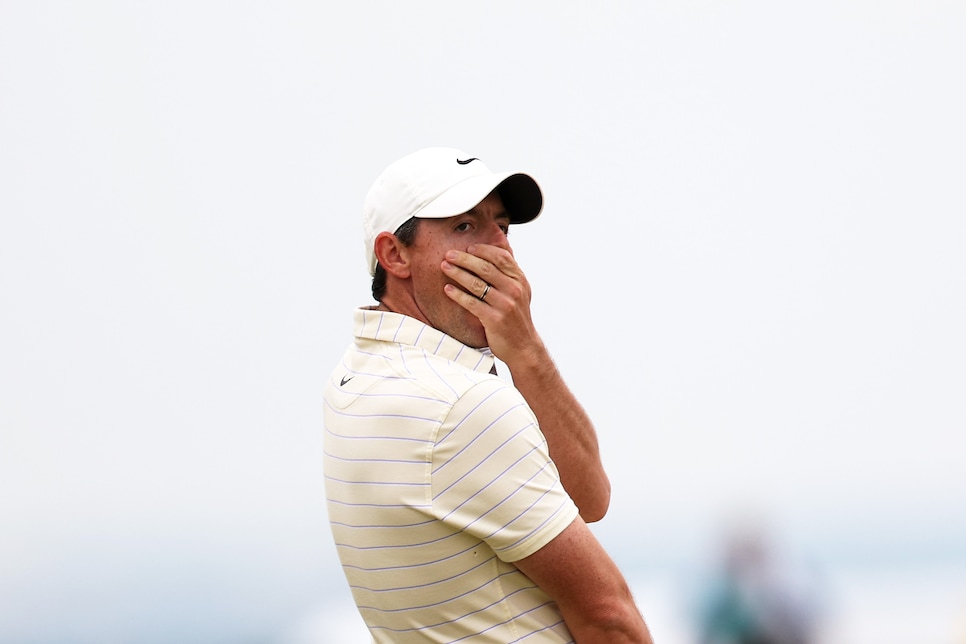 The Aussie didn't get word of Rory's coronation. Or maybe Smith thought the red carpet being rolled out on this brownish-yellow turf was for him. He made the turn in 34 and birdied the first five holes of the back to take the lead from McIlroy at the 14th. Smith followed with two no-nonsense pars. At the 17th, his approach coming up short of the Road Hole bunker, Smith putted through the bunker's edge—a decision that is both courageous and psychotic—and pulled it off, his ball coming to rest eight feet from the hole. It should have been the nerviest putt Smith faced in his life. Instead he cleaned up what remained with an ease that you're not supposed to have over such a length at such a moment.
Behind was McIlroy, who was having the damndest time getting his ball to drop. Let the record show that McIlroy hit all 18 greens in regulation. The putter … well, the putter apparently missed its tee time. McIlroy birdied the par-5 fifth thanks to a lag eagle putt and did the same at the drivable par-4 10th. But as he stood on the 17th tee those were the only red figures on his day, his four-shot lead now a one-shot deficit with Smith on the birdieable closing hole. Rory's drive found the 17th fairway and needing to get his approach close to keep his hopes and the hopes of so many alive, Rory answered, and answered with vigor, his second leaving 18 feet and change. McIlroy's birdie attempt looked like it was going right. It followed that route for the most part. But as it neared the hole, needing to go just a tad more right to be right, it stayed left. McIlroy had to look away, ostensibly towards the Jigger Inn but really looking off into nothing in particular. He looked betrayed. He looked indignant. He looked like a player who made a 4 when he needed 3.
Ahead Smith lagged his eagle try from the Valley of Sin to tap-in range for a birdie and two-shot lead. McIlroy's drive came well short, and his chip for the tie didn't come close. For posterity sake he missed the birdie, dropping him to a finish for third. The final damage was a two-under 70, he and Hovland the only players in the top 14 who failed to shoot in the 60s Sunday. He didn't one-putt a single green.
"I tried to stay as patient as possible, and I kept hitting good putts. I hit a good putt on 13, 14, 15, 16, 17. I was hitting good putts. They just weren't dropping," McIlroy said. "It's hard, like, there's a lot of putts today where I couldn't just trust myself to start it inside the hole. I was always starting it on the edge or just outside thinking it was going to move. More times than not, they just sort of stayed there."
It was another missed opportunity. Another missed season. Another could've, should've, would've. The major drought continues. The question now, as the gloaming consumes this town and sends this tournament into the past … does it matter?
It wasn't the result fans were hoping for, a reminder that happy endings are usually reserved to fiction. But to view the week only through the prism of Sunday evening is missing the point, and what happened on the final nine holes does not change what happened before them.
There are few transcendent athletes, yet even fewer who possess a gravitational pull. Ascribing why those who have it have it can be difficult, but not always. Tiger Woods, for one. For years Woods tried to keep the public at arm's length but his performance emitted a greatness so bright that it was hypnotic through sheer coercion. McIlroy's play, even at his best, could never match that. Rory's magnetism is distilled to something simpler. For one who reached such heights of his profession McIlroy was so human that it hurt. He is willing to be vulnerable and willing to bear his soul. Those sentiments are rare of men in society but especially of his stature. The upside to do so is small and the downside is great.
Yet that's what McIlroy has done, over and over but best encapsulated at the 2019 Open at Royal Portrush, when he came undone after a valiant Friday charge in front of his countrymen to make the cut came up short, and at the 2021 Ryder Cup, when he was brought to tears discussing his team's belief in him when he didn't have his best. Wins and defeats happen at every tournament, most of which are forgotten by history. Emotional concessions like McIlroy's resonate louder and longer than any result could, because while the majority of us will never know what it's like to be that good at sport, pain and heartache are universal truths.
As for that pain, McIlroy didn't do what needed to be done on Sunday. That said it's not fair to say he gave this Open away. Smith took it with a 30 on the closing nine. "Look, I got beaten by a better player this week. Twenty under par for four rounds of golf around here is really, really impressive playing, especially to go out and shoot 64 today to get it done," McIlroy said.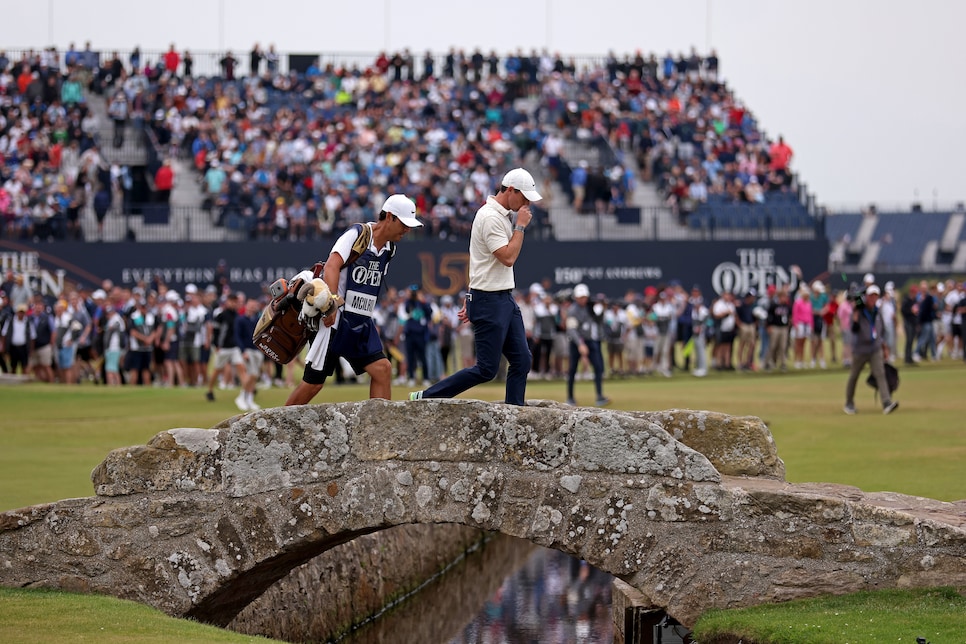 There was no emotional outburst this time around. Rory kept a stiff upper lip, acknowledging the hurt but refusing to show it. Instead he took his hat off on the 18th and turned to the crowd. He clapped to the 18th grandstands, and to the grandstands on the first tee and to those lining the street. McIlroy eventually made his way off the green, up and over and down a temporary bridge to the scorer's tent. In the distance, past the red facade of Hamilton Grand and the blue grandstands bearing a slogan that read "EVERYTHING HAS LED TO THIS," the steeple of St. Salvator's pierced the sky.
Maybe there are higher powers at work, and for some reason they are working against McIlroy. Maybe it comes down to a golfer being outplayed by another golfer. Whatever you believe is fine. But this is unequivocal: As McIlroy disappeared from sight you could still hear claps from the 18th green and cries of his name, the crowd letting him know the love that was so present through this week would remain, outcome be damned.
"I thought the fans were great today. I thought they were really, really good," McIlroy said. "Unbelievably supportive to me, wish I could have given them a little more to cheer about."
It is here that McIlroy misses the point. On Friday afternoon, as Woods was crossing Swilcan Bridge, McIlroy was stationed at the first, tipping his cap toward Woods in appreciation. Perhaps it was serendipity that McIlroy happened to be beginning his second round at the exact same time Woods was possibly saying goodbye to this town. But this is a place that doesn't dabble in serendipity. It is powered by the current of fate, and in this moment, fate passed a torch.
At the people's course at the people's Open, Cam Smith leaves with the claret jug. But the people's crown sits on the head of someone else.