ST. ANDREWS, Scotland — Apparently the will of 52,500 humans cannot overcome the power of one mulleted man wielding an enchanted putter. The fans—nay, adorers—lining the Old Course were ready to explode, begging to explode. They did everything in their power to drag their adopted son over the finish line. The story, had it come to pass, was certainly worth the party it would've sparked: the game's most popular player this side of Tiger Woods, in a year when he has spoken ad nauseum of history and legacy, winning the 150th edition of the tournament with the most history and legacy, at the birthplace of the sport he conquered.
It started on the first tee, in the shadows of the R&A, whose executives can't publicly pick sides, but we know who they were rooting for. The grandstand didn't have to hide its preference. Ro-ry! Ro-ry! There were indeed some Aussie fans pulling for Cameron Smith at the Old Course, and they will be overjoyed, and these folk respect the game far too much not to give Viktor Hovland and Cameron Young some love as well. But this was a Rory love fest all week. By Sunday evening, even the marshals in official Open merchandise were openly cheering for the Ulsterman. McIlroy knew how badly everyone else wanted this for him. So did every other player in the field. As Scottie Scheffler put it on Saturday: "How can you not root for Rory?"
No pressure or anything. It's why McIlroy insisted on putting his phone away for the entirety of those interminable hours before a late-Sunday major tee time. He wanted to stay in his own bubble. Good luck with that.
"He's got more fans than I do," Justin Thomas said Sunday, just before McIlroy teed off. "And he's got a lot more fans than I did at Southern Hills. But it's difficult. It's hard. The expectation part is one of the hardest things I've had to deal with in terms of feeling like you should play well, or feeling like you should win, or wanting to win because everybody wants you to win. I think that's really underrated to be able to perform with those expectations and that pressure. It's going to be hard to win the golf tournament because it's going to be hard to win a golf tournament. It's going to be really hard for anybody, but especially him with the amount of people pulling for him."
Ninety minutes in, the trains were right on schedule—McIlroy had acknowledged the support but only cordially. A half-smile here, a hat-tip there, but nothing too involved. He'd hit every green in regulation, two-putted for birdie at the par-5 fifth, pumped his driver a million miles down the sixth, and whacked a putter(!) from 56 yards onto the sixth green for a crafty par. He was playing stress-free golf, and Hovland rather resembled a deer knowing its end was near, and Rory's two-shot lead seemed a decently sturdy cushion. Problem is, he kept having to hit that putter. Thirty-six times to be exact. That's how you begin the day tied for the lead, hit every green in regulation, make zero bogeys and lose the Open.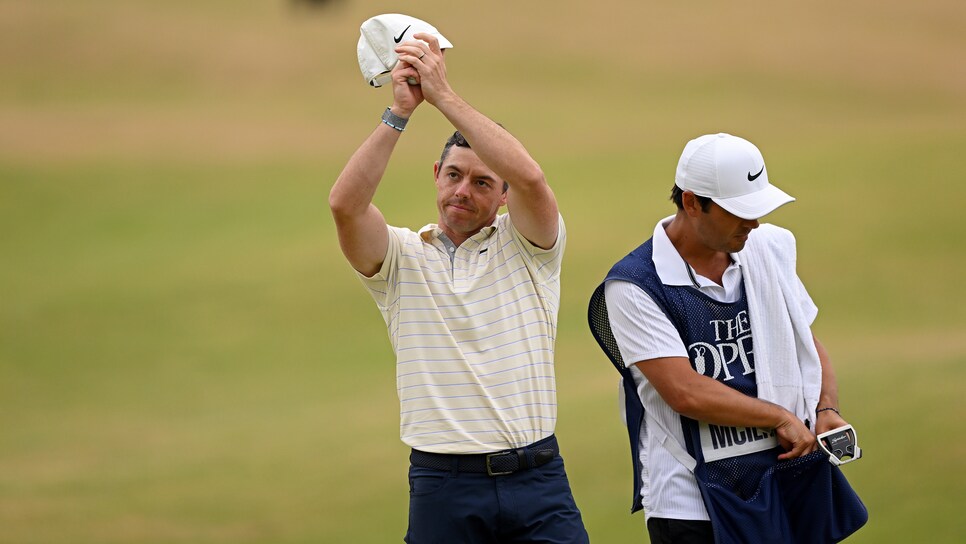 Rory McIlroy acknowledges the crowd on the 18th green during the final round of the 150th Open Championship.
Ross Kinnaird
The mood shifted from party preparations to unbridled angst around the Loop—more specifically, the ninth hole—when McIlroy fumbled an opportunity to take the golf tournament by the throat. He'd driven it just short and just right of the green, and an up-and-down would've given him a three-shot lead. He would've turned in two-under 34. That's major-championship winning golf. Instead, he yanked a 12-footer that never had a chance. Up ahead, Smith was about to make the first of five consecutive birdies.
Still, there was time. McIlroy birdied his next hole to regain the lead, and he hit each of the next eight greens but could not hole a single birdie putt. At the 12th, dozens of fans simply ignored the gallery ropes to get a better view of a momentum-boosting birdie that never fell. At 15, they waited patiently for another up-and-in birdie at the par 5, the type McIlroy makes in his sleep. Nope. By the time he'd reached 17, trailing by one now that Smith had completed his leapfrog, fans just beyond the Road Hole wall had resigned to their disappointment.
"Been pulling hard for McIlroy, but I reckon Smith's got this," said Andrew Horton, up from Chester, England to take in the action. "He'll be gutted, too. This was his chance to get back to the top."
Ninety seconds later, McIlroy did what he does best: he delivered hope. His approach into the 17th green pitched just over the ridge that guard the front of it, hopped to pin-high, then put on the breaks. Fifteen feet to pull even. Horton and crew erupted. One minute they were writing the man's eulogy, the next they were discussing just how loud the roar would be when he holes it. With Smith having knocked it greenside on 18, this was a proper do-or-die moment. After Hovland's much-longer birdie effort slid by, that chant broke out again: Ro-ry! Ro-ry! The more prudent fans drowned that out with a semi-aggressive shhhh, and it was eerily quiet by the time McIlroy pulled the putter back.
Left, the whole way. It didn't even get close enough for the fans to make that noise they make when a ball is approaching a hole. A final sliver of a chance evaporated when McIlroy ran his eagle chip well by the 18th, and reality began to set in. The cops had arrived just when the party started showing some serious potential. To the left side of 18, McIlroy's longtime manager, Sean O'Flaherty, looked on in stunned silence. Business relationship aside, he, too, is a Rory fan at heart. But his client wasn't trying to win this for his manager, or his dad, or his wife, or his daughter, or the thousands of people on-site or the millions watching on TV. He was trying to do this for Rory McIlroy.
"I thought the fans were great today," McIlroy said after the round, disappointed but not despondent. "I thought they were really, really good. Unbelievably supportive to me, wish I could have given them a little more to cheer about … I did a really good job this week of sort of really trying to control what I could control. Look, I certainly appreciated the support, and it was incredible to be cheered along all 72 holes, but I didn't let that put me under any more pressure. I'm trying to do it for me at the end of the day. Yes, it's great to get the support, but the happiest person in the world if I won that claret jug would have been me."