Coming up clutch
British Open 2022: Cameron Smith's Road Hole recovery proves pivotal in claiming the claret jug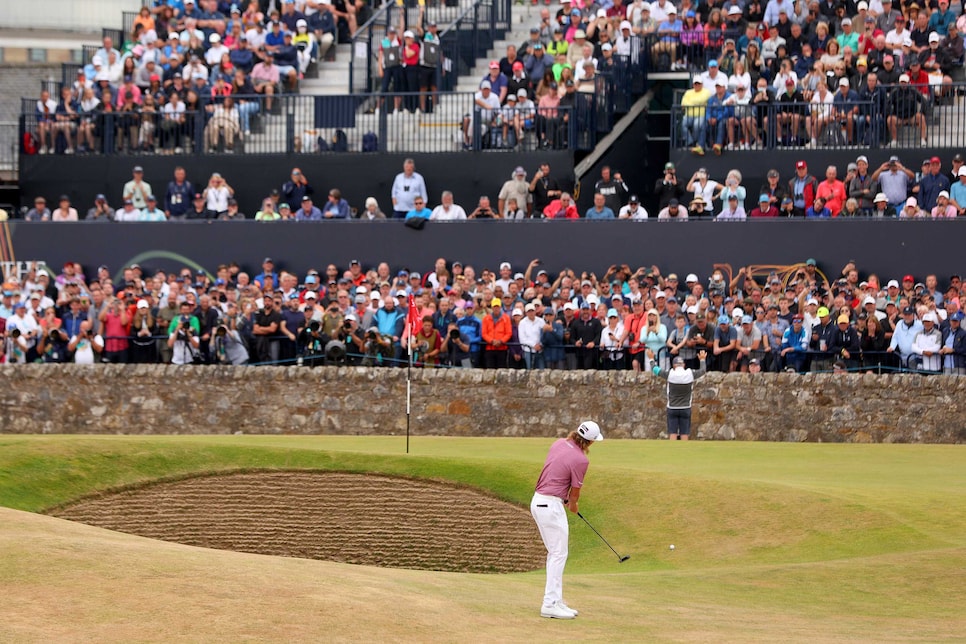 Cameron Smith deftly putted around the Road Hole bunker to save par on the 17th en route to winning the Open Championship.
Andrew Redington
ST. ANDREWS, Scotland — Cameron Smith had played a flawless 16 holes, rallying from four shots back at the start of Sunday's final round of the 150th Open to hold a one-shot lead. Yet it was looking like it might all be for naught for the 28-year-old Aussie after his approach shot on the Old Course's most diabolical hole, the famed par-4 17th, came to rest left of the green, 30 feet from the hole, but with the Road Hole bunker sitting in the way.
Smith had made seven birdies to that point in his round, his putter working flawlessly as he crept passed Rory McIlroy and Viktor Hovland on the leaderboard. But now he truly put his most valuable club to the test. The R&A's traditional Sunday hole location on 17 was too close to the bunker for Smith to try a chip from his burnt-out lie. Instead, he took out his flat stick and picked a brave line right of the bunker in hopes of getting the ball on the green with a reasonable chance to save par.
And we do mean brave. Check it out:
As was the case throughout the round, Smith's pace was spot on. Same with the next stroke, holing a 12-footer for a memorable 4. He then birdied the 18th hole to post an eight-under 64 and walk off with the claret jug after shooting a Open record-tying 20-under 268.
After the round, Smith lamented the position he had put himself in on the penultimate hole.
"That second shot on 17, it's just really an awkward shot, especially where I was," Smith said. "I kind of had to draw a 9-iron in there. You're only trying to get it to 40 or 50 feet anyway. Just didn't quite commit to the shape I wanted to hit and got it a little bit toey and turned over a touch more than I would have liked."
But then came the two-putt, Smith being modest about what transpired next.
"I mean, I was just trying to get it inside 15 feet, and the putter felt really good all day," he said. "I knew, if I could get it somewhere in there, that I'd be able to give it a pretty good run. Yeah, managed to get away with a 4 there.
Seemingly more impressed with Smith's execution on 17 was his playing partner, Cameron Young, who was trying to race Smith down as he finished solo second, one shot back after a 65 of his own.
"He had to be very decisive with that [putt around the bunker], because if you are wondering about if the play he's making is correct, I think it's a really hard one," said Young, who had a 14-foot birdie try on the 17th that came up just short. "And for him to accept that he was going to have a 12-footer for par, obviously he hit a great first putt to give himself that. There's no guarantee of having a par putt that short.
"I think it's just another example of why he's one of the very best. He made a really good decision and executed it perfectly."