18 Parting Thoughts
JT's surge, Mito's collapse, and why Tiger will never take a cart: 18 parting thoughts from the PGA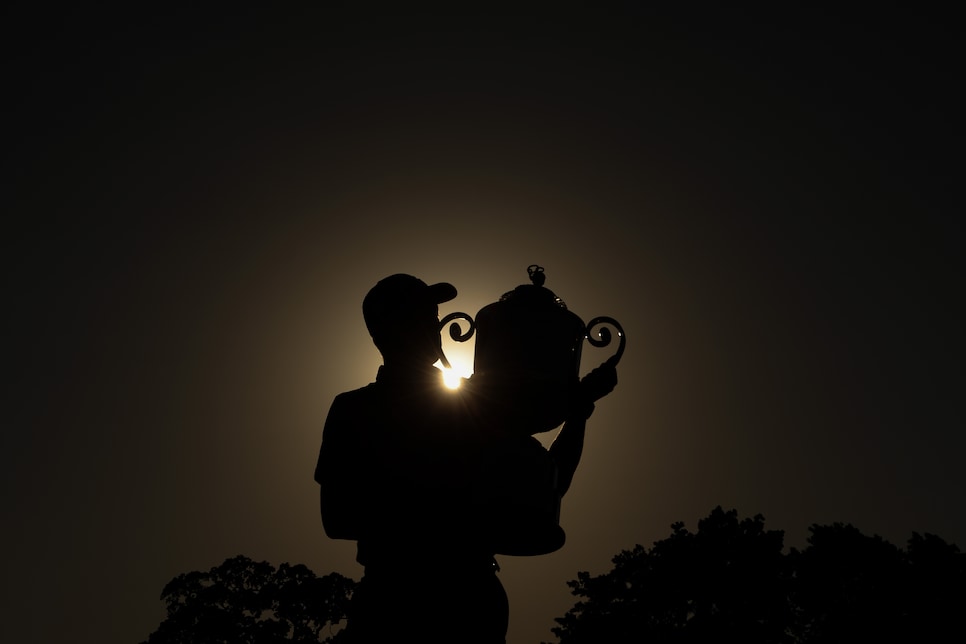 Photo By: Richard Heathcote
TULSA — JT beat Willy Z. A pillow-fight final round turned downright chaotic down the stretch Sunday at Southern Hills, with Justin Thomas clipping Will Zalatoris in a playoff—with serious help from Mito Pereira—for a most unlikely victory and a second major championship title. There is so, so much to discuss. Here are 18 parting thoughts from the 2022 PGA Championship.
1. We start, as always, with the winner. Justin Thomas didn't steal that one, but it doesn't quite feel like he paid full price for it. That's not to devalue his victory—he shot the lowest score for 72 holes, which is all that matters—but we can't ignore the help he received. The tournament sat there like the last donut in the box, just begging for someone to pounce, but all the contenders were dieting. Mito Pereira looked tentative all day and kept leaving himself above the hole. Cameron Young's speed on the greens was awful. Matt Fitzpatrick hit pull after pull. Will Zalatoris three-putted the 70th hole from 20 feet.
Coming into the round, Thomas thought he'd need to post seven or eight under to have a chance. But he vowed not to look at leaderboards, to milk everything out of his round and let everything else fall as it may. He did not catch fire to win this, as he did at last year's Players. He began the day seven shots behind, shot a solid but not off-the-charts three-under 67 and won.
Different golf tournaments ask different questions of their winners. This PGA Championship called for someone to play positive golf on Sunday and take the chance that was given to them. This was a battle of attrition, of survival, and JT cemented his status as the grittiest player on the PGA Tour. It wasn't the prettiest W. Good thing they all count the same.
2. One more JT item: The guy loves, absolutely loves, playing tournament golf. It's his high. You might think every professional golfer feels this way, but they do not. He looks most himself, most alive, when the lights are brightest. This is what he's always wanted to do, and he's doing it, and he's fully aware of this obsession he has.
"It's just awesome," he said of the feeling of performing in crunch time. "I don't know, really, how else to describe it other than that. I mean, that iron shot on 18 in regulation, like that's why I play golf. Like, that's why I practice. All the hours and everything and the time put in, you want to be in that scenario. You want to be in that situation:
"With the backdrop of the whole gallery up there, knowing that I'm in contention; I have a decent chance to win this tournament; probably one of the hardest, if not the hardest hole on the course. And I hit a great drive down there, and to be able to just flag an 8-iron like that when I know in my head I needed to make birdie, it's awesome. It's hard to explain, but it's a full-body-chills-type of feeling."
That immersion in competition, it's something he and his big bro Tiger Woods share, and it's one of the reasons they're as close as they are. Not everyone is wired that way.
3. I don't mean to harp on Zalatoris' short putting stroke, but it's truly one of the more curious phenomena in at the moment. He's obviously a breathtaking golfer; the guy has five top-eight finishes in his last seven major starts and is a top-five ball-striker the world. He also makes plenty of putts and holed some massive ones on Sunday, including the bogey-saver at 6 and the playoff-clincher at 18. That stroke on some of the short ones, though … if he was in your Saturday foursome of 12 handicaps, you'd turn away. And he's the No. 14 player in the world! He was just in a playoff to win a major championship! He was extremely close to winning at Augusta!
He doesn't miss nearly as many shorties as you'd expect with the herky-jerky move. But he did miss a vital one on 16 on Sunday, and it's hard to imagine he won't address this in due time. His putting is not as big a weakness as Golf Twitter makes it out to be—optics matter not in this game—but it's still a weakness, and it's the sole reason he's not in that JT-Rahm-Collin tier. The rest of his game, and his mind, are already there.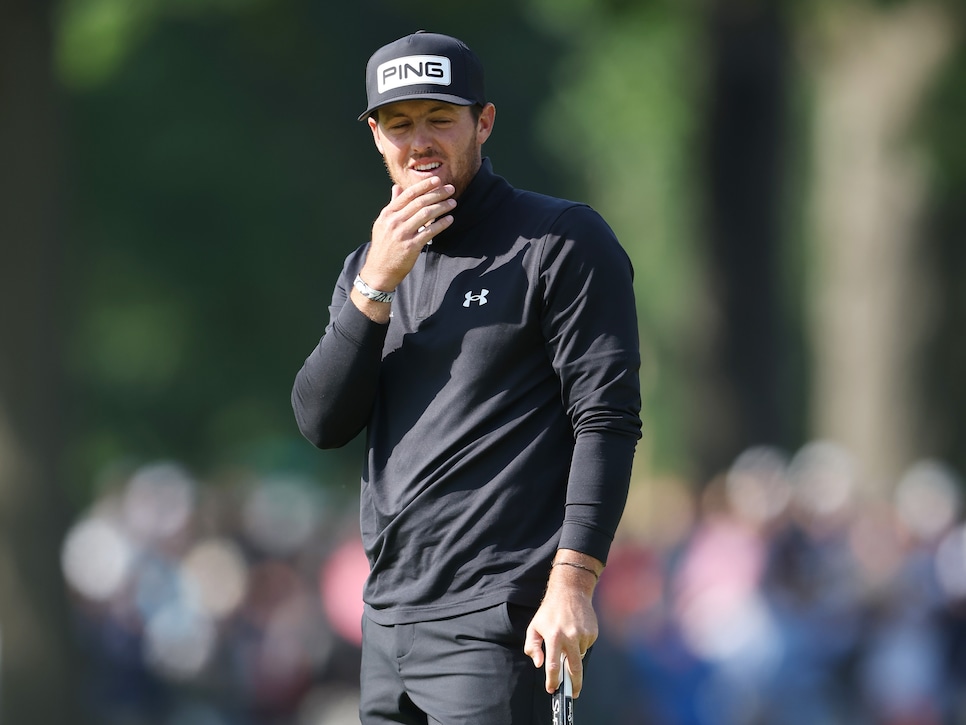 4. Mito Pereira said he wasn't cripplingly nervous as he made that swing on the 18th tee on Sunday, and I believe him. That's how deeply this game messes with your head: your body feels the pressure even when your mind doesn't. He made by far his worst swing of the day at the worst possible moment—he was wobbly all day but had the finish line in sight, like the hammered guy at the bar on the verge of successfully getting a cab home…who then decides to re-enter that bar and wreak havoc.
Despite playing his first 17 holes in three over, a par on 18 would've been enough for a distinctly unglamorous victory. He then seemed to forget what he was trying to do. It was as if he decided midway through his backswing that he was going to hit a 2-iron stinger, then remembered right before impact that he was hitting driver. What resulted was a dead-squirt right, a water ball and a double-bogey finish that brought Van de Velde and Mickelson to mind. It wasn't the only reason he lost, but it will be the enduring memory of his collapse. This is a cruel game.
5. Matt Fitzpatrick wakes up in the morning and hopes for carnage. He's emerged as one of the game's brutal-conditions specialists, and he knows this, so he roots for brutal conditions. What a mental edge to have on your competitors, to know that while so many guys are hoping the wind dies down, you want it to pump even harder.
6. There always seems to be one elite player who, for whatever reason, doesn't perform nearly as well in the majors as he does in regular PGA Tour events. Patrick Cantlay now shoulders that unfortunate label. The World No. 5 made just two birdies in 36 holes and shot 75-76, an 11-over total that saw him miss the cut by seven. Cantlay has now missed the weekend in three of his last six major starts and has just two top-10 finishes in 21 career major starts.
It's an extra curious statistic because, on paper, Cantlay's game couldn't be better suited for major championships. There is nothing flimsy about it; few wear out the center of the clubface like he does. He drives it long and straight, ranking 17th on tour in strokes gained/off the tee. He's 18th in strokes gained/tee to green. He's got two wins at Muirfield Village, a major-type golf course. And yet he continues to disappoint on the biggest stages, on the most demanding layouts. The first-instinct explanation is that he's amping himself up and putting too much pressure on himself, but anyone who has spoken to Cantlay will have a hard time believing that's the case. A mystery indeed.
7. Lot of chatter about the bunkers this week. The sand inside Southern Hills' reshaped bunkers—they were saucer-shaped, Augusta-like bunkers before Gil Hanse got his hand on them and returned them to sprawling, more natural-looking blobs—is called Tour Signature. It comes from Ohio, and it is far more pebbly than the powdery-white stuff these guys see week-in and week-out on the PGA Tour. Consequently, these pebbles often nestle themselves between the club and the ball at impact, which leads to inconsistent strikes and the ball coming out hot with no spin.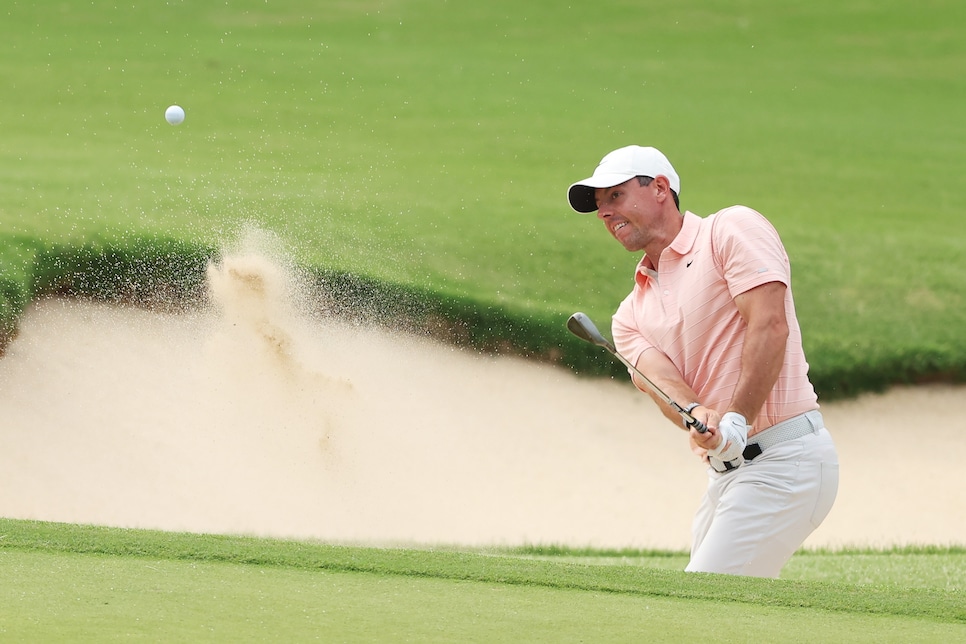 My take: They're hazards! They're supposed to be difficult to play out of. I understand not wanting to have luck be too much of a factor, but luck is always a factor in golf, and you lose the right to complain about luck when you hit the ball where you're not supposed to. Having a ball end up in a divot in the fairway, that's unlucky. Getting a suboptimal lie in a bunker, that's on you. And it's not as if they were completely unplayable; you just had to land it shorter than normal to allow for more roll out. They punished short-sided misses, as short-sided misses deserve to be punished. If you don't like the bunkers, don't hit it there.
"I mean, we're playing a major championship, not a monthly medal. You know, they're bobbling all over the place. It's so hard to hole putts. So you can hit a great putt and they just don't look like going in, which is hard to accept when we're playing in a major championship."
I'm going to defend Tyrrell Hatton, which may surprise you. I'm surprised that I'm typing it myself, because I didn't feel that way initially. But we're allowed to change our minds, and I've come to believe that it's unfair to both criticize these sort of comments if you also criticize guys who speak in press-conference mad libs. I've certainly griped about press-conference mad libs before, so here it is: If we want players to be honest in their answers, to tell us how they really feel about a certain issue, then who are we to burn them when they do? Hatton was far from the only player to feel this way; others just chose their words more carefully. I disagree with his assessment—I didn't think the greens rolled poorly—but I genuinely appreciate the honesty.
9. Thomas was asked on Sunday why he seemed to get more emotional after this PGA Championship victory than he did in 2017. It's harder to win now, he said. He had doubts about when it would happen again. He felt he'd played great this year but was frustrated with a lack of hardware. Then he turned his attention away from himself.
"I mean, the first one with [caddie Jim] Bones [Mackay] officially on my bag. First one as an engaged man." As he said it, his fiancee Jill, leaning against the press-conference tent, smiled from ear to ear. She giggled, and she could not stop smiling. It was a lovely moment that I thought you'd might enjoy hearing about.
10. Richard Bland confirmed this week that he's going to play in the first LIV Golf event no matter what the repercussions might be.
"I am going to play," he told the BBC. "If I get banned, I get banned. Most of my career is behind me now as regards to playing at the very highest level. I'm 50 years old in six months."
Slight irony aside—Bland is quite literally playing the best golf of his career and has only become a golf household name in his late-40s—this should serve as a blueprint for guys who want to make the jump. Don't insult our intelligence by saying you think it's good for the game or that you want to grow the game. Just be honest: say you want the money, that it makes sense for you at this point in your career. Plenty of folks will still find major issue with that, but at least you won't be playing a part. We all know the dynamic here, so why waste our energy trying to re-frame the conversation?
11. Watching Tiger on Saturday brought us no joy at all, and there was almost a sense of relief when he finally did withdraw from the event. By Friday afternoon he could hardly walk, and it's hard to fathom how much pain he must've been in to call it quits for the first time as a professional in a major championship. It was a sobering reminder that even the fiercest of desires—like Tiger Woods' desire to compete—cannot overcome physical limitations. Joe LaCava put it best: "As hard as he's trying, the body just won't cooperate."
Just as Woods was withdrawing, Stewart Cink stepped to the podium after a one-over 71 on his 49th birthday. Cink has been a Benjamin Button of late, winning twice on the PGA Tour last season and posting two top-10s thus far this season—and he's doing so with his son/mini-me, Reagan, on the bag. I asked Cink how his body feels compared to how it did, say, 20 years ago.
"It takes a little longer to warm up when I tee off at 7:30 in the morning," he said, "but other than that it feels exactly the same. I've never felt better or stronger—well, I can't put my socks on standing up like I used to, so I can't say I feel just as flexible as I ever have. But golf-wise, going back to golf, I feel physically just as capable as ever—if not more so. I've got the most speed I've ever had. I'm hitting the ball as far or farther than I've ever hit it, and power is a big deal in this game, especially on a course like this, and I do not lack in that department whatsoever."
All I could think about as he was answering was Tiger. It didn't have to be this way. With advances in training, nutrition and technology, 46 just isn't that old in golf anymore. There is an alternate universe in which Woods' back still nags but his legs are fine, where he walks not with a limp but with purpose and power. This was a great golf course for him, and his body simply wouldn't let it happen. He probably wouldn't have the 15 majors and all those wins if he didn't push his body and his mind miles past where his peers were willing to go. But he's reaping the consequences of it now. It's a huge bummer.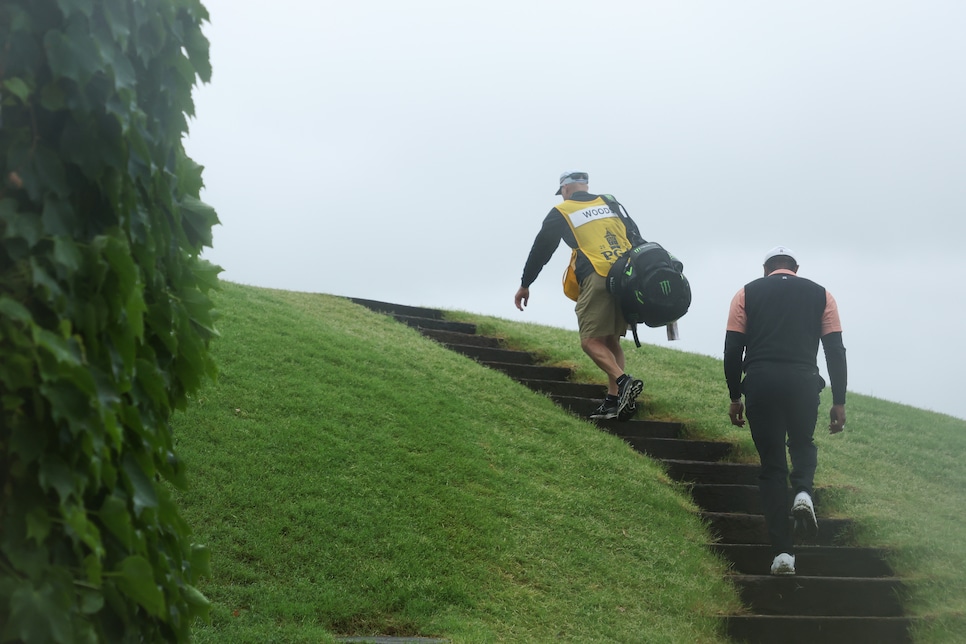 12. Whether they'd give him one or not, Tiger Woods would never use a cart in competition. He'd view that as a cop-out, an easy way out, a shortcut. Hogan and Nicklaus and Palmer didn't use one, so why should he? He'd literally rather retire than be seen as a charity case on the golf course. Again, it'll never happen.
But what if it did? The difference between how Woods looks while swinging the golf club and while walking could not be starker. His swing before his leg tires looks almost identical to how it did back in 2018-19, when he was a top-five player in the world. It's on-plane. He has plenty of speed. Hits all the positions. And then he takes the club off his left shoulder and uses it as a cane. Instantly, he morphs from a golfer who looks capable of winning golf tournaments into a 46-year-old with a fused back and two bum legs. He has said that swinging isn't the problem; walking is. It's a fascinating dynamic: Woods knows that he'd instantly be that much closer to contending if he took a cart, and yet he won't even consider it. A window into how deeply he believes in the sanctity of competition.
13. Kids these days—they're so pushy! On Wednesday, Justin Thomas was practicing some flop shots from the rough behind the 6th green. As he was doing so, a boisterous 7(?)-year-old kid kept pestering for an autograph.
"JT! JT! JT! CAN YOU SIGN MY HAT?! JT! JT! JT!"
Thomas handled it perfectly; he turned around, smiled and assured the kid that while he doesn't sign autographs during rounds, he'd be happy to do so later. "I'll sign it after the round, bud."
The child's response: "THAT'S WHAT THEY ALL SAY!"
Hilarious. I don't envy the parents, but hilarious.
14. When you live in the Twitter Vortex, you eventually develop a sense for what performs well and what doesn't. And the golf Internet has an absolute fascination with cigarettes. They squeal in delight when a camera catches John Daly "ripping a heater." They loved this little anecdote about Shaun Norris sucking on a "lung dart" before and after his shot into the par-3 6th on Saturday morning. I suppose I understand it: golf is the only sport I know of that permits smoking during competition, and plenty of people can see themselves when they watch a slightly overweight 40-something light up while walking down a fairway. But it's a borderline fetish.
15. Trending toward conspiracy theory territory here, but I can't be the only one who noticed the amount of brutal lip-outs this week. These were the most unforgiving cups I can remember seeing in any golf tournament. Even putts that seemed to have perfect speed breaking toward the hole seemed to catch the high-side lip and horseshoe out. It's highly unlikely that the cups, or the way they were cut, are actually different then the norm. But given that the PGA of America was in charge of the setup this week, and not the PGA Tour, it's not impossible.
16. Did a major double-take when I saw Collin Morikawa bring out a rangefinder to laser a flag from the second fairway on Friday morning. I had completely forgotten that that is a thing that's allowed at this major. Remember last year's PGA, the first time they were permitted? There were articles on articles written on the impact they'd have on play, whether it was a harbinger of what's to come … and then we just completely forgot about it. I guess that's proof it didn't really change anything.
17. It's smaller than a small thing, and I'm genuinely a massive Jim Nantz fan, but can we retire the phrase "our leader"? As in, here's our leader? It's culty. Why not just, "the leader"?
18. Southern Hills shined this week, with a big assist from temperamental weather. One unexpected-but-much-appreciated byproduct of the PGA Championship's move to May is the added volatility in weather. It's not just scorching-hot or thunderstorming, as it was in August. Tulsa flashed its full arsenal of spring weather: Thursday and Friday were oppressively hot, Saturday was annoyingly cold and windy, and Sunday afternoon was damn near perfect. The wind blew from different directions, which created two totally different tests.
This was the beginning of the Gil Hanse era of major championships. The next major host venue, The Country Club in Brookline, Mass., underwent a Hansian restoration just as Southern Hills did. So did next year's U.S. Open venue, Los Angeles Country Club. Those two courses have their own distinct character, and Hanse is a master at peeling back after-the-fact add-ons and restoring the original architect's intent—and doing so with a rugged, unpretentious aesthetic. A prediction: both TCC and LACC will draw rave reviews, as Southern Hills did. Major championship architecture is in good hands.