PGA Championship
PGA Championship 2022: Will Zalatoris' putter sent him into a playoff but forgot to come along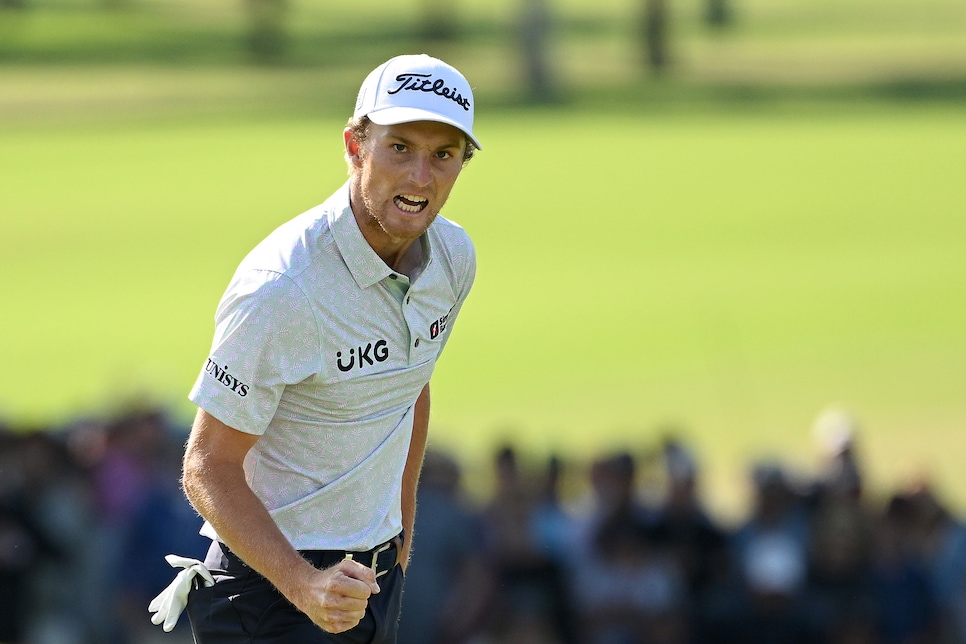 Will Zalatoris reacts to his putt on the 18th green during the final round of the 2022 PGA Championship.
Ross Kinnaird
TULSA — It carried him through two days. Cursed him on the third, wavered between friend and foe on the fourth. But when he absolutely and unequivocally needed it, Will Zalatoris' much-maligned putter answered and answered with vigor, converting a testy eight-footer on Southern Hills' infamous 18th green Sunday evening to send the 25-year-old into a playoff at the PGA Championship and near the precipice of stardom.
One problem: No one told the putter it had to punch in for overtime.
Given invites to dance on the 13th and 17th greens during the three-hole playoff, Zalatoris' flat stick kept him on the sidelines, and when he needed a miracle on the 18th the golf gods reminded him they fulfilled an earlier prayer request. Still, though Zalatoris left as the runner-up in his Tulsa tango with Justin Thomas, it is an experience the young Texan took in stride.
"I fought like crazy all day," Zalatoris said. "Pretty proud of the result that I had."
That he found himself in such a position was a testament in fortitude and grit. Playing in the penultimate group Sunday with former Wake Forest teammate Cameron Young and starting three back of 54-hole leader Mito Pereira, Zalatoris came out looking very much like the wunderkind who took the game by storm last season, his drives and his approaches listening to his every command. By the sixth hole the deficit to Pereira was erased. Even a sequence involving a launched tee shot and unplayable lie was salvaged by Zalatoris, who made one of those "good bogeys" usually said at the U.S. Open.
Unfortunately for Zalatoris, over the next nine holes he looked like a passenger asked to fly a plane without help from the control tower. His drives became loose, his approaches not much better. Par saves didn't come close to scaring the hole. The leaderboards told us he remained in the mix thanks to Pereira having his own struggles but it sure didn't look or feel like Zalatoris was a viable threat, especially after he turned a 27-foot birdie try into a three-putt bogey at the 16th. Thing was, Pereira continued to keep the field in it, with Zalatoris' birdie at drivable 17th making his 18th relevant. While his approach came up well short, his pitch from 30 yards left another eight feet. Behind, Pereira had melted, the Chilean's drive finding the creek. Knowing a playoff was on the line, Zalatoris' aim and stroke were true. The ball disappeared and the normally stoic Zalatoris clenched his teeth and turned his arm into a hammer.
"I knew I needed those putts," Zalatoris said. "Those are putts that you keep in the memory bank for the future."
Pereira's double placed Zalatoris in a three-hole playoff against Thomas, starting at the par-5 13th. Zalatoris hit a mean draw off the tee. You don't see that much anymore, the draw, not at this level. The fade is easier to control, hit no matter the hole shape, and thanks to modern technology not much distance is lost. The draw? It is not for the faint of heart. Too much wrong can happen. But when it works, brother, does it win the war against gravity. You have to be a ballstriker, and a bad man, to go with the draw. Zalatoris went with draw.
His approach from 220 yards finished 25 feet to the left of the pin. Thomas laid up, and though his third was just six feet short of the pin, Zalatoris could have knocked him into tomorrow. Instead he gunned the eagle by, tying Thomas after one. At the 17th, with Thomas two-putting for birdie, Zalatoris could not get up and down from off the green, missing a good look from seven feet. With both men finding the green at 18, Zalatoris went first from miles away. It was a good lag when he needed an indelible moment. Thomas made a good lag when he needed a lag. Thomas, the champ.
"Hey, I'll play those holes at one under any day of the week and J.T. happened to play in two," Zalatoris said. "I hit a great putt on 17. We just under read it. Like I said, hats off to JT. He's been due for a while to get another win, let alone a major. So, excited for him."
Zalatoris should be excited too. He now has a five top-10s in his first eight major starts, a feat not accomplished since Ernie Els. "Yeah, I love it," Zalatoris said of the pressure inherent to major stages. "If I didn't like it, I would probably need to find a new career, right. It's the same thing, when people say, man, what's it like to play in front of the crowds and the joke I tell people is, don't forget about the 10 million at home." The next stops at Brookline for the U.S. Open and St. Andrews for the Open Championship should be conducive to his game. Hell, there are many venues that aren't conducive to what Zalatoris can do, because he can do it all.
Well, almost all. For the week Zalatoris finished 10th in strokes gained/putting. That is the aberration in his nacesant career. He entered the week 96th in SG/around-the-green and a whopping 185th in putting. If you're looking for what was different, credit Southern Hills' slow greens, which relied on slope rather than speed and thus allowed a more aggressive attack. For Zalatoris to get where he wants to go, the short game is an equation that needs an answer.
Conversely, he's 25, with less than 50 official career starts, and in a game of cool customers he is conviction incarnate. His major record is that of a certified big-game hunter. All he lacks is the trophy to prove it. Should his putter cooperate, it will come, and come soon.