Caddie master
PGA Championship 2022: Justin Thomas says caddie 'Bones' Mackay's range pep talk was a key to his victory
Justin Thomas shakes hands with caddie Jim "Bones" Mackay after they completed winnning the PGA Championship at Southern Hills.
Maddie Meyer/PGA of America
TULSA — After a disappointing four-over 74 Saturday in the third round of the PGA Championship, Justin Thomas retreated to the practice range at Southern Hills Country Club to work out some frustration and perhaps work in a little fine tuning.
Before he got started, Thomas' caddie, Jim "Bones" Mackay, who joined Thomas last fall after the Ryder Cup, offered a few words that were not so much encouragement as they were reassurance.
"The gist of it was simply that there is nothing out here that you need to fix," Mackay said. "The round could easily have been 69 or 70, but he shot 74. That was the number on the card, but there was nothing to fix. And he had a great range session to wrap up the day."
Standing nearby, Mike Thomas, Justin's father and swing coach, knew he was hearing the right thing and it was coming from the right person. "If it had come from me, it might have sounded like I was stroking his ego," the elder Thomas said. "Bones was basically saying, 'quit beating yourself up and go see what you can do.' I thanked him for that, and I thanked him again this morning. It was a really good message."
Such is the work of a good caddie, one who carries a load—or lightens one.
Mackay, who helped Phil Mickelson win five majors during a 25-year partnership, already was inducted into the Caddie Hall of Fame in 2017, so he didn't need to leave his lucrative and less pressure-filled broadcasting job at NBC Sports to return to lugging a bag full of clubs and put more miles on two knees that had to be replaced a few years ago.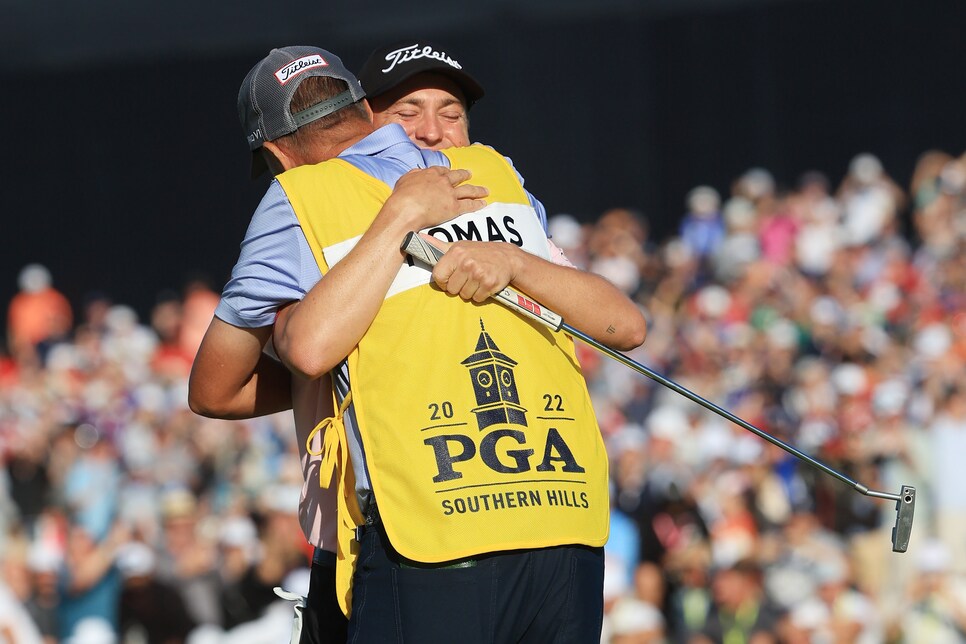 Justin Thomas hugs caddie Jim "Bones" Mackay after win.
Sam Greenwood
There was only one bag that interested him. That was Thomas'. And the reward came Sunday when Thomas roared from seven shots back at the start of the day, climbed into a playoff with Will Zalatoris, and then beat him in a three-hole aggregate playoff to add a second PGA title to the one he captured in 2017.
The victory was the second for the Thomas-Mackay tandem. They triumphed at the 2020 WGC-FedEx St. Jude Invitational when Mackay subbed for an ailing Jimmy Johnson, who had been with Thomas since 2015. As luck would have it, they played the final round with Mickelson and his brother, Tim, who now works as his caddie.
Mickelson, at age 50, captured his sixth major a year ago with a remarkable performance at the PGA at Kiawah Island. He wasn't on hand at Southern Hills, choosing to not defend his title as he continues a leave from golf after his controversial comments about the PGA Tour and the rival upstart LIV Series tour.
So, it almost seemed like a bit of destiny—or coincidence or poetic justice or however you want to describe it—that it was Mackay's turn to bask in the glow of another major, this one with Thomas, and of course, at the PGA that Mickelson bypassed.
Mackay, 57, wasn't asked about Mickelson—and there was little reason to bring up the name—but he clearly was emotional after carefully rolling up the 18th hole flag that would be his memento of the week, saying, haltingly and simply, that "it means a lot." He stood off alone for a moment beside the 18th green as Thomas waited to make a victory speech that was being delayed by television commercials, taking a bit more time to gather himself.
Sure, he believed in Thomas, and he believed in his decision to team up with the 29-year-old who now owns 15 PGA Tour titles. The reason was academic.
"Because I really like him … and I think he's got more shots than anybody on the tour," Mackay said. "I'm not saying, you know, he's, you know, this or that. I'm saying in his arsenal of shots, he's got more shots than anybody I've seen out here currently—high, low left, right ... whatever. Hands around the green, the guy's really, really good. And I wanted to be around it."
"Bones has been really good for Justin," Mike Thomas said. "He's been great, a very positive influence for sure."
Justin could only concur, giving a huge nod to his caddie for setting him straight after Saturday's frustrating third round. "I'm fully confident in saying that I wouldn't be standing here if he didn't give me that … wasn't necessarily a speech, but a talk, if you will," the champ said. "I just needed to let some steam out. I didn't need to bring my frustration and anger home with me. I didn't need to leave the golf course in a negative frame of mind. I played pretty well yesterday for shooting four over, and I felt like I'd played terrible. And he was just like, 'Dude, you've got to be stop being so hard on yourself. You're in contention every single week we're playing.'"
Indeed, Thomas had already posted seven top-10 finishes this year. He'd been close. Now he owns a second major title. Bones backed the right guy. Thomas chose wisely, too.
"You know, I've been so spoiled out here," Mackay said. "It's amazing, you know, an incredibly special thing for me. I love caddying. It's the greatest job in the world. It's been really good to me. I've been crazy lucky. It just means a tremendous amount to be out here with someone … you know, all the guys I've caddied for I'm grateful, but I've just had a great run out here as a caddie. I'm grateful for it."