Well done buddy
PGA Championship 2022: Another sign of Tiger Woods and Justin Thomas' growing bromance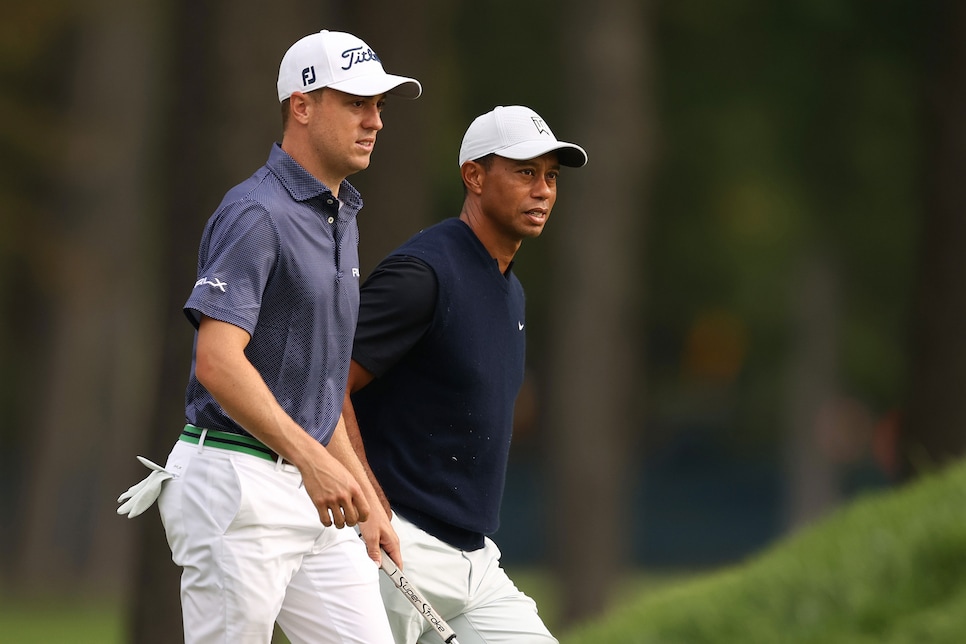 TULSA — Tiger Woods has been known to praise winners of big golf tournaments before on social media, so it's not unusual that he took to Twitter to give a shout out to the new 2022 PGA Championship. But there was likely something extra special about the salute he got to send on Sunday.
Woods has described Thomas as the little brother he never had. Despite the 17-year difference in age, the two grown to be close friends, living close to one another in Jupiter, Fla.
Their closeness has been something even fellow players have noticed, sometimes with a little despair. At the Masters, Jon Rahm was asked if he had been given any advice on how to play the course from Woods.
"I think there's only one man in this field that hears advice from Tiger because I've asked before and I get nothing," Rahm replied. "So, you might need to ask Justin Thomas …"
It's not just course advice that Woods has provided. "There's a lot of things that he shared with me," Thomas said last December at the PNC Championship, where he and his father, Mike, played with Tiger and his son, Charlie. "Not only my game but just the game of golf in general that I'd never tell anybody just because, to be perfectly honest, I think it's an advantage and I take a lot of pride and honor that he's been willing to share some stuff with me.
"Are there a lot of other things he probably hasn't told me? Yeah, because he knows that he still likes golf and wants to beat me when we're playing. But I think just being there as a friend is most important as a mentor, but, yeah, kind of pushing each other along the way type thing."
While Woods might have publicly applauded Thomas, JT said during his Sunday evening press conference that Woods will find a way to mess with him, even after overcoming a seven-shot deficit to win a second Wanamaker Trophy.
"I don't know, I'm sure he probably will give me a hard time for shanking it [off the tee on No. 6]," Thomas said. "I should have made the putt on 18. Shouldn't have been in a playoff. I don't know, he'll always find something to give me grief about."