Tiger Watch
PGA Championship 2022: Tiger Woods withdraws ahead of final round at Southern Hills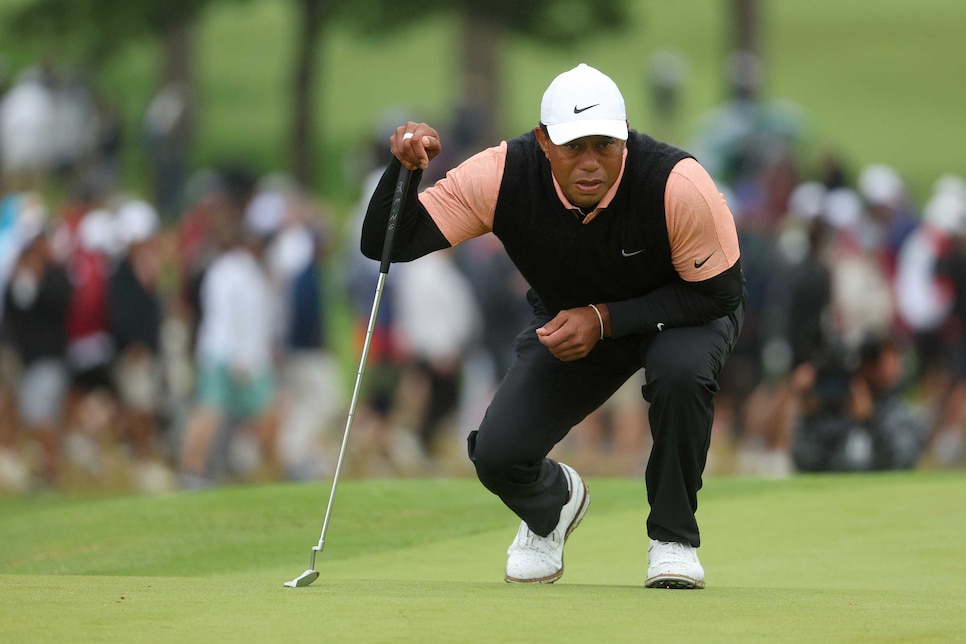 TULSA — Tiger Woods has withdrawn from the PGA Championship before Sunday's final round due to what his agent, Mark Steinberg, described as pain and discomfort in his right foot.
The PGA of America announced the decision of the 15-time major champion and four-time PGA Championship winner on Twitter hours after Woods shot nine-over 79 to tumble down the leaderboard at Southern Hills. Woods, who was making just his second tournament appearance since sustaining traumatic injuries to his right leg in a car accident in February 2021, was visibly hobbled throughout his round on Saturday and appeared to be in significant discomfort.
Woods said before the tournament that his surgically rebuilt right leg had strengthened significantly since he returned to competition at last month's Masters, and he looked to be in better physical condition in his pre-tournament preparation at Southern Hills.
"I just think that I've put in a lot of hard work with my team, and I believe in them and what they have been able to get me to do," Woods said Tuesday. "I just have to go out there and obviously do it and hit the golf shots."
But he turned up Thursday morning with a noticeable limp and struggled physically over the first two rounds amid intense heat and humidity. Woods battled for a one-under 69 on Friday to sneak past the cut line with a shot to spare only for temperatures to drop roughly 30 degrees before Saturday's third round. The chilly weather combined with the quick turnaround after Friday's round were a rough combination for Woods, 46, who has struggled in colder temperatures even before the accident.
"I just didn't play well," said Woods, who was 12 over par and in a tie for last (T-76) at the end of the third round, meaning he would have teed off at just past 7 a.m. local time for Sunday's final round in similarly cold conditions. "I didn't hit the ball very well, and got off to not the start I needed to get off to. I thought I hit a good tee shot down 2 and ended up in the water, and just never really got any kind of momentum on my side."
Woods has made the cut in each of the year's first two major championships but has seen his leg deteriorate as the weak wears on both times. At the Masters, he shot back-to-back 78s on the weekend, his two highest-ever scores at Augusta National.
It is not clear when Woods will play next. He told Sky Sports after the Masters that he will play in the 150th Open Championship (July 14-17) at St. Andrews and also committed to the JP McManus Pro-Am the week prior. Woods has not said whether he will tee it up in the U.S. Open (June 19-22) at The Country Club in Brookline, Mass.
This is the first time that Woods has withdrawn during a major championship as a professional.