Tiger Woods allowed himself exactly one day—one day to let his grueling week at the Masters marinate, to give his Inspector Gadget right leg a chance to rest, to appreciate the 14-month journey that began in a hospital bed and culminated on the 18th green of Augusta National on the second Sunday of April. After back-to-back 78s and a 47th-place finish, Woods took Monday off.
And then he got back to work.
Woods told reporters at Southern Hills on Sunday that he refocused his singular gaze away from the year's first major and toward the second just hours after the Masters finished. As always, his preparation for the PGA Championship happened away from cameras. He did not post videos of his workouts to Instagram, and he didn't provide any updates on Twitter. He simply turned up in Tulsa, Okla., on Sunday afternoon for a nine-hole practice round that removed any mystery as to whether he'll peg a tee in the ground on Thursday. There will be no repeat of the will-he-or-won't-he saga that dominated headlines leading up to the Masters. He's playing competitive golf this week. The question now: How good will that golf be?
The answer, of course, hinges almost entirely on the state of his surgically rebuilt body. Woods told Golfweek on Sunday that he has progressed significantly over the last month.
"It's only going to keep getting stronger," Woods said of his leg. "The more I use it, the more strength it gains. Am I ever going to have full mobility? No. Never again. But I'll be able to get stronger. It's going to ache, but that's the way it's going to be.
"I'm excited about [the week]. I'm not going to play that much going forward so anytime I do play, it's going to be fun to play and to compete. There are only so many money games you can play at home."
Caddie Joe LaCava corroborated his boss' self-evaluation. Those who watched Woods on Sunday—and on Monday morning, when he returned to Southern Hills to inspect the back nine—say he looks to have more speed than he did at Augusta National, and that he's moving better. The Tiger Hype Train needs just the slightest nudge to kick into overdrive, and positive early-week reports from a major championship have certainly done the trick. Woods showed over the first two rounds at Augusta National that he still has the strength, touch and guile to contend in the sport's biggest events. But he showed over the last two rounds that having the ability to keep it together for one or two rounds won't cut it. Woods' body must cooperate for four days of competition if he's to have even a hint of a chance come Sunday afternoon.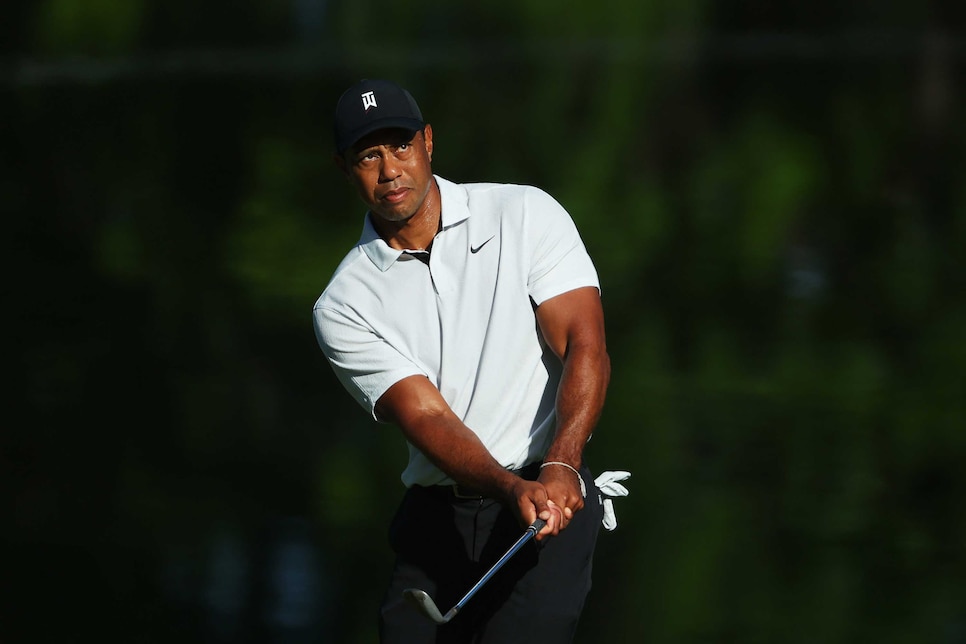 Tiger said he gave himself a day off after the Masters, and then jumped back into training to make sure his injured right leg was strong enough to compete at the PGA Championship.
Andrew Redington
There's certainly reason for optimism. First, Woods has had four extra weeks of training, and while his near obsession with the gym has produced a fair share of setbacks, strength work will play a vital role in this latest comeback. He simply has to get his leg stronger, and that's not going to happen on the driving range or the golf course. One can only assume that an additional month of full-time work with elite trainers and doctors—we're talking multiple hours per day, every day—will have his leg ready to handle more than it could at Augusta. He's also had more time to familiarize himself with his new body's limitations and to groove the swing he's pieced together despite limited mobility.
The weather should help, too—temperatures are expected to be in the 80s all week at Southern Hills, and Woods has struggled mightily in cool conditions since his spinal fusion surgery in 2017. Warmth lubricates any 46-year-old body, especially one with scars from double-digit surgeries. He looked to be moving in slow motion on a cold and windy Saturday at Augusta. Sweating through your shirt on the golf course probably isn't your cup of tea, but those are the exact type of conditions where Woods excels at this stage of his career. May in Oklahoma has thrown in a bone that April in Augusta did not.
There's also the nature of the golf course, and Woods' history at it. Granted, Tiger might have won on the moon if it hosted the 2007 PGA, but it was played at Southern Hills, where Woods had his way with the course. He led by two after 36 holes, three after 54 and two after 72. It was a master class in sucking all the tension out of a major championship, which was Woods' speciality back then. The Perry Maxwell original design has undergone a significant restoration (and deforestation) by Gil Hanse and Jim Wagner ahead of this year's championship, but the bones are the same, and Woods got an early look at the new setup on April 28. He played with Southern Hills' director of golf Cary Cozby that day, who said that the PGA Championship winner will be a great chipper … and that Tiger is still a great chipper. Winning a tournament at a course 15 years ago does not guarantee success on that course now, but having those memories to draw back on is better than not having them.
Tiger will want to see conditions be a bit breezy this week, for he knows he can't keep up if the tournament remains a target-practice putting-contest like the one we just saw at the AT&T Byron Nelson. A winning tally in the five- to 10-under-par range would be ideal, and the forecasted wind looks set to temper the scoring all week.
There are also reasons for caution beyond the unfortunate fact that Woods' right leg is TSA's worst nightmare. He has not played a tournament since the Masters, and even Woods is subject to the lack of scoring sharpness that comes with so few competitive reps. His victory at the 2019 Masters came at the tail-end of a 16-month build up during which he played 26 tournaments. He has played exactly one since the accident. And while Woods has apparently looked excellent so far at Southern HIlls, the same was true until Saturday at Augusta. He's certainly better now than he was then, but is he at a point where he can walk up and down the hills this week—the course has Hills in the name for a reason—and swing with the same ferocity Sunday that he showed on Monday? He said he's gotten stronger, and that it will only continue to get stronger, which suggests this comeback is far more a work in progress than a finished product.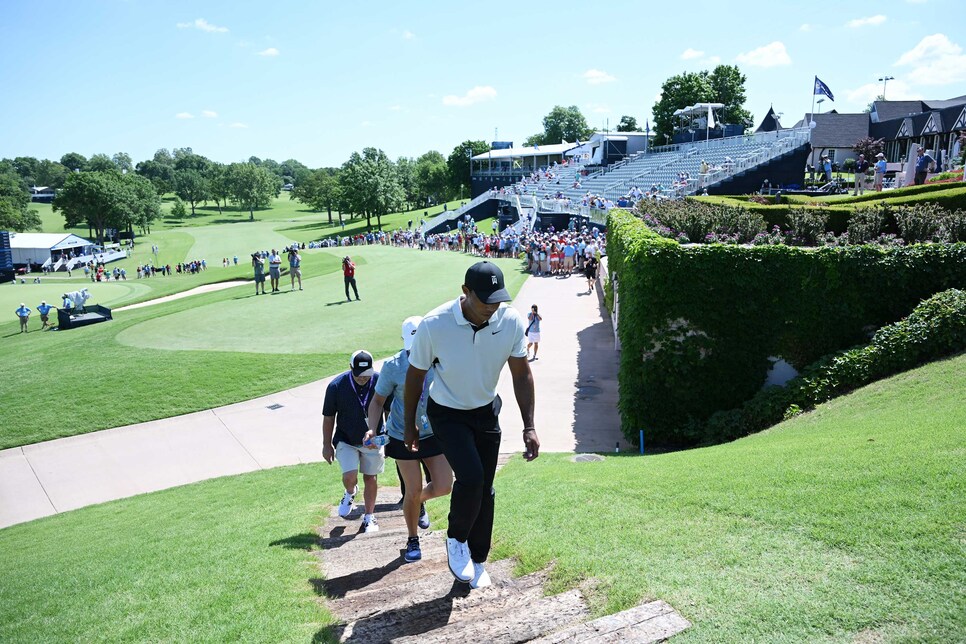 Tiger Woods walks from the 18th green during a Monday practice round at Southern Hills.
Ross Kinnaird
How he will fare is anyone's guess, and there's still a distinct possibility that his body holds up but he just plays poorly. This is still golf, after all, with all its weirdness and unpredictability. One thing that is certain, however, is that any improvement from the Masters will send an unmistakable message: that Tiger is continuing to progress, and that this latest chapter in a roller coaster career is only just beginning.