It wasn't just hot that day for the final round of the big golf tournament in Tulsa, Okla., but exceedingly hot, the kind of oppressive heat that can be dangerous, when even shade brings little relief and makes a golfer want to quit. Which one golfer did after just five holes, departing and mumbling something about feeling unbearably parched.
The thermometer read 115 degrees Fahrenheit, a record high in Tulsa. Such an extreme reading might have appealed to Jack London, who was inclined to write about challenges of the elements, though it was usually falling mercury that intrigued the author. This instead was blazing heat. Soul-sapping, withering, mind-warping heat, the kind that impacts performance in any number of activities—golf included. But a winner would be crowned, a survivor, if you will, and the champion on this day was not Tiger Woods. Nope. It was a man named Clarence Yorkey, and the event was the 1936 Oklahoma Open.
On Aug. 10 that year, Yorkey, described in the Supulpa (Okla.) Herald as a "pint-sized pro" from Kansas City, Mo., "pitted his 103 pounds against the hazards of a 114-degree heat" (the National Weather Service reported a high of 115) at Oakhurst Country Club to shoot 73-74 for a 294 total and one-stroke victory over another Kansas City golfer who fearlessly competed under the name Bunny Torpey. Yes, they played 36 holes that wicked afternoon. No word on if Yorkey slipped below 100 pounds by day's end.
So, if you're thinking that competitors in the 89th PGA Championship at Southern Hills Country Club in Tulsa had it rough, well … yeah, they still did. True, the 156 players who competed in the final major of 2007 faced a mere 18 holes a day. But that year's PGA was about as pleasant as a full-body waxing.
"I'm shattered," an exhausted Adam Scott—from Australia!—said after one round that year.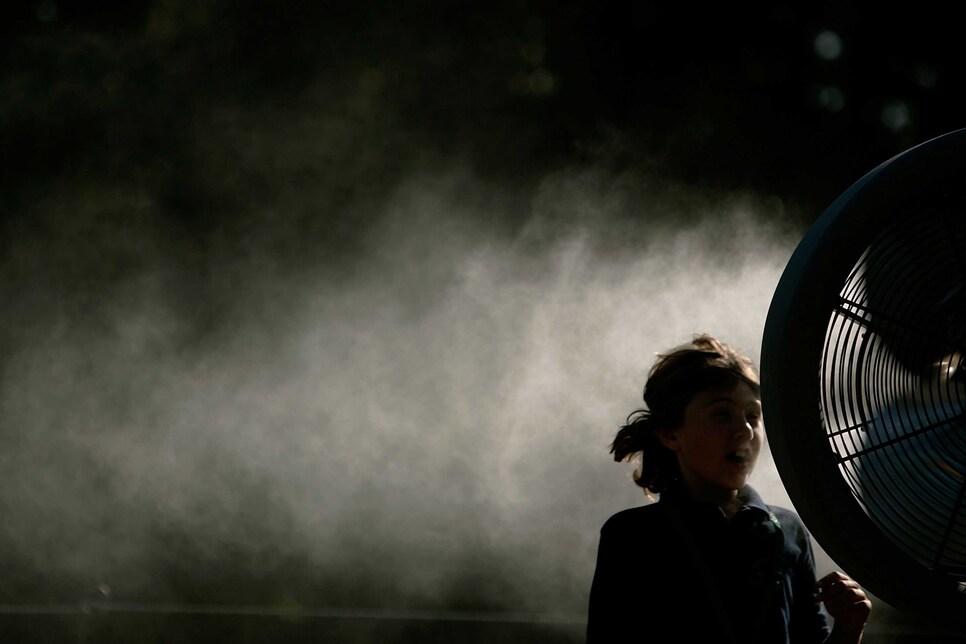 Golf fans of all ages looked for any way to beat the heat.
Streeter Lecka
The championship was contested amid a heat wave that began in late July and lasted into the second week of August, impacting the central, southeastern and Great Lakes regions of the United States. Low pressure systems on both coasts caused a weather phenomenon called an "Omega block," which resulted in lots of sunshine, few clouds and, eventually, drought-like conditions. In some parts of the U.S., soil moisture decreased by 99 percent of normal levels. Driving distances in your basic nine-hole men's beer league had to be off the charts that summer.
In Tulsa, the four championship days, Aug. 9-12, saw high temperatures of 100, 99, 99 and 102 degrees, respectively, while heat indexes ticked significantly higher. The average temperature each 24-hour period was 89. The National Weather Service issued a heat advisory for most of Oklahoma that week, and the next, and added an "excessive heat" warning for 21 counties, including the seven in the Tulsa metropolitan area.
If Twitter had been around at the time, "Swamp Butt" might have been trending.
"It was brutal," remembers Scott Verplank, a Dallas native who lives in Edmond, Okla., who ended up T-9 after sitting in second place through 36 holes, which earned him a third-round pairing with Woods. "There was almost no wind the last few days, and Tulsa is usually more humid than other parts of the state. The only tournament I can compare it to is the '94 U.S. Open at Oakmont when it was extremely hot and humid. Those are tournaments where you're just surviving, really."
With the heat index climbing to 108 during the first round, England's Graeme Storm, making his PGA debut, seized the lead with a five-under 65. However, John Daly's morning 67 was the story of the day. The 1991 PGA champion … um, warmed up for the championship by skipping the practice rounds at Southern Hills in favor of playing slots at the air-conditioned Cherokee Casino Resort. Of course, he won that '91 PGA without a practice round, so there had been precedent. He posted his lowest round of the year up to that point thanks to his own stay-cool regimen of Diet Cokes and Pall Malls.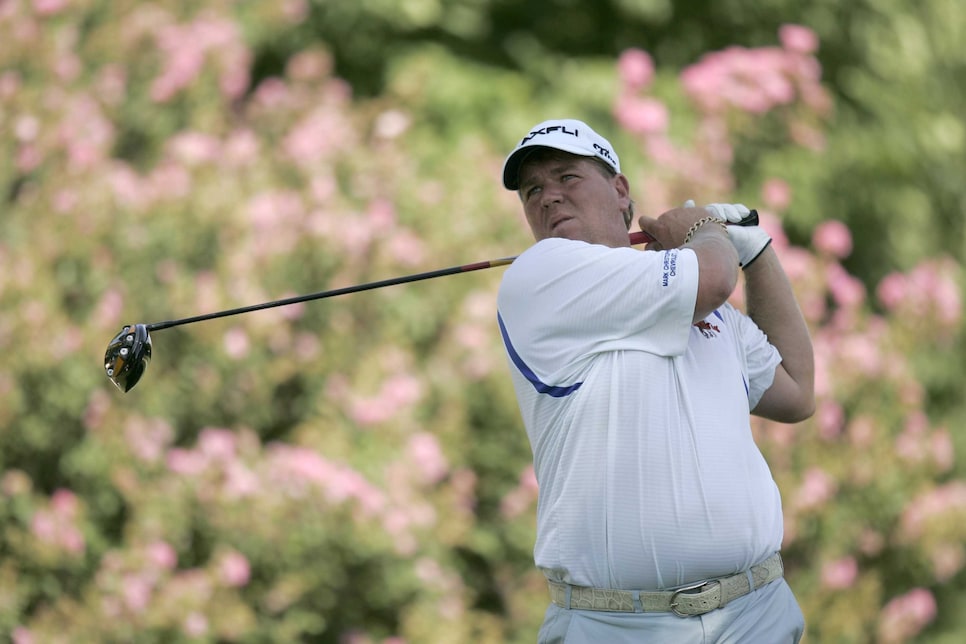 John Daly shot an opening-round 67 after beating the heat on practice days by instead playing slots at a nearby casino.
Montana Pritchard/PGA of America
"There were odds with all the caddies and players this week: Who would fall first, me or my caddie [Peter Van Der Riet]?" Daly, 41, said after walking off the 18th green with his shirt untucked and soaked in sweat. "We made it. We made 18 holes."
Not that he could remember any of them. Asked about his four birdies on the day, Daly was stumped. "Couldn't tell you. I only had three heat strokes out there," he said.
"It's so hot, I couldn't even think straight," Pat Perez said after a 70. "I was just trying to stay alive."
Two players succumbed to the heat before making the turn. England's Anthony Wall managed to survive for nine holes before withdrawing, while Jyoti Randhawa of India sweated it out for only four holes. Obviously, they didn't adhere to the Daly method. Or Darren Clarke's; reportedly, he downed 15 bottles of water in 18 holes.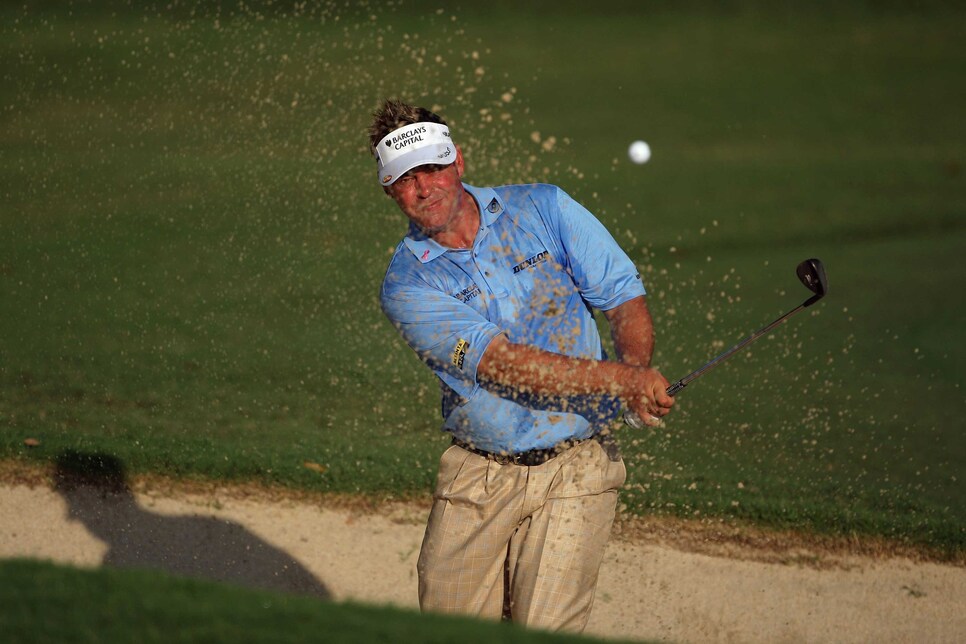 Darren Clarke was still sweating things out during the opening round despite reportedly drinking 15 bottles of water over 18 holes.
Jamie Squire
The rest of the week belonged to Tiger, because of course it did, especially as he was coming off his regularly scheduled WGC victory the week before at Firestone Country Club in Akron, Ohio, where the mercury only once surpassed 90 degrees. Out of the Firestone and into the brimstone, as it were.
Woods took control at Southern Hills with a second-round 63 that is long-remembered as a "62-and-a-half," as he called it, because his birdie putt on the 18th hole lipped out wickedly. Notice that we didn't say that it burned the edge. The edges already were burned out, among many other things. Noses, scalps, etc.
You could fry an egg on a fried-egg lie.
Each day grounds crews periodically syringed the greens. The crowds often shouted for commensurate relief—and sometimes got a half-second spray. In designated areas of the course, "spritzing stations" were set up to help spectators keep their core temperature in check. Nevertheless, the Emergency Medical Services Authority reported that more than 300 people were treated for heat-related illnesses during the championship and nearly 40 were hospitalized.
Woods, whose goal the last two rounds was simply to post something under par, did just that. He followed his brilliant 63 with consecutive 69s for an eight-under 272 total and captured his 13th major championship—tying Bobby Jones—and his fourth PGA title at the age of 31. He won a major for the first time as a father, and for the second time Woods won the Wanamaker Trophy in back-to-back years. His last six majors saw him finish 1-1-T2-T2-T12-1. That's a heater, folks. He defeated Woody Austin by two strokes and Ernie Els by three.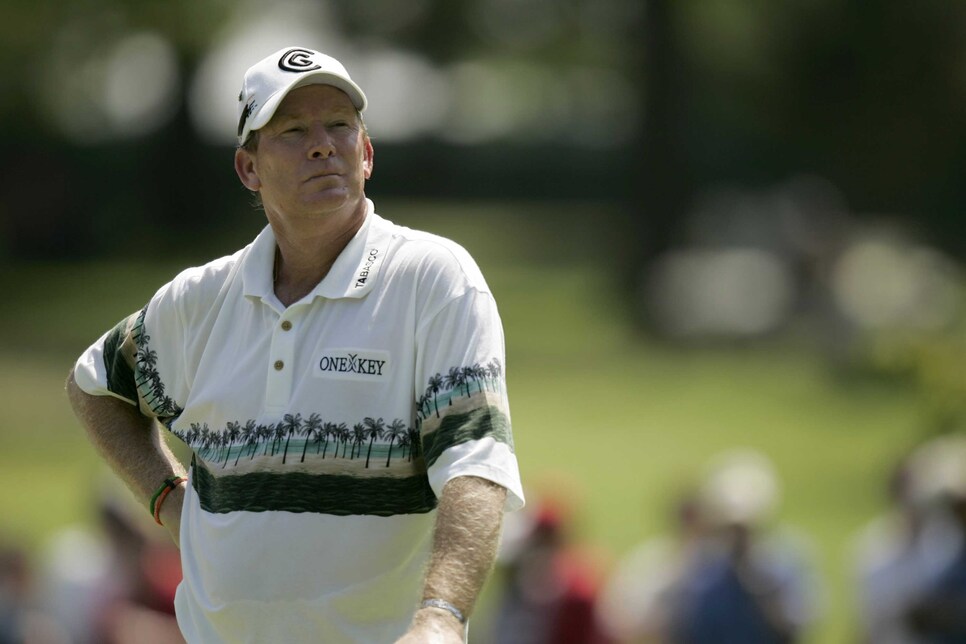 Woody Austin made things even hotter for himself when he said he thought he was playing better than Tiger Woods over the first 36 holes.
Montana Pritchard/PGA of America
Austin, the only player to shoot par or better all four rounds, remembers that week more for catching heat than for the weather being "on the warm side," which he didn't mind, being a Florida native. After a second-round 70, Austin—sponsored by, of all things, Tabasco at the time—had the audacity to assert that he was outplaying Woods, even though he trailed on the scoreboard. It did seem like a rather silly comment when Tiger was out there tying the major championship scoring record.
"I just meant that tee-to-green I was playing better, but I wasn't allowed to say that, and I got blasted for it in the media," Austin reached by telephone recently, clarified. "Of course, Tiger was beating me … and everyone else. He was the greatest player of my era. He was putting great, and I was putting like I usually did, which wasn't great, and that's what the difference was. That's all I was trying to say."
No one was hotter all week than Sergio Garcia, who quickly and carelessly signed for a 74 in the third round after three-putting the final hole. One problem: playing partner Boo Weekley had recorded a 4 at the 17th when Garcia had made a bogey 5. Weekley tried to call him back, but because El Niño embodied his own high-pressure system and had blown through the scoring area, the Spaniard was disqualified for signing an incorrect scorecard.
"It's my fault for putting the wrong score in, but it's his fault for not checking," said Weekley, who also three-putted the last for 65. "I just said, 'Sergio, I put a 4, but in fact you had a 5.' He said, 'That just puts the icing on the cake.'"
Speaking of which, a couple from McAlister, Okla., was spotted on Sunday afternoon wallowing in ice dumped from a water cooler on the 13th tee, according to Golf Digest colleague Mike Johnson, who, like several reporters who ventured outside, reported feeling queasy after periodically doing the rational thing and retreating to the icebox doubling as the media center.
The final round easily was the most unbearable, not only because it was the hottest of the championship, but also because the humidity peaked at 85 percent and the afternoon was largely without wind. Zephyrs of 4-8 mph were recorded. Any detectable breeze only stirred the searing cauldron, making the air almost suffocating.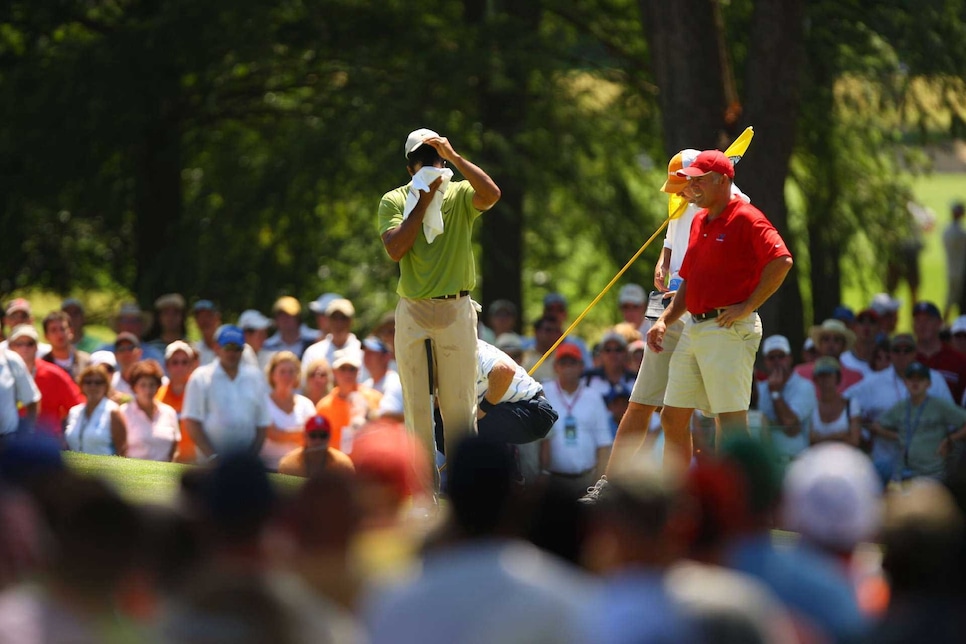 No one was immune from the heat, including eventual winner Tiger Woods.
Robert Beck
The heat index reached the 110 mark at 2:47 p.m., but if you were following the final pairing of Woods and Stephen Ames, with thousands of spectators packed together lining every fairway, it seemed more in the range of "Holy Hell, my eyes are melting." Of course, Tiger never wilted, improving to 13-0 in majors when holding the 54-hole lead.
Frank Mitchell, head of the tournament medical committee, said that the number of people treated on Sunday was, "overwhelming in the last couple of hours. It was like a war zone. People were out here for a long time, and they wanted to stick around to see Tiger."
Well, sure they did. He was hot.