Tiger Watch
PGA Championship 2022: Tiger Woods plays Sunday practice round at Southern Hills, set to compete in major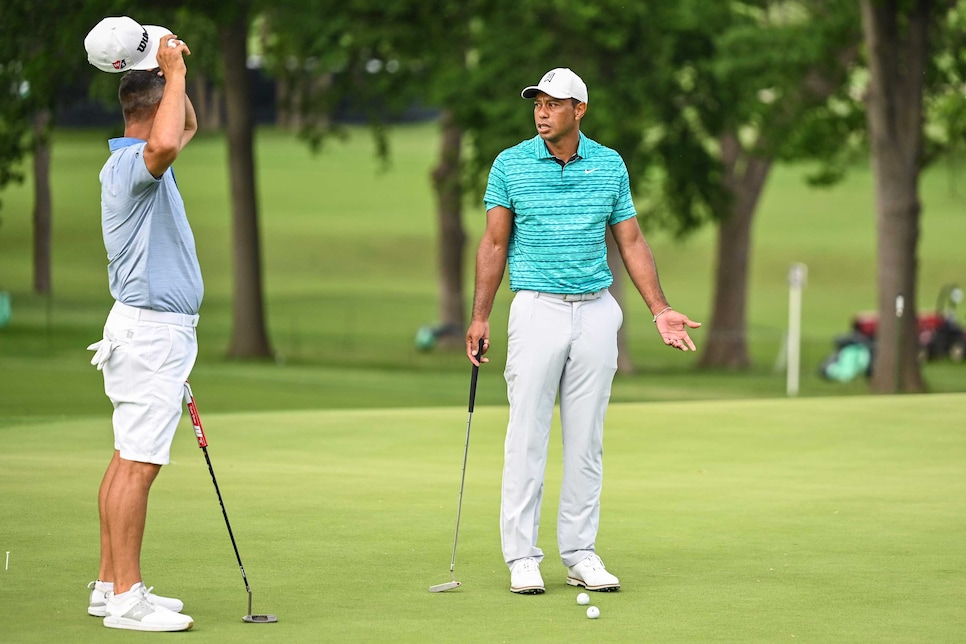 Tiger Woods talks with Gary Woodland on the ninth green at Southern Hills during practice for the PGA Championship the Sunday prior to championship week.
Keyur Khamar
Tiger Woods appears all but certain to play in the PGA Championship after the 15-time major champion was on-site for a practice round at Southern Hills in Tulsa Sunday afternoon.
Woods, 46, has not played in a tournament since he competed at the Masters just 14 months after sustaining traumatic injuries to his right leg in a car accident. Woods made the cut easily at Augusta National but struggled physically as the week wore on, finishing in 47th place. After the final round, he was not sure whether he'd be ready to play a month later at Southern Hills for the season's second men's major. But he has remained on the official field list for the PGA Championship since its initial release and is scheduled to speak to the press on Tuesday but has not publicly confirmed that he will play.
Woods has made a habit of arriving at major weeks on the Sunday before the tournament. He did so before this year's Masters but did not announce that he was likely to play until his Tuesday pre-tournament press conference.
Multiple on-site media at Southern Hills posted photos and videos of Woods, playing alongside Gary Woodland, to social media on Sunday and reported that he planned to play nine holes. Woods also played an 18-hole practice round at Southern Hills on April 28, when he got his first look at the newly renovated layout. Woods won the last time the PGA Championship was played at Southern Hills, in 2007.
Woods told Golfweek's Steve DiMeglio that he feels much stronger than he did at the Masters, and Woodland was very positive about what he saw from Woods.
"He's amazing," Woodland told SI.com's Bob Harig. "Hitting it both ways. Short game is terrific. Just good to see him playing as it had been awhile since I've seen him play.''
Woods has maintained that his days of playing a full schedule are over and that he will have to be selective about the events he plays in. He told Sky Sports at the Masters that he intended to play in the 150th Open Championship at St. Andrews but his playing plans beyond that remain a mystery. Woods is a four-time winner of the PGA Championship, also hoisting the Wanamaker Trophy in 1999, 2000 and 2006.