TULSA — During the pro-am at the Genesis Invitational earlier this year at Riviera Country Club, Jim "Bones" Mackay overheard a conversation between his player Justin Thomas and one of Thomas' playing partners, who was asking if there was anything the young star liked to collect.
"Something that really rings in my ears," Mackay recalled, "was this guy asked, Justin, 'Hey, I've played in a lot of these pro-ams, and this guy likes to collect Ferraris, and this guy likes to collect wine. What are you into?' And Justin thought about it for a second. He goes, man, I just want to win tournaments."
Thomas, among the most driven players in professional golf, collected another one on Sunday at Southern Hills Country Club, his first in more than a year, when he completed an unlikely rally from seven strokes behind to capture the 104th PGA Championship by defeating Will Zalatoris in a three-hole playoff. The victory was his 15th on the PGA Tour and his second in the PGA to go with his 2017 title.
"This is a good moment where the trophy can speak for itself," said Thomas, gesturing toward the Wanamaker Trophy that he won while equaling the largest final-round comeback in PGA history. "I'm very fortunate right now that although there might be people ranked higher than me in the World Ranking, but at least in my eyes, I'm on top of the golfing world right now, and I'm very, very proud of that. I think I'll let the trophy and the week speak for itself."
Thomas, 29, probably never worked harder for a victory. He shot consecutive 67s in the tougher end of the draw, when the winds were at their most confounding, and he was dismissed as a legitimate threat after his third-round 74 dropped him seven strokes behind Mito Pereira of Chile.
His father, Mike, a PGA teaching professional and his swing coach, gave him a bit of direction before Sunday's final round. "What we said this morning is you're four back of second [place]. Try to catch those sixes [players six under par]," the elder Thomas explained. "And then we just need help from the front runner. Unfortunately for them, that's what happened."
Justin submitted another 67 on Sunday, tied for low round of the day, thanks to birdies on four of his final 10 holes, including a 65-foot seeing-eye curler at the par-3 11th that started to give him a glimmer of hope. But when he missed a 14-foot birdie putt on 18, he left the green scratching his head and looking sorely disappointed, realizing it might not be enough.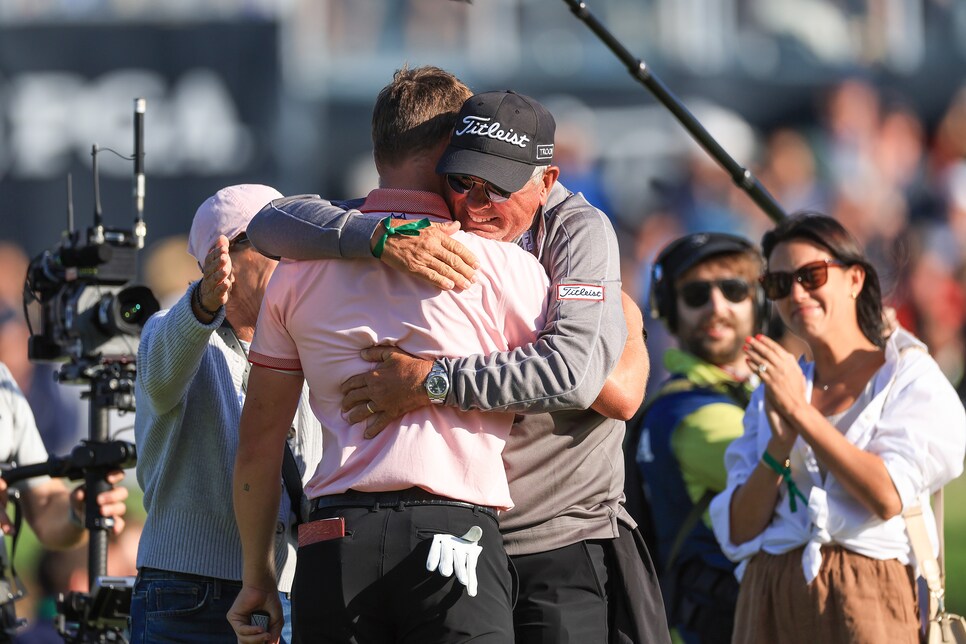 Justin Thomas is hugged by his dad and lifelong teacher, Mike Thomas.
David Cannon
However, when Pereira inexplicably cratered at the 18th, suffering a double bogey, Thomas found himself in a tie with Zalatoris at five-under 275.
A skillset that has been honed since childhood kicked in from there as he went 4-3-4 in the playoff, two under par (Zalatoris birdied only the first), to become the 22nd multiple winner of the PGA and claim a tour title for the seventh straight season, second-longest streak behind Dustin Johnson.
Thomas, who rose to No. 5 in the world with the win, remembered his late grandfather, Paul, who was alive when he won his first PGA. Mike Thomas got melancholy, too, thinking how special it was to have the three generations of PGA pros celebrating that 2017 win at Quail Hollow Club in Charlotte. But this one was sweet, too.
"That one would be hard to top. But with the dry spell we've had," Mike said, referring to Justin's drought stretching to last year's Players Championship," this one is pretty good. They're all fun, all the wins."
Yeah, dad likes the same collection.
Added Justin: "As Tom Brady always says, your favorite Super Bowl is your next one, and that's what my favorite major is. And at this moment, it's definitely this guy right here. Yeah, I'm looking forward to talking to my grandma. I'm sure she was watching. I know somewhere up there, Grandpa was definitely watching today and pulling for me."
Karma might have been in Thomas' corner, but his luck is the residue of design, as the late Branch Rickey once said. Immersed in the game practically his whole life, the Kentucky native has talent, yes, but also owns a versatile skill set that he is intent on refining constantly.
"He is such a good guy and such a good player, but, you know, he works so darn hard, and he deserves this," said Mackay, who left his broadcasting job at NBC Sports to return to the caddie ranks on Thomas' bag in September. "I told my wife, if I was ever gonna caddie again, this was the time and without question, this was the player."
And this was the time. Back to a little karma. Or foreshadowing perhaps. Thomas and good friend Jordan Spieth came to Southern Hills on the Monday prior to the AT&T Byron Nelson two weeks ago, and on the fifth tee, Thomas turned to Bones and said, "Man, I love this course." Mackay said that "is music to a caddie's ears when we hear something like that."
Nevertheless, a win seemed improbable. And winning, Thomas can tell you, gets harder all the time. He's a better player than he was five years ago. And he can win in a number of ways. This week, though his usual ball-striking skills emerged as an important ingredient, putting was the key. That and exuding toughness and the right attitude.
Take, for instance, how he responded to one of his worst shots of the championship—and maybe the year. He shanked a 5-iron at the par-3 sixth hole. Cold, dead-on hosel. Hit a tree on his next shot and the ball landed in a bunker. Got up and down for a good bogey. On the very next hole, his second shot from 197 required he hit the 5-iron again. Put it to 10 feet.
"You know, water right, he has to hit a club he shanked 20 minutes ago," Mackay said. "And it was the best shot of the day. It was probably the best full swing he made all week. He's a resilient guy. And he's got so much offense. He can, if he needs to play offense, he can just do it."
Thomas has proven there are a lot of things he can do with a golf club in his hands. That comes from wanting the club in his hands, sort of like Michael Jordan wanting the ball at the end of a game.
"I mean, [it was] a lot of self-belief, a lot of patience. I wasn't looking at leaderboards today. I was just trying to play golf," he said. "It kind of goes back to what I said on Thursday of just not trying to play golf swing, not trying to play the field, not trying to play to a certain person really. Just trying to execute each shot as well as I could, and then wherever it ended up, just give my club to Bones and let's move on and try to do the best we can on the next one."
The next shot eventually became the winning shot. And Justin Thomas added to his collection of wins, which is all he really wants.