Hazard play
PGA Championship 2022: Why Southern Hills' bunkers are giving players fits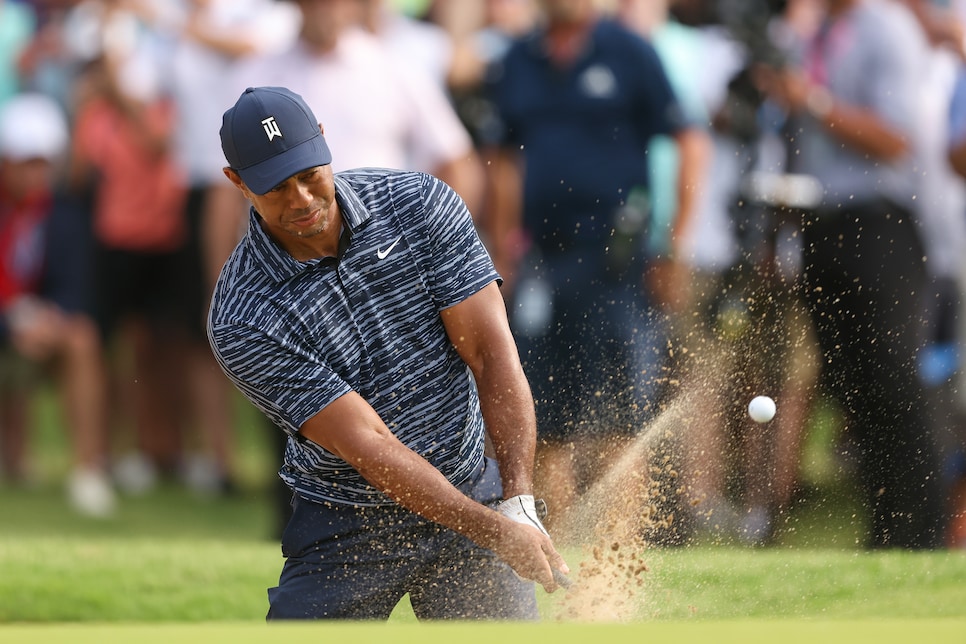 Tiger Woods plays a shot from a bunker on the 13th.
Ezra Shaw
TULSA — Bunkers on the PGA Tour tend to be hazards in name only. Gone are the days when bunkers were glorified sand boxes, when good lies were bonuses rather than the expectation.
Modern bunkers are pearly white oases that offer players a blank canvas to do whatever they want with the ball. They'd much rather be there than the rough.
Except at this week's PGA Championship.
Southern Hills' bunkers caught players' attention early this week. The sand, which is called Tour Signature and comes from Ohio, is darker and more pebbley than the bright-white powdery bunkers on the PGA Tour. On Wednesday, Ian Poulter took to Instagram to shed some light on the difficulty caused by the very pebbly sand.
"You will see some shots out of bunkers this week, which won't have any spin due to the coarse fine gravel type sand," he wrote. "You get tiny stones between ball and clubface making it super inconsistent. Bunkers to be avoided at all cost. Even more so if you short side yourself."
He also posted a photo of a clearly scuffed clubface, apparently the aftermath of one of those pebbles getting squished between a clubface and a golf ball.
We were warned, yes, but it was still rather jarring to see Tiger Woods send a pretty standard bunker shot on the par-4 fourth—53 feet from the hole with plenty of green to work with—clean over the green. He caught another one way too clean from a decent spot on the par-3 eighth, leading to another bogey.
"All the bunker shots sort of came out hot—the sand is a lot faster than I thought it would be," Woods said after a four-over 74. The sand, however, is the same he faced when he won the 2007 PGA Championship here.
"It's kind of been that way all week, especially if you get up in the areas where it's not raked. I had a couple of those balls where it was in those areas. It's like, 'Is there a lot of sand here, is there not, how should I play it?'"
All of Southern Hills' bunkers have been renovated since the course held the 2007 PGA, which Woods won. The saucer-like, Augusta-esque bunkers have been replaced with sprawling old-school traps whose shape almost resemble a blob of slime. The outline and look of the bunkers' exterior is different, but the interiors of them have not been changeed.
"When we did the project with Gil [Hanse] and Jim Wagner, we actually took the sand out out and washed it to get the dirt out of it basically," says Cary Cozby, Southern Hills' director of golf. "And we've worked hard to make sure there were no plugged lies—we get the sand really firm in the face so the ball doesn't plug. There weren't any plugged lies on Thursday, and there won't be any on Friday."
Matt Fitzpatrick knew he was in for a different test this week early on and tweaked his gear accordingly.
"I didn't feel like there was a lot of sand in the bunkers," he said after a 68. "Obviously, you miss a green, there's not really any rough to speak of. It's more all fairways. I changed wedges this week and put in much lower bounce, and I figured with the way the sand was, that kind of also helps because it's pretty firm."
Justin Thomas couldn't get comfortable in the sand on Thursday but still managed a three-under 67.
"It's definitely the most challenging sand I've ever played in. First off, it's not very consistent. Like, on 8 today, I told Bones [caddie Jim Mackay] it was wild, like my left foot when I was kind of digging in, it was like a little bare. And then my right foot was pretty good, like normal, and under my ball was like hitting off this," he said, pointing at the lectern he was standing on.
"Some of them have no sand; some of them are good sand, whatever it is. But then when you do, it's very pebbly, and sometimes you can kind of get them between the face and the ball and just see them shoot up and off-line. I'm sure you've seen from watching the coverage, it's really difficult to get spin, basically impossible. Some of those bunker shots that are generally pretty easy or guaranteed up-and-downs definitely is not the case this week."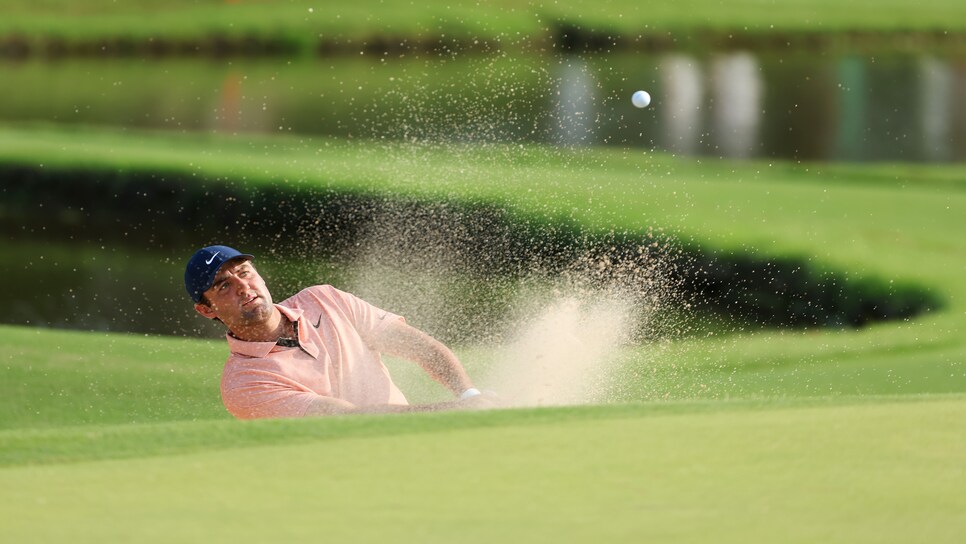 Scottie Schefflerplays a shot from a bunker on the 16th hole.
Christian Petersen
The pebbles aren't just impacting bunker shots; they shoot out onto greens, forcing players to be extra diligent in clearing out their lines to avoid any of those dreaded bounces.
"There are definitely some pebbles in there," said World No. 1 Scottie Scheffler, who shot 71 and was just 1-for-3 in sand saves. "I think where you see most of them is when people are hitting it out of the bunker and they end up on the green."
Cozby said there's a Southern Hills staff member standing ready next to every green ready to blow the pebbles off the green if they are requested to do so.
Scheffler continued: "Bunkers aren't supposed to be that easy to play out of. It's frustrating for sure to get in there and have a pebble kind of shoot your ball off-line, something you can't see. I shouldn't be in too many bunkers, and I put myself in I guess three of them today, which is definitely not a place I want to be."
Bunkers aren't supposed to be that easy to play out of. It seems as if the world's best golfer knows there's a surefire way to avoid the uncertainty and inconsistency of the sand this week: simply don't hit it there.
MORE PGA CHAMPIONSHIP COVERAGE FROM GOLF DIGEST