Viewer's Guide
PGA Championship 2022: How to watch the PGA Championship at Southern Hills on television and streaming online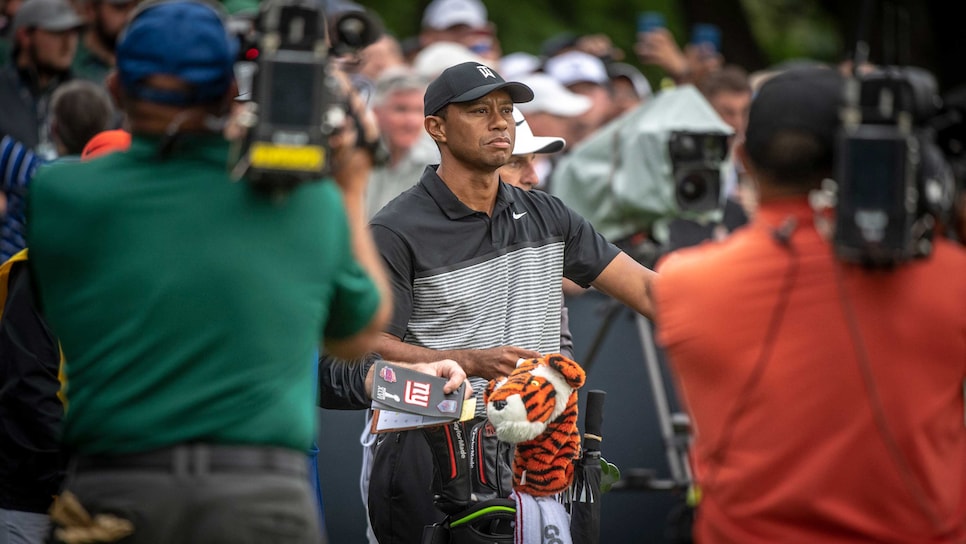 Rest up golf fans. You've got a lot of viewing ahead of you this week.
For a third straight year, the PGA Championship will feature wire-to-wire 72-hole coverage via CBS Sports, ESPN, ESPN+ and Paramount+. And according to the PGA of America, there will be nearly 250 hours of live coverage across all its broadcast, cable and digital assets as part of the third year of their 11-year media rights deal.
No, that's not a typo. That's actually more hours of live coverage than there are actual hours from Thursday to Sunday, when the major is played at Southern Hills Country Club in Tulsa, Okla.
Fans can get their golf fix through traditional and high-tech means. For those who like watching their golf on the TV, ESPN and CBS Sports have you covered. You will be able to see "broadcast" coverage from 2-8 p.m. EDT Thursday and Friday and 10 a.m. to 7 p.m. on Saturday and Sunday.
Outside the traditional broadcast windows, ESPN+ will have you covered not only from the first tee shot to the last putt on Thursday and Friday, but with exclusive featured-group and featured-hole presentations all four days. All told, ESPN and ESPN+ will present more than 230 hours of live play during the four days.
As is the case for ESPN and ESPN+, CBS' broadcast coverage will be streaming live on Paramount+.
Beyond the traditional TV coverage, ESPN is also debuting a golf version of its successful "Manningcast" from its Monday Night Football offering. Joe Buck, making his ESPN debut, will join Michael Collins all four days of the championship for on-going commentary and conversation. Among the scheduled guests are Peyton and Eli Manning, Troy Aikman, Josh Allen, Charles Barkley, Fred Couples, Jon Hamm and Doris Burke, with more guests to be announced.
Here's a breakdown of all coverage
Television and Digital Schedule (all times EDT)
First-round primary coverage:
8 a.m.-2 p.m., ESPN+ (streaming)
2 p.m.-8 p.m., ESPN (streaming on ESPN+)
8 p.m.-conclusion, ESPN+ (streaming)
9 a.m.-8 p.m., Featured Groups (four different pairings each morning and afternoon), ESPN+
9:30 a.m.-8 p.m., Featured Holes—16th, 17th, 18th, ESPN+
1-5 p.m., Alternative Telecast (Joe Buck/Michael Collins), ESPN/ESPN2
Second-round primary coverage:
8 a.m.-2 p.m., ESPN+ (streaming)
2 p.m.-8 p.m., ESPN (streaming on ESPN+)
8 p.m.-conclusion, ESPN+ (streaming)
9 a.m.-8 p.m., Featured Groups (four different pairings each morning and afternoon), ESPN+
9:30 a.m.-8 p.m., Featured Holes—16th, 17th, 18th, ESPN+
1-5 p.m., Alternative Telecast (Joe Buck/Michael Collins), ESPN/ESPN2
Third-round primary coverage:
8-10 a.m., ESPN+ (streaming)
10 a.m.-1 p.m., ESPN (streaming on ESPN+)
1-7 p.m. EDT, CBS (streaming on Paramount+)
8 a.m.-7 p.m., Featured Groups (multiple pairings), ESPN+
9 a.m.-1 p.m., Alternative Telecast (Joe Buck/Michael Collins), ESPN/ESPN+
12 noon-7 p.m., Featured Holes—15th, 16th, 17th, ESPN+
Final-round primary coverage
8-10 a.m., ESPN+ (streaming)
10 a.m.-1 p.m., ESPN (streaming on ESPN+)
1-7 p.m. EDT, CBS (streaming on Paramount+)
8 a.m.-7 p.m., Featured Groups (multiple pairings), ESPN+
9 a.m.-1 p.m., Alternative Telecast (Joe Buck/Michael Collins), ESPN/ESPN+
12 noon-7 p.m., Featured Holes—15th, 16th, 17th, ESPN+