In retrospect
'Nothing short of amazing': An oral history of Phil Mickelson's improbable 2021 PGA Championship win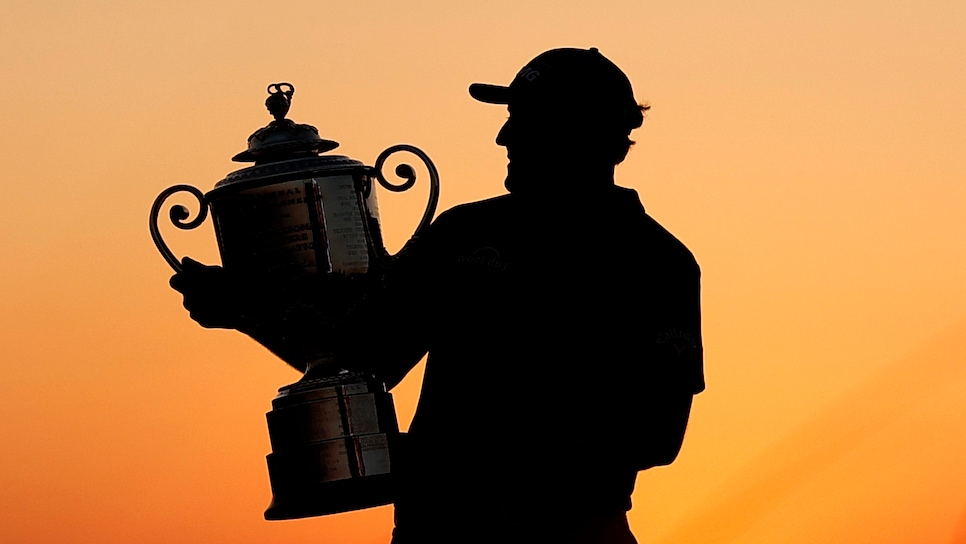 Photo By: Maddie Meyer/PGA of America
As the 104th PGA Championship at Southern Hills in Tulsa, Okla., approaches, the weight of the world is on top of Phil Mickelson. The reversal of his fortunes and the swift despoiling of his reputation are as stunning as the improbable triumph he orchestrated in South Carolina last May. Because of his dabblings in the LIV Golf series, a serious rival to the PGA Tour financed by Saudi Arabia, and a series of controversial comments about the PGA Tour and Saudi Arabian interests in the upstart circuit, Mickelson has become something of a pariah in the game in which he has long been a leader.
Contrast that to 12 months ago, when Mickelson came out of nowhere to capture his second PGA Championship title and his sixth major just a month before his 51st birthday. He smashed the record for oldest major winner that the late Julius Boros had held since he won the 1968 PGA Championship at age 48.
"Certainly, one of the moments I'll cherish my entire life," Mickelson said in the aftermath. "I don't know how to describe the feeling of excitement and fulfillment and accomplishment to do something when—you know, of this magnitude—when very few people thought that I could."
Winner of the 2005 PGA, Mickelson arrived at Kiawah Island ranked 115th in the world and hadn't had a top-10 finish on the PGA Tour in his previous 17 starts. The cagey left-hander, who joined the PGA Tour Champions in 2020 and enjoyed immediate success with wins in his first two starts, hadn't finished in the top 10 in a major championship since the 2016 Open Championship at Royal Troon, where he was runner-up to Henrik Stenson.
Somehow, he summoned enough shot-making, guile and nerves at Kiawah to record a two-stroke victory over Brooks Koepka and Louis Oosthuizen. Mickelson, who held at least a share of the lead the last three days, posted rounds of 70-69-70-73 to finish at six-under 282. It was a wildly popular victory authored by one of the game's most beloved players, a crowning achievement in a career that includes 45 PGA Tour wins, tied for eighth all-time with Walter Hagen.
Because of his stature in the game and his status as one of top personalities in all of sports, Mickelson was celebrated far and wide for his unlikely victory. Social media exploded with reactions, most notably from sports stars, including Tom Brady, Steph Curry and even from Lefty's longtime rival Tiger Woods. Mickelson himself never wasted a moment issuing reminders, subtle and otherwise, that he was owner of the Wanamaker Trophy. He was on top of the world—not just the golf world.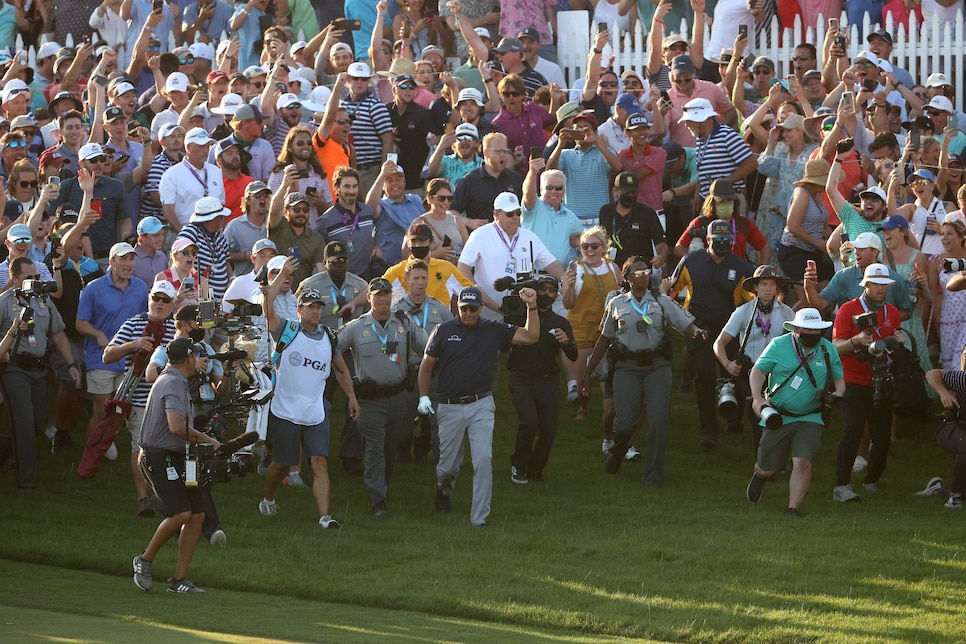 Phil Mickelson ermerges from a crowd of fans on the 18th hole in the final round.
Patrick Smith
Mickelson has been accommodating in the past in offering his insights into and reflecting on other past major championships—notably, tough losses in the 2004 and '06 U.S. Opens and the 2016 Open Championship. The California native had agreed to an in-depth interview with Golf Digest to discuss his historic victory at Kiawah Island, but that was just days before his controversial comments about the Saudi-backed golf entity were published. After that, he did not respond to repeated follow-up inquiries, and he has not made any public comments, except for releasing an apology on social media for the aforementioned remarks.
The following is a compilation of observations from fellow players and others about Mickelson's PGA Championship performance of a year ago, observations that augment the undeniable sentiment that the events that unfolded at Kiawah Island in the spring of 2021 possessed a mystical, magical quality.
Two weeks before the PGA Championship, in the Wells Fargo at Quail Hollow, Stewart Cink, who won two PGA Tour events at age 47, played with Mickelson, who was a month shy of turning 51.
Cink: "We were paired together in Charlotte, and he was asking me about how I've experienced the changes in getting older—what, if anything, I've noticed about how I'm different, and if I've done anything about it. We just kinda talked about it for a whole hole—what have I noticed? What did I do about it?
"I just told him that the biggest thing for me since I've been in my forties has been the ability to intensely focus. I just feel like I'm a little bit more susceptible to distractions and that my focus is just wavering if my scores aren't that great. He was very attentive to what I was saying, and, I mean, it must've stuck somehow. Cause he was very intent when he was at Kiawah about not hitting the shot until he was kind of dialed into it.
"We also discussed practice and schedule-making a bit. I think it's natural for players that get older, you've got other things in your life that you really start to care about and take more attention, and the next shot on the course doesn't feel like it means more to you as it once did back in your twenties or even thirties. And I think when that happens, it's really easy to lose your focus. Phil obviously did a great job of staying with every shot at the PGA. He made the shots matter."
Xander Schauffele has played many money games with Mickelson around San Diego and continued to do so leading up to the PGA.
Schauffele: "I think I got a real good feel for Phil when we played a lot. He's just an unbelievable human when it comes to his playfulness and his persistency. Man, I beat him down during COVID. He was open about it. He admitted all of that. I was playing really well, and he wasn't. Whether I pushed him to try to work harder … he was pretty open about saying he was always trying to learn, which I thought was pretty special for a guy of his stature and his ability and how long he's been out there."
Schauffele said he saw a change in Mickelson's game in the buildup to the second major of the season.

Schauffele: "He was struggling. I don't know if it was denial, or if he was struggling and working through something, He started working with [coach] Derek [Uyeda] on his putting a little bit. Getto [Mickelson's swing coach Andrew Getson] was with him every week he was out. They were together at all times and figuring out his tendencies. He put the 2-wood into play and started playing better; then his self-belief caught on. Hodgepodge all that together, and there you go—Phil's got his sixth major."
Uyeda, who is based at the Grand Del Mar in San Diego, works on putting with Schauffele and other tour players. He started working with Mickelson in the months before the PGA.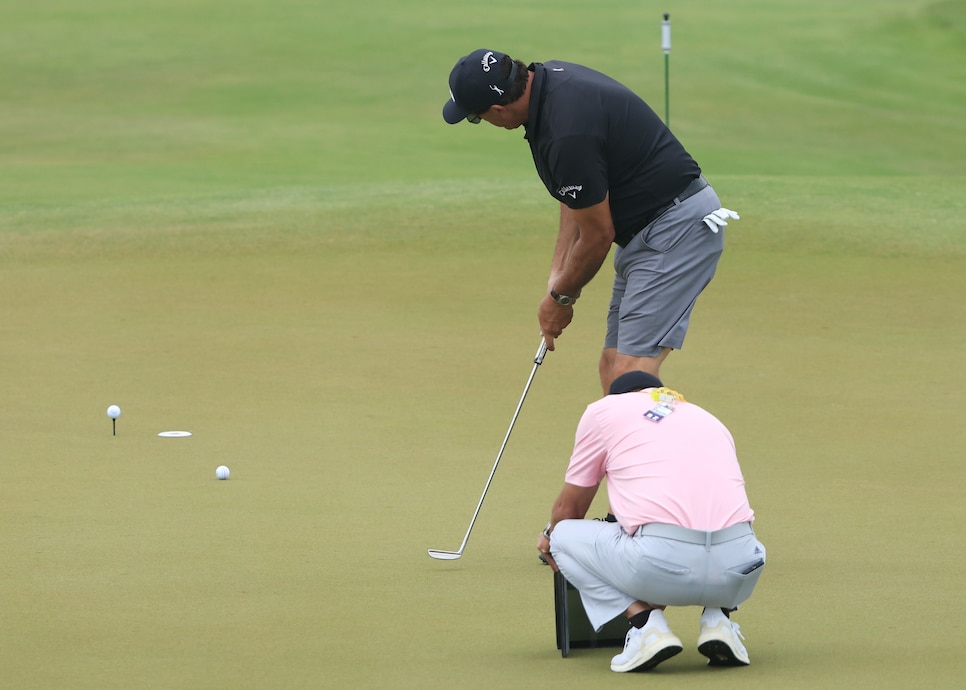 Phil Mickelson works with putting coach Derek Uyeda early in the week of the PGA.
Sam Greenwood
Uyeda: "We did a lot of work on the launch of his golf ball and the acceleration of his putting stroke. We used a machine called Quintic, which, in the wrong hands, can be pretty dangerous because there are a lot of metrics that you can take a look at. And Phil loves that stuff. But we kept it super, super simple. We made sure he was launching the ball correctly and making sure that the ball was coming off at the proper smash factor—or impact ratio. We did some green-reading work at his house.
For the tournament, Mickelson successfully made 64 of 66 putts from seven feet or closer.
Uyeda: "The biggest thing was that week [at Kiawah] was really windy. Normally, with my guys, the range we want to putt good from is 10 feet and in. But it was so windy that week and the balls were getting blown around a lot, I told Phil that if we could just putt well from six feet and in, we're going to have a good week. And he actually mentioned that on TV."
On the 17th hole on Sunday, Mickelson boldly used the claw grip for the only time in the tournament—a move unrecognized by many—in successfully making a shorter par putt to retain the lead with one hole to play.
Uyeda: "So he knows he can launch the ball higher when he does the claw. So, for one putt the entire week, he went claw on 17, because he said his ball was sitting in a little depression. I don't think a lot of people noticed that. This guy is so good that it doesn't matter what the situation is, he'll do what he needs to get it done.
"He's a genius golfer. It's crazy. To have the balls to do that—he's literally a different guy. Nobody else is going to do that. But he knew from all the research we did on the launch machine—if I need to launch it out of a depression so that it doesn't bounce off-line, I know how to do it. And so, he did it. I couldn't believe it when I saw it. He's going to the claw! It was pretty cool."
Steve Stricker, the 2021 U.S. Ryder Cup captain who tabbed Mickelson as a vice captain for Whistling Straits, played a practice round with Phil at Kiawah.
Stricker: "We played [a match] that Monday or Tuesday against Zach [Johnson] and Will Zalatoris, and we were both playing pretty well. Phil was hitting it great. We won, like, four of the first five holes, and typical Phil, he turns to me and says, 'Geez Strick, I thought we'd be winning by more by now. We're just two 50-something guys killing it.' You just have to shake your head at the stuff he says. It was fun to be with him.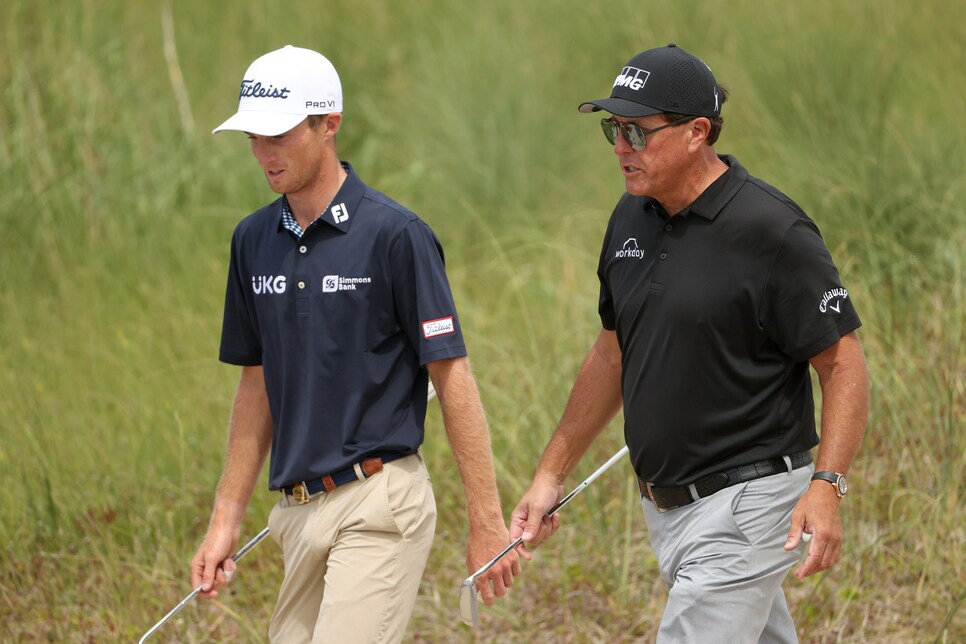 Phil Mickelson walks and talks with Will Zalatoris during their practide round for the PGA.
Patrick Smith
"But, you know, practice rounds are one thing, and the tournament is another, and so I didn't give much thought, really, to whether or not Phil could win. That's not to say I didn't think he was capable, but I just wasn't thinking about it.
"Then he goes out and he keeps hanging in there, and he has the lead and isn't going away, and I recognized that was the same Phil who was playing well in the practice round. That's when I first thought he could win, was that last day, because I knew how he had been hitting it and, well, it's Phil. He knew what to do being in the hunt."
Jason Day, the 2015 PGA champ, was grouped in the first two competitive rounds with Mickelson and Padraig Harrington, winner of the 2008 PGA. Mickelson opened with a 70 and backed that up with a 69 to share the lead at five under with Oosthuizen.
Day: "I just noticed that during his normal tournaments, [Mickelson] was walking around and you could tell that he wasn't just quite 100-percent comfortable with himself. And then during that week, I could just tell something kind of flipped in him. Everything was more slow. Everything was more deliberate. I actually talked to my caddie about that. I said he was taking a lot longer than what he usually does. And he just looked a lot more focused. And then he kind of just went through the first two rounds. I missed the cut. Watching him on the weekend as the tournament went on, it was very much the same; he just kind of took advantage of everything."
Day watched Mickelson and thought he wasn't overswinging. Using his 2-wood on numerous holes, Mickelson hit 55 percent of Kiawah's fairways, or a smidge better than his 54-percent average for the entire season. His average drives for the PGA (299 yards) were only two yards shorter than his mark for the year. He reached 63 percent of the greens in regulation—almost exactly his number for the season.
Day: "He didn't hit a lot of balls that were off the planet. You know what I mean? So, he kept it out in front of himself and he was able to score better that way. And he pretty much did that the whole week. I know that Phil likes to hit his so-called 'bombs.' But for me, personally, if I was telling him something, and sometimes it's hard to tell Phil something because he's got a little bit of an ego when it comes to golf. … But it would be 'Stop trying to hit it as far.' He still gets it out there pretty good, but take a little something off and hit it on the fairway. He just needed to give himself more opportunities. Which is what he did all week."
Harrington, 50, with three major wins, has long enjoyed playing with Mickelson and the rapport they have, and the Irishman felt like the friendly grouping helped both of them. He would end up tying for fourth.
Harrington: "[Mickelson] was overpowered through six, seven holes [at three over par] and struggling [in the first round]. And then he had a bad tee shot on 10 and got away with it, and then made birdie from it. And he never looked back. He played great after that. … That's what happens in golf. You get a little break here and there, and you hit a shot that you feel good about, and then he was right in it from there on.
"Look, he plays such a high-risk game. He knows, or he feels anyway, that he has to bring his A-plus game to win. And he goes for his A-plus game on every shot. And that's just the way he is. If it doesn't work out, so be it; he's not interested in not winning."
Brooks Koepka, who won back-to-back PGA titles in 2018-19, played alongside Mickelson in the final round and ended up finishing T-2 after a closing 74. Here's what he said in the immediate aftermath.
Koepka: "The thing was, Phil played great. That whole stretch when we turned after 4 and 5 and played those holes, [the wind] it's into off the left for me and that's quite difficult for a right-handed player. And it suited Phil right down to the ground, and I thought he played that entire stretch from about 6 to 13 so well. So, you know, I'm happy for him, Amy and Tim [Phil's brother and caddie]. It's pretty cool to see, but a bit disappointed in myself."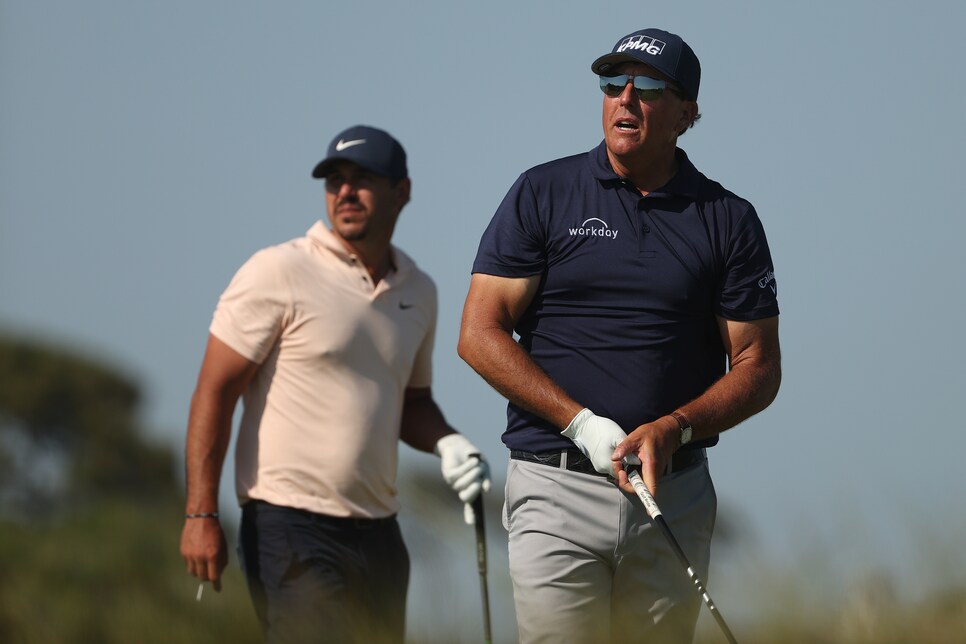 Phil Mickelson and Brooks Koepka watch Mickelson's shot on the 11th hole during the final round.
Patrick Smith
Scott Verplank, a winner of five PGA Tour titles, was working for CBS/ESPN on its bonus coverage and followed Mickelson all four rounds. He could not believe what he was seeing.

Verplank: "Last year I did that featured group on ESPN, and I had him every day, and it was nothing short of amazing. And that was awesome for me because I saw every shot. It was very amazing. He played very unlike himself, at least what he had been doing recently. He wasn't wild."
Schauffele contends he wasn't shocked when Mickelson pulled off the win.
Schauffele: "Everyone is surprised when Phil does something crazy—but not really, because his self-belief is his biggest strength and his biggest attribute. And you need as much self-belief as possible when you're trying to win big tournaments. And man, does he have it."
A fellow lefty, Steve Flesch, who is 54 and a regular on the Champions Tour, contemplated the far-reaching impact of Mickelson's win.
Flesch: "Selfishly, I think a lot of people at our [PGA Tour Champions] were looking forward to him playing, 'cause it helps give us a little more identity. People will tune in to watch the Champions if Ernie Els is playing or Freddy [Couples], and Phil is on that list of players people want to watch.
"You look at his level of play, but it's his belief that he can still compete and win out there at that level that's mind blowing. I mean, it's not like he won Hartford. No disrespect to Hartford at all, but to win the PGA Championship was something else. And we were all happy for him.
"But at the same time I think we all were a little disappointed. That sounds really terrible, but we want eyeballs on our tour, and he brings eyeballs. He still might play a few out here, but why would he play a lot of senior golf when he's in every major for another five years?"
Ernie Els, 52, who's won two U.S. Opens and two Open Championships, captured his most recent major victory at age 37 and marveled at Mickelson's accomplishment.
Els: "I've played against Phil for so many years now, and I have to say that winning that PGA was about the most incredible thing he's done. Those of us around 50 still think we can win against the young guys, and maybe still win a major with our experience. But he actually went out there and did it, and you have to tip your cap to him."
Though Stricker and Mickelson talked little about the upcoming Ryder Cup during the PGA week, they spoke soon after about Whistling Straits and Mickelson's role there.
Stricker: "I called him to talk about where he was as far as being an assistant if he didn't make the team as a player. I told him I'd love to have him as a player, especially after he won, and he said to me, 'I need to show you something more.' And I told him that I agreed. He already was thinking that to be on the team he needed to show some consistency, and we agreed on that. So, he knew that one tournament, even though it was the PGA, wasn't going to be enough to get him on the team."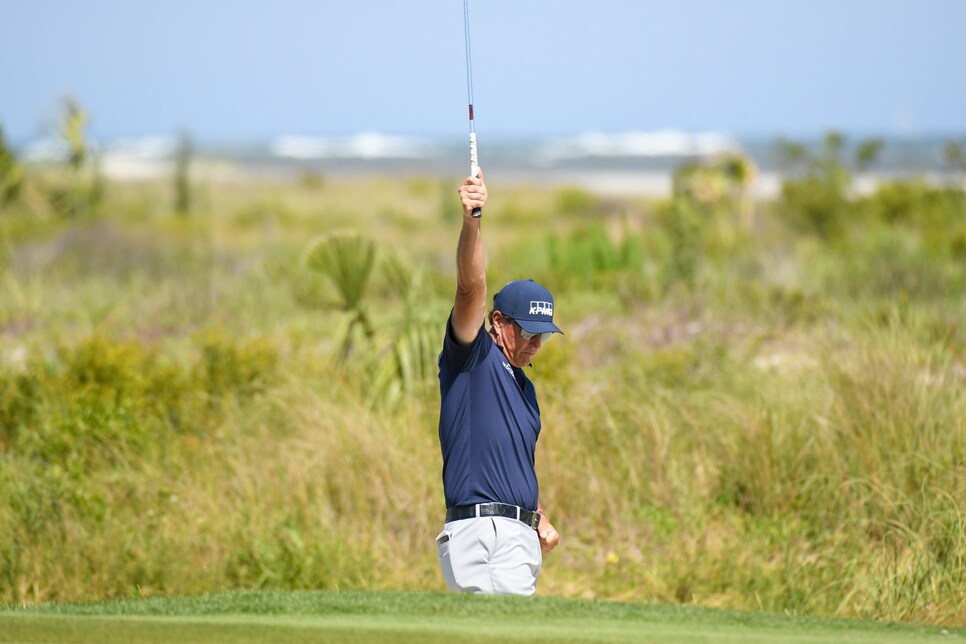 Phil Mickelson celebrates holing ot a bunker shot on the fifth hole during the final round.
Montana Pritchard/PGA of America
Three months after Mickelson captured the PGA, Schauffele won the gold medal at the Olympics in Japan. After Xander's triumph, he and Mickelson got together for a round in San Diego, and there was Phil, with a surprise.
Schauffele: "He brought his [Wanamaker] trophy out. It was bungie-tied to his cart. He was hoping I was going to bring my gold medal out and we could talk some smack. Back to classic Phil. I told him the gold medal was a few weeks in the past and I was trying to move forward. [Laughs]. He thought that was pretty funny."