Bad Breaks
PGA Championship 2022: (Not) too short to fail—Why pros miss gimmie putts
Karl Kimball is currently the head professional at Hillandale Golf Course in Durham, N.C., but in 1991 he was on the PGA Tour and playing in the Greater Greensboro Open at Forest Oaks Country Club. One of his playing partners during the second round of that tournament was Sean Murphy, a young player out of Iowa.
"It's the 36th hole," Kimball remembered, "and Sean on the last hole had a putt of about four inches to make the cut. And he left it two inches short."
"Oh yeah. I'm not exaggerating. If he knocks in the four-incher, he makes the cut on the number. He went home."
There is no Shotlink data from that time, much less video, but all the available details back up Kimball's memory: Murphy shot 72-73, the cut was at 144, and he bogeyed the final hole on Friday. Which leaves us with a question: How does this happen?
Four inches is the extreme end of things, but every once in a while, we see a tour player miss a putt that looks simply unmissable. It makes very little sense, but it happens often enough that you can debate whether to call it "rare." Stats guru Lou Stagner recently noted on Twitter that from 2004 to 2021, there were 95,020 putts attempted on the PGA Tour from 18 inches. Of those, 192 of those were missed. That's roughly one in every 495 attempts.
Because such misses are so unusual, they are magnified when they do happen. That certainly was the case this spring when Jordan Spieth missed a series of gimmes, culminating at the RBC Heritage at Hilton Head with this shocking error on Saturday:
Jim Nantz's cry–"oh no!"—and Spieth's look of total befuddlement—said it all.
"I was about as upset after the round yesterday as I've ever been in a golf tournament," Spieth said the next day. "There's just no excuse for those kind of brain farts as a professional to myself, but also to Michael [Greller, Spieth's caddie], who's working his butt off, to go out there and do that that could potentially affect the outcome of a tournament. And I've done that a number of times on this stretch in the last four weeks."
The aftermath for Spieth was as good as he could have hoped for—he gathered himself and won the tournament on Sunday in a playoff over Patrick Cantlay. For Murphy, and many others like him, the outcome is significantly worse.
Stewart Cink had one of the more agonizing misses in men's professional golf, and it came in 2001 at Southern Hills, where the PGA Championship will be staged next week. For causal golf fans, Cink's short miss stands out a one of the signature moments associated with the Tulsa, Okla., course.
Back 21 years ago, Southern Hills was hosting the U.S. Open, and Cink thought he was out of the tournament after he missed a par putt on the 18th hole in the final round. Retief Goosen needed to two-putt from 12 feet to claim the outright win. In an attempt to clear the way, Cink missed his 18-inch bogey putt, and as fate would have it, Goosen three-putted—missing a short one of his own for the outright victory. Had Cink made his bogey, he would have been in a playoff along with Goosen and Mark Brooks rather than going home (Goosen beat Brooks the next day). Watch it at the 49:50 mark here:
"Golf has a way of applying a little bit of shame if you miss a short putt or flub a chip or hit one [out of bounds]," Cink said years later. "Shame is a part of golf."
On the women's side, the most notorious recent miss belongs to I.K. Kim, who at the 2012 Kraft Nabisco Championship failed to hole an achingly short putt for the outright win on the 72nd hole and went on to lose the title in a playoff:
Kim admitted that the putt "haunted" her. Interestingly, though, both Kim and Cink managed to win a major championship later in their careers, proving that such a miss is not a death sentence.
As to why it happens, we have to distinguish between two types of missed short putts. The first is "the tap-in," a category to which Spieth's missed putt belongs, and likely Cink's too. These are less about succumbing to nerves and more about a momentary lapse in concentration.
Pia Nilsson, a Golf Digest Top 50 teacher and co-founder of the Vision54 school in Arizona, has coached countless female and male golfers on the pro tours, including multiple major winners and No. 1-ranked players. To her, the rushed gimme is easy to overcome.
"One thing we see often with players is that they're annoyed with the last putt that they just missed," she said, "and they go up and they just hit because they think they can't miss it."
In these scenarios, Nilsson has seen players recover instantly, and she's also seen them affected for a few holes afterward. In general, though, the effects don't last long, because the miss isn't very personal. It's not like they choked; they just lost focus.
Dr. Mo Pickens, a sports psychologist who also has worked with major winners and who operates out of the PGA Tour hotbed of Sea Island, Ga., agrees, and even used the same terminology Spieth used.
"Those are easy to get over," Pickens said. "Nobody thinks they crumbled in that moment, they just think, 'Oh, it was a brain fart.' It's just somebody who's in a rush, most of the time he's not in his normal posture, and I don't know that there's a ton that's mental going on other than some overconfidence, and you don't pay attention."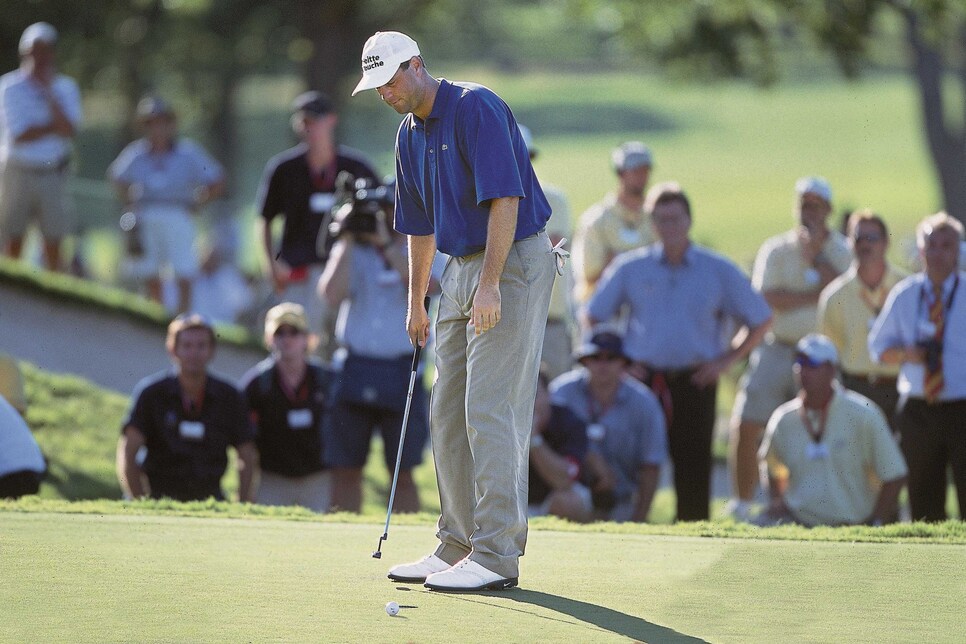 Cink, having burned the edge with what he thought was the more important par putt on the last hole of the 2001 U.S. Open at Southern Hills, didn't think missing the short bogey putt would matter.
Jim Gund
The short missed putt under pressure, on the other hand, is an entirely different animal. In those cases, the player has given the shot his or her full attention, and a miss in those circumstances can have lingering effects.
"Normally what you hear on TV is 'that guy blocked it' or some other physical explanation," Pickens said. "But the physical stroke is merely the symptom. The real root cause is either fear or lack of trust or you're thinking about the consequences of missing it or making it versus being focused on the process of executing it."
Once it happens, it becomes easy to dwell on and—to use Kim's word—let it haunt you. According to Nilsson, the first part of the recovery process is short-circuiting that mental replay.
"When we store it as memory, we relive the emotions of missing it," she said, "and that's going to pop up next time they have a similar putt."
The next step is to diagnose the problem. Did they do something different from their normal routine? Kim came to Nilsson and her team some time after her miss at the Kraft Nabisco. What she told them was that she felt doubts in her head about the putt, that she felt she could miss it right. But she ignored those doubts because she thought it best to go through her normal routine. In that case, she should have paid attention to her doubts. In other cases, players might have rushed, or taken too long, or any other number of mistakes.
Ultimately, it's critical to stop the obsessive part of re-living the putt, Nilsson says, because there is no changing the past. In the future, though, both she and Pickens advocated for a sort of back-up plan in situations of high pressure. In other words, sometimes the normal routine won't cut it. The "pressure plan" can look different for every player, from something as simple as focusing extra hard on maintaining a constant grip pressure to more abstract techniques like visualizing the putt falling in the hole, humming a song, imagining a rhythmic clock ticking to the rhythm of the putter's stroke or having a kind of inner dialogue mantra like "down the line."
"It's not a matter of blanking your mind," Pickens said. "It's a matter of managing your mind."
Collin Morikawa missed a three-footer in 2020 to extend a playoff at the Charles Schwab Challenge at Colonial just after the PGA Tour season resumed from the COVID shutdown. It can be easy to forget that excruciating moment now since Morikawa has gone on to win two majors with tremendous clutch play. But when reviewing the putt, he still gets chills—and admits that it still hurts.
"They're tough, they're hard to swallow," he told Golf Digest. "But at the end of the day, you can't do anything about it, and you can't dwell on the past. Does it make you think about the short ones a little more? Maybe, but that just means you'll give it your full attention."
What's remarkable about Morikawa is how quickly he recovered, and that's almost completely down to a quality that Pickens described as honesty with yourself.
"It's about professional assessment," Pickens said. "A true professional who can assess what's really gone on. Was this physical, was this mental, is there something else to it? Most young kids, if we can pick on them, will immediately blame the stroke ... it's a huge, huge skill, the ability to really get down to the root cause and quit blaming other stuff."
Morikawa is young (just 25), but he immediately asked himself "What did I do wrong here? How do I get better?" Because he was secure enough to endure that hardship and take an honest self-assessment without worrying about whether he was a choker, or becoming defensive about his own mental state, he moved past it and thrived.
That path is available to everyone, from Cink to Kim, because the truth about missing an agonizing short putt is the same truth that applies in many walks of life: It's not about what happened, it's about how you respond.