PGA Championship
PGA Championship 2022: An on-fire McIlroy, an out-of-sorts Spieth and nine other surprises from Thursday at Southern Hills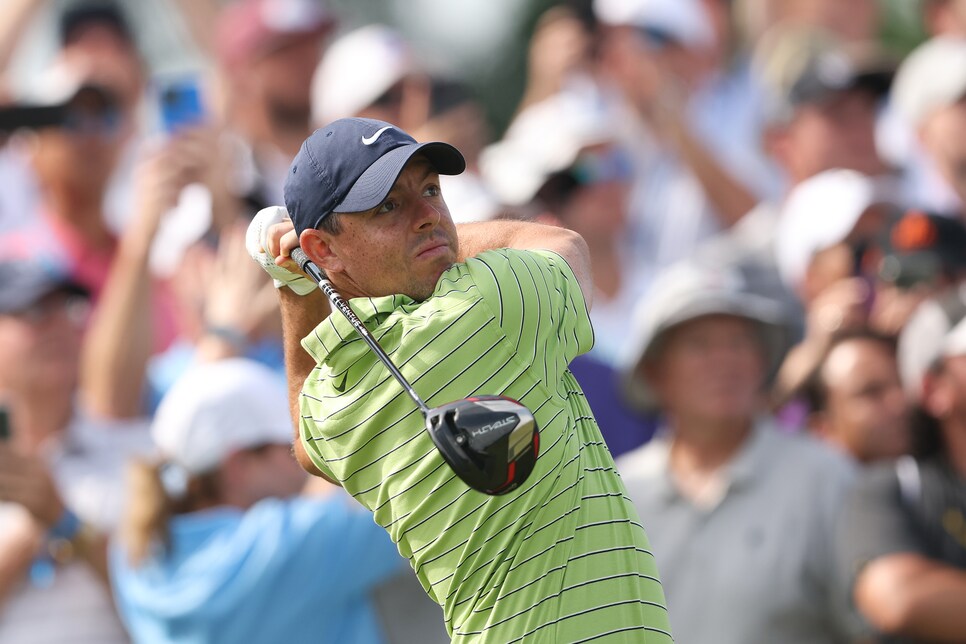 Rory McIlroy plays his shot from the 16th tee during the first round of the 2022 PGA Championship.
Ezra Shaw
TULSA — There was an eerie quiet late Thursday at Southern Hills Country Club. The afternoon wave at the 104th PGA Championship was playing in 90-degree heat that felt even hotter, but they weren't playing in front of a whole lot of people. By the time the supergroup of Rory McIlroy, Tiger Woods and Jordan Spieth had finished up their morning-wave rounds, spectators seemed to say "Catch you later" knowing there were three more days of more fan-friendly conditions coming.
Yet even if the first-round landed with a bit of a whimper, it wasn't without drama and intrigue. McIlroy ended his infamous first-round major slump by shooting 65; can he keep the momentum going? Tiger hobbled to an opening-round 74; can Tiger bounce back? More difficult conditions in the afternoon meant for tougher scoring; are those from the Thursday afternoon wave victims of the bad side of the draw?
With that, here are the 11 biggest surprises from Thursday at the PGA Championship.
Southern Hills was gettable …
There are rarely course set-up issues with this championship. No integrity of par nonsense or circling a winning score aspiration and doing whatever it takes to get there. The PGA of America officials see what the course gives them and goes with it. They let Bethpage be a beast, allowed the nuances of TPC Harding Park to speak for themselves, were fine with the field burning Bellerive to the ground. Thursday that meant letting the slopes, not the speed, be the greens' defenses at Southern Hills, and the set-up accounted for strong winds in the afternoon forecast with pin placements that erred on the side of caution. The upshot of these decisions made the course was somewhat vulnerable in the morning as the winds decided to sleep in. Needless to say, they should consider themselves lucky; it might not get any easier over the next two days.
… until the afternoon that is
Whether it was the heat (ehhh) or the wind (almost definitely), we saw a big disparity in performances between the morning and afternoon waves. According to Data Golf, that disparity was a difference of more than a full stroke, and you don't have to get too deep into the numbers to see the results. A look at the top 20 shows a full 16 players from the morning wave, and just four—Lucas Herbert, Justin Thomas, Matt Fitzpatrick and Patton Kizzire—from the afternoon. Those lucky players will all start in the afternoon wave on Friday, and while the concept of switching is to theoretically balance the breaks they get from mother nature, we know that Mother Nature doesn't always cooperate. The Friday forecast indicates that the afternoon-morning side of the draw is about to get doubly stiffed—winds gusting to 20 mph in the morning will give way to calmer conditions in the afternoon, and late rain may soften the greens for the afternoon wave. So if you're looking for justice here, look elsewhere.
Tiger looked gassed and hobbled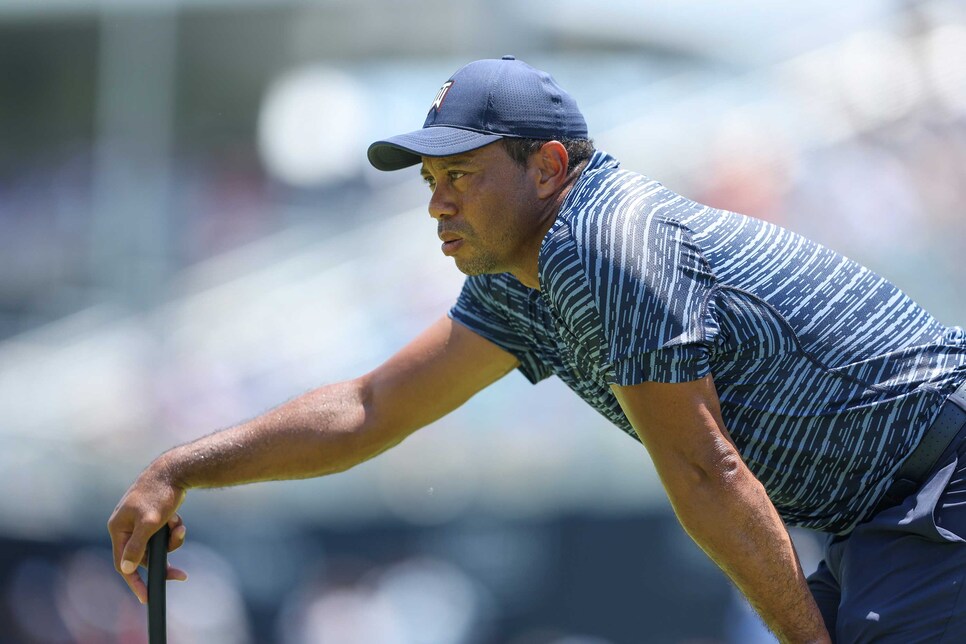 Look, we get it. Everyone is happy Tiger Woods is back, and as an extension, wants him to be "BACK." But sometimes that collective desire obscures the obvious, so we say this with our respect to those in attendance at Southern Hills—anyone who thinks Woods looked physically fine Thursday morning is guilty of selective perception. There were instances when he did look OK, where his gait had vitality and purpose and his swing was compact and smooth. There were plenty of other times, however, where he looked very much like the man who had experienced the things he's experienced over the past 15 months. Which is fine! That he's even here is a miracle. But, physically speaking, Thursday was a reminder this is still a Woods in the recovery process.
If hell is real it will feel like Tulsa
The fine folks who call Tulsa home are tougher than you, because anyone who willingly sets up shop in this overheated toaster has an inner fortitude that we will never know. We heard the horror stories from the 2007 PGA, but that was August; certainly, May would bring tamer conditions. Technically we were correct, but tame in Tulsa still feels like running on a treadmill in three wool sweaters while shooting back shots of Tabasco.
All right, we should have already known this, but he did stumble down the stretch at the Players Championship (and got real lucky with that Sunday shot at 17) and fell apart on the final nine at the Masters. So when Smith opened with a two-over front that included two bogeys and a double we assumed the Aussie was heading for a quick out. Instead Smith answered, and answered with vigor, making five birdies over his first seven holes to catapult near the lead with a 68. A long, long way to go, but credit Smith for keeping his tournament from going sideways.
Spieth Slam will have to wait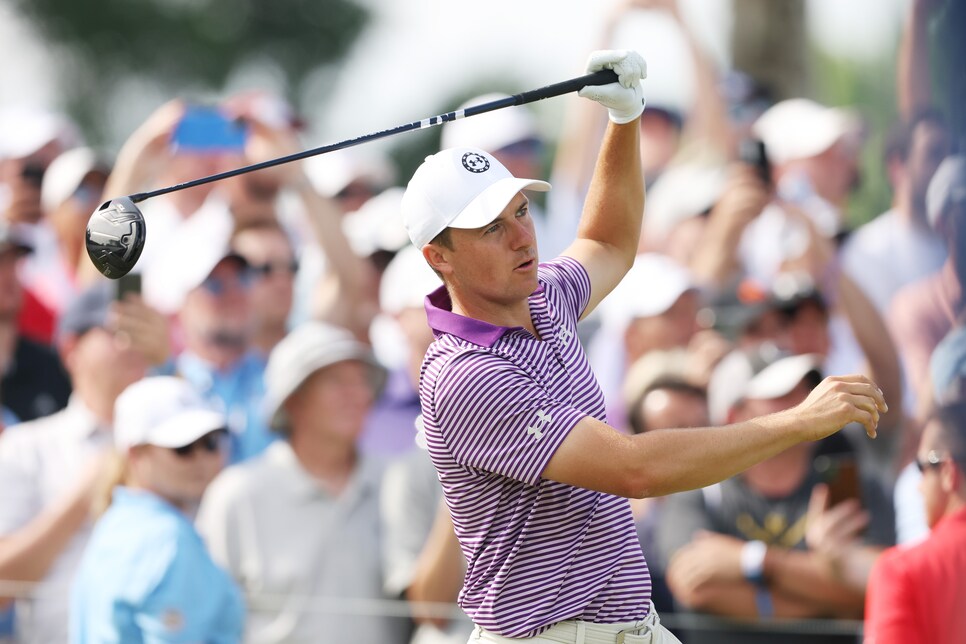 Bad rounds happen. But Spieth came in hot and this course was supposed to be tailored to his game, and though he has a chance to bounce back on Friday, he missed a prime-time opportunity to make a move in the gettable conditions Thursday morning in shooting two-over 72. Frankly it was just one of those days when even the best players have poor breaks and out-of-sync swings and putts that say the cup has posted a "Sorry, we're closed" sign. Save for a miracle, his grand slam will have to wait another year.
Brooks Koepka is very much not his old self
There was a time when Koepka seemed to own this event, but that time is definitively past. His titles in 2018 and 2019 felt like a distant memory on Thursday, when he started poorly with a bogey at the first and only got worse, stumbling to a front-nine 40. A late look at his strokes-gained stats is close to agonizing; he was 144th in the field off the tee, 137th tee to green and 141st around the green. His best stat was putting, where he was barely average at 67th. It took him four holes to hit a fairway, and though he also managed a green in regulation on the fourth, he three-putted for his third bogey of the day. In all, he hit just two fairways on the front, and though he played better on his back-nine (even-par 35), it was far too late to salvage anything from a disastrous round of five-over 75. If you happened to put any money on him this week, The Loop's tweet says it all:
Uh … congrats to John Daly?
There is something beautiful and sadistic about Spieth—who had lost to precisely one golfer in his past two events—getting upstaged by 56-year-old John Daly—who hadn't made a PGA cut since 2012. For most of the morning Daly hovered near the top of the board, playing his first 13 holes in two under. Four bogeys on the closing five for a 72 dashed any hopes of Daly relevance going into Friday. But that we're even talking about a guy who was DQ'd from a PGA Tour Champions event last weekend is a testament in itself.
The short game importance was wildly overrated
As a preface this could change as the tournament progresses, but a number of experts believed short game dexterity—specifically work around the greens—was paramount this week. Instead, Southern Hills proved it remains a shotmaker's course above all else Thursday morning, with those on the board making the climb off the tee and in approach. Yes, putting still matters, as McIlroy was lights-out on the dance floors, and missing greens could become more routine with stronger wind. Still, if the first wave is any indication, the tee-to-green game is what will decide this tournament.
Club professional fireworks
The PGA of America is referring to this year's gang of club professionals in the PGA field as the "Team of 20," and two of them created some buzz in the afternoon, starting with Jesse Mueller and this extremely memorable first hole of his PGA Championship career:
He cooled off on the back nine, but the club pro baton was briefly carried by Alex Beach, who made an appearance on the leaderboard while bouncing back between one under and even par through his first 12 holes. On the leaderboard in the media center, all players are designated by their national flag, with the exception of the club pros, whose "flag" is the number 20 on a black background. If they are something akin to a sovereign nation this week, a few of their members acquitted themselves well … and, as it turns out, more than a few beat Brooks Koepka.
McIlroy didn't close strong. But he took his Thursday skeltons and threw them in the trash, and rather than fighting an uphill battle he now has the ground advantage. In short, McIlroy did a lot to suggest that a fifth carerr major title is a very real possibility this week. At the risk of jinxing him, how does 2022 PGA champion Rory McIlroy, sound?
MORE PGA CHAMPIONSHIP COVERAGE FROM GOLF DIGEST