TULSA — There is less time than you might think, when you wake up at 5:45 a.m. to watch John Daly smash the metaphorical champagne bottle against the metaphorical hull of Southern Hills Country Club to kick off the 2022 PGA Championship, to consider the life choices that brought you to this moment. Call it 30 seconds to brush your teeth, 30 minutes of riding a shuttle through grimmest Tulsa, and then a bit of walking before—at roughly 6:56 a.m.—the man himself emerges onto the first tee to the heartiest shouts the gallery can muster at such an early hour:
The Lion of Dardanelle, Arkansas. Big John Daly.
With his bright yellow hair and bright yellow beard, he looks like an aging English king in a period drama, or maybe an Amish warlord. Until, that is, you peep at his attire: the green shirt covered with sponsors logos, including Trump Golf on the right shoulder, white-framed shades, and pants that seem floral from a distance, but actually contain various multi-colored skulls, Grateful Dead-style (and yes, you can absolutely dig it).
This is the man who won this championship in 1991 at Crooked Stick, and this is the man who is tasked with taking the first shot of the tournament. Whether that's an honor, or the powers-that-be were just trying to get him out of the way, might be a riddle best answered by his playing partners. It was a trio of forgotten victors: Shaun Micheel, the fluky 2003 winner, and Y.E. Yang, who merely became the first major winner from an entire continent and the only man to chase down one Tiger Woods from behind on a major Sunday.
The skies were still gray, the air still heavy with humidity, when Daly, sans practice swing, framed by the pink stone and ivy of Southern Hills' facades, striped the first drive of the second men's major of 2022 straight down the fairway. Then, the moment that had the greatest impact on the gallery: He walked to a cart and drove away.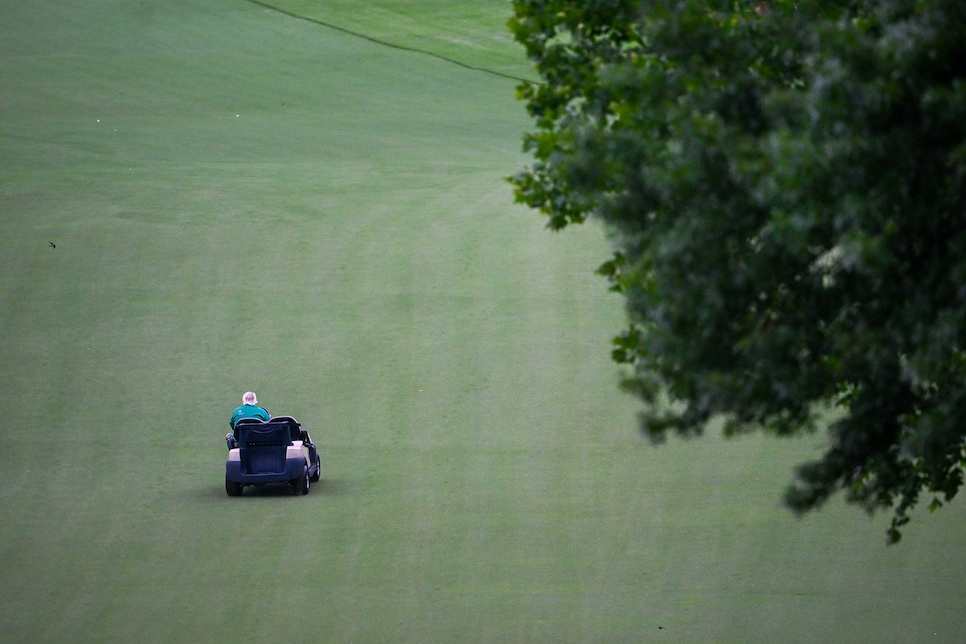 Attentive fans know this isn't the first time—he was approved to use a cart at Bethpage in 2019—but not all fans are attentive, and his vehicle, with a large soft drink from McDonald's in the cup holder, was the talk of the gallery. There was something poetic, something noble, and even something nostalgic about watching his lonely form disappear into the distance, hole after hole, far ahead of everyone else. Maybe something a little funny too, considering the fact that his caddie still had to walk. It wasn't easy keeping up with Daly, and on most tees the caddie simply handed him a driver and started trudging up the fairway to get a head start.
I don't know what I was expecting, after that first drive, but it wasn't Daly playing clinical, solid golf, reaching two under at one point, and spending most of that front nine at the very top of the leaderboard. (After all, Daly hasn't made a cut at the PGA since 2012.) And say what you will about the man, but he plays fast. If you took a moment to write down a thought while he approached his ball, by the time you looked up again he was back in the cart, motoring to the green. They said about the Negro League baseball legend Cool Papa Bell that he could flip off a light switch in a hotel room and be in bed before the light went out, and there were a few times when Daly appeared to have reached the green ahead of his approach shot.
He stuck his second shot inside five feet on one and made the birdie. When he hit his second straight fairway on two, I began to consider ironically that maybe he could win this thing. He missed his first fairway on five, proving that even folk heroes stumble, but when he rattled in an 11-footer for birdie on the green, the irony was gone.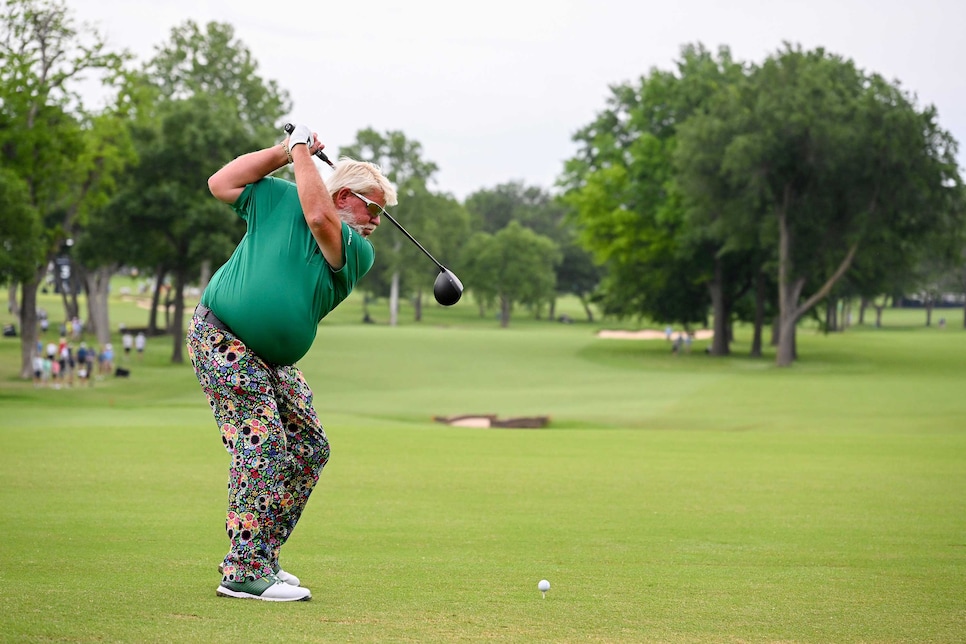 Fast play, it turned out, might have been the key to this early success. On the seventh hole, I heard a quiet voice behind me urging Micheel to hurry up as he stalked his ball in the left rough. This, it turned out, was Daly's daughter—I never caught if it was Shynah or Sierra—and she went on to explain that at his home course, Daly often completes a round in 45 minutes to an hour. When he has to wait, his mind intrudes, and she went on to claim that this was the reason he failed to sign his scorecard despite being relatively close to the lead at the Regions Tradition last Friday on the PGA Tour Champions. According to her, this was not a forgetful error, but a targeted protest at slow play—"he was making a point," she said, although it's not clear that he told anyone publicly. On one hole, he apparently had to wait so long that he changed his club three times with shifting winds. Nor does the cart help matters; he needs it, but it only gets him to his ball faster, giving him more time to wait.
Daly's first three drives all ran past 300 yards, and he kept hitting greens in regulation until seven, when he flew his approach to the right rough. From there, he almost made birdie again, rattling the flagstick to save par. Until the eighth hole, when he made bogey, his name flashed from the top of the leaderboards strewn around Southern Hills. I left him after the ninth hole, convinced deep down that the fantasy I had watched unfold was a balloon on the verge of being pinpricked, but this tidy narrative failed to account for the central fact about John Daly: He is unpredictable, and not in a predictable way. As Rory McIlroy surged up the leaderboard, and the eyes of Oklahoma turned to the Supergroup, Daly made another birdie on 10, and for a good hour sat just two shots off the lead.
And then, well, the balloon actually did pop; bogeys on the four of his last five holes left Long John with a two-over 72, a round he might have been happy with at the start of the day if his day hadn't started so well. And happy didn't seem to be his mindset walking off the 18th hole and into the clubhouse, opting not to speak to the media afterward.
We'll all just have to wait then until Friday afternoon to see what's next for Daly. The cart will be gassed up and ready to roll, and Daly will hope to extend his week by two more rounds. Where this journey ends, however, is anyone's guess. Reality should come calling, but then again, this is a man whose life has only ever been loosely realistic. As of April 28, he is 56 years old. Why start conforming now?