DCs for Days
PGA Championship 2022: Tiger Woods casually dropped an all-time John Daly story from the 2007 PGA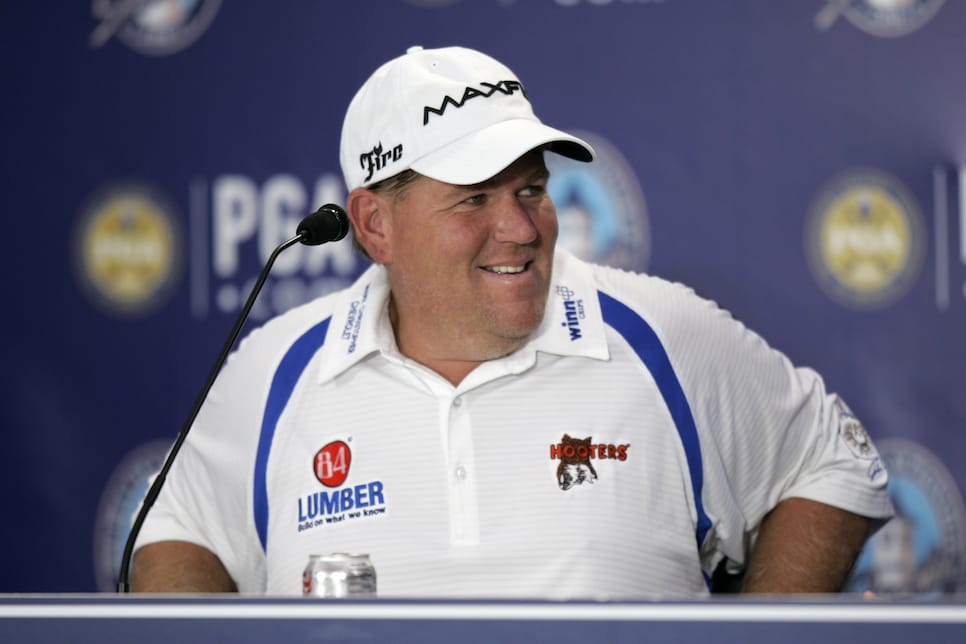 Montana Pritchard/PGA of America
In his highly entertaining 30 for 30 titled "Hit it Hard," which originally aired in March of 2016, there is a scene that shows John Daly loading groceries on to the checkout counter when someone can be heard asking him "did you get waters?" Daly, without missing a beat, responds "I don't need water, I've got plenty of ice in my Diet Cokes."
It is, quite simply, the quintessential Daly line. Zero regard for his own health, and not a care in the world if you're cool with that or not. The man truly believes he is being hydrated from the ice in his diet soda.
As Tiger Woods all but confirmed on Tuesday at Southern Hills, Daly's legendary levels of Diet Coke consumption are no urban myth. Woods, who won at this week's PGA Championship venue 15 years ago, was asked to reflect on that win and the memories he had from that absolute SCORCHER of a week in Tulsa. Naturally, his brain jumped to the changes to the course, and then promptly to the record-setting heat, and how it affected not only him but Daly, once one of Woods' top foes during their peaks.
"It was obviously a very different golf course. It was not cold that week," Woods said. "I remember playing behind JD [John Daly] the first day, which was awesome. It was, what, 109 [degrees] I think that first day? And I asked JD how many waters he drank out there, he said, 'No, I had 13 Diet Cokes.'"
Incredibly, Daly managed a T-32 finish that week, finishing 14 shots back of the champ, Woods, who had at least 14 more waters than Daly did per day. Fortunately for Daly, who is in the field this week as a past champion, it'll only be over 90 degrees once according to the forecast, so he shouldn't have to pack too many Diet Cokes. Although, he might as well pack a few extras just in case. We hear the prices at Southern Hills this week, even for waters and sodas, are a bit... exorbitant.